The laziest meals you'll ever make!
It's not that I'm lazy, it's just that I get tired of cooking dinner EVERY night. If you have a family with kids to feed, then you know the struggle is real. Even dinner recipes that claim to be quick and easy can be a real hassle, which is why I've created this list of easy meals you can simply pick up at the grocery store on your way home from work on busy weeknights.
There are so many fun combinations of frozen and packaged foods to make dinner exciting for your picky eaters. Even if it's something as simple as a rotisserie chicken tossed with a packaged salad, it's nice to have a few ideas for dinner on hand when you want something fast and effortless to slap together. This way you're not eating the same thing week after week. That's boring!
No recipes here, silly. That would be too hard. Just a few tasty combinations for when you're hungry and rushed.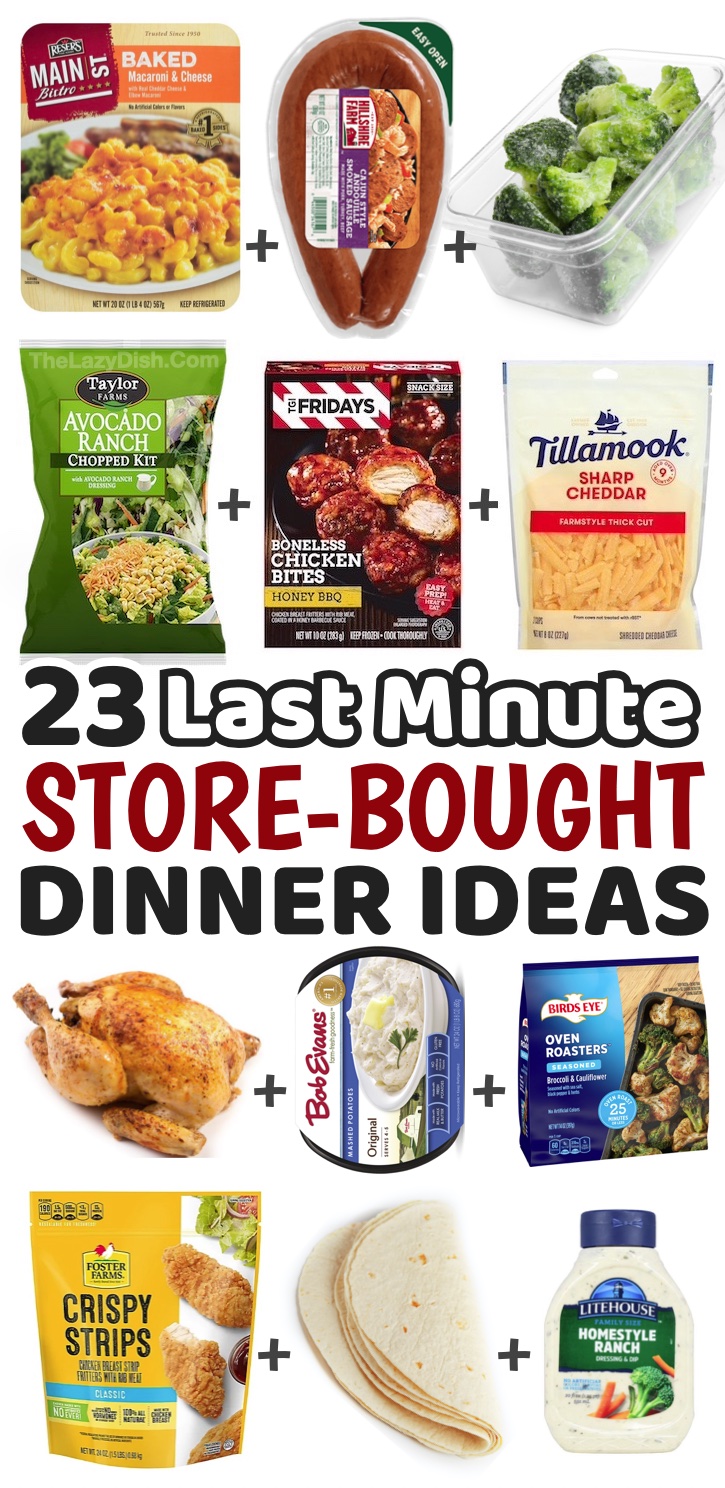 1. Crispy Chicken Ranch Wraps
You've got to love frozen chicken strips! They are the easiest protein to combine with just about any meal. Try baking them and stuffing them into tortillas with ranch dressing, crispy lettuce and cheddar cheese. You can also toss anything else in there you have on hand like tomatoes, black beans, jalapeños or bbq sauce.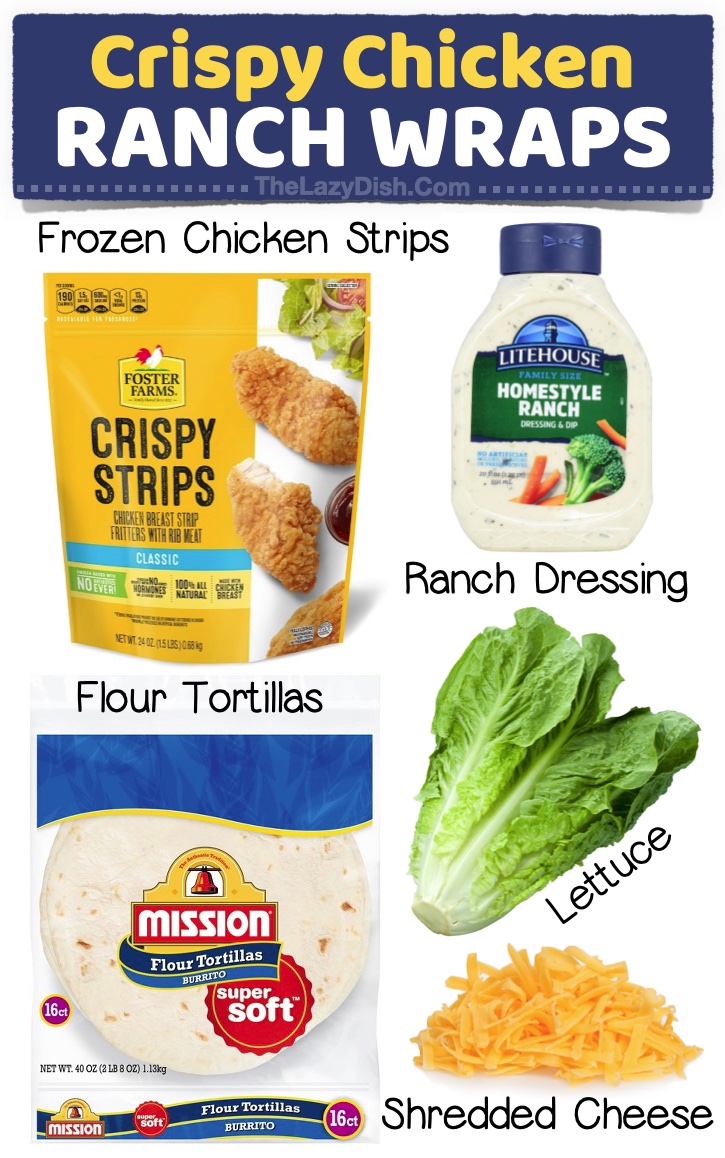 2. Caesar Salad with Rotisserie Chicken
This is one of my go-to dinners on busy weeknight when I don't feel like cooking. Just pick up a rotisserie chicken and caesar salad kit for the easiest meal you'll ever make. I also like to toss in some extra parmesan cheese and serve it with frozen garlic bread. Finish it off with some fresh black pepper if you're feeling fancy!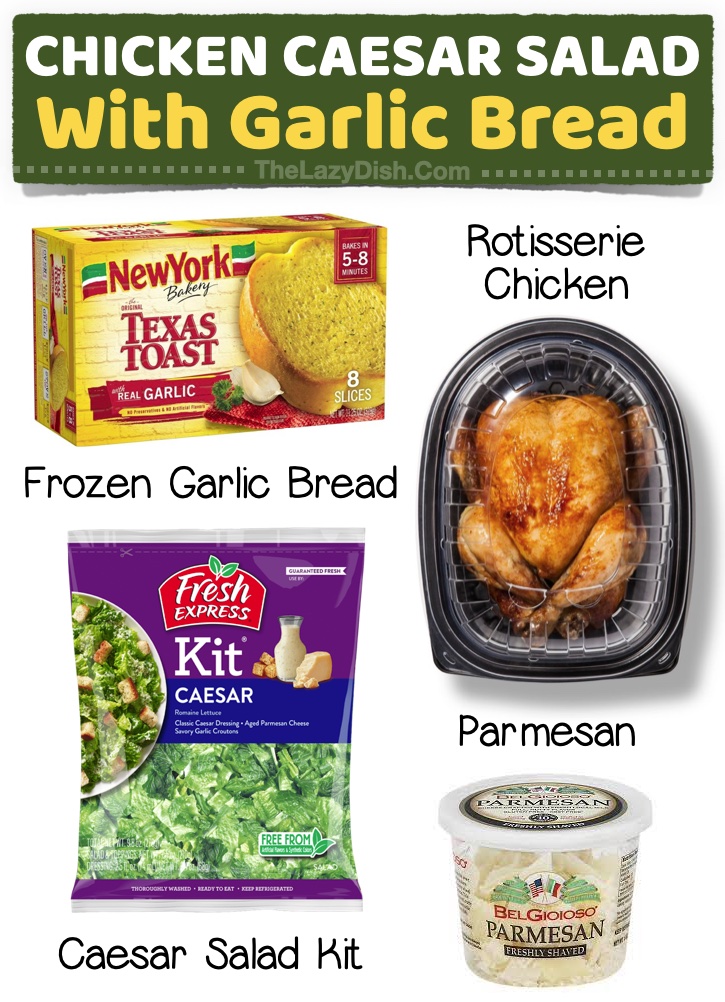 3. Lazy Lasagana
If you're a busy mom on a budget, you can't go wrong with baked ravioli. You seriously just layer frozen ravioli, pasta sauce, and shredded cheese in a baking dish and cook until it's nice and bubbly. You can find the full instructions here.
4. Chicken Alfredo Pasta with Veggies
Did you know you can buy fully cooked and diced chicken in the freezer aisle of most grocery stores? This makes dinner a breeze! Just heat it up according the package instructions and then toss it with pasta and veggies. It's great for mixing in casseroles, too.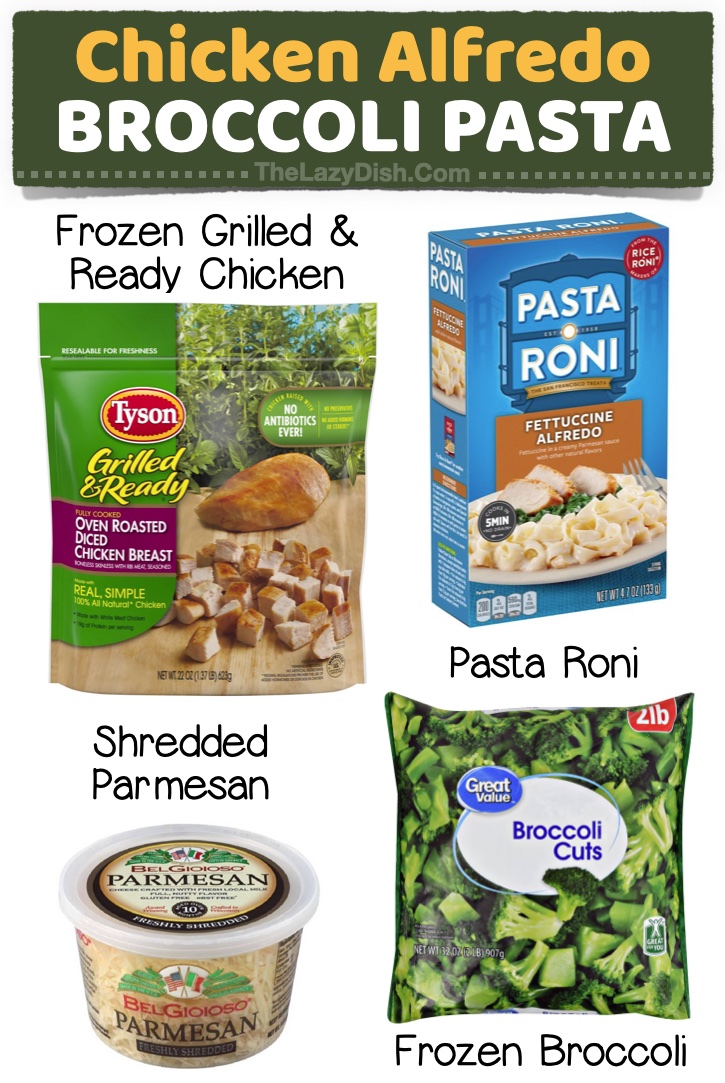 5. Shredded BBQ Chicken Sandwiches
My local grocery store has a refrigerated meat section that includes pre-cooked bbq chicken and pork that is absolutely delicious served with coleslaw on buttered and toasted buns. My favorite comfort food on nights when cooking dinner is out of the question! It doesn't hurt to serve these warm sandwiches with potato chips, either.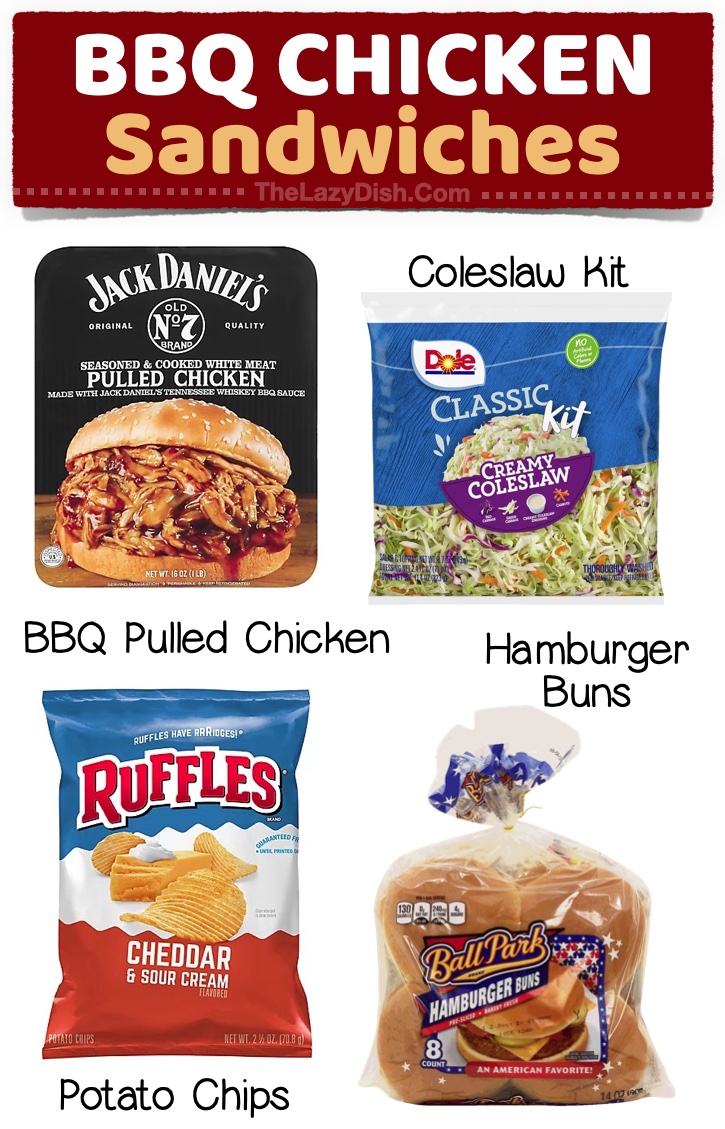 6. Rotisserie Chicken with Mashed Potatoes & Veggies
Seems obvious, but if you're looking for something quick to throw together, just pick up a rotisserie chicken, refrigerated mashed potatoes, some frozen veggies, and either prepared gravy or a packet of gravy mix. Easy! It's like Thanksgiving dinner without any effort.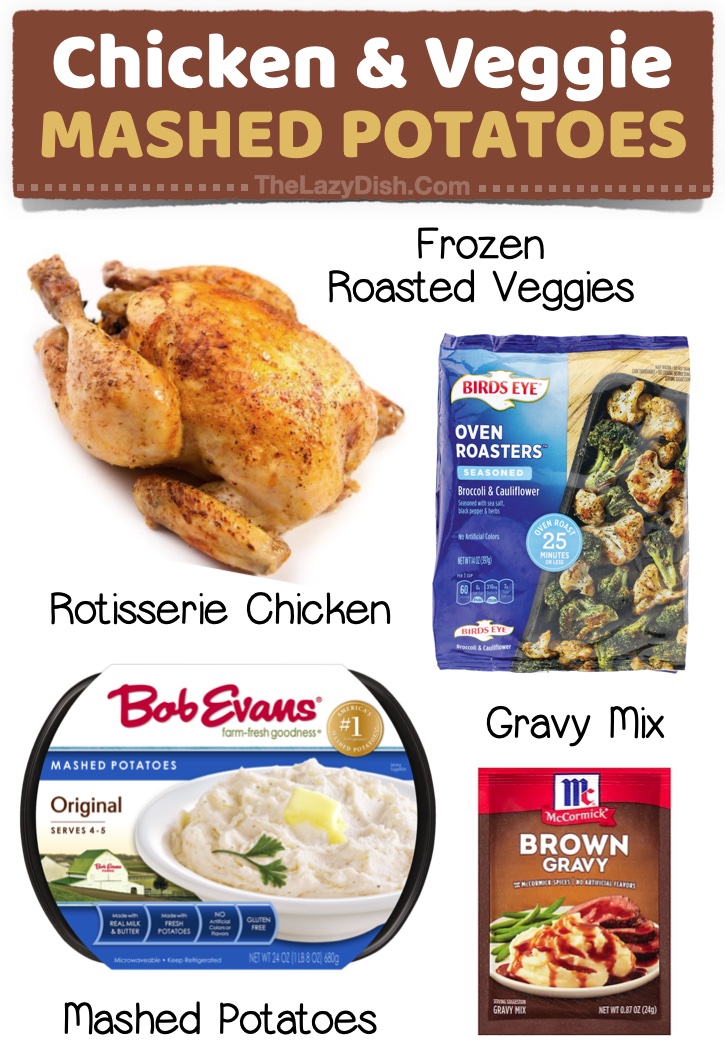 7. Orange Chicken with Stir-Fry Veggies & Rice
Who doesn't love orange chicken? It seriously tastes like candy. It's my daughters favorite last minute dinner, and if it were up to her that's all she'd eat. You can also buy frozen fried rice to go with it at some grocery stores for the ultimate lazy meal. Or, simply microwave a packet or two of ready rice, and then mix it with frozen stir-fry veggies and soy sauce.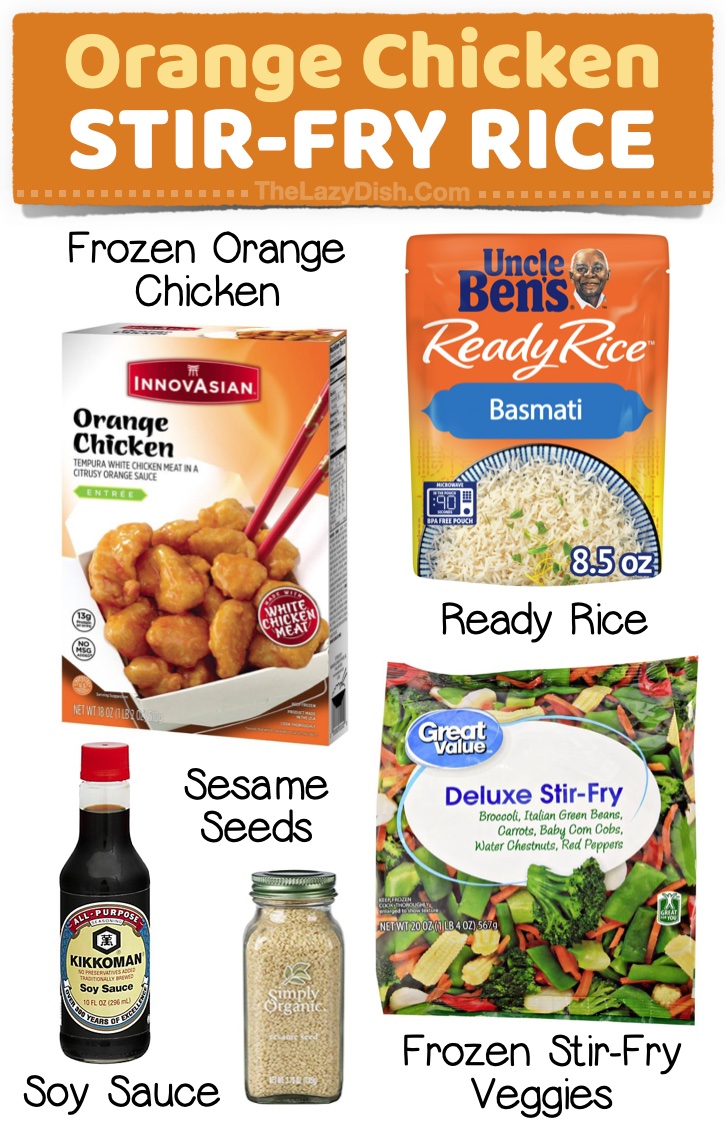 8. Cheesy Ranch Cobb Salad
Salads are a great choice for dinner because how hard is it to toss a bunch of ingredients together with a packaged salad? A few simple things you can throw into a ranch salad include boiled eggs, diced ham, crispy bacon, avocado, shredded cheese, blue cheese, tomatoes, croutons, leftover chicken, etc. There's a lot of flavor going on in there!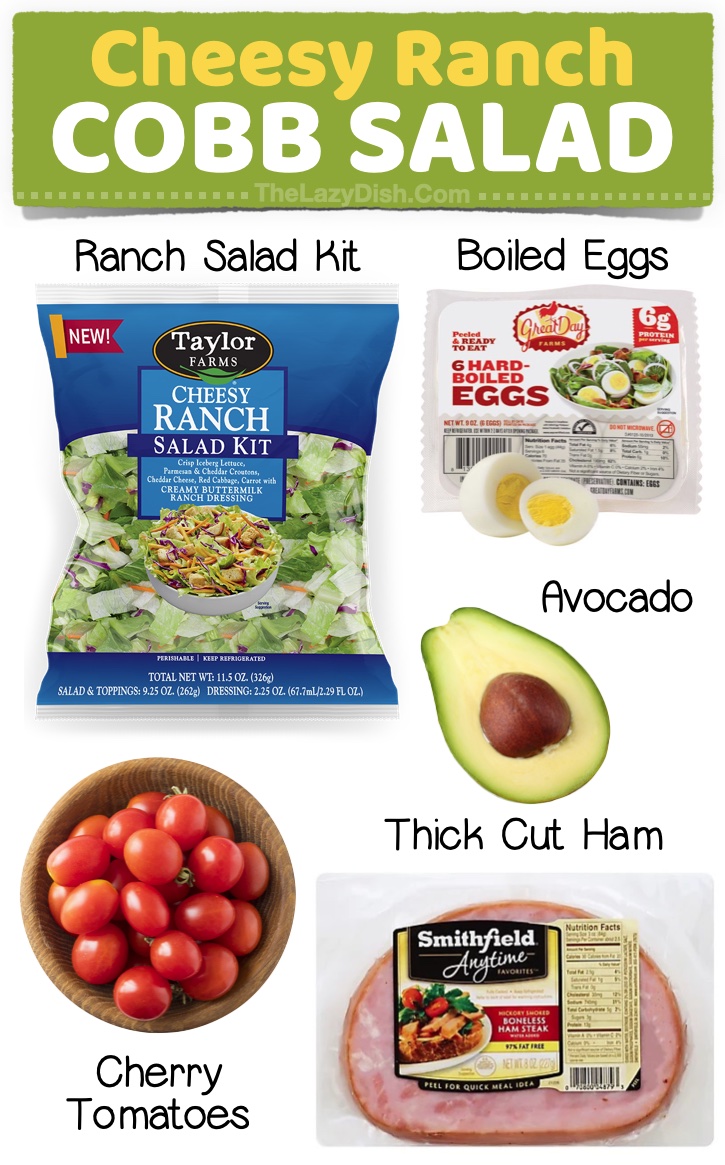 9. Crispy Chicken Sandwiches
If your kids like Chick-fil-A, then you've got to try making your own chicken sandwiches using frozen chicken patties or fillets. Once cooked, serve them on buns with plenty of mayonnaise and pickles. You can also buy the Chick-fil-A sauce now! Try that in your sandwich instead.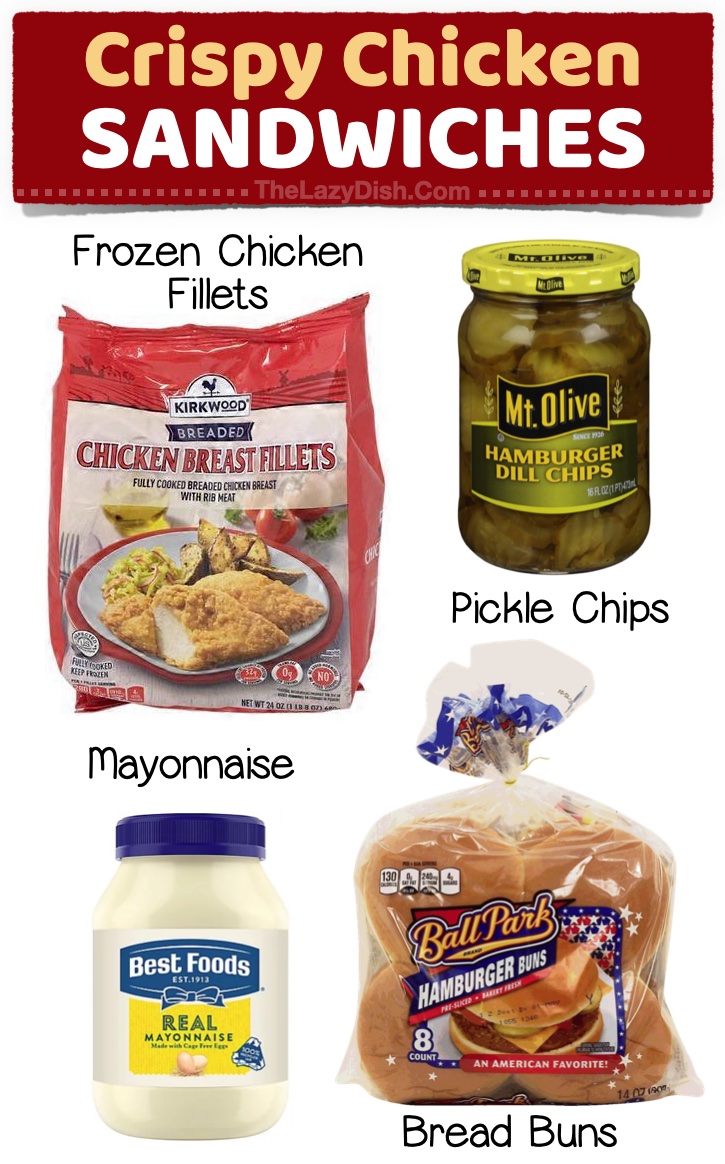 10. Sausage Jambalaya with Cornbread
Tony Chachere's makes a boxed rice dinner mix that is actually pretty good mixed with cajun sausage! Simply cut the sausage into discs and chop the bell pepper; they can both be sautéed in the same pan for 5-10 minutes or until browned, and then mixed with the prepared rice. Deli-made cornbread goes well with this!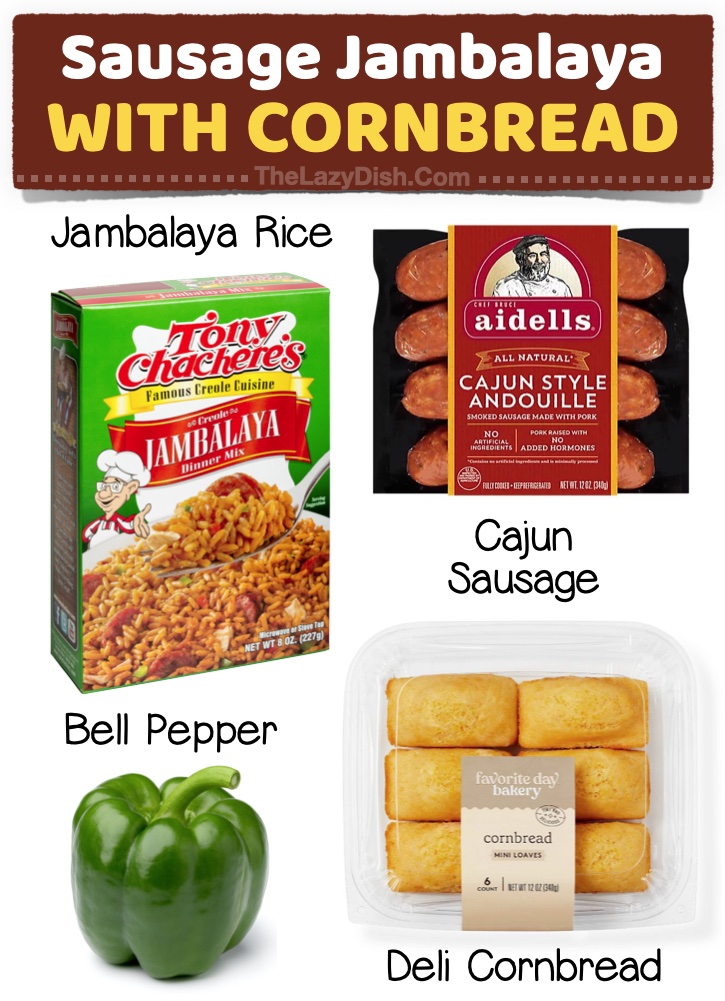 11. Frozen Garlic Toast Pizzas
Kids love these! You simply bake the garlic toast according the package directions, and then top them with a little bit of pizza sauce, cheese, and any toppings you'd like. Place them back in the oven for a few minutes to allow the cheese to melt, and BAM! A quick and easy dinner your picky eaters will love. You can find the full instructions for these mini pizzas here.
12. Chicken & Stuffing with Cheesy Green Beans
There's just something about the StoveTop stuffing brand that makes me drool. It's packed full of flavor and always reminds me of Thanksgiving, plus it only takes 5 minutes to make with water and butter. Serve it with chicken and a side of cheesy green beans for the ultimate family meal.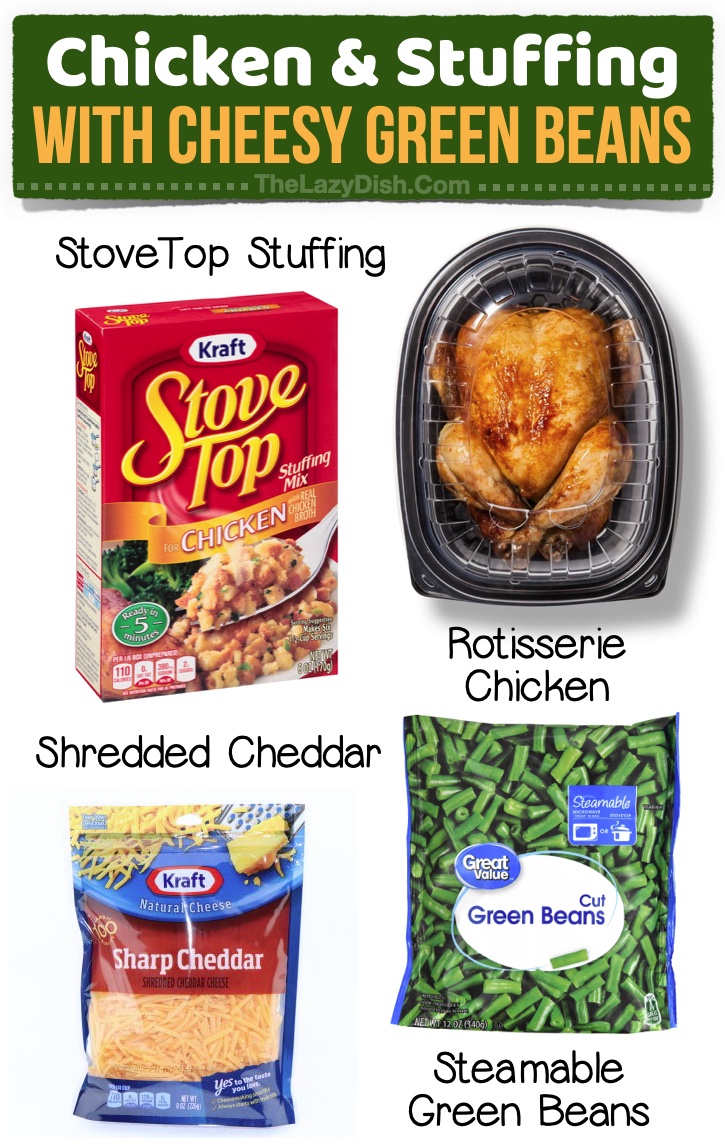 13. Grilled Cheese with Tomato Bisque
This classic dinner never goes out of style! And, the deli department in most grocery stores make delicious soup recipes that are much better than anything in a can. Serve with a grilled cheese sandwich, salad, crackers, croutons, parmesan cheese, etc. There are so many ways to jazz up a bowl of soup.
14. Cheesy Ground Beef Taco Salad
This is one of my favorite quick meals because the family can enjoy the ground beef however they'd like– over a bed of salad or in warm tortillas. My husband and I love the Taylor Farms Southwest Chopped Salad Kit paired with taco seasoned ground beef. You can additionally add avocado, tomato, jalapeños, etc.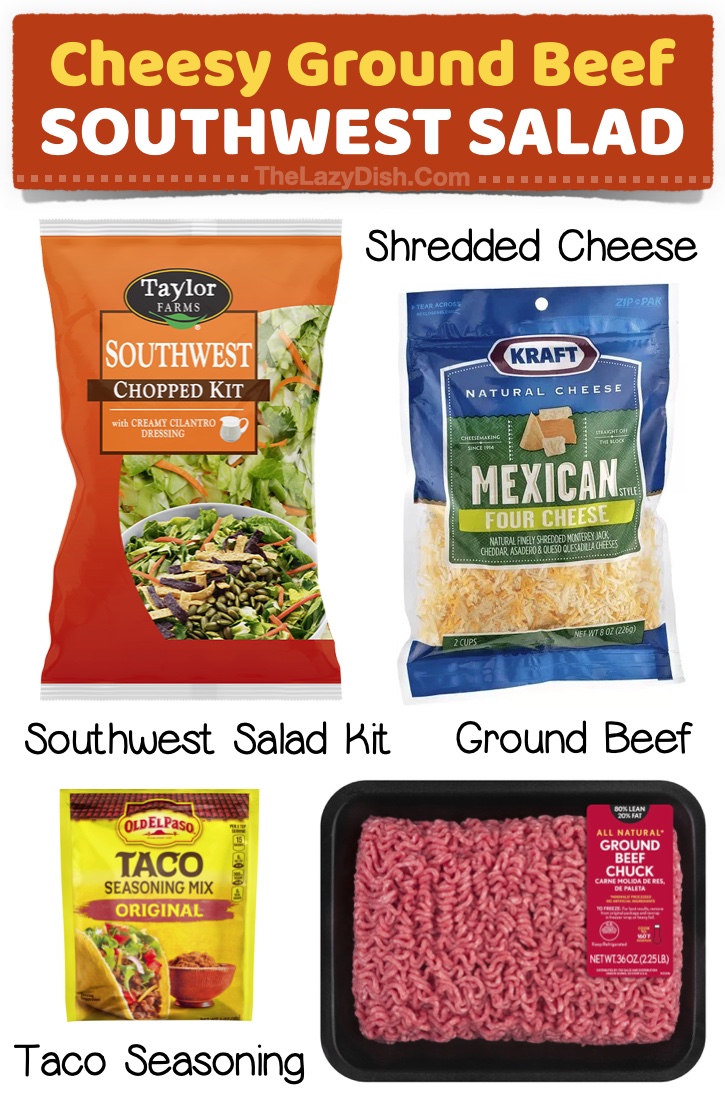 15. Ham & Cheese Sliders
Not in the mood for cooking? Just grab a pack of Hawaiian rolls, some deli meat and cheese. Kids go crazy for anything in miniature size! Serve cold or cover and bake them for about 10 minutes in a 350 degree oven, and then brush on some melted garlic butter. These are fun to make for sleepovers or anytime your kids have friends over.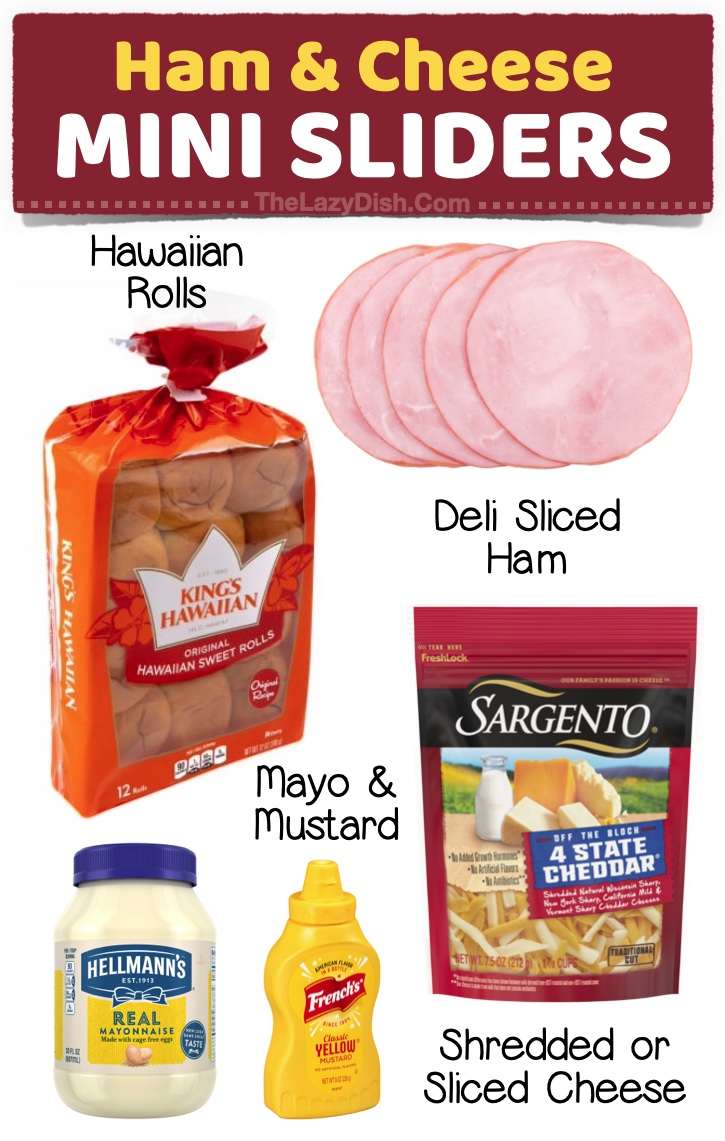 16. Cheesy BBQ Chicken Avocado Salad
Pair a salad with any frozen fried chicken and you've got a hearty meal! Salads are so versatile in that you can toss anything in there that you have on hand. I like to bake frozen bbq chicken bites, cut them up into smaller pieces, and then simply toss with ranch salad, cheddar cheese, and avocado.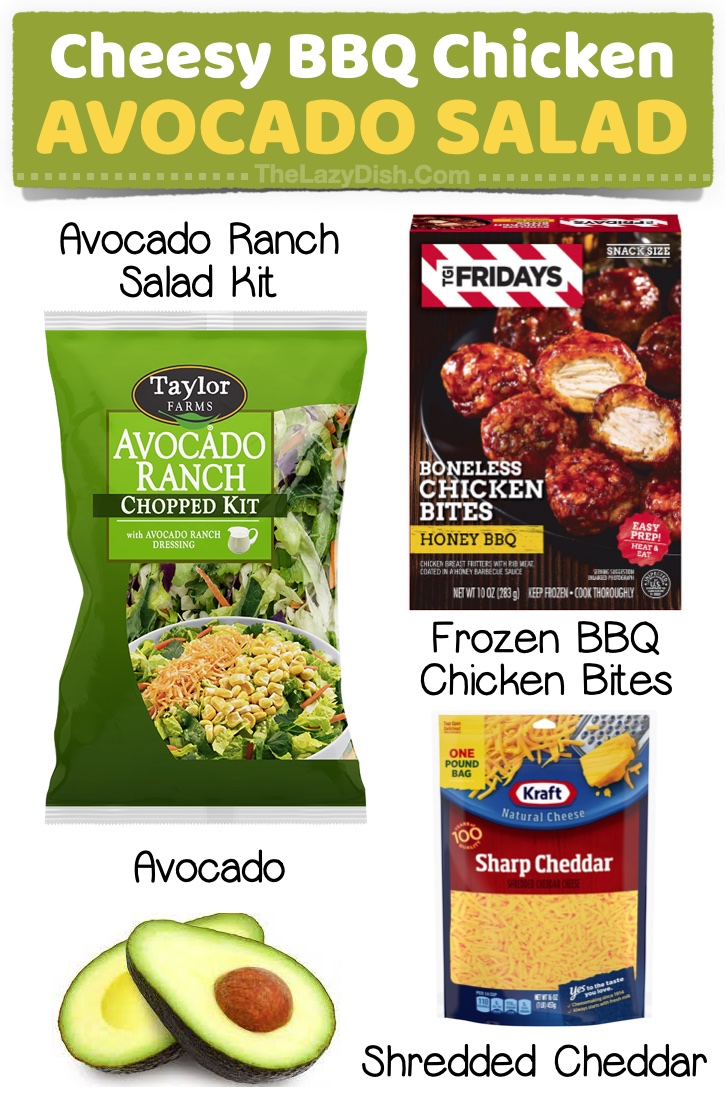 17. Cheesy Meatball Subs
Frozen meatballs are wonderful for last minute dinners! Instead of tossing with spaghetti, load them onto hoagie rolls with marinara and shredded cheese. Bake in a 400 degree oven for 2-4 minutes or until the cheese melts and the bread is toasty. Serve with a salad if you'd like something green to eat.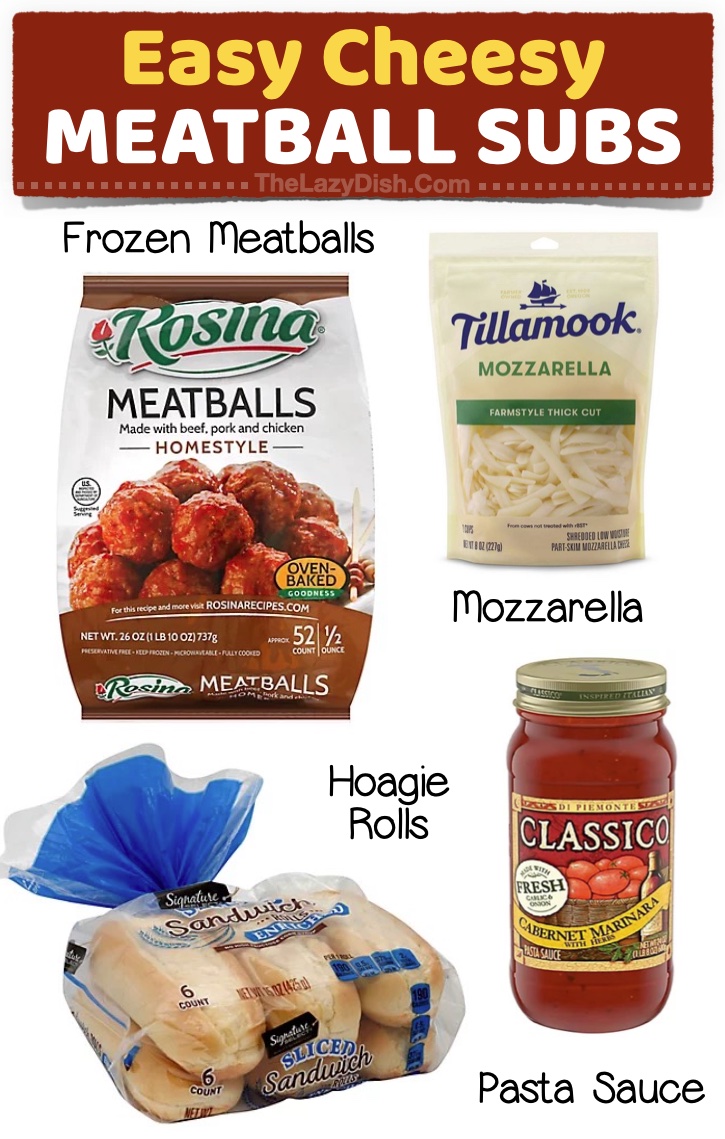 18.Beef Tri-Tip with Feta Salad & Rice
If you shop at Safeway or Tom Thumb, then you are in luck! They have a Southwest Hatch Chile Tri-Tip that is absolutely amazing, plus it's vacuum sealed so it lasts for a few weeks or longer in your fridge. Simply sear it in a cast iron skillet over high heat for about 2 minutes on each side, and then place it in a 400 degree oven for about 30-50 minutes (depending on the size). We use a meat thermometer to ensure the perfect doneness.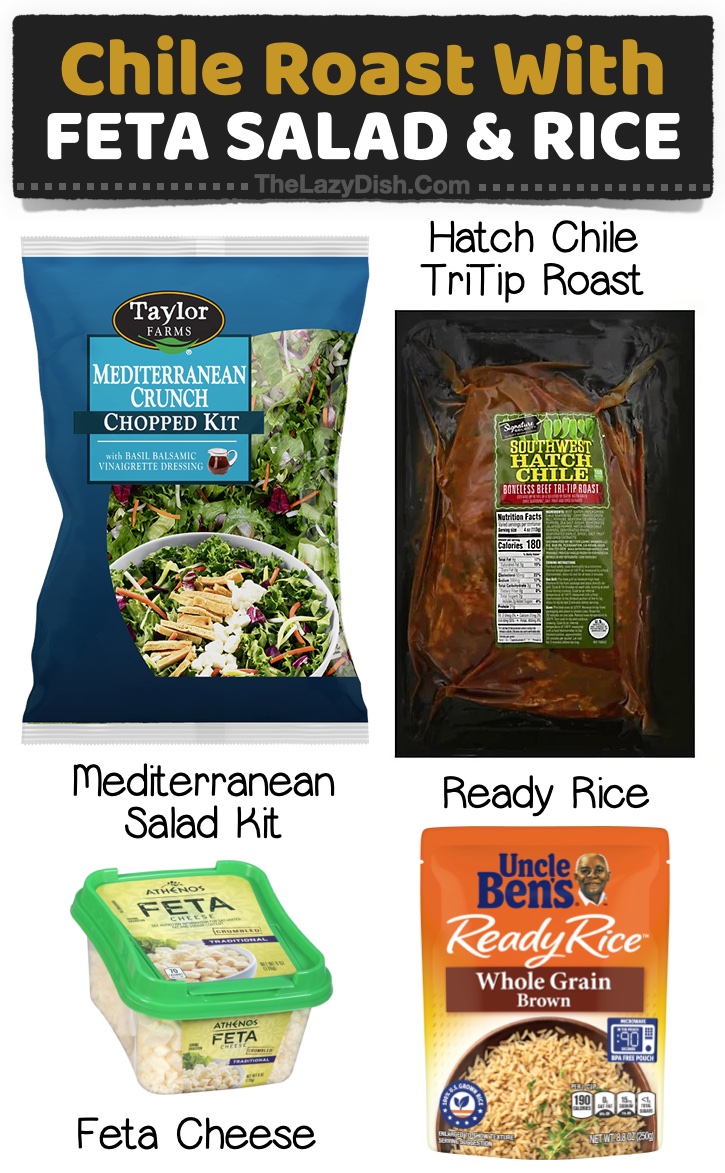 19. Lazy Chicken Fajitas
If you browse the freezer department at most grocery stores, you will be surprised by the options of pre-cooked frozen meat to choose from. These chicken breast strips are actually pretty good! Just heat them up on your stovetop and serve in warm flour tortillas with your favorite fajita ingredients. You can buy pre-made pico de gallo and guacamole to make them completely effortless.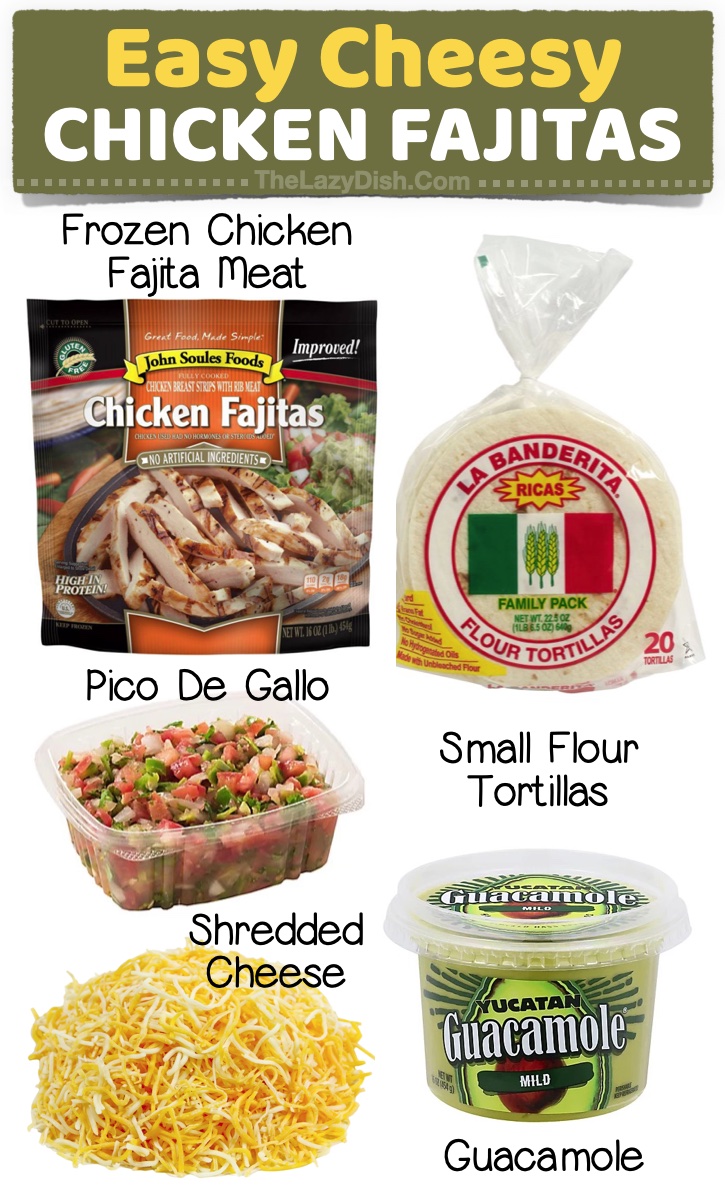 20. Pizzadillas
Quesadillas are a breeze to make with just a few ingredients, but to make them fun and exciting for the kids, stuff them with pepperoni and serve with pizza sauce! I prefer to pan fry the pepperoni first and then blot them with paper towels to remove the grease. You can get the full instructions here.
21. Asian Chopped Chicken Salad with Potstickers & Edamame
Simply mix the Taylor Farms Asian Chopped Salad Kit with pulled rotisserie chicken, and you've got a yummy quick meal! You can also pick up a few other Asian inspired frozen foods like potstickers, edamame, fried rice or egg rolls to feed the entire family.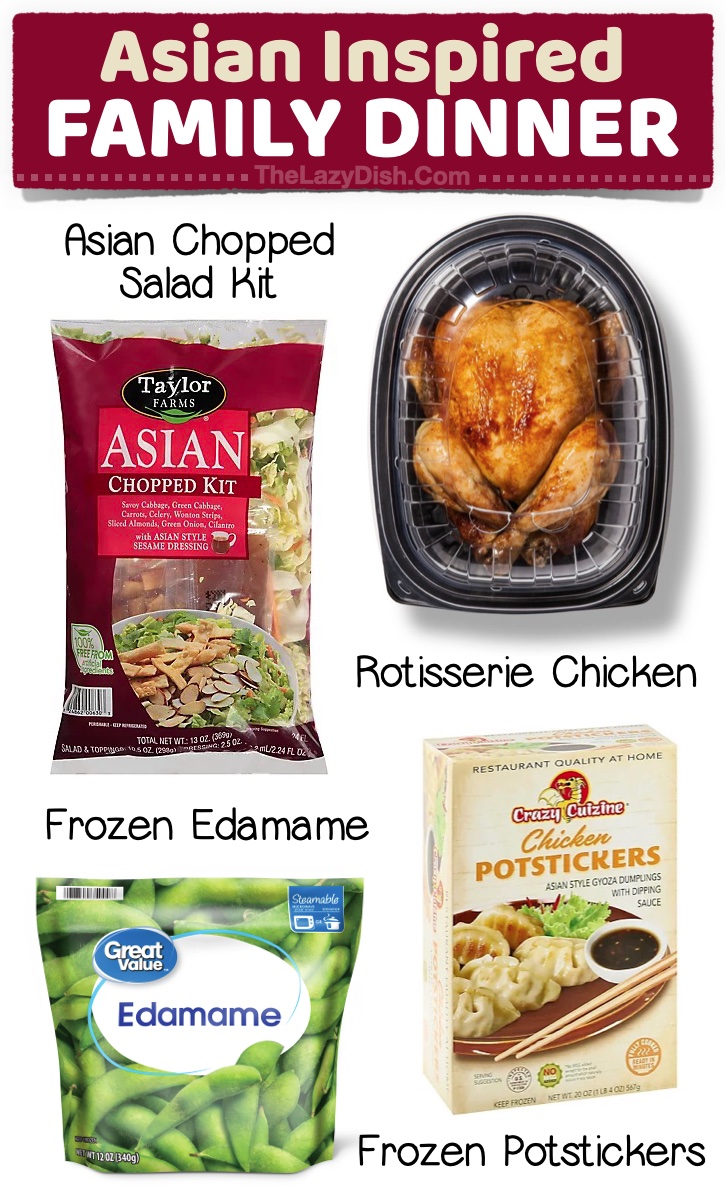 22. Sausage & Broccoli Macaroni & Cheese
Anything you mix with andouille sausage is bursting with flavor! Try pan frying the sausage, removing the excess grease, and then mixing it with a store-bought baked macaroni and cheese. I also like to toss in some healthy veggies to make up for all of that cheesy goodness.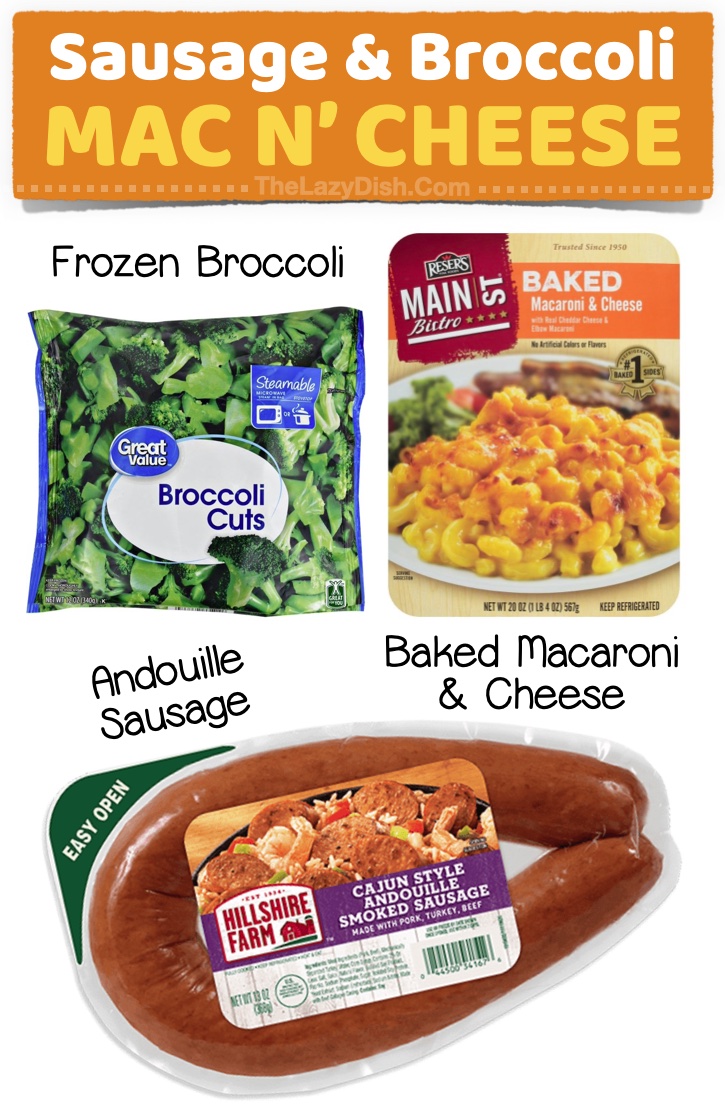 23. Chili Cheese Dogs
I know you're judging me on this one, but when you haven't had a hot dog in forever, don't tell me it doesn't taste amazing!? Want to make it a little more exciting? Load on some hot chili and shredded cheddar cheese! This is some serious comfort food.