This cheesy dinner casserole is made with just a few simple ingredients including canned chicken, Instant rice, and frozen broccoli, making it extra lazy for busy weeknight meals.
A quick and easy dinner recipe your entire family will love!
If you have picky eaters at home, then you know the struggle that dinner time brings. It's not easy making everyone happy, especially if you have kids that would prefer a bowl of Doritos for dinner.
I'm always looking for cheap dinner recipes that are effortless to throw together on busy school nights, and this cheesy rice casserole is always a hit! I've made this delicious recipe extra lazy with canned chicken, instant rice, and frozen broccoli. You're welcome.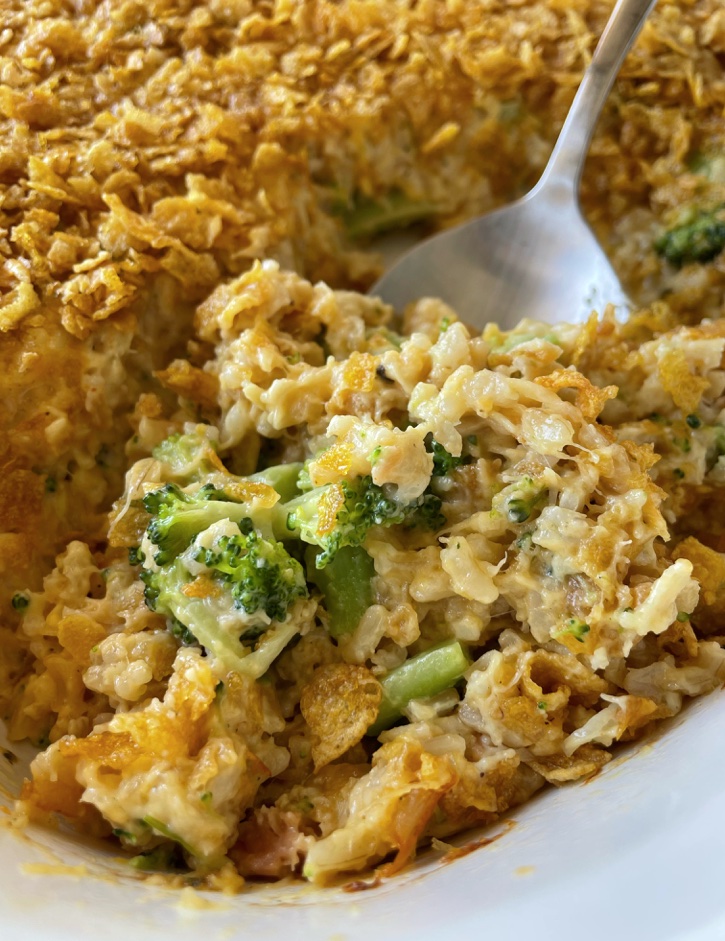 Ingredients
1 (12.5oz) can chicken breast (drained)
2 cups frozen broccoli (thawed & cut into bite size pieces)
2 cups cooked rice
1 (10.5oz) can condensed cream of chicken soup
1/2 cup sour cream
2 cups shredded cheddar cheese
2 cups crushed corn flakes
4 tbsp butter (melted)
salt, pepper & garlic powder to taste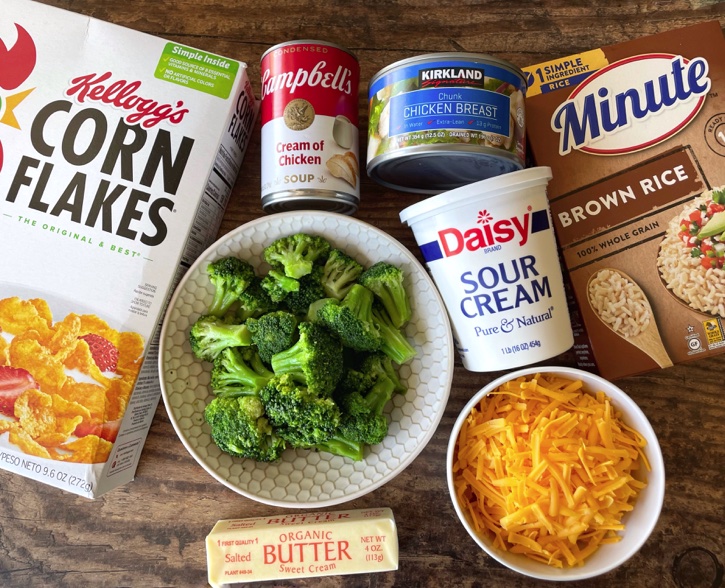 Step 1In a large bowl, combine all of the ingredients except for the corn flakes and butter. Press the mixture down into a greased 9×13 baking dish.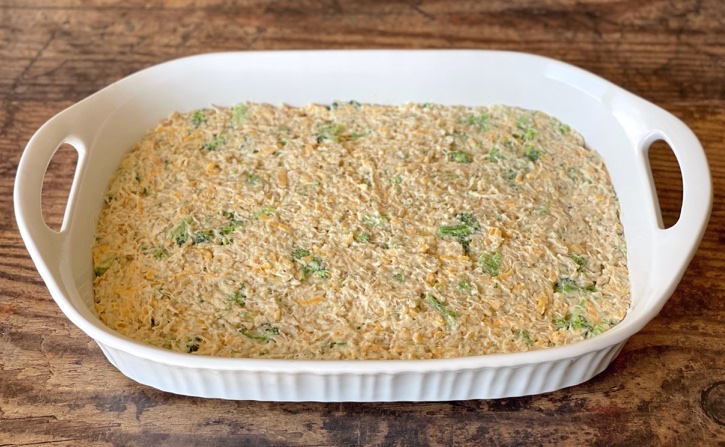 Step 2Evenly sprinkle the corn flakes over top, and then slowly drizzle with melted butter.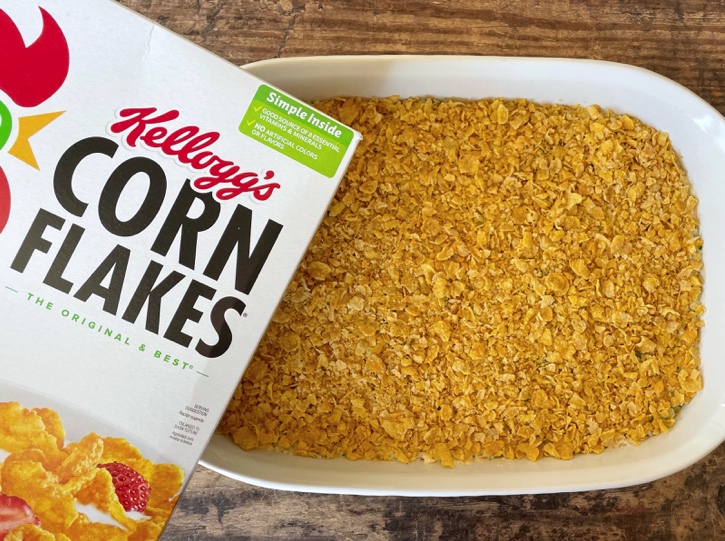 Step 3Bake uncovered in the center rack of your oven at 350 degrees for 30-35 minutes or until the casserole is heated through and the buttered corn flakes turn golden brown.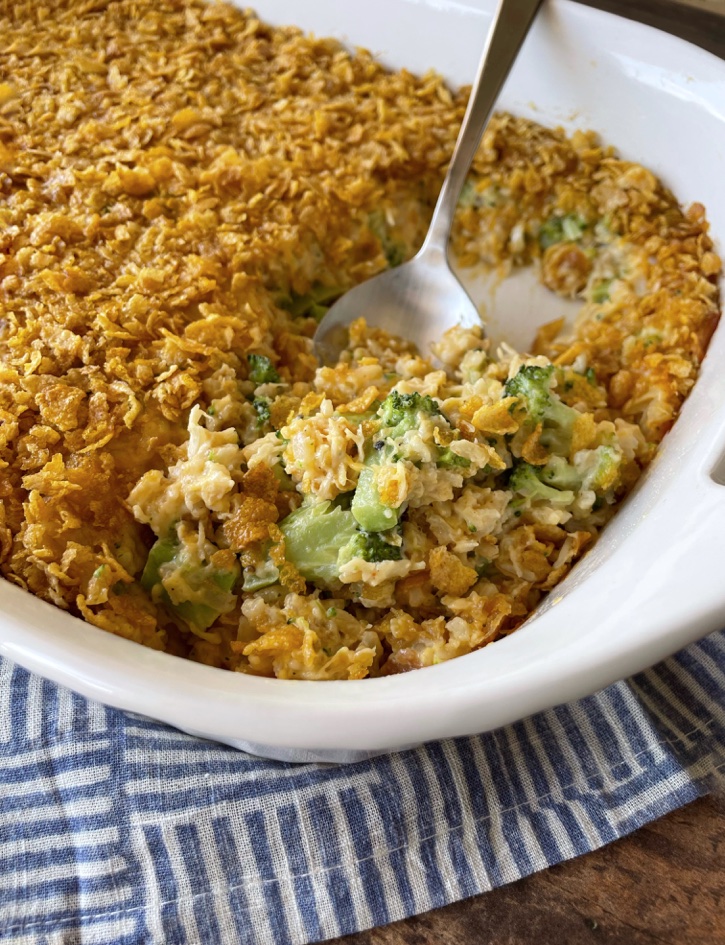 Delicious! The corn flake topping adds the perfect crunch to this ultra creamy casserole. It's just as good leftover for lunch or dinner the next day so my family usually gets at least two meals out of it. You can also leave out the chicken and serve it as a side dish with just about any protein including grilled chicken, steak, sausage, or fish.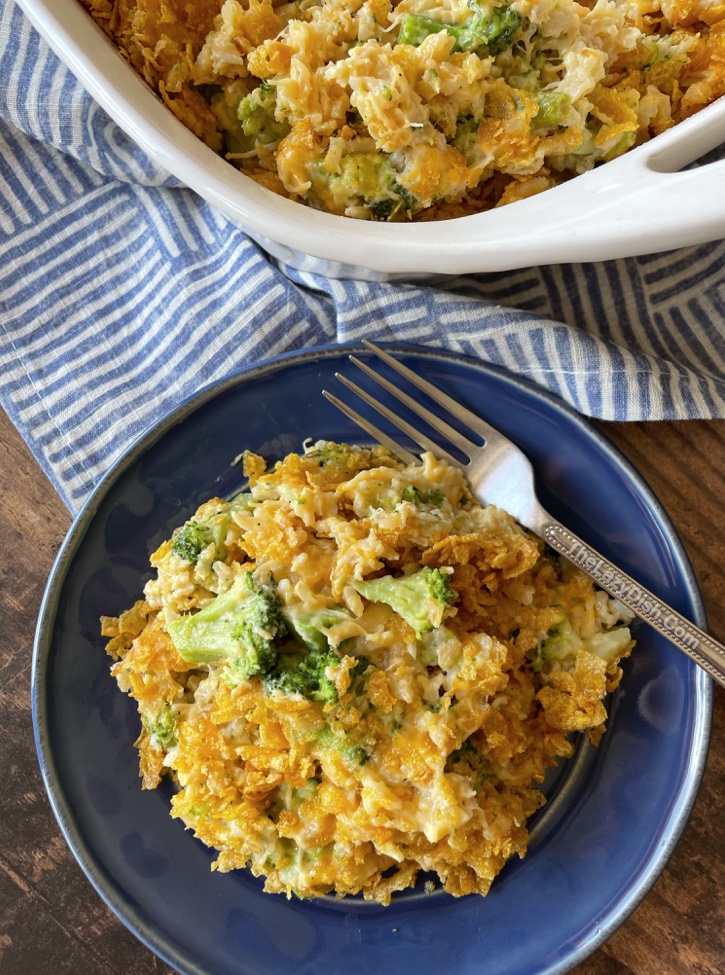 Feel free to experiment with any veggies you'd like! Mushrooms, corn, zucchini, squash, or any soft veggie is a good choice. Keep in mind, hard vegetables like carrots or asparagus need to be partially cooked first. Frozen veggies are generally blanched so that's all you have to do is thaw them out, making them the lazy choice.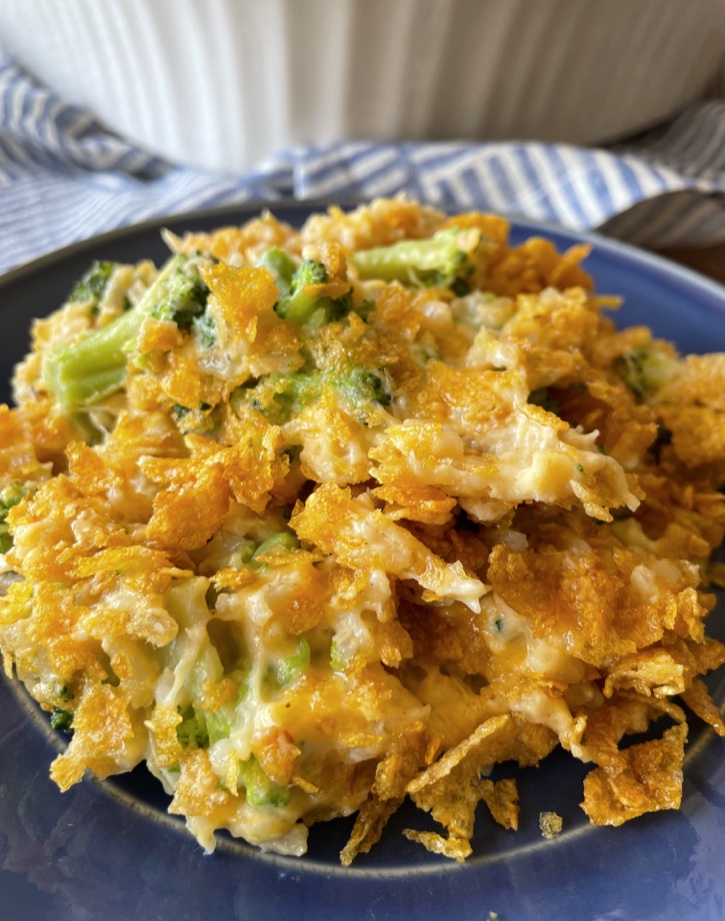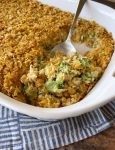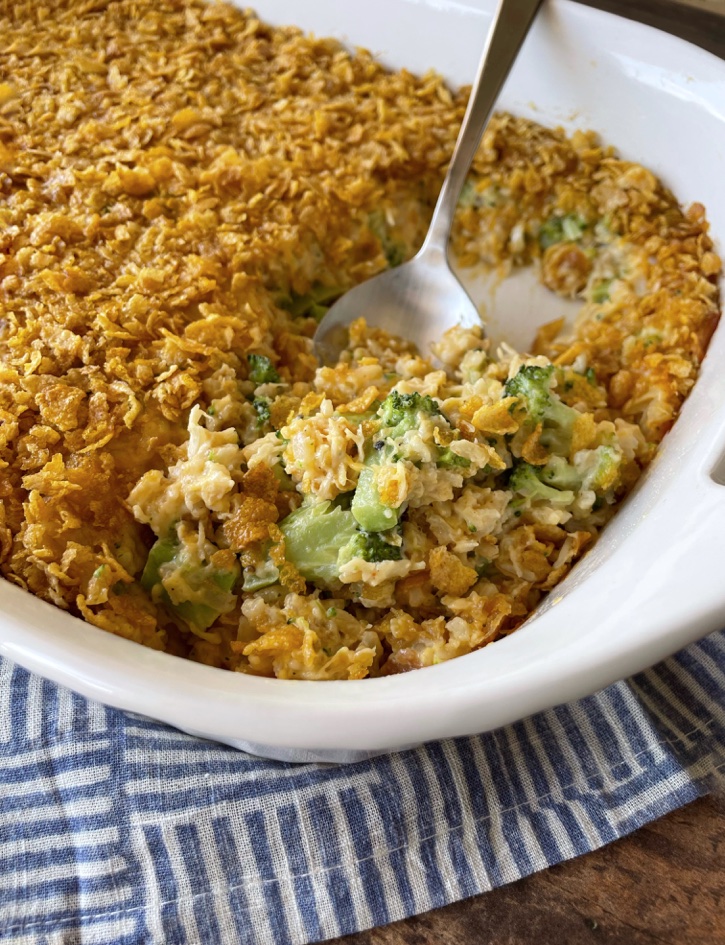 Cheesy Chicken Broccoli & Rice Dinner Casserole
Are you looking for quick and easy family dinner recipes on a budget? Your picky kids are going to love this creamy casserole! You can use brown or white rice, plus the veggies of your choice. I've made the recipe extra lazy thanks to canned chicken and frozen vegetables.
Course:
Main Course, Side Dish
Keyword:
broccoli, budget friendly, canned chicken, casserole, easy dinner, family meals, picky eaters, rice
Ingredients
1

(12.5oz)

can chunk chicken breast

(drained)

2

cups

frozen broccoli

(thawed & cut into bite size pieces)

2

cups

cooked rice

(white or brown)

1

(10.5oz)

can condensed cream of chicken soup

1/2

cup

sour cream

2

cups

shredded cheddar cheese

2

cups

crushed corn flakes

4

tbsp

butter

(melted)

salt, pepper, & garlic powder to taste
Instructions
Preheat oven to 350°F and grease a 9x13 baking dish.

In a large bowl combine all of the ingredients EXCEPT for the corn flakes and melted butter.

Press the mixture down into your greased baking dish and then sprinkle the crushed corn flakes over top.

Evenly drizzle with melted butter.

Bake uncovered for 30-35 minutes or until it's heated through and the corn flake topping is golden brown.
Recipe Notes
1-2 (10oz) cans of drained chicken will also work! That seems to be the more common size, but I buy the larger cans from Costco. You can alternatively use about 2 cups of any cooked chicken including rotisserie or grilled.
I recommend Instant rice if you're looking for a quick meal. 2 cups of rice only takes about 10 minutes to prepare. 
Any vegetables can be used for this recipe as long as they are slightly cooked or blanched first. Soft veggies such as corn, mushrooms, or zucchini can simply be thrown in the mix without cooking. 
This is also a great side dish for dinner! Simply leave the chicken out of the recipe and serve it with any protein such as grilled chicken, steak, sausage, bbq, or fish.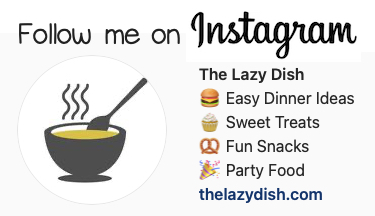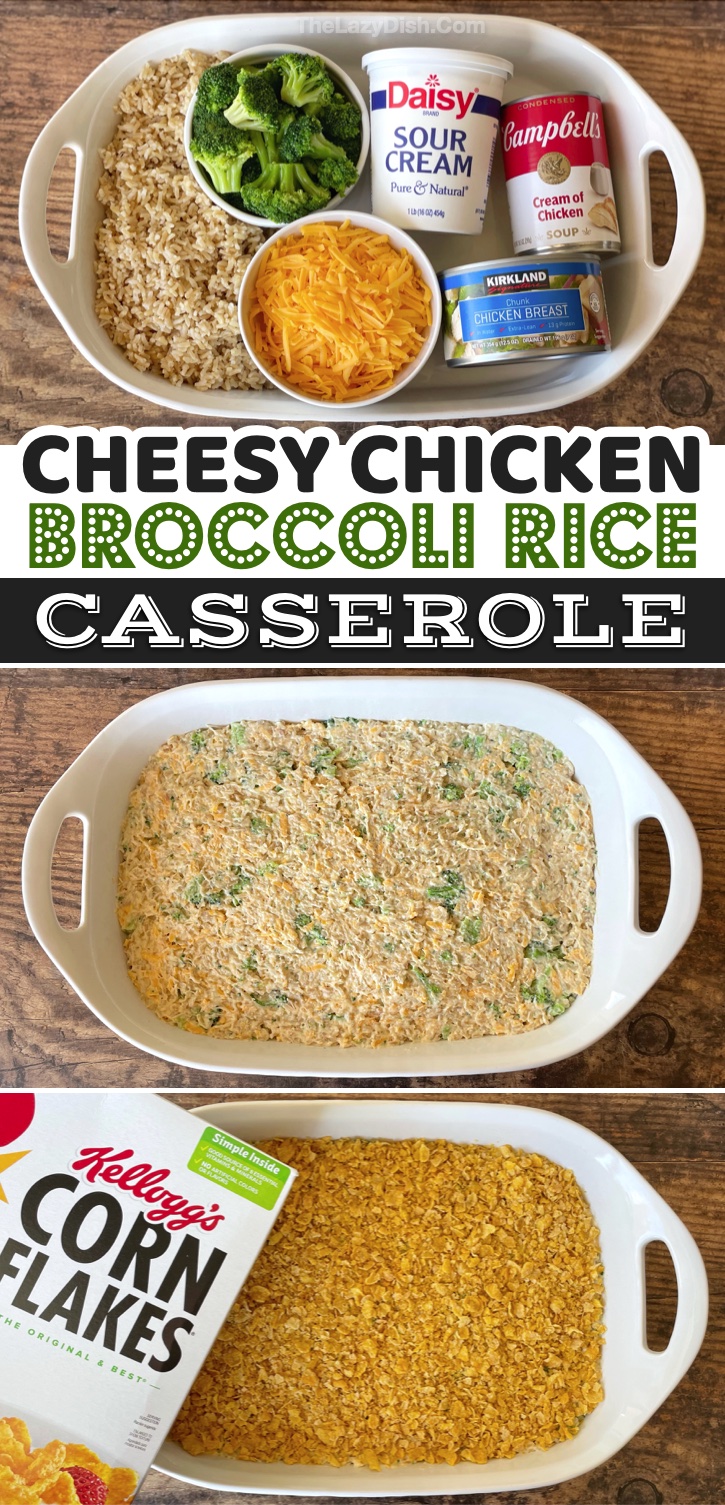 Casseroles
Casseroles can be a budget-friendly way to feed a family for dinner, as they often use ingredients that are inexpensive and readily available. Try mixing together ingredients you already have in your pantry!
The great thing about a good casserole is that everything is done cooking all at once, so it's easy to enjoy a warm meal without trying to coordinate your protein and side dishes all being done at once.
Casseroles are known for their versatility and can be made with a variety of ingredients, such as pasta, rice, potatoes, and meats like chicken, beef, and pork. Don't be afraid to substitute ingredients based on what you already have on hand.
They're great for serving a large group for family gatherings or potlucks. You can even prepare them ahead of time and store in the fridge until you're ready to pop it in the oven.