A Quick & Easy Awesome Deviled Egg Recipe
Deviled eggs have always been my go-to party appetizer because despite the way they sometimes smell, they are always the first thing to disappear. Sometimes I can't help but eat a few myself before the party even begins. I could eat them all day long!
You really don't need any fancy ingredients to make incredibly delicious deviled eggs. Just mayo, mustard, apple cider vinegar and seasoning to taste. Sprinkle with paprika and that's IT! There's no need to over complicate them with any extras. I've done some experimenting in the past with things like bacon and sour cream, and I always come back to this simple recipe.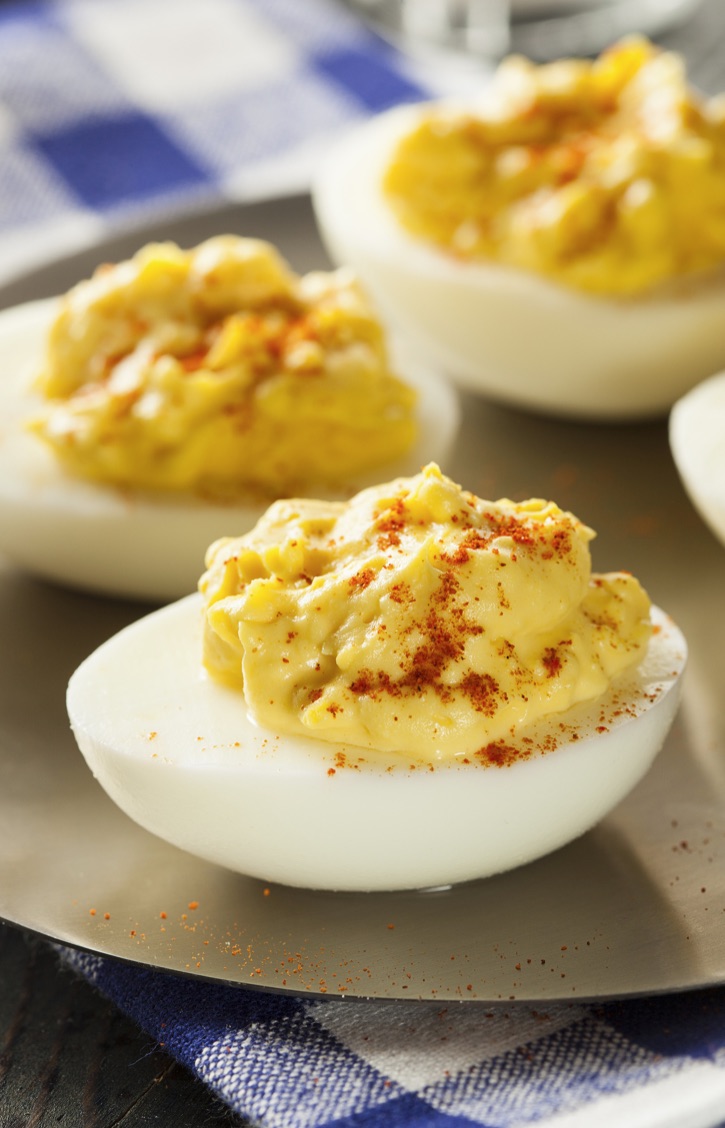 Helpful Tips & Tricks Before Boiling Your Eggs
If you want your deviled eggs to be as pretty as they taste, the most important step is the boiling process. You certainly don't want the egg whites to come off with the shells– very frustrating! Here are a few tips and tricks to achieve the perfect boiled eggs for deviled eggs.
The age of your eggs definitely seems to make a difference in how easily they peel. Most likely your eggs are old enough if you are purchasing them from a grocery store (about 2 weeks old), but if you happen to have your own chickens or purchase directly from a farmer, fresh eggs do not peel easily. The older, the better. This is the ONE case where you want to buy the eggs that expire the soonest, so check the expiration dates at the store.
There are several methods to achieving a hard boiled egg (Instant pot, oven baked, microwaved, etc.), but the boiling method seems to work the best because it's more consistent.
I've read in the past that you should boil your eggs starting them in cold water, but that has been unreliable for me, so I did some experimenting and found that placing them in the water once the water is already boiling gives much more consistent results.
The Best Way To Boil Eggs For Easy Peel Removal
Bring your water to a boil in a pot large enough to fit all of your eggs in a single layer.
Once the water is boiling, gently add your eggs (I use this Silicone Egg Basket) and allow them to boil for 30 seconds.
Set the heat to LOW and simmer for 14 minutes.
Immediately remove the eggs from the pot and shock them in an ice bath for at least 15 minutes before peeling.
To peel, gently tap the egg on one side to break the shell, but DO NOT roll the egg as this can cause pieces of the shell to stick into the egg whites causing them to break.
How To Make The Best Tasting Deviled Eggs In The World
Now that you have perfectly boiled and peeled eggs, let's get started with the deviling!
Here's what you'll need:
12 large eggs
1/3 cup mayonnaise
1 tbsp yellow mustard
1 tsp apple cider vinegar
salt, pepper & garlic powder to taste
paprika for garnish
Simple Instructions:
Cut your eggs in half lengthwise and place all of the yolks into a small bowl; set the egg whites aside onto a plate.
Smash the egg yolks with a fork and mix well with the mayo, mustard and vinegar (start off with 1/3 cup of mayo and add more if desired).
Season to taste with salt, pepper and garlic. Go easy on the salt! You don't need much.
Fill each egg white with equal amounts of the mixture (you can use a piping bag to make them pretty, or simply slop it on there with a small spoon).
Sprinkle with paprika for the finishing touch.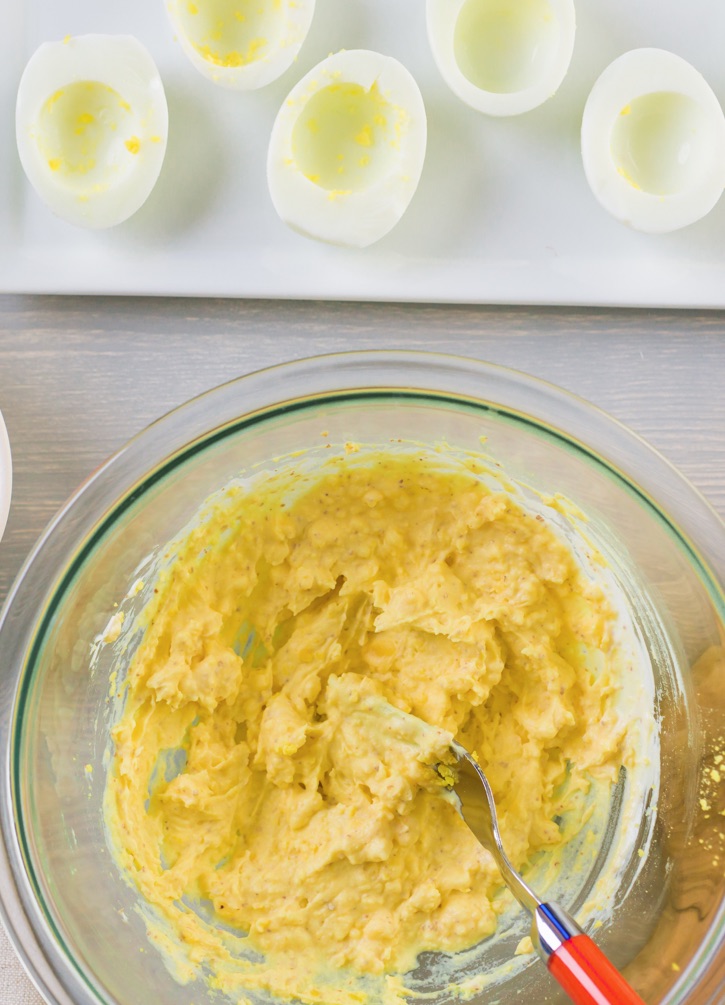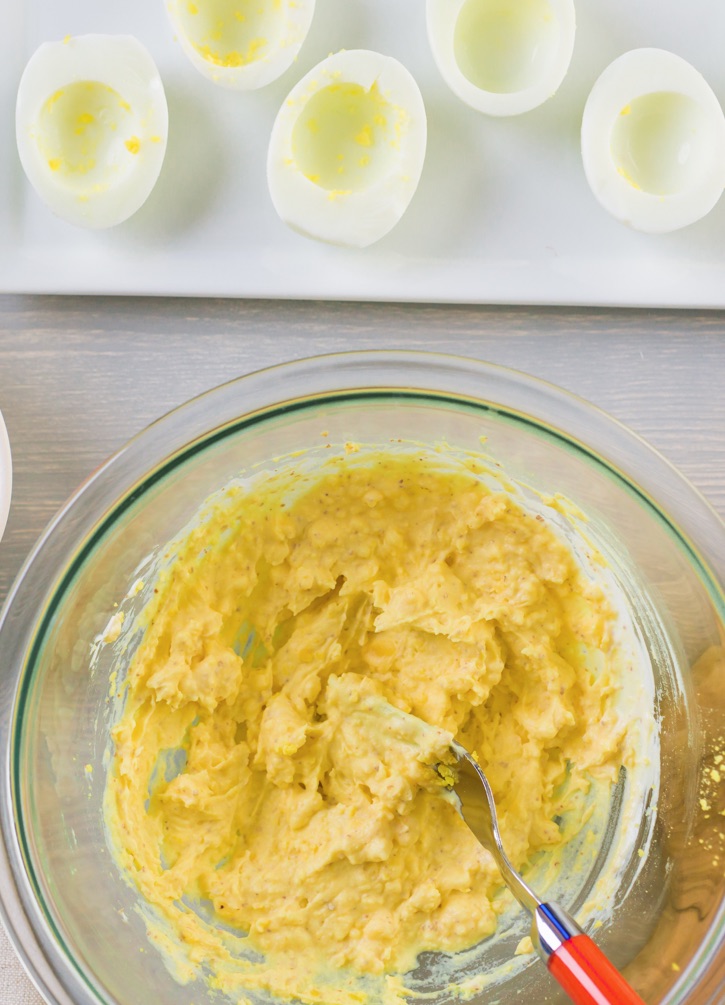 Frequently Ask Questions
How can I make deviled eggs in advance? You can prepare the deviled eggs up to 3 days in advance, keeping the egg whites and yolk mixture SEPARATE in tightly sealed containers. Assemble them once you're ready to serve.
Do I have to use vinegar? No, but it does give the eggs that tangy flavor. If you choose to leave it out you may want to add a little more mustard. If you don't have vinegar on hand, you can also replace it with a little freshly squeezed lemon juice.
Is there anything I can use in place of the mayonnaise? Yes, but they won't be as creamy and rich. For a healthier deviled egg, I've seen plenty of recipes that use plain greek yogurt, however leave out the vinegar as yogurt is tart enough as it is.
Can I use any kind of mustard? Basically, yes. However, dijon and some other types of mustard have a very strong flavor that is not liked by everyone.
What else can I top the eggs with besides paprika? Chives, dill and/or a piece of bacon.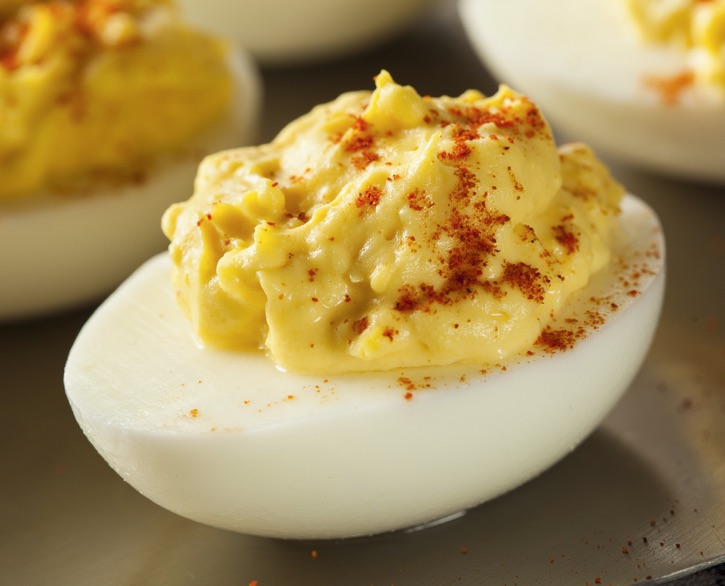 The BEST Classic Deviled Eggs Recipe
Quick and easy deviled eggs recipe made with simple ingredients: mayo, mustard, apple cider vinegar and seasoning to taste.
Ingredients
12

boiled & peeled eggs

(see instructions above)

1/3

cup

mayonnaise

1

tbsp

yellow mustard

1

tsp

apple cider vinegar

salt, pepper and garlic powder to taste

paprika

(for garnish)
Instructions
Cut your eggs in half lengthwise and separate the egg yolks into a bowl; set the egg white halves aside onto a plate.

Smash the egg yolks with a fork and mix until creamy with the mayonnaise, mustard and apple cider vinegar (start with 1/3 cup of mayo and add more if desired).

Slowly season to taste with a little salt and pepper. I also prefer them with about 1/2 tsp of garlic powder (optional).

Evenly distribute the yolk mixture into your egg white halves using a small spoon or piping bag.

Sprinkle with paprika and store in the fridge for up to 2 days.
Recipe Notes
A Silicone Egg Basket is a life saver! You can easily drop in and remove all of the eggs at once. These are also compatible with a pressure cooker and Instant pot for many uses.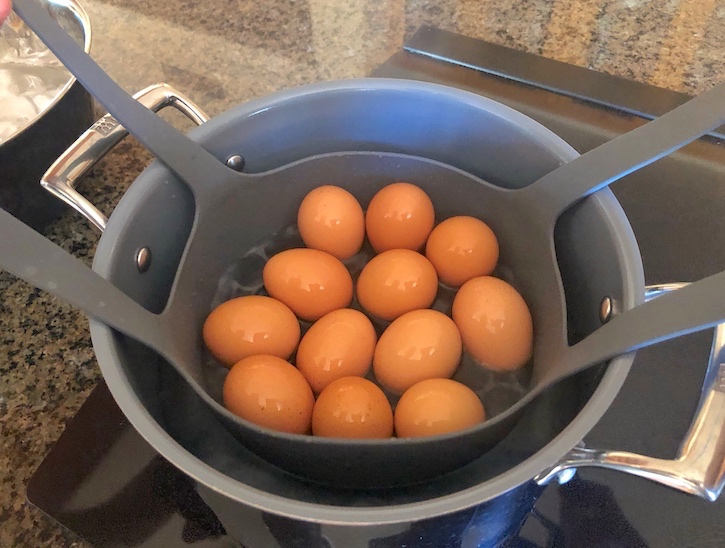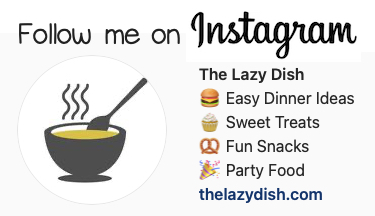 You can never have too many deviled eggs…