A quick and easy family dinner recipe!
Are you looking for easy meals to make for a family with kids? This baked chicken parmesan pasta casserole is incredibly quick and cheap to make with just a few ingredients: rotisserie chicken, pasta, marinara, cheese, butter and Panko bread crumbs. Delish! Even your picky eaters will enjoy this simple main dish.
I like to serve this yummy chicken casserole with caesar salad and breadsticks for a complete meal, but any type of veggie would pair well with it.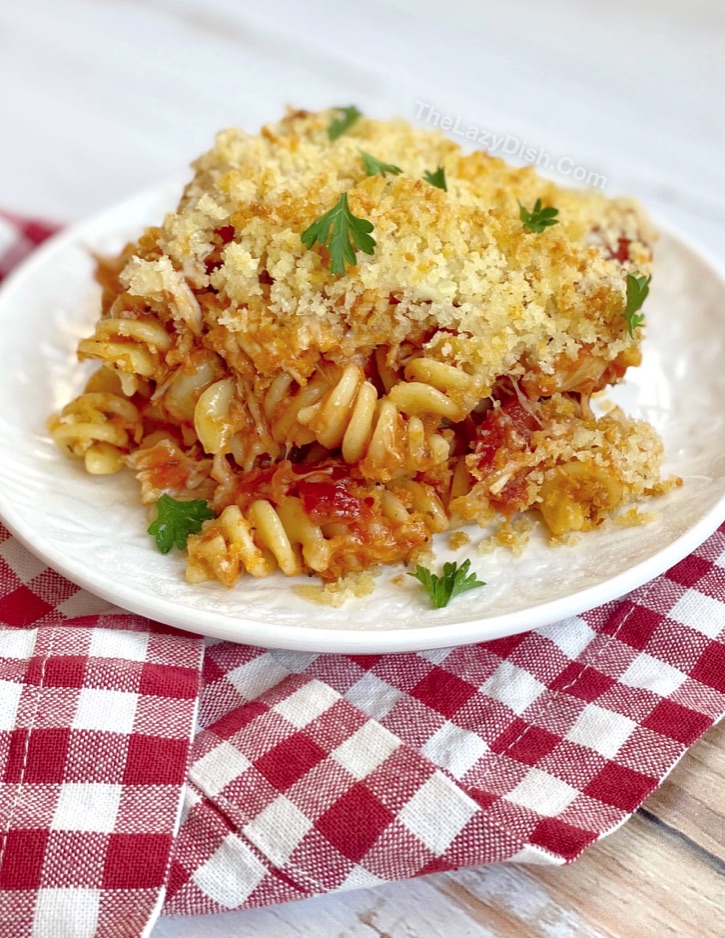 Easy Baked Chicken Parmesan Casserole With Pasta
1 small rotisserie chicken (pulled and shredded)
1/2 pound cooked pasta (any kind)
24oz jar marinara sauce
2 cups mozzarella cheese
1/2 cup grated parmesan
3/4 cup panko bread crumbs
2 tbsp melted butter
Italian seasoning and garlic powder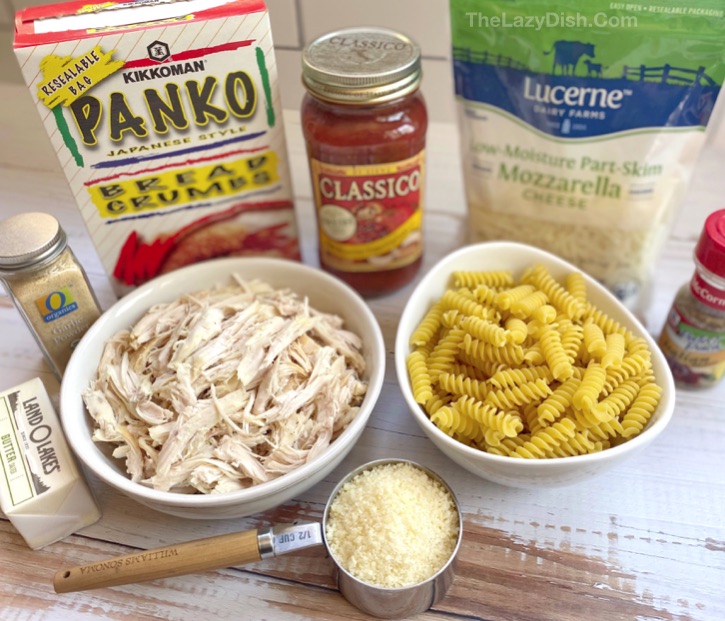 Simply cook and drain the pasta according to the package directions, and then mix with the chicken, marinara sauce, seasoning and half of the cheese. Simmer for a few minutes or until warm.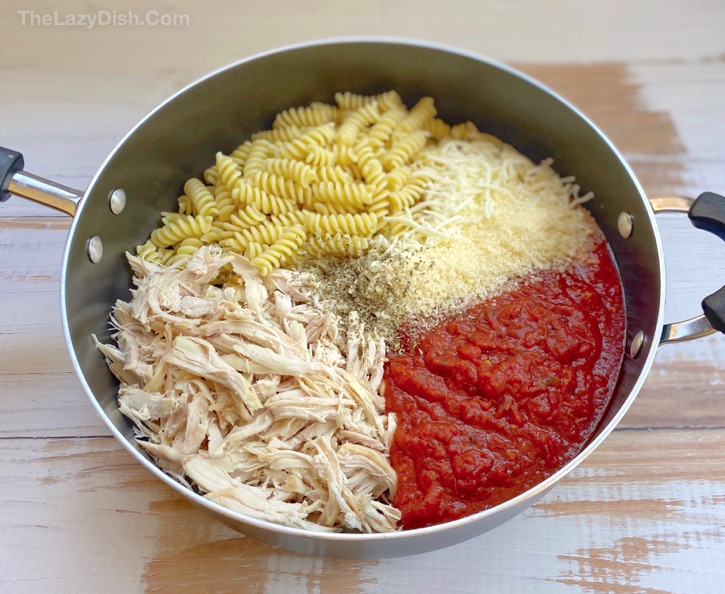 Spread the pasta mixture onto the bottom of a small greased casserole dish and sprinkle the remaining mozzarella over top. Next, mix together the bread crumbs, butter, remaining parmesan and garlic powder until well combined; sprinkle over top.
Bake uncovered in a 350 degree oven for about 15 minutes or until the panko crust gets crispy and turns golden brown.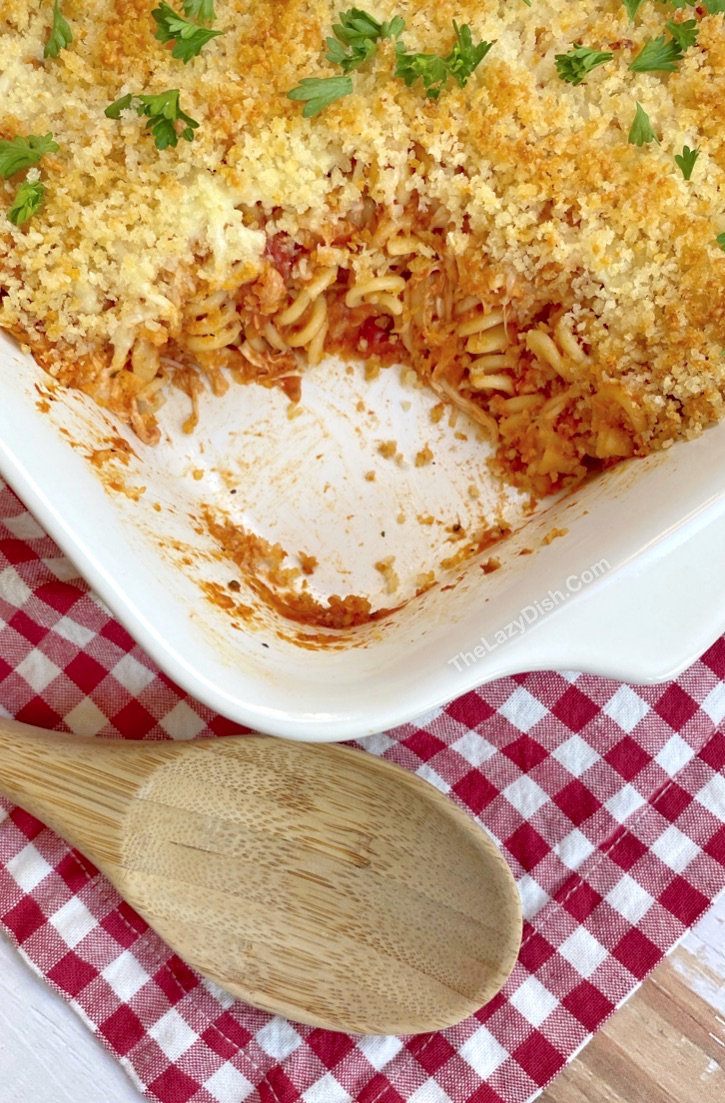 Serve this Italian inspired casserole alone or with salad, veggies and/or breadsticks. Either way, it's delicious and incredibly simple to make on busy weeknights, especially if you already have the chicken pulled and pasta cooked.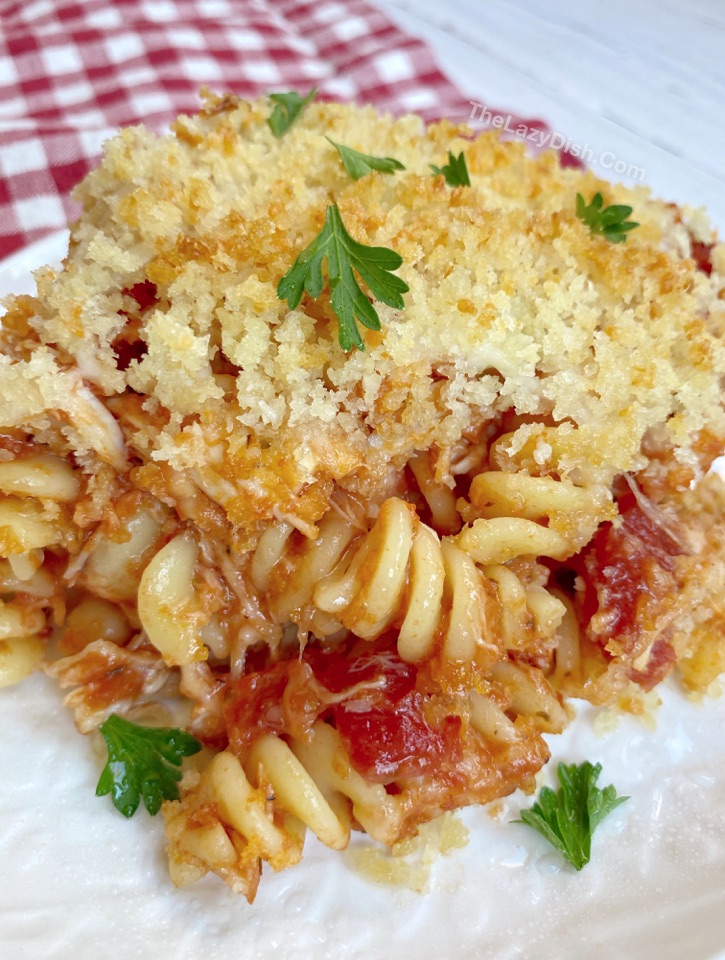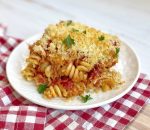 Easy Chicken Parmesan Casserole With Pasta
This easy family dinner recipe will get a thumbs up from your picky eaters! Kids and adults love this Italian inspired casserole. It's quick, simple and made with cheap ingredients including rotisserie chicken. This main dish is perfect for busy weeknight meals or anytime you don't want to fuss over dinner.
Ingredients
1

small rotisserie chicken

(pulled into small pieces)

1/2

lb

pasta

(about 3 cups dry)

1

(24oz)

jar marinara or spaghetti sauce

2

cups

shredded mozzarella cheese

1/2

cup

grated parmesan

3/4

cup

panko bread crumbs

2

tbsp

melted butter

1

tsp

Italian seasoning

1/2

tsp

garlic powder
Instructions
Preheat your oven to 350 degrees and grease a medium size baking dish (I used a 7x9 dish).

In a large pan or pot, cook and drain the pasta according the package directions.

Place the drained pasta back into the pot and mix with the marinara sauce, chicken, HALF of the mozzarella, HALF of the parmesan, and 1-2 tsp of Italian seasoning.

Allow the mixture to simmer for a few minutes over medium-low heat and then spread it evenly onto the bottom of your baking dish; sprinkle the remaining mozzarella and parmesan cheese over top.

In a small bowl, mix together the panko bread crumbs, melted butter and garlic powder; sprinkle it evenly over the top of the casserole.

Bake uncovered on the center rack for about 15 minutes or until the panko crust turns golden brown.

Serve alone or with salad, veggies and/or breadsticks. Enjoy!