A fun & easy last minute dinner idea!
Making dinner for my picky eaters is the hardest part of being an adult. I can't believe how much time I spend in the kitchen trying to make those little boogers happy. Fortunately, I've discovered a few cheap and easy recipes over the years that my kids absolutely love, and these pizza quesadillas are always a hit! They are awesome for last minute meals when you're tired after working all day.
Quesadillas are a classic comfort food, and I can't think of a better way to eat them than stuffed with pizza ingredients! Dip these hot cheesy tortillas in pizza sauce, marinara, tomato sauce, ranch, basil pesto, or anything else you have in that pantry of yours.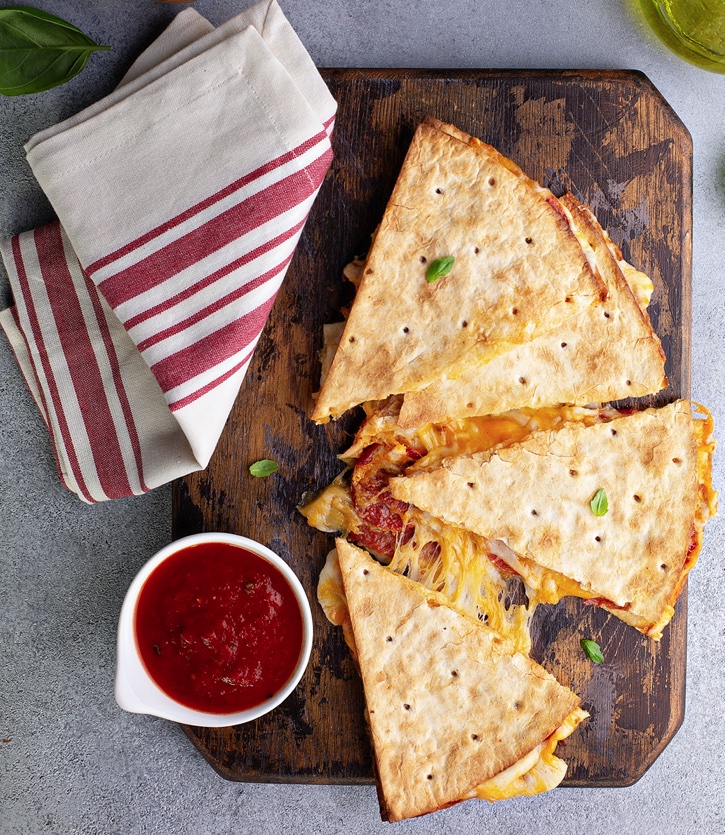 These pizza themed quesadillas are especially nice for sleepovers, birthday parties, or anytime your kids have friends over for dinner. Just like regular pizza, they make for great finger food when serving a crowd. Just whip out a few paper plates and you're set.
Serve with a packaged caesar salad for the easiest weeknight meal.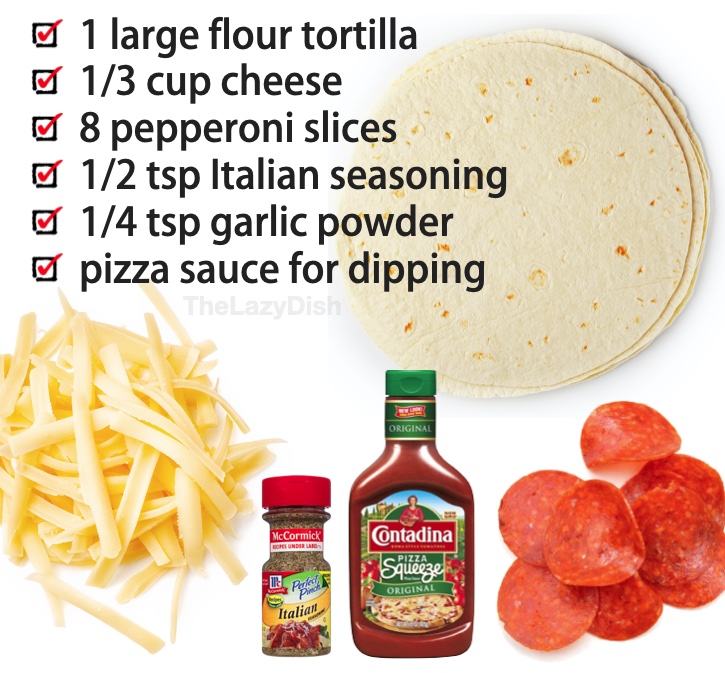 If you're looking for easy budget friendly dinner recipes for your family, add these pizza quesadillas to your weekly dinner menu! The pepperoni and cheese last for a long time in the fridge, so as long as you have flour tortillas on hand, you can throw this meal together when you are too lazy to make a big fuss over dinner. And besides, your kids will be full and happy!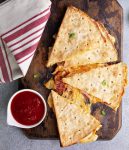 Pepperoni Pizza Quesadillas
If you're looking for quick and easy last minute meals to make your family, add these pizzadillas to your dinner menu! They are cheap and simple to make with just a few ingredients that your picky eaters will gobble up.
Keyword:
cheap, easy meals, flour tortillas, pepperoni, picky eaters, pizza, quesadillas
Ingredients
1

large flour tortilla

1/3

cup

shredded cheese

(cheddar, mozzarella or a Mexican blend)

6-8

pepperoni slices

1/2

tsp

Italian seasoning

1/4

tsp

garlic powder

pizza sauce

(for dipping)

butter

(for pan)
Instructions
Heat a large skillet to medium heat and fry the pepperoni until crisp. Remove them from the pan and place them on a paper towel to soak up the extra grease.

Use a paper towel to remove any remaining pepperoni grease from the pan and then add about 1/2 tbsp of butter and spread it around with a spatula as it melts.

Drop your tortilla into the pan, flipping it a few times so that both sides are evenly covered in butter. Crisp ONE SIDE of the tortilla for a minute and then flip and top the CRISPY SIDE with shredded cheese, pepperoni, Italian seasoning, and garlic powder.

Cook for an additional 2-3 minutes or until the under side is golden brown and your cheese is melted.

Fold one side of the tortilla over and remove from the pan. Allow it to rest for a few minutes before slicing with a pizza cutter.

Serve with warm pizza sauce or marinara.
Recipe Notes
Don't be afraid to experiment with this recipe! In addition to the pepperoni, you could also add mushrooms, jalapeños, olives, basil, bell peppers, spinach, onions, etc.
If you happen to have grated parmesan on hand, try sprinkling a little into the quesadilla along with the shredded cheese.