Quick & simple meals to make at home on busy school nights! Everything from chicken and ground beef to yummy pasta casseroles and slow cooker comfort foods.
Whether you've got fussy toddlers to feed or finicky adults that complain about everything, meal time can be a real struggle! Cooking a single dinner that makes everyone happy can seem impossible, especially on busy weeknights when you're tired, hungry, and just want to relax.
I've spent the last couple of years experimenting and compiling quick and easy dinner recipes that are fast to make, yummy, and made with just a few simple and basic ingredients, but the best part is, they are all versatile, cheap to make, and perfect for picky eaters of all ages.
1. Taco Macaroni & Cheese
The combination of these simple ingredients is packed full of flavor and fast to throw together on those nights when the only thing you really want to do is sit on the couch and zone out to your favorite show.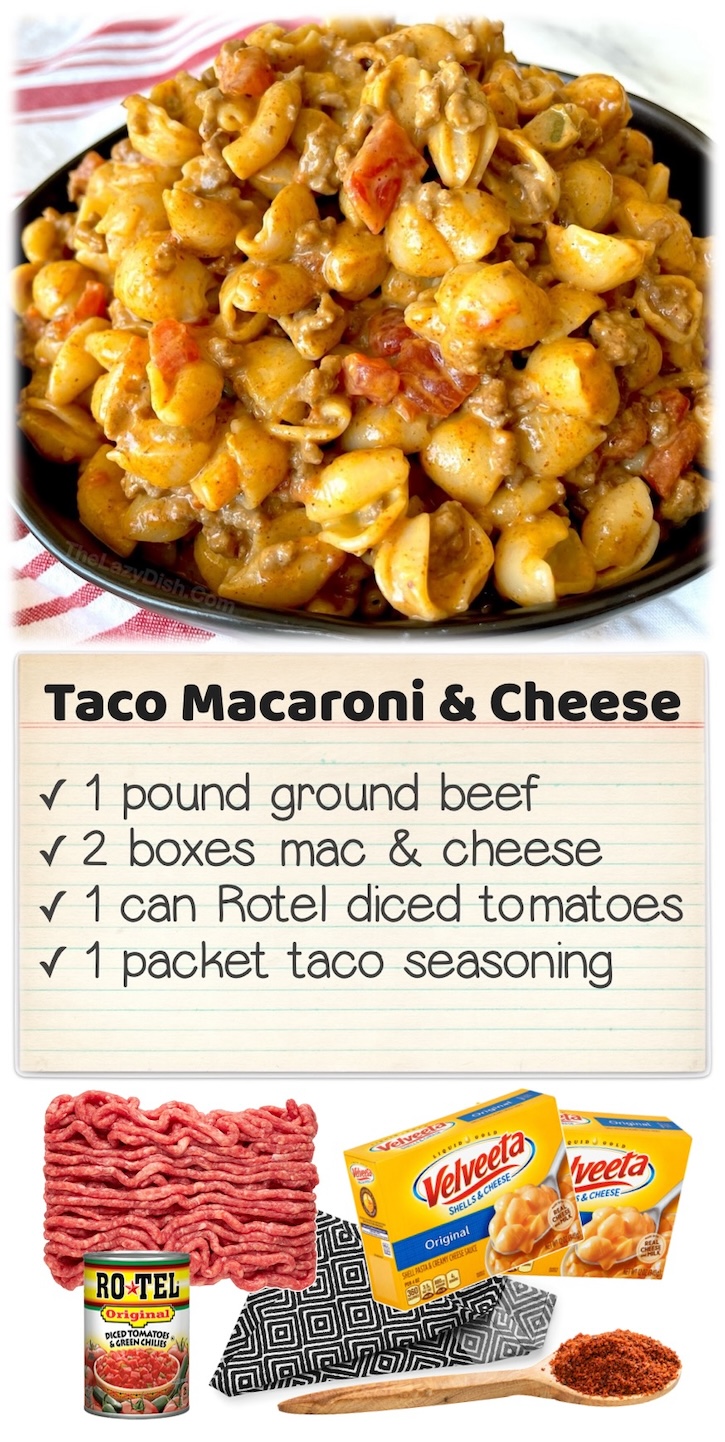 2. Mini Chicken Pot Pies
This handheld food is made with just a few ingredients in a mini muffin tin! Eight fluffy biscuits stuffed full of a creamy mixture of chicken and veggies, tossed in the oven, and devoured by kids and adults of all ages.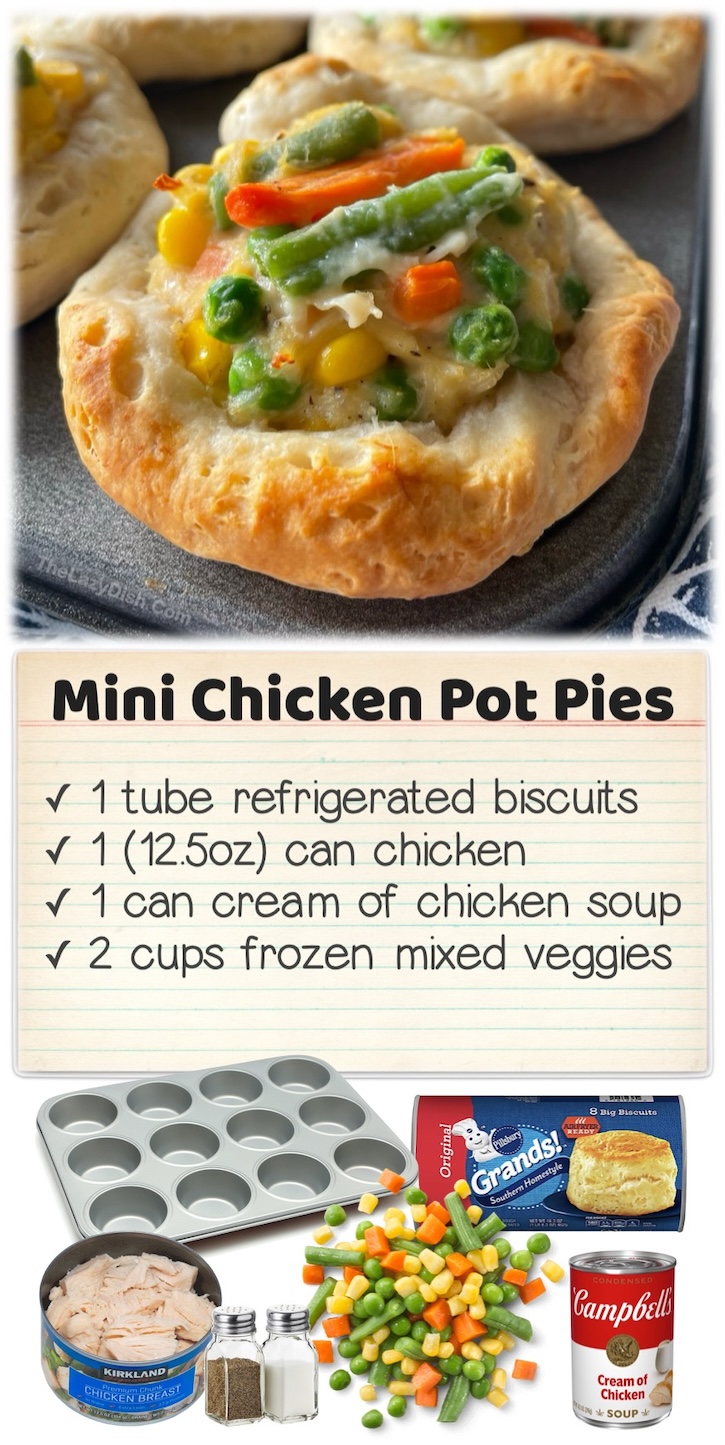 3. Cheesy Ham & Rice Casserole
A cheesy rice casserole is always a win in my house, and the best part is, you can customize it with the veggies and meat of your choice. Try using cubed ham for a change! It adds the perfect salty goodness you crave in a hearty meal.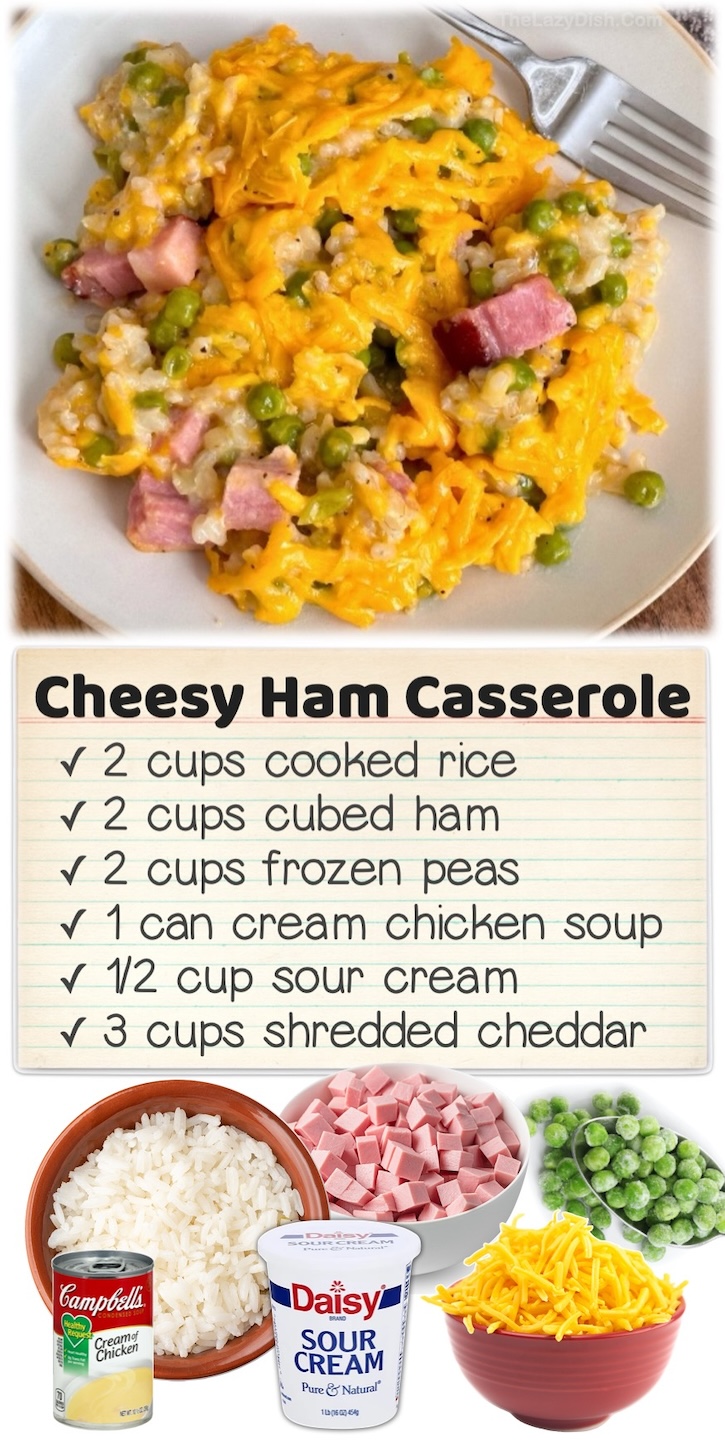 4. Creamy White Chicken Enchiladas
With over a million shares on Pinterest, these creamy enchiladas are sure to be a hit with your picky family! They have an easy to make homemade sauce and are stuffed full of rotisserie chicken and gooey cheese.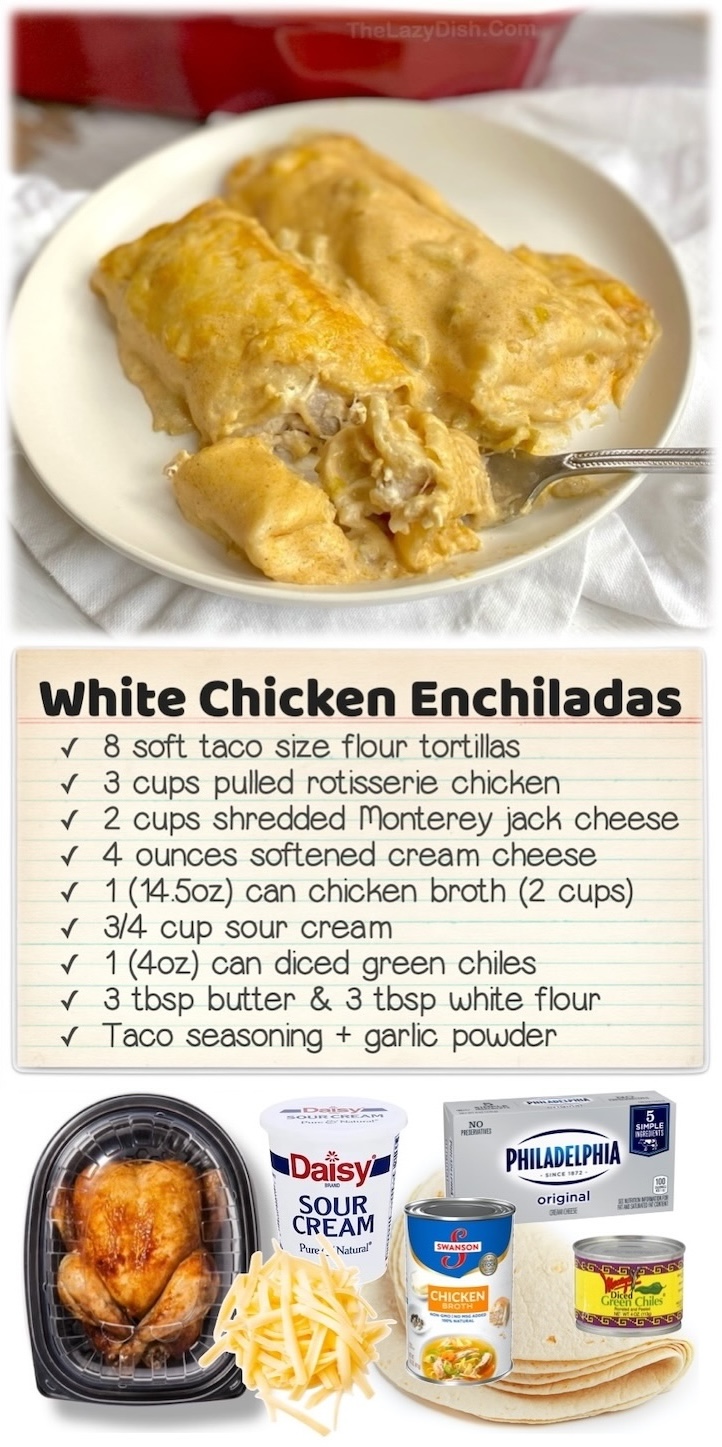 5. Frozen Taquito Casserole
This is how you take boring, dry frozen taquitos and make them into a family friendly dinner casserole that will have everyone going back for seconds. Simply bake with enchilada sauce and cheese! You'll be surprised at how yummy this is considering it's totally effortless.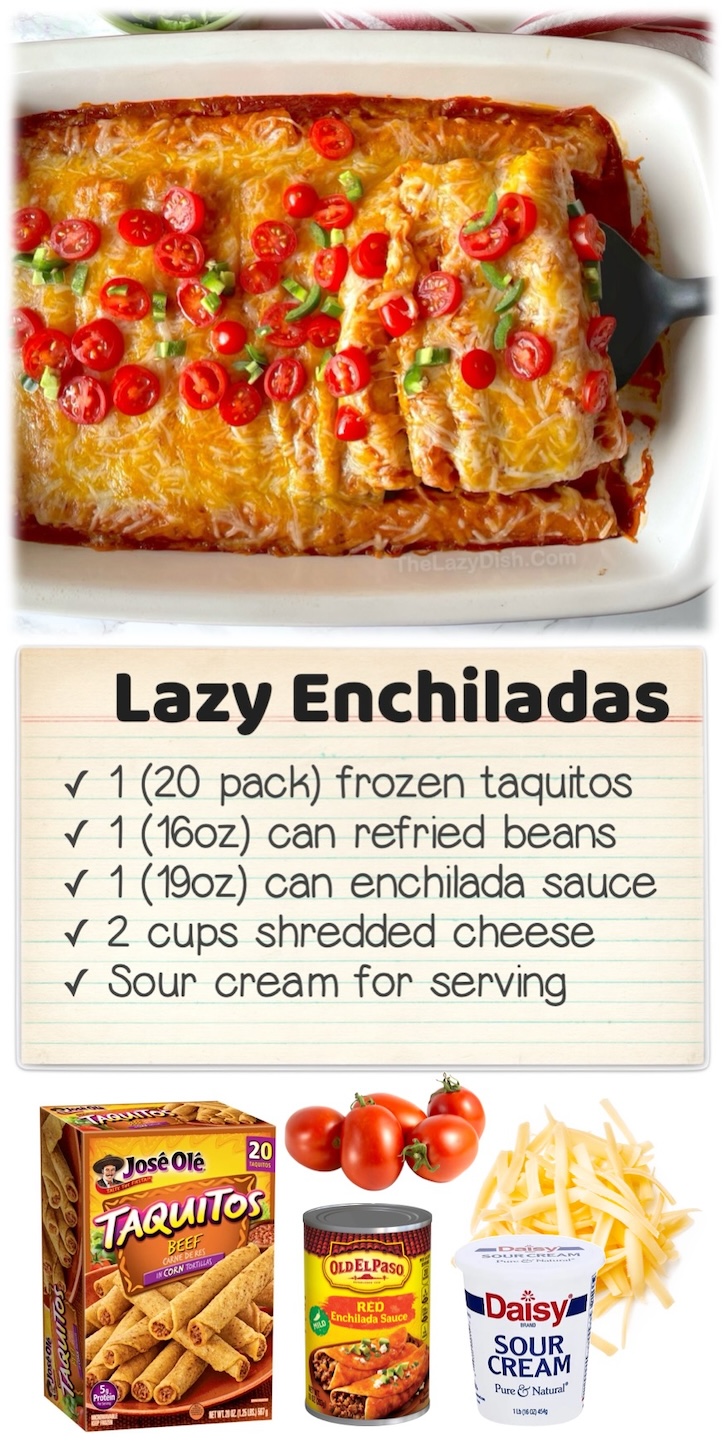 6. Slow Cooker Chicken & Gravy
Serve this savory shredded chicken over mashed potatoes, rice, or pasta for a manageable and delicious dinner you can make ahead of time on busy school nights. Serve with your favorite veggies to make the meal complete!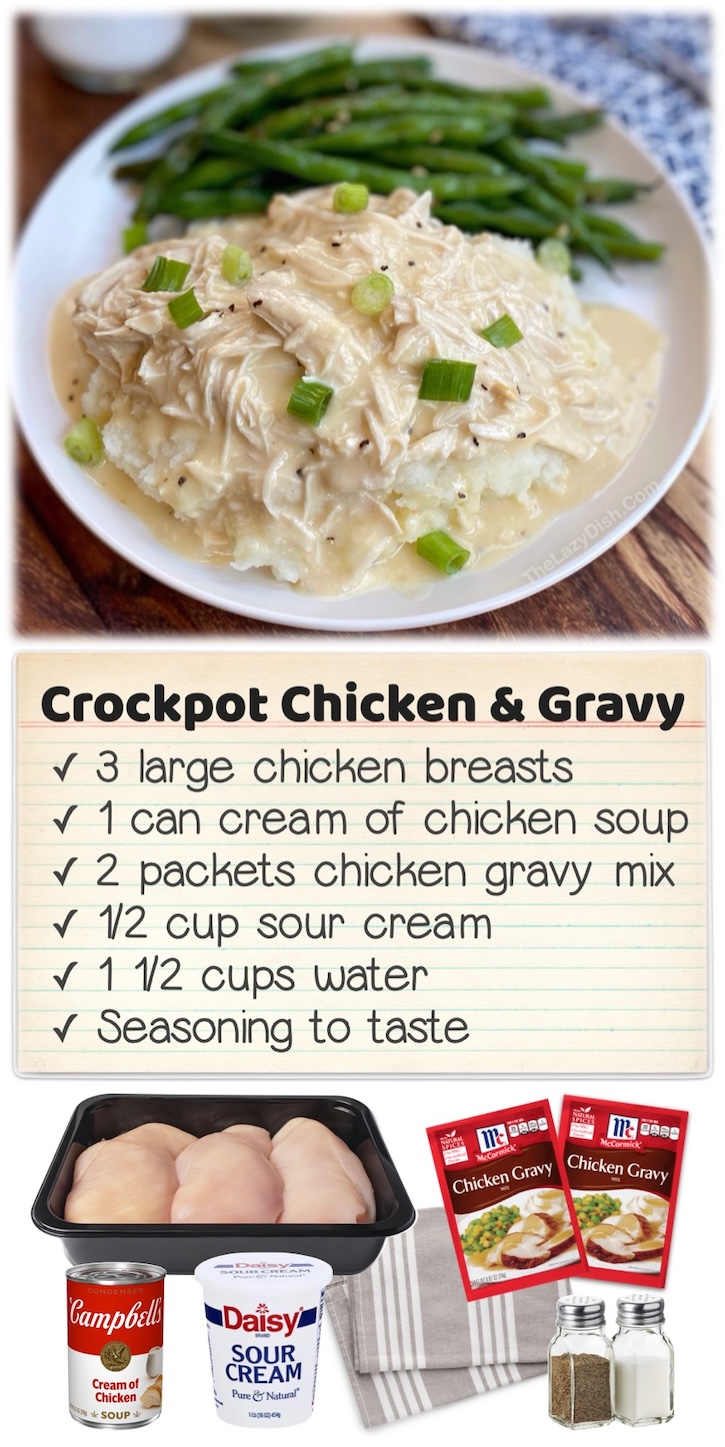 7. Lazy Lasagna
Layer frozen ravioli, pasta sauce and cheese into a 9×13 baking dish and watch as magic happens! This one pan meal is ideal for a family with picky kids and can be customized by adding meat, veggies or herbs to the layers.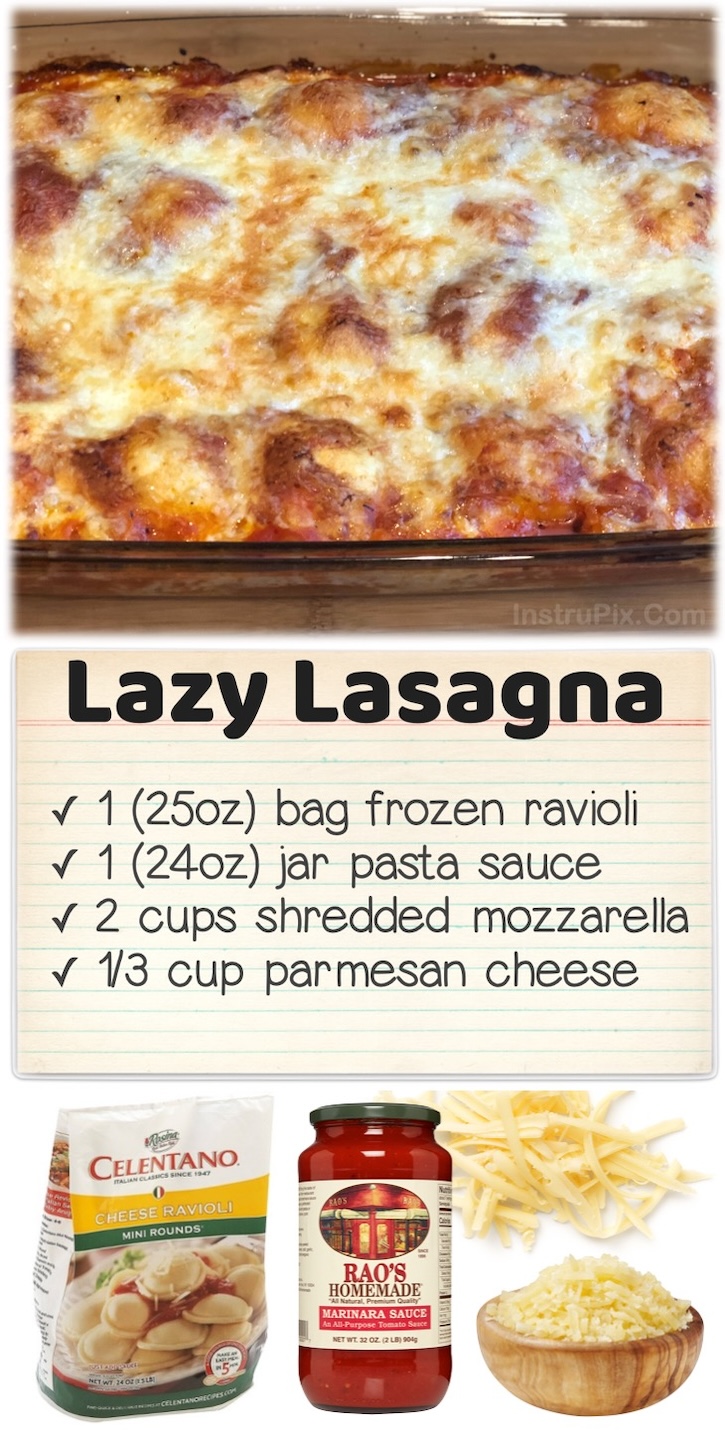 8. Cheesy Chicken Broccoli & Rice Casserole
This family friendly meal is all baked together with basic pantry staples, making it perfect for last minute dinners when you haven't had time to grocery shop. The cheesy goodness and crispy corn flake topping is the ultimate finishing touch!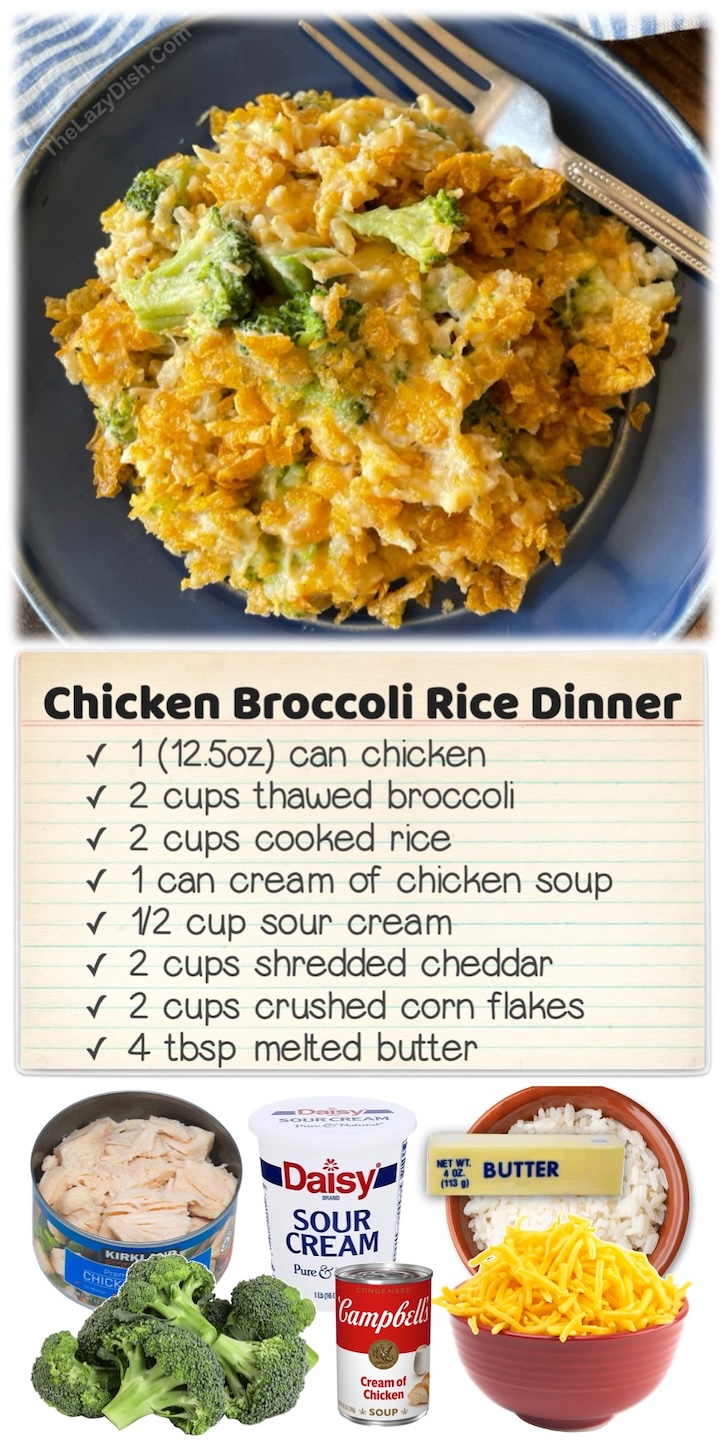 9. Mini Meatball Subs
Frozen meatballs stuffed into crescent dough surrounded by pizza sauce and lots of gooey cheese, all put together in a mini muffin pan to make this yummy finger food for dinner.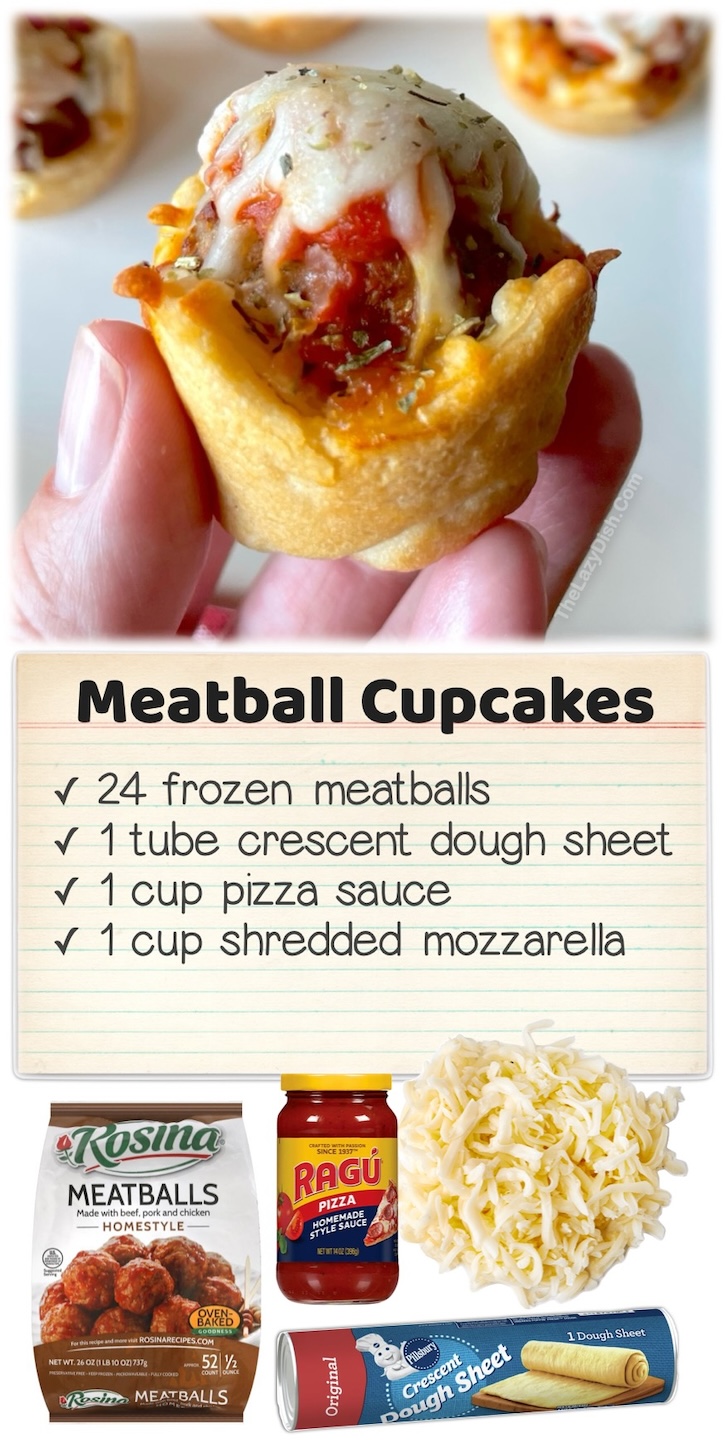 10. Creamy Ranch Baked Chicken
Bacon, ranch and cream cheese! How can you go wrong with that? This cheesy baked chicken is heavenly served over rice or pasta with a side of salad or your kids' favorite side of vegetables.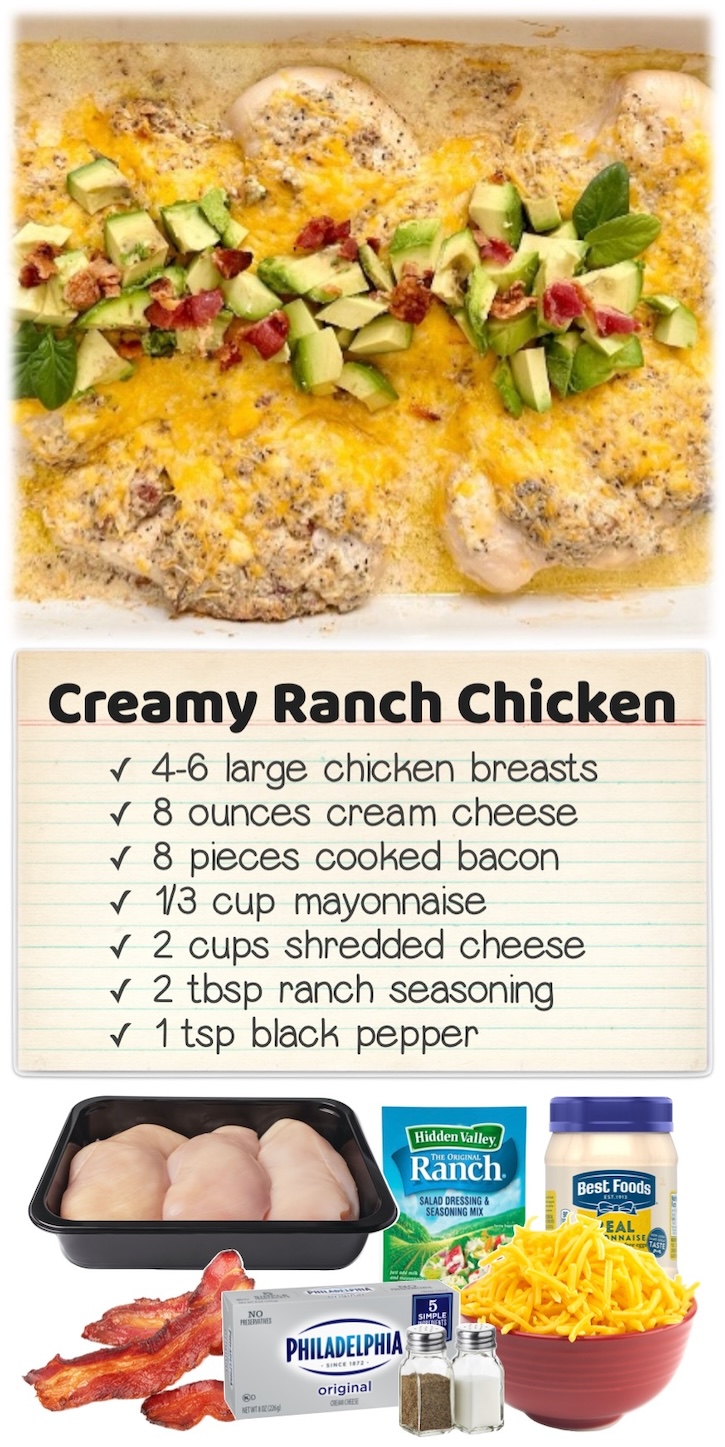 11. Creamy Sausage Pasta
If you're tired of cooking ground beef for dinner, try ground sausage for a change! It's extra tasty in this homemade creamy sauce tossed with your preferred pasta.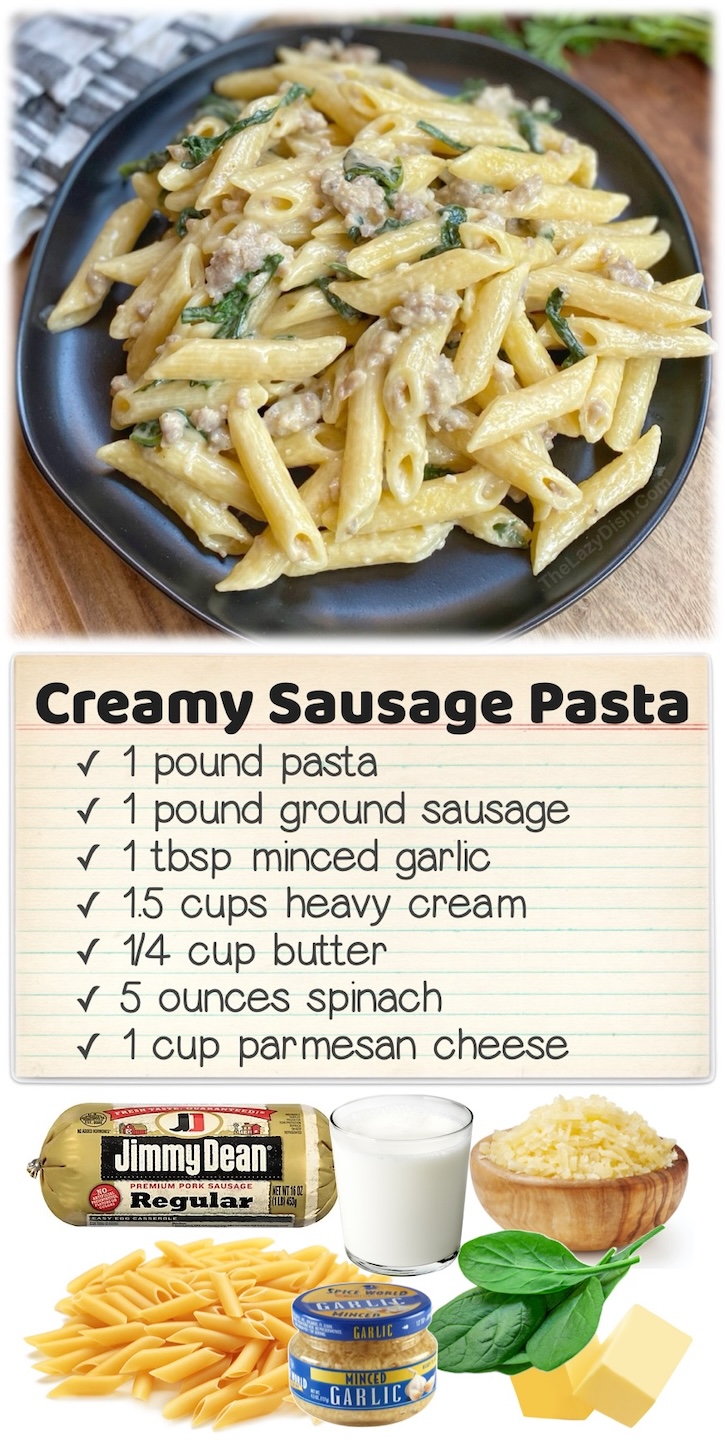 12. Cheesburger Biscuit Casserole
No need to go outside and stand in front of a grill when you can make these hearty hamburger biscuits in the oven! My kids love them served with ketchup and mustard for dipping.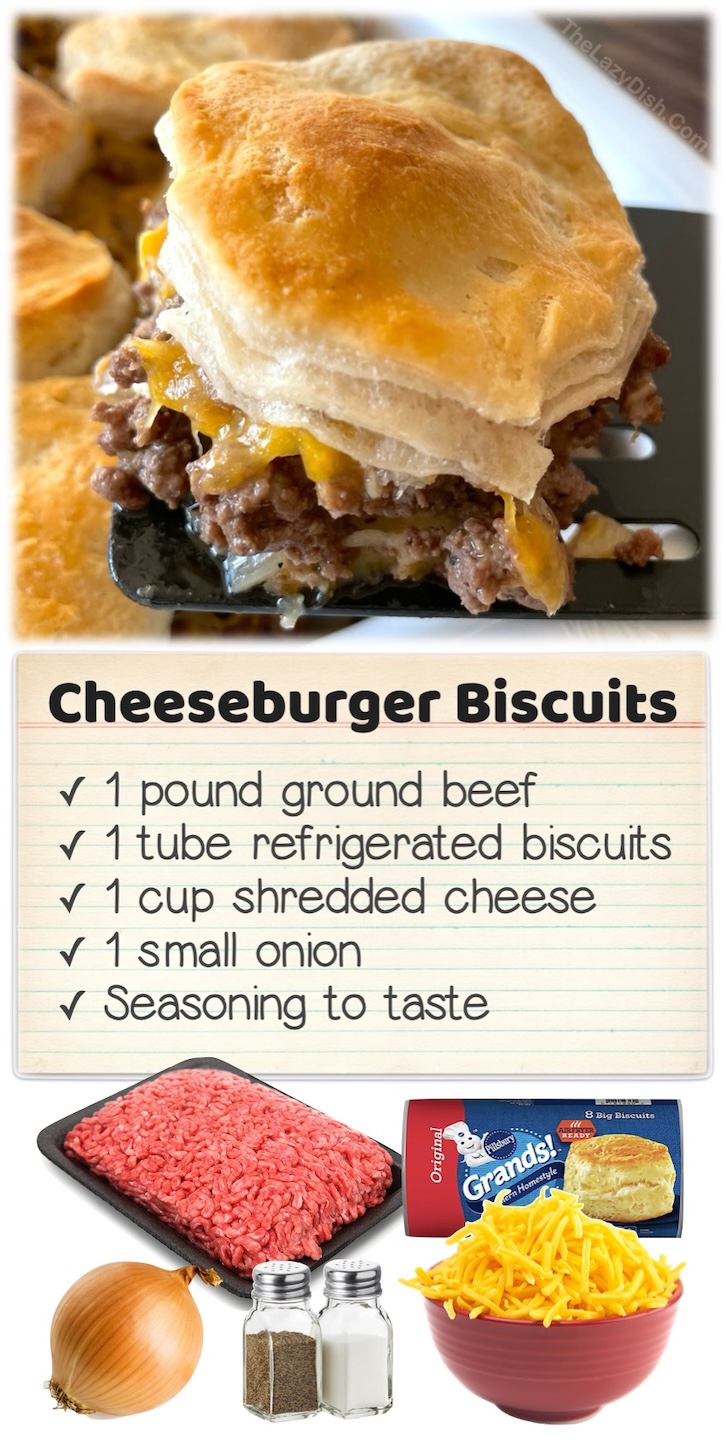 13. Frozen Garlic Toast Pizzas
Pick up a box of frozen garlic toast, pizza sauce, shredded mozzarella and pepperoni to prepare the easiest weeknight meal you'll ever make. Simple enough for your older kids and teens to make themselves!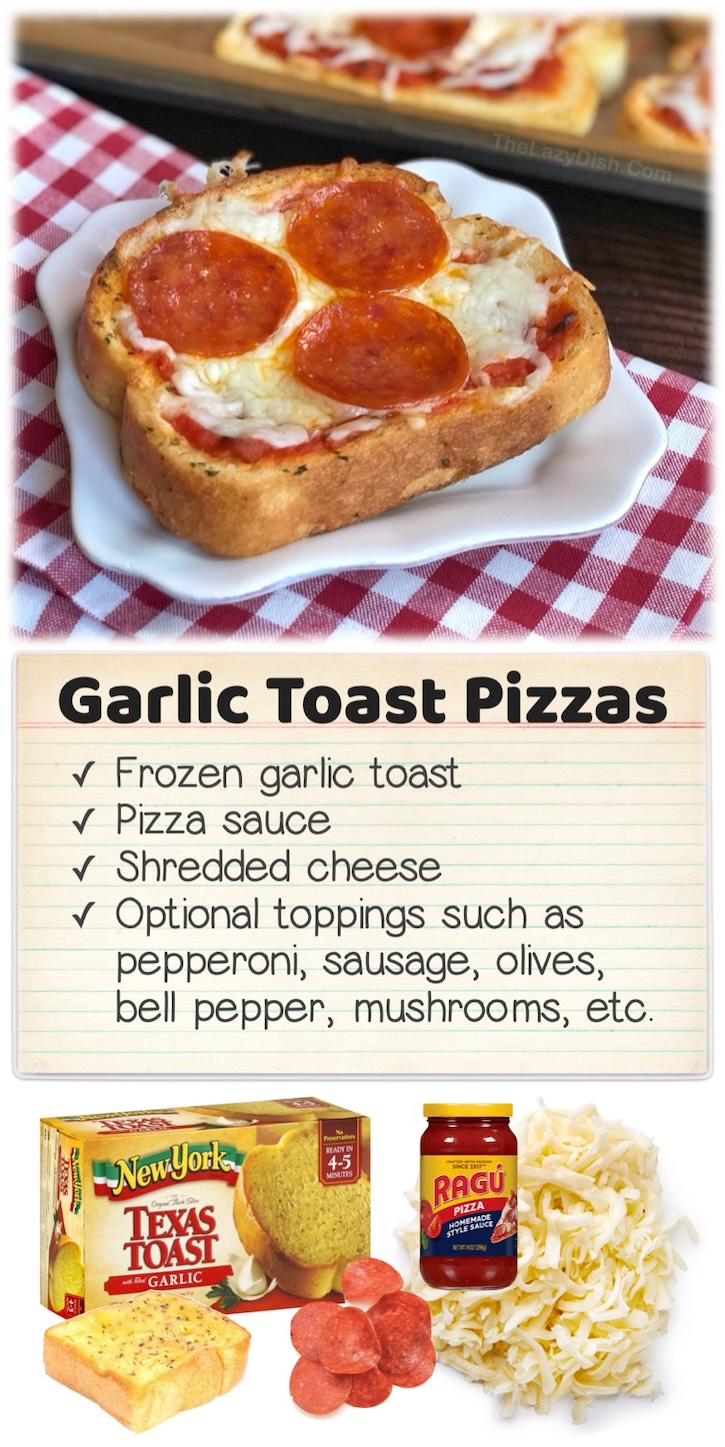 14. Cheeseburger Pasta Casserole
This popular dinner recipe is one of the best classic meals you'll ever make. It's cheesy, hearty, gooey, flavorful, and most definitely kid approved.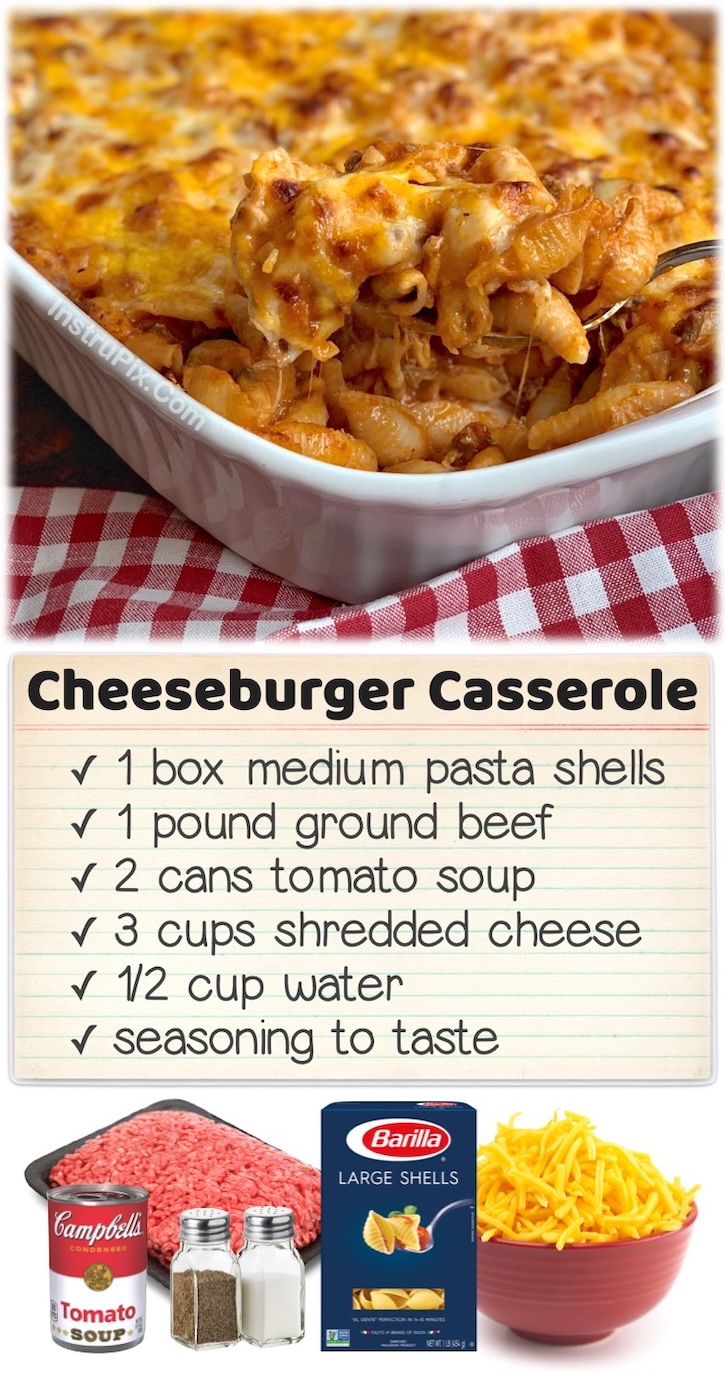 15. Easy Homemade Chicken Nuggets
Chicken nuggets are probably the most kid friendly food you can think of, but you can't always feed your kids frozen fried food for dinner. Try baking this healthier version at home with canned chicken and cheese for last minute dinners.
16. Pepperoni Pizza Quesadillas
These quesadillas are made with a fun twist by adding pepperoni and Italian seasoning, and then serving with pizza sauce for dipping to make a quick dinner the entire family will love.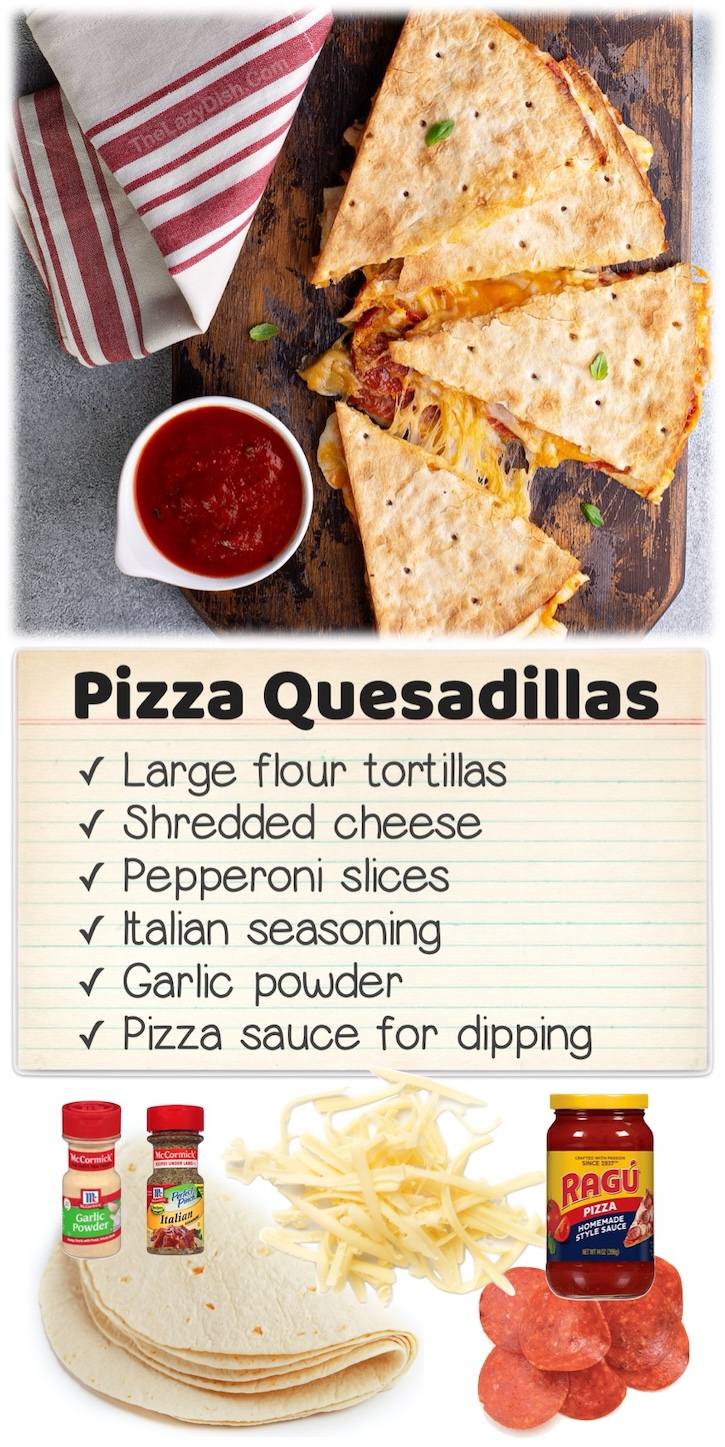 17. Chicken Parmesan & Pasta Casserole
Pasta mixed with sauce, cheese and rotisserie chicken thrown in a baking dish and topped with a crispy bread crumb topping. This yummy dinner casserole is always a hit in my house! Serve with Caesar salad and breadsticks.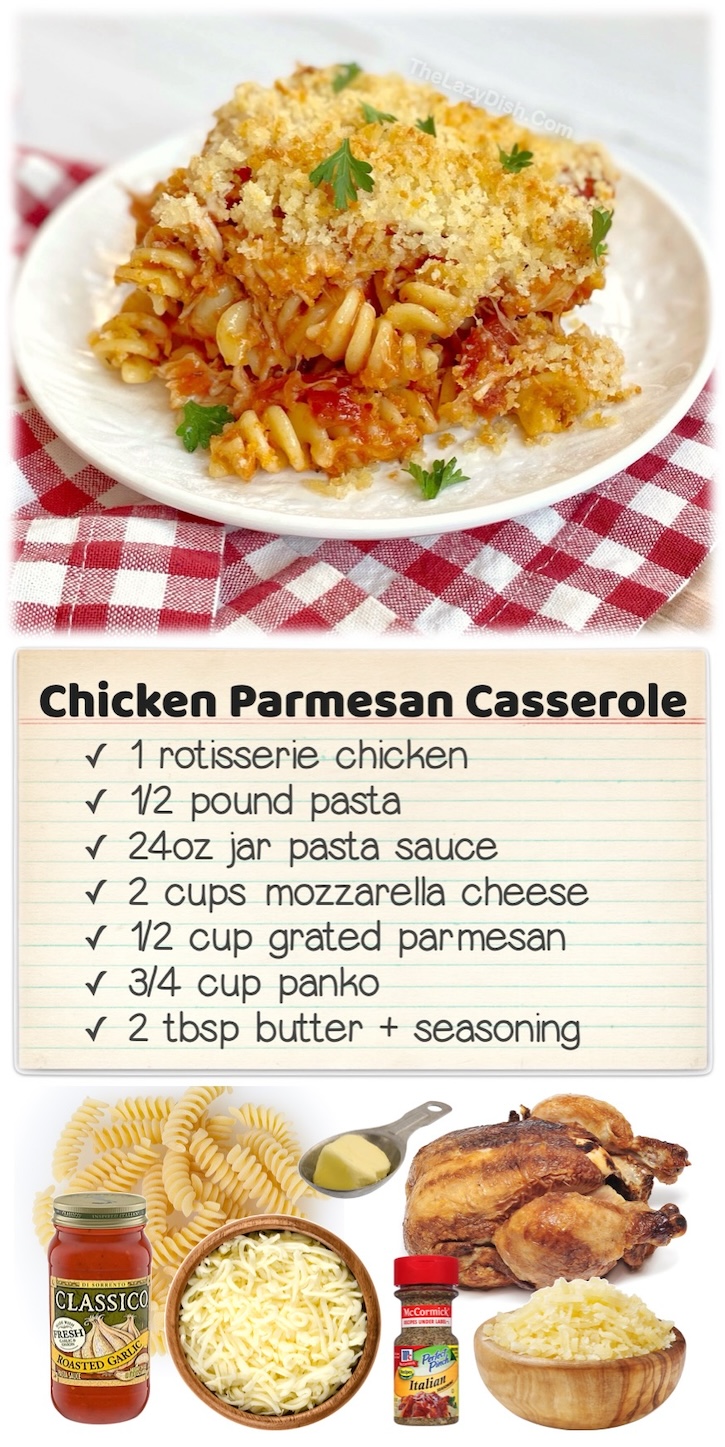 18. Stuffing Mix Meatloaf
When you add a box of Stove Top Stuffing to meatloaf, it turns into a family friendly dinner even the pickiest of eaters will enjoy. Serve with a side of buttery mashed potatoes and watch as your kids go back for seconds!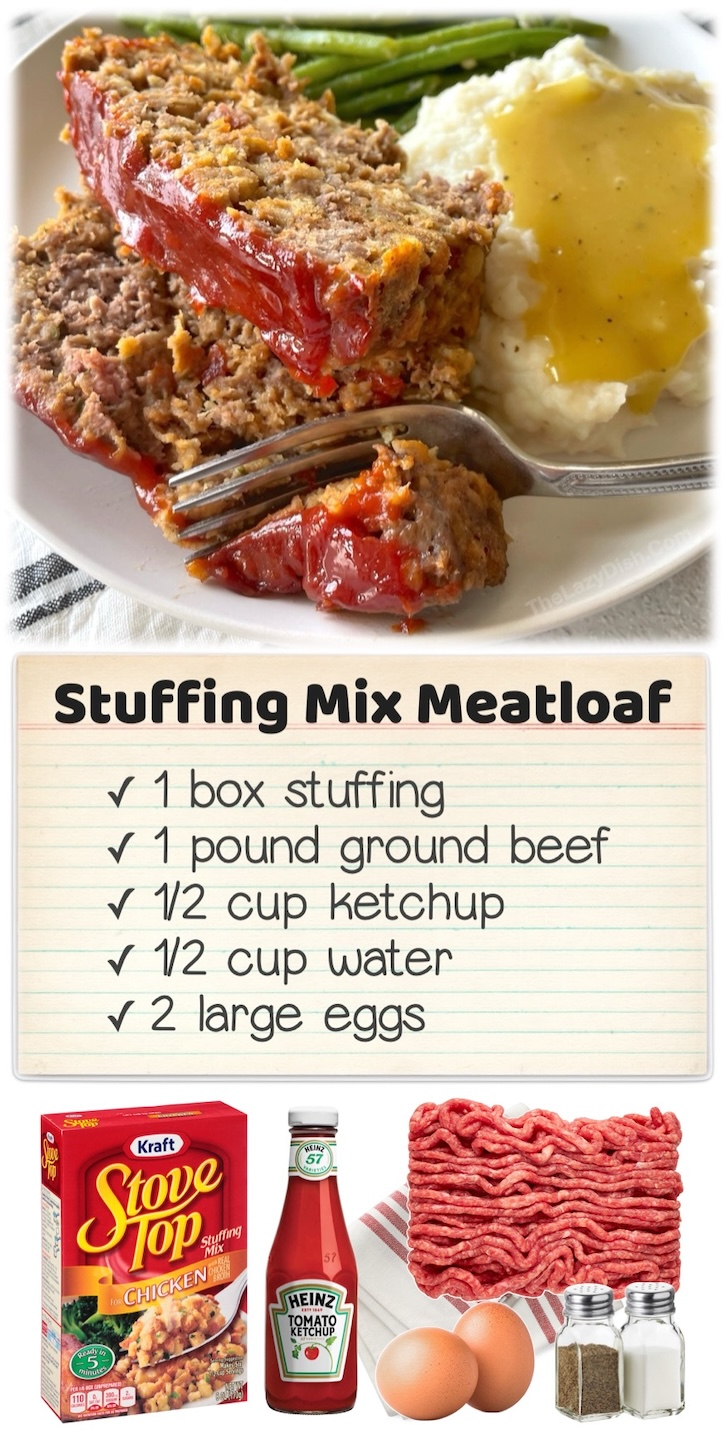 19. Chicken & Zucchini Stuffing Casserole
As you might be able to tell by now, I love a god box of stuffing, and it adds the perfect crunch and savory flavor to this rotisserie chicken casserole. This amazing dish is easy to prepare and totally scrumptious!
20. Frozen Burrito Dinner Casserole
Pick up a pack of your favorite frozen burritos from the grocery store and smother them in enchilada sauce, top with cheese, and bake! This is one of my favorite lazy meals to make on busy school nights. You'll thank me later.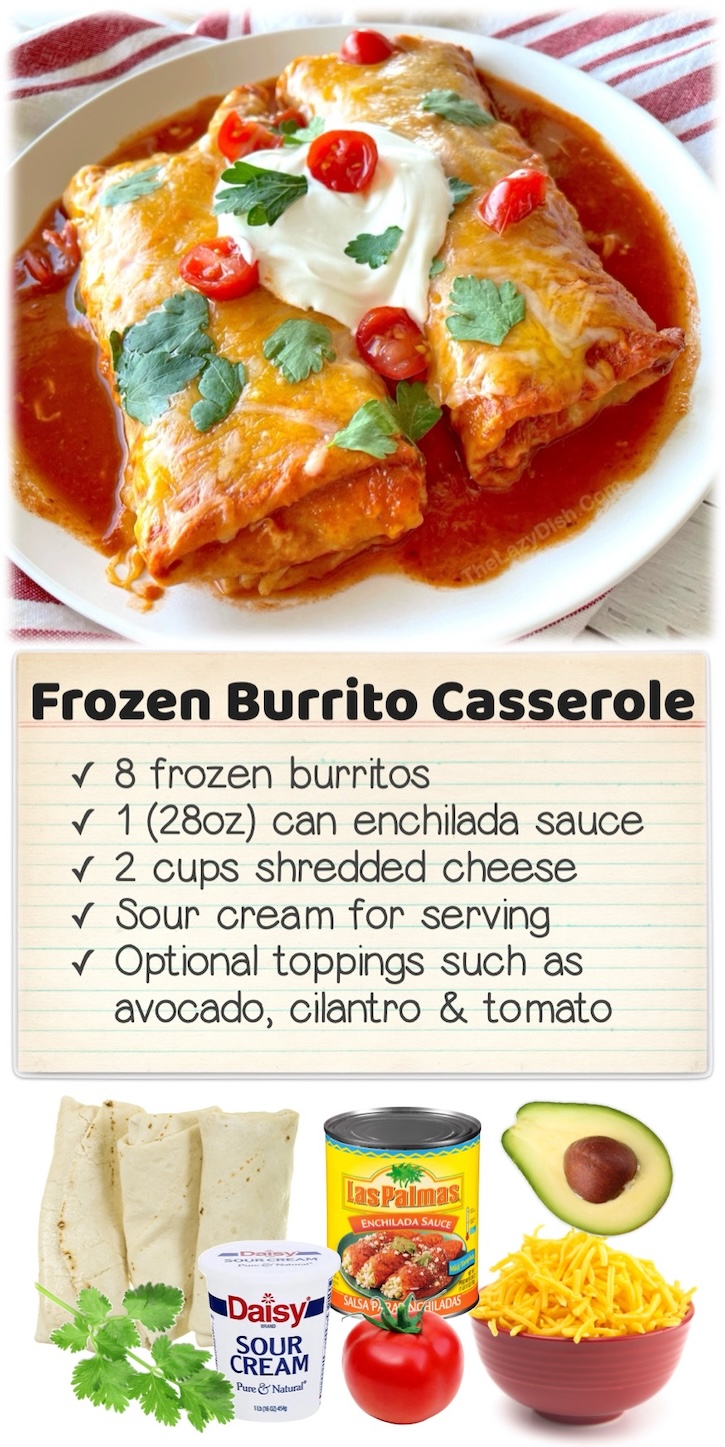 21. Smash Burger Tacos
This fusion of two classic comfort foods will make you wonder why you've never made them before! Simply smash seasoned ground beef directly onto small flour tortillas and cook on a griddle to make these unique and tasty tacos.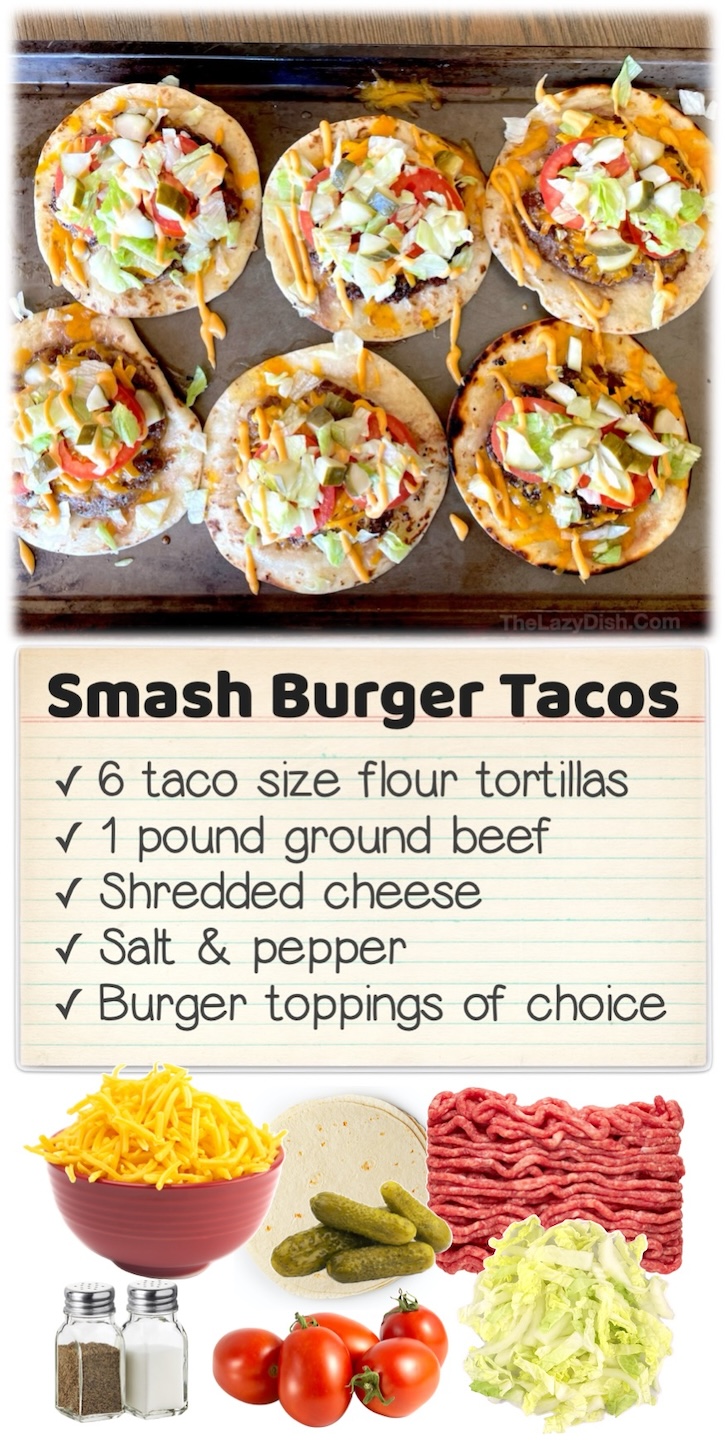 22. Baked Tortellini Casserole
Adorable cheese stuffed pasta tossed with cream cheese and meat sauce. Yes, please! This cheesy dinner would make grandma proud.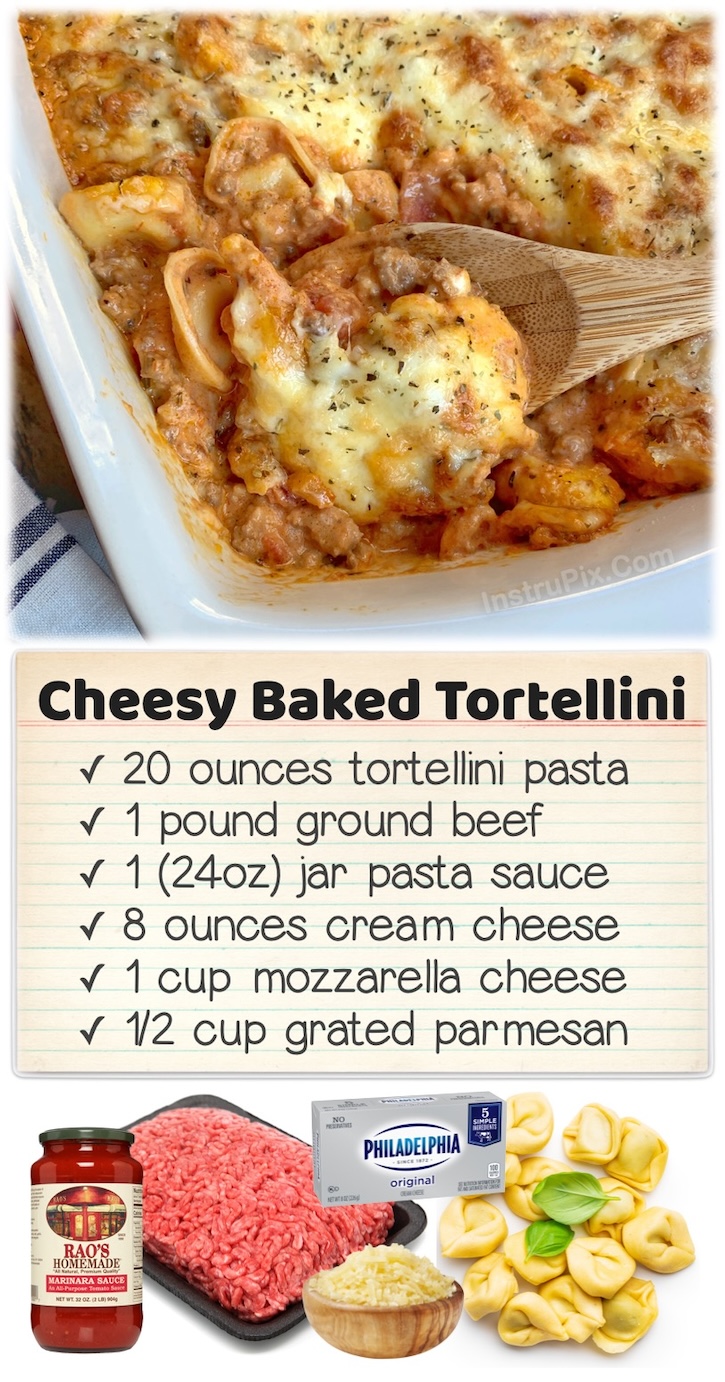 23. Cheesy Tater Tot Casserole
This yummy casserole has every comfort food you'd ever want wrapped up into one dish including crispy tater tots, creamy ground beef, veggies and lots of gooey cheese.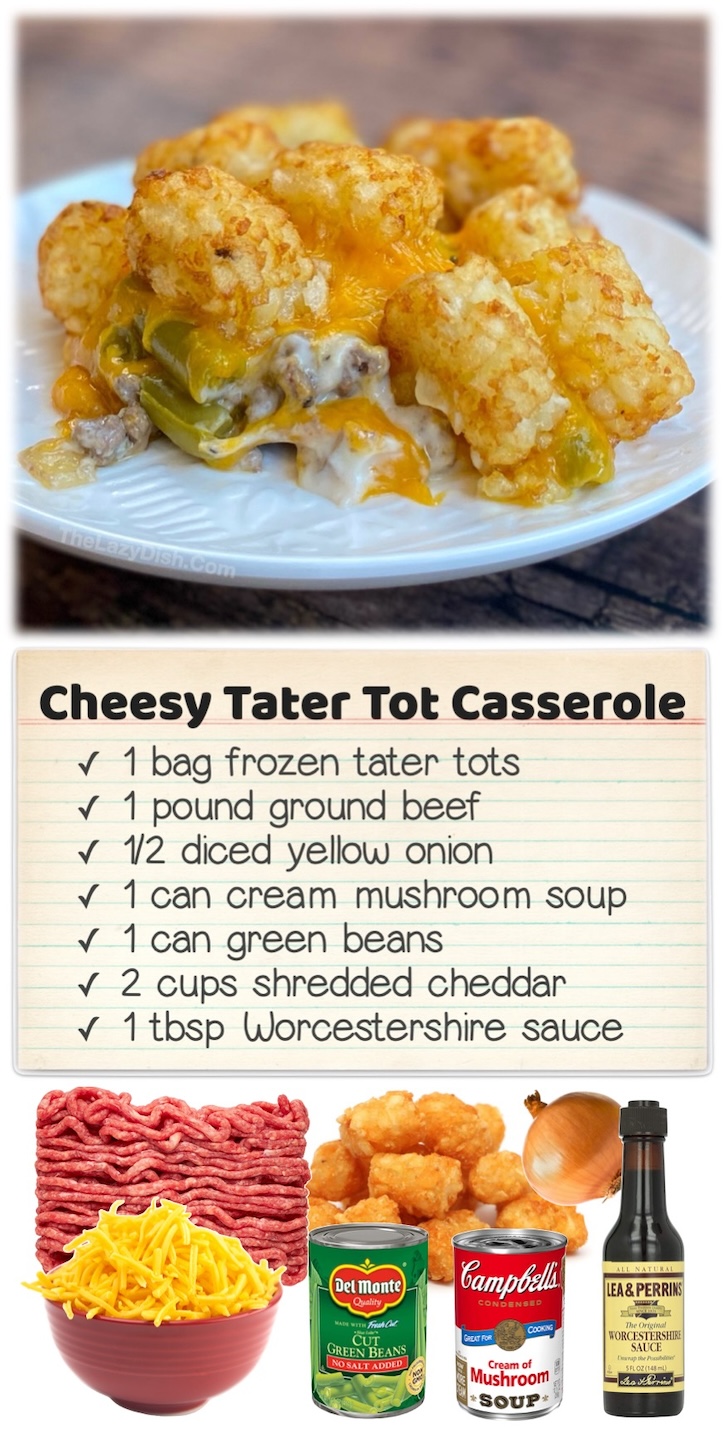 24. Slow Cooker Creamy Chicken Tacos
My slow cooker has got to be my favorite kitchen appliance, making dinner time a breeze! Throw this chicken in your handy dandy crockpot in the afternoon and consider dinner done and ready when everyone is ready to eat.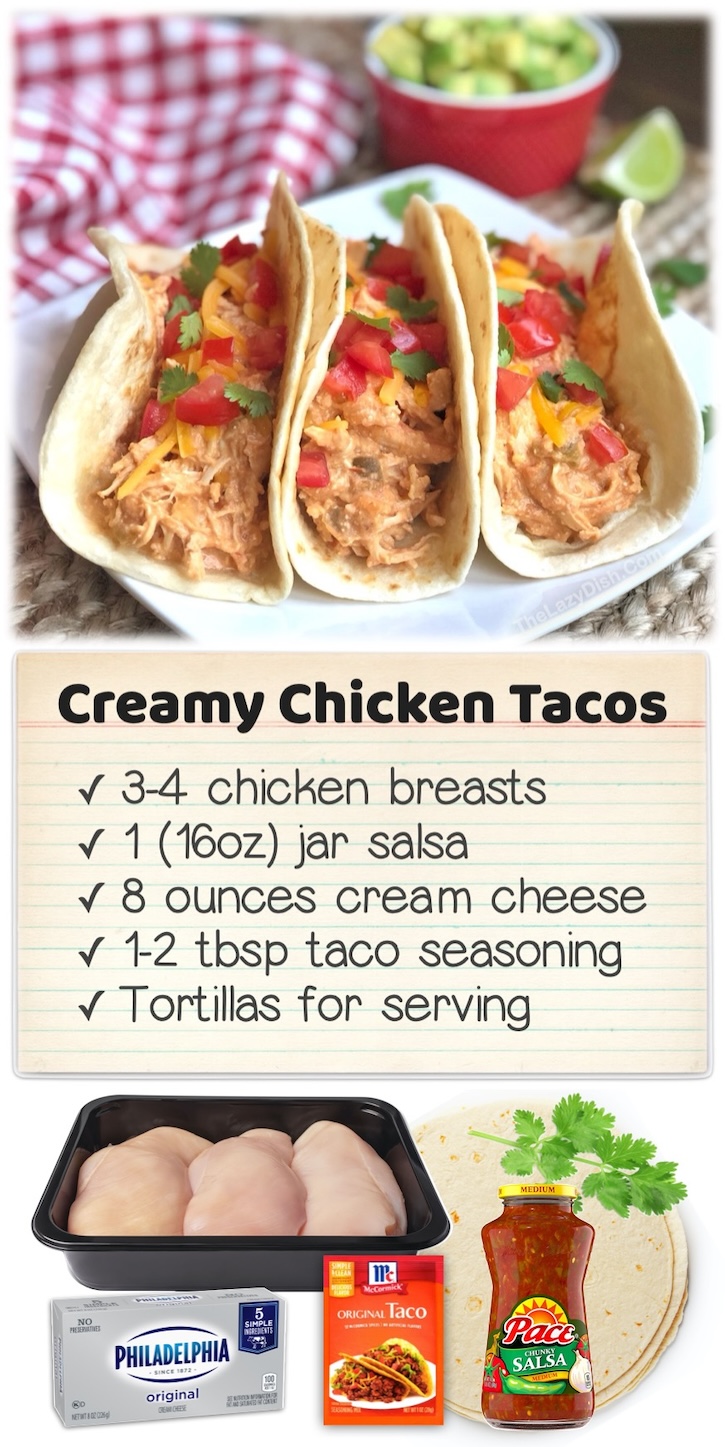 25. Chicken Parmesan Sliders
This easy meal can be served any time of the day! These mini sandwiches are popular in my house for dinner, weekend lunches, or even after school when the kids have their picky friends over.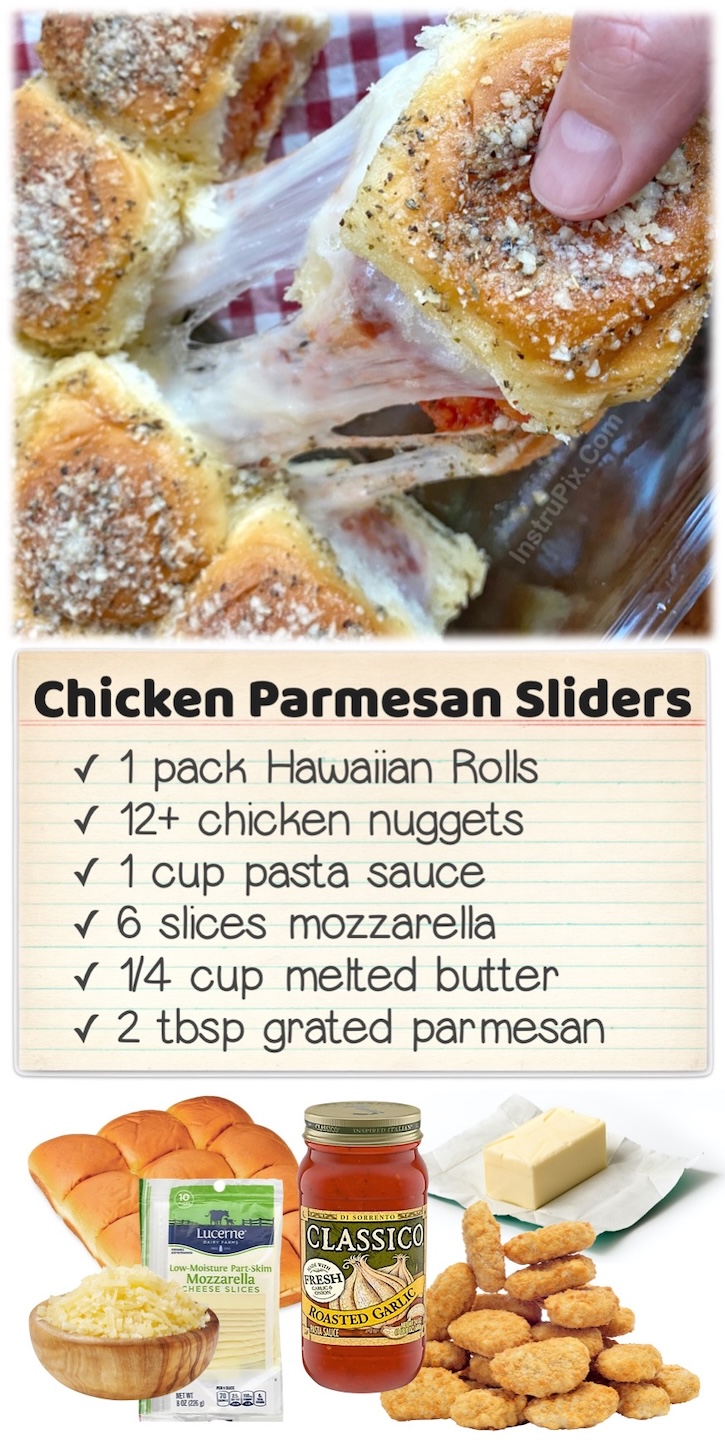 26. Cheesy Pesto Baked Chicken
Cream cheese mixed with basil pesto slathered onto a few chicken breasts baked in the oven with mozzarella cheese. It's as good as it looks, and as a bonus, this easy dinner is naturally low carb. Serve with pasta or rice for the kids!
27. Taco Stuffed Pasta Shells
This enormous pasta makes dinner so much fun! Stuff them with a cheesy ground beef mixture, smother with enchilada sauce, and then top with more cheese for the most delicious Mexican Italian fusion.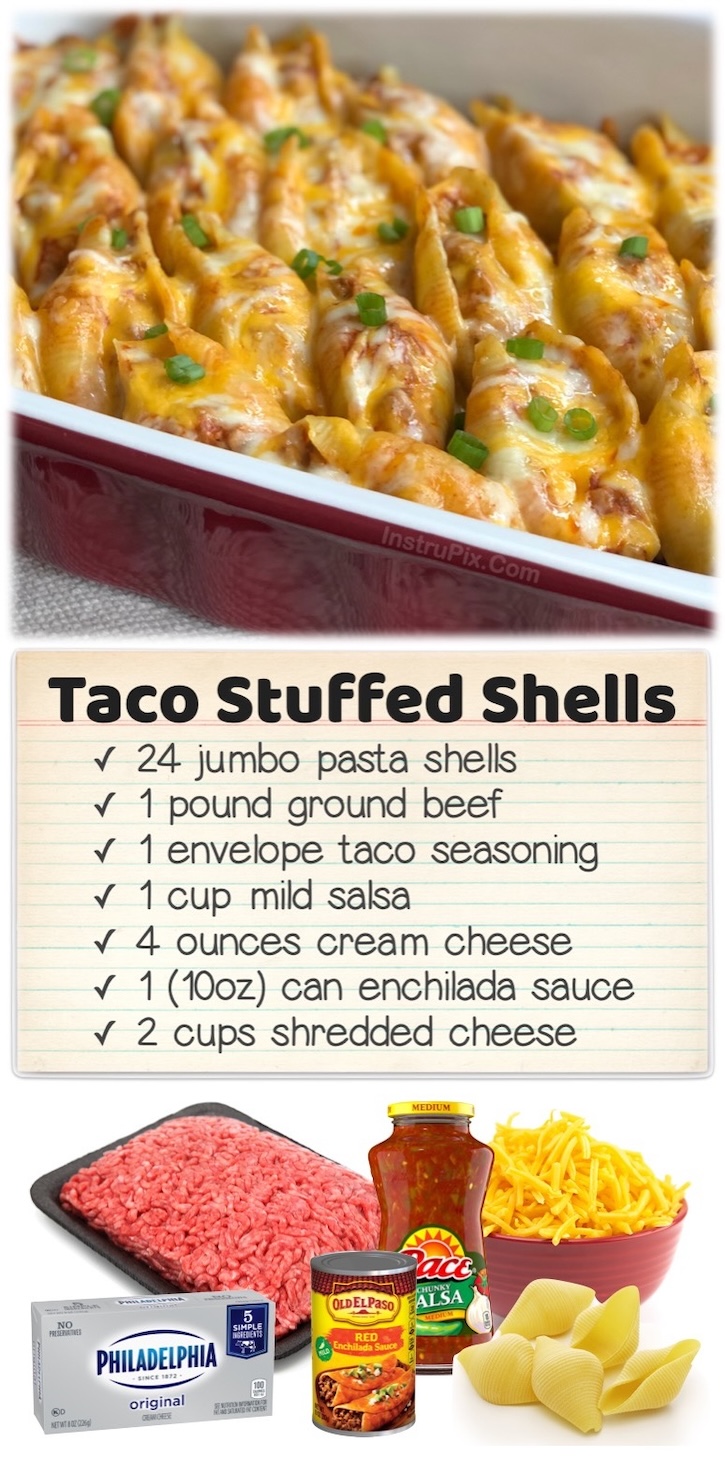 28. Cheeseburger Biscuit Bombs
Mom, please make that again! That's what happens when you take everything you love about a cheeseburger and stuff it into buttery biscuits.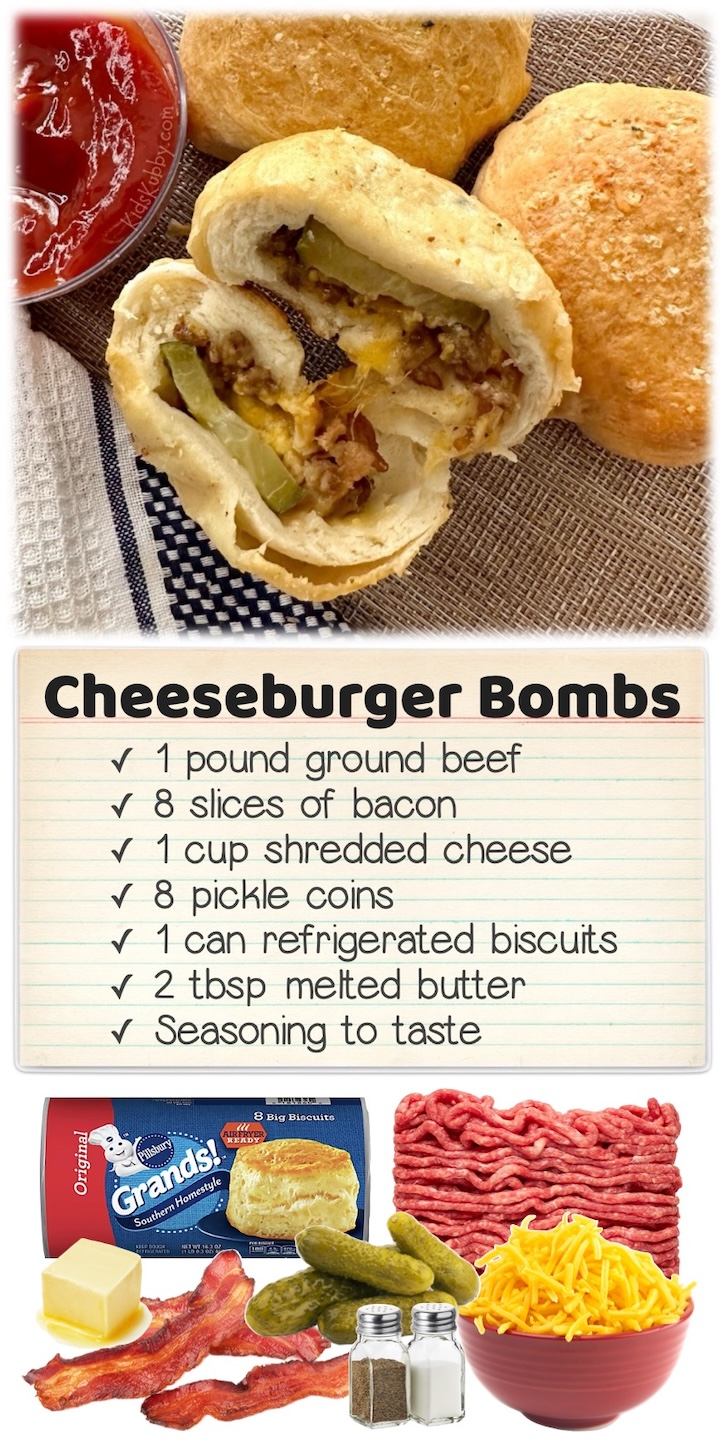 Recipe: Cheeseburger Biscuit Bombs
29. Crockpot Sausage Tortellini Soup
As one of the best reviewed recipes I've ever made, you've got to give this slow cooker pasta soup a try. It's perfect for those cold winter nights when you're looking for a hearty and filling meal to feed your family.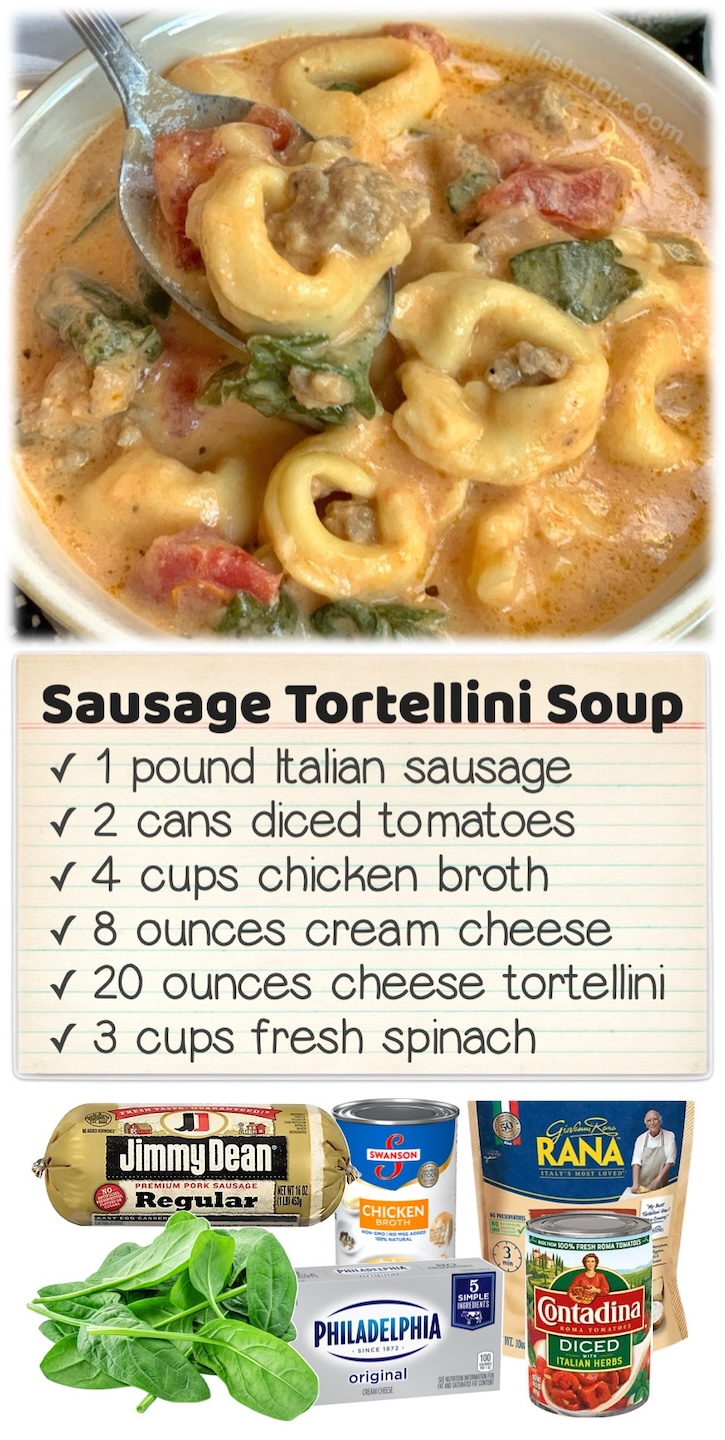 30. Cheesy Fajita Baked Chicken
The easiest way to make fajitas without a grill! Smother a few chicken breasts with a mixture of cream cheese, salsa and fajita seasoning, top with shredded cheese and sliced bell peppers, and then bake until warm and bubbly. You're welcome.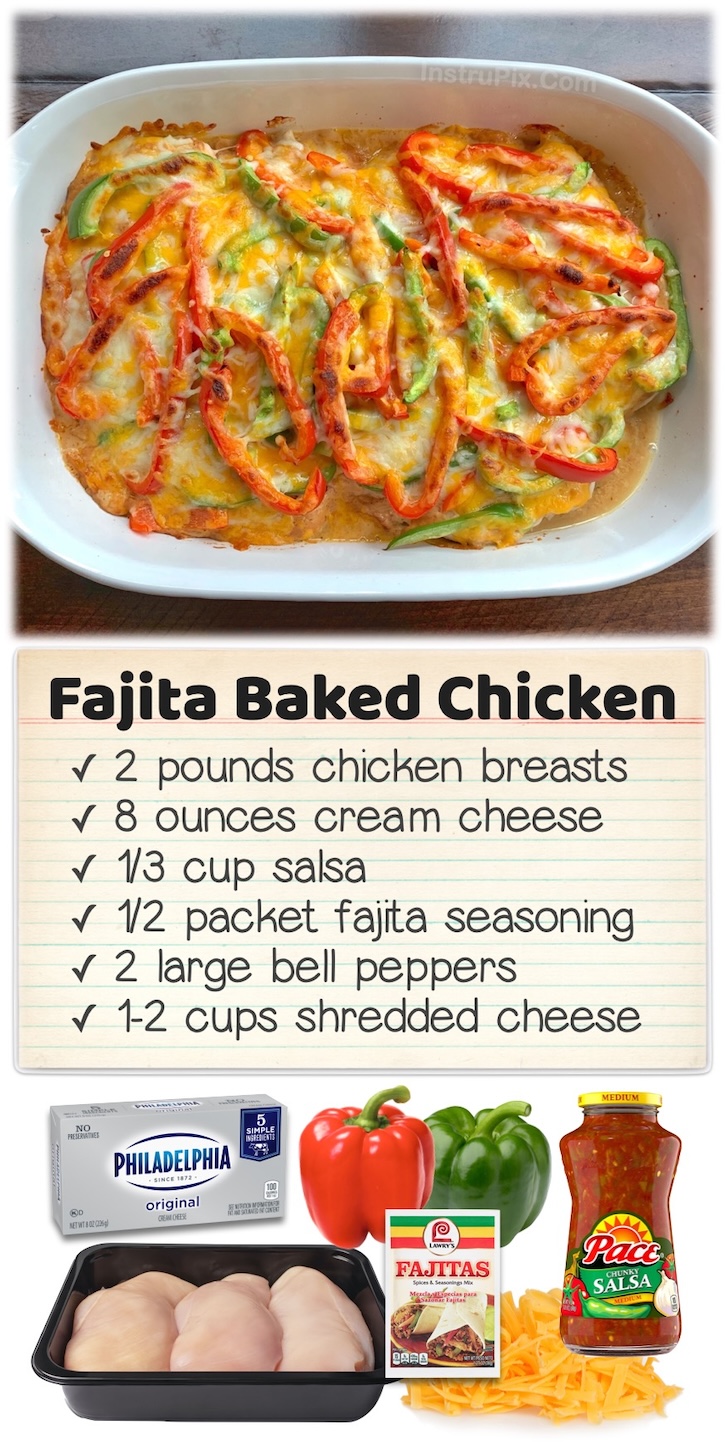 31. Cheesy Taco Frito Pie
If your family loves tacos but they're getting bored with the usual tacos or burritos, try mixing up all the same ingredients, but stuffed into a crescent dough crust in the whimsical shape of a pie.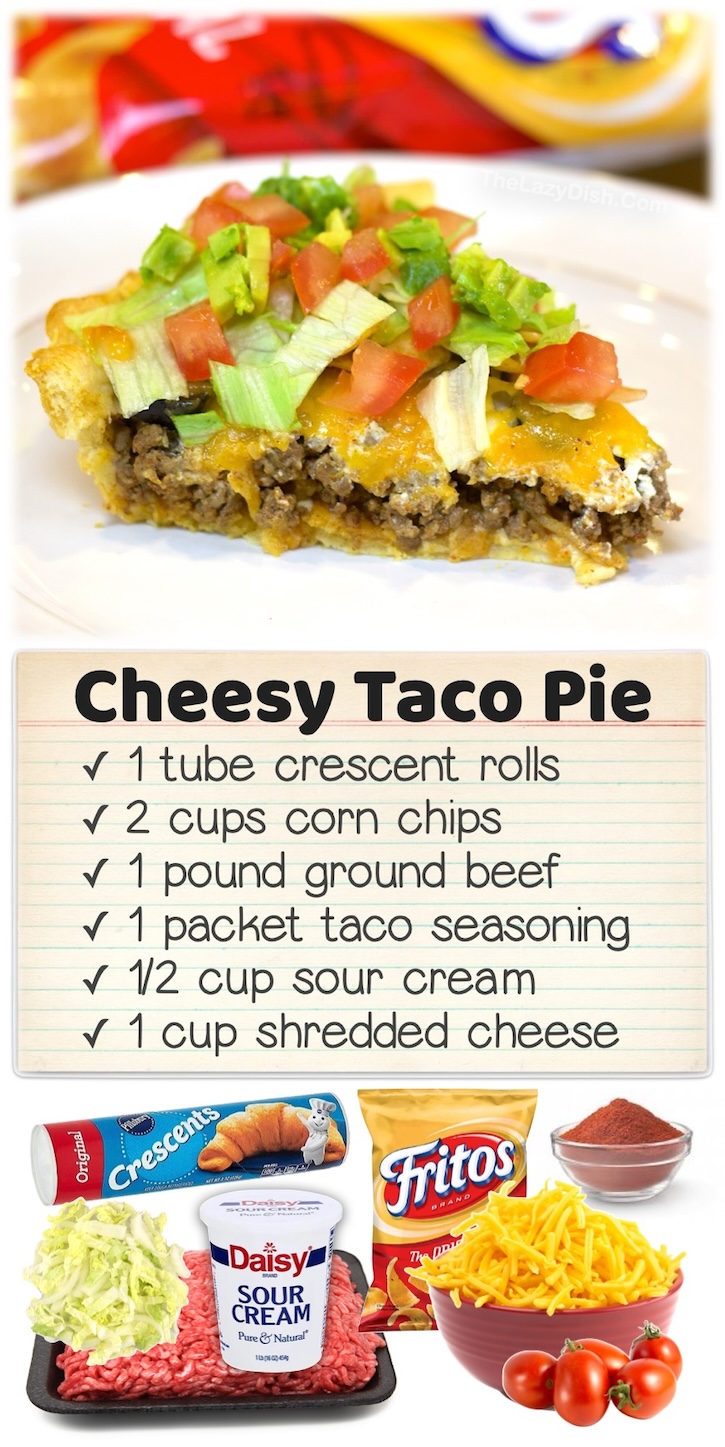 32. Creamy Ranch Chicken Sandwiches
Crispy bacon and crunchy lettuce mixed with creamy ranch flavored shredded chicken… sounds delicious, right? It is! Serve in toasted hoagie rolls for an extra delicious dinner your family will practically inhale.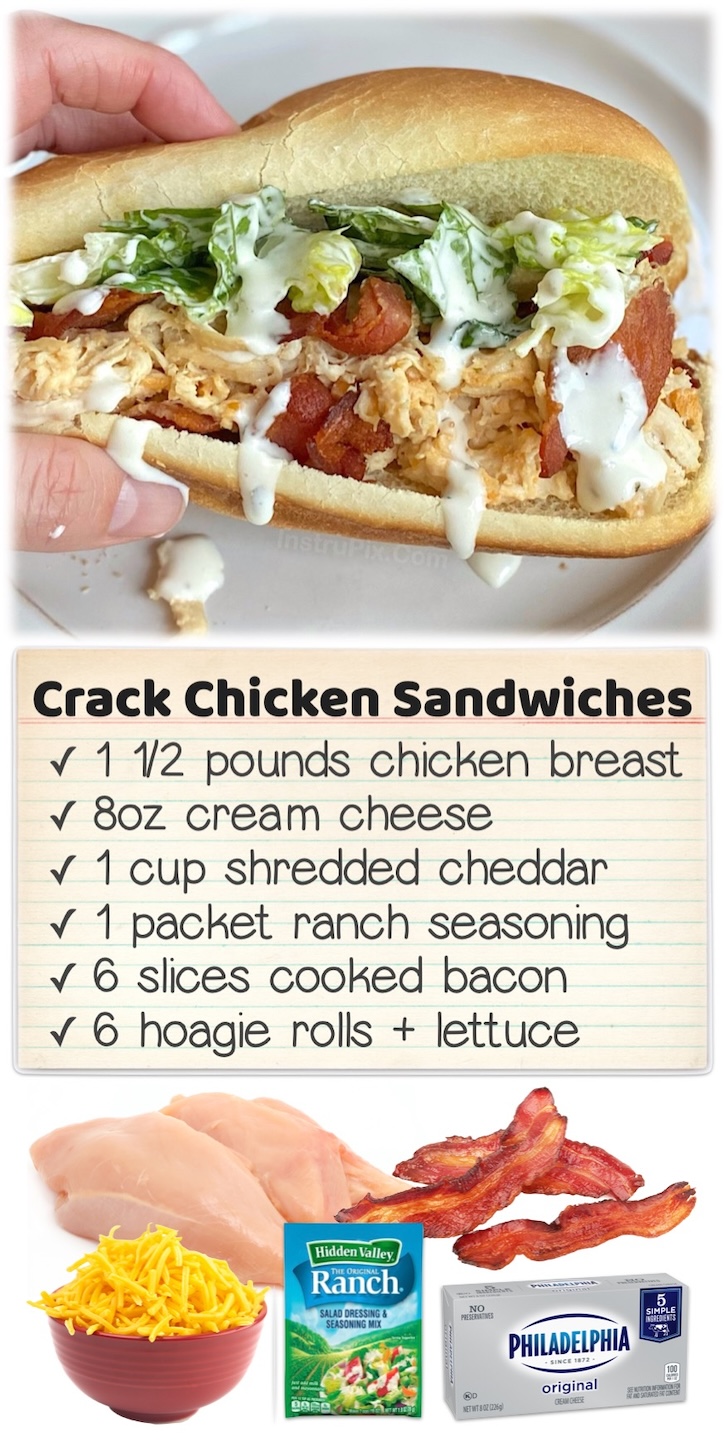 33. Zesty BBQ Chicken Sandwiches
This versatile dinner can be served for busy weeknight meals, family gatherings, potlucks, and more! I made it once for a small party, but it has become a regular part of our weekly meal plan.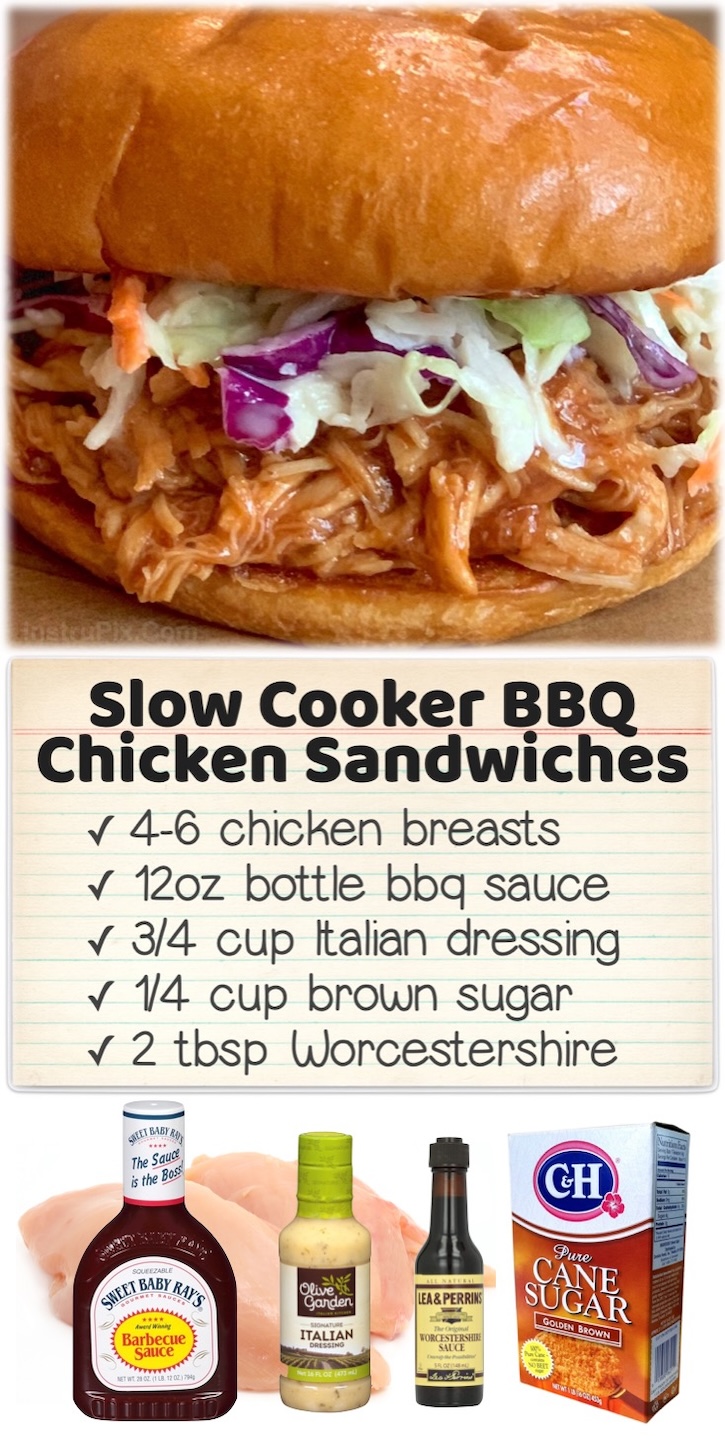 34. Cream Cheese Chicken Chili
A comforting bowl of chili with a fun twist! Shredded chicken in a creamy broth with corn, beans, tomatoes and the toppings of your choice. It's a milder version of chili that kids love so much they might even ask for more.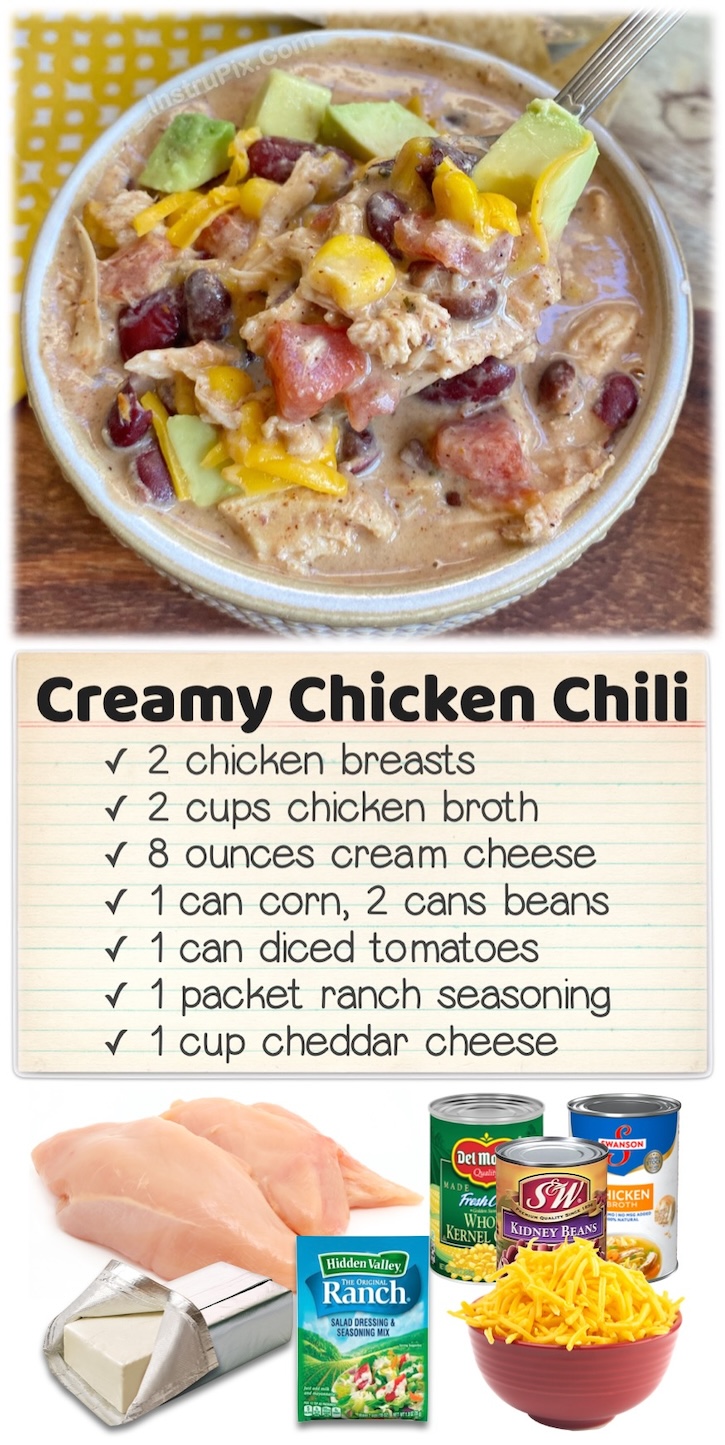 35. Lazy Shepherd's Pie
Don't let the title of this recipe fool you! I've made a classic Shepherd's Pie a lot easier to make thanks to a packet of beef stew mix and tomato soup. Despite the simplicity, my family enjoys it more than any of those other 20 ingredient recipes.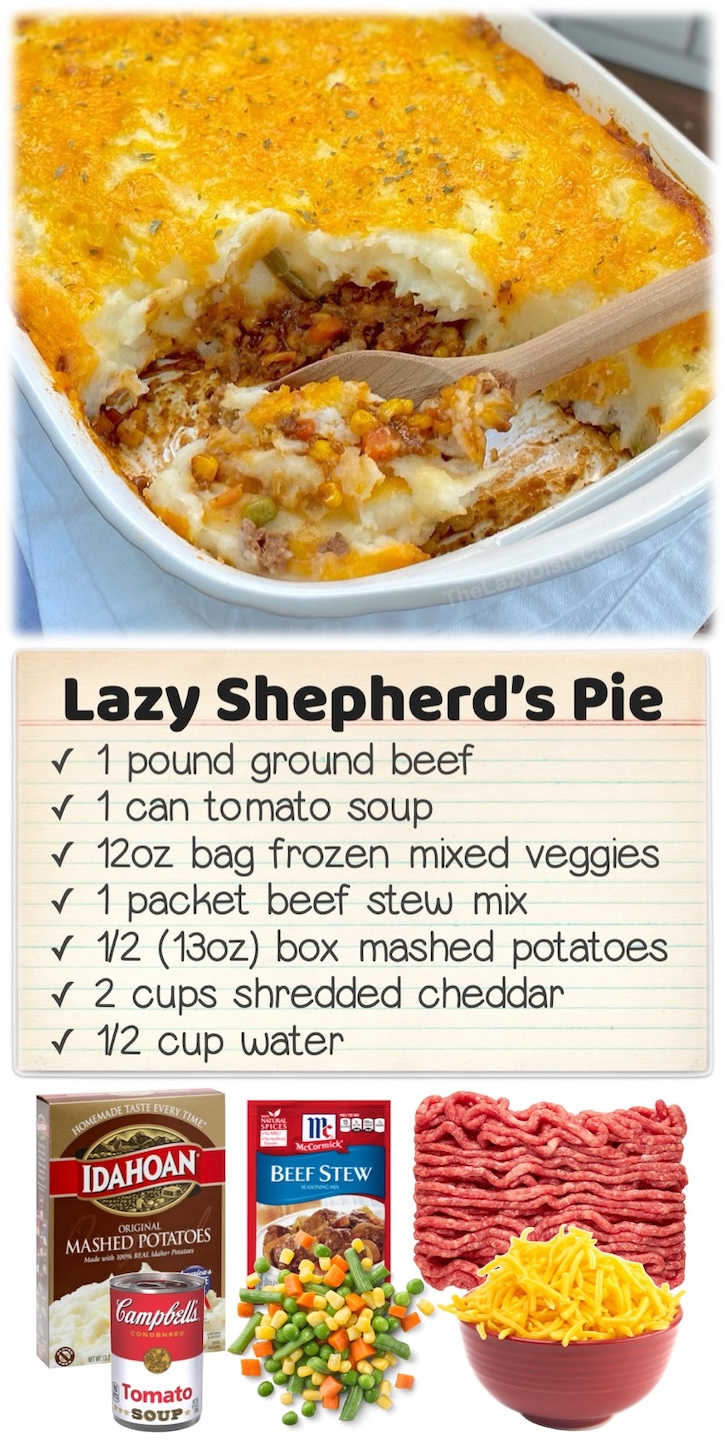 36. Cheesy Taco Lasagna
A giant taco in the form of lasagna is a creative way to make dinner time a blast! The base ingredients are simple, and then you can assemble it however you'd like with your family's favorite taco fillings and toppings.