Quick & easy last-minute meals made with pantry staples!
I'm not a fan of running to the grocery store several days a week for a single fresh ingredient I'm missing to make dinner, which is why canned chicken is a life saver! Keep it stocked in your pantry for quick dinners and lunches when you've got a hungry family to feed.
Canned chicken is cheap and lasts for years, making it a great item to always have on hand for making last-minute meals. There are a surprising number of delicious recipes you can make with it from cheesy casseroles to cold sandwiches. I've rounded up my favorite ideas that even your picky eaters will enjoy!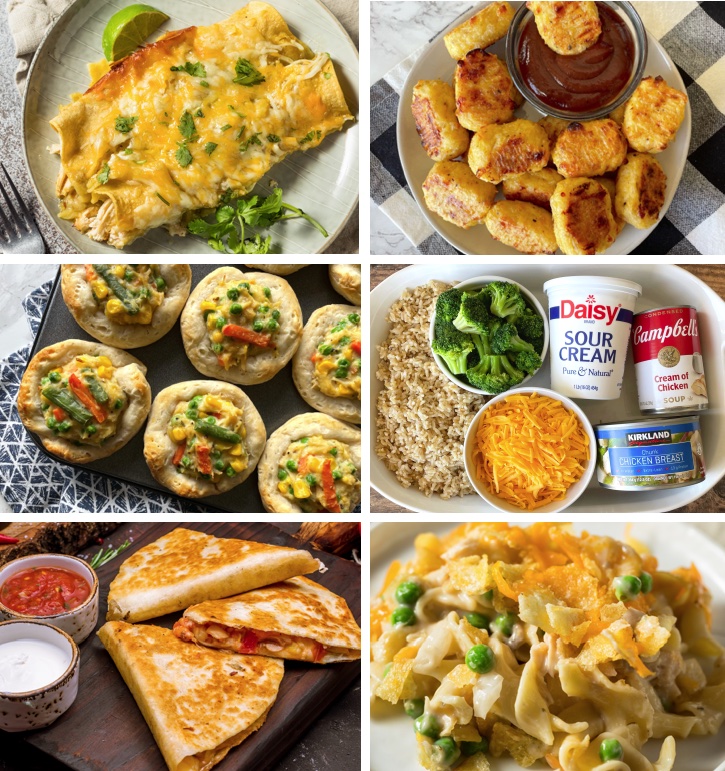 1. Mini Chicken Pot Pies
Classic comfort food made lazy! If you're looking for budget meals for your picky family, these mini chicken pot pies are fun and simple to make with just a few ingredients.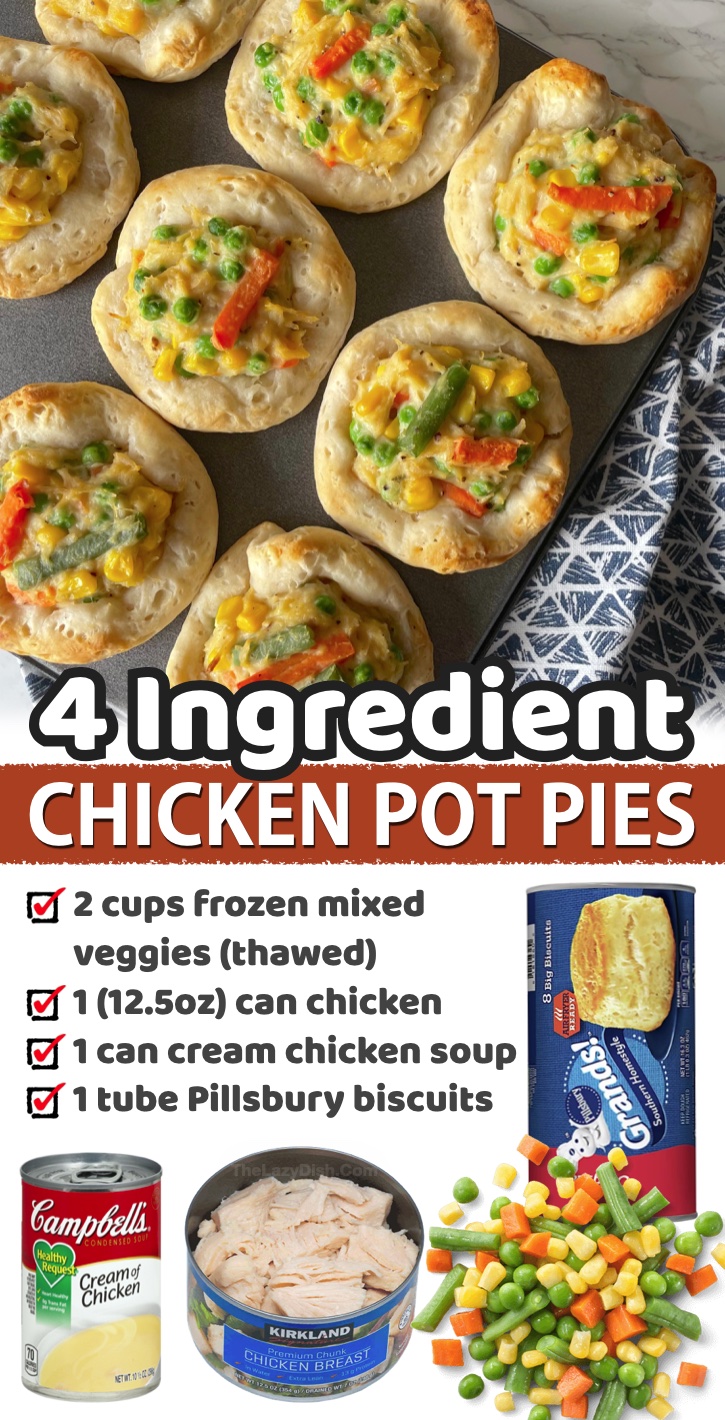 INSTRUCTIONS
Mini Chicken Pot Pies
Preheat oven to 375 degrees and grease 8 slots of a regular size muffin tin.
Thoroughly drain the canned chicken, and then mix it well with the thawed veggies and can of soup. My family likes a lot of flavor, so I also sprinkle in a little black pepper, onion powder, thyme, and garlic powder. You may also prefer a little salt, but go easy on it as the other ingredients already contain salt.
Open the tube of biscuits. Use your fingers to flatten each biscuit into larger rounds (5-6 inches in diameter).
Firmly press the biscuit rounds into your greased muffin tin. I've found it best to press the dough at the bottom and sides as thin as possible, leaving a majority of the dough at the top where it will thoroughly bake.
Spoon a very generous amount of your chicken mixture into each biscuit. Pull the dough up and towards the center, creating a slightly concave bowl.
Bake for 20-22 minutes or until the biscuits are golden brown. Allow them to rest for about 5 minutes and enjoy!
2. Cheesy Baked Chicken Nuggets
Seriously, I'll never make chicken nuggets any other way! Not only are these baked nuggets naturally low carb and much healthier than the store-bought fried chicken, they are super yummy and kid approved.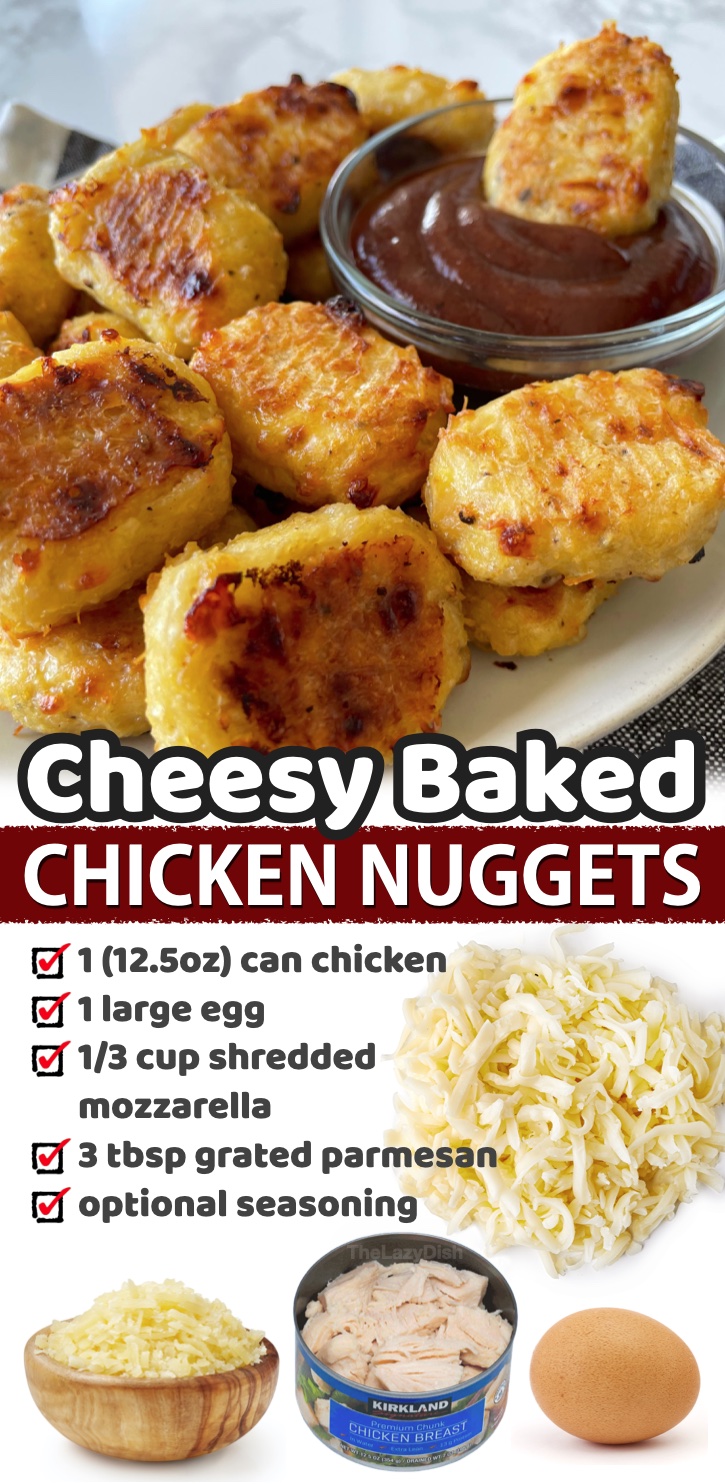 INSTRUCTIONS
Baked Chicken Nuggets
Preheat oven to 425 degrees and line a baking sheet with parchment paper.
Open and drain the canned chicken. Remove as much excess moisture as possible by placing it in a fine mesh strainer and squishing out the water with your fingers.
In a medium sized bowl, mix together the drained chicken with the egg, mozzarella, parmesan, and any seasoning you like, however I DO NOT recommend adding salt. Just a little garlic powder and black pepper should do! Smoked paprika is a good choice, too.
Use your hands to mold the chicken mixture together into small bite-size nuggets. I made mine using about a heaping tbsp each and ended up with 12 nuggets.
Bake for 18-22 minutes, flipping them over half way through.
3. Seven Can Chicken Taco Soup
As long as you keep these pantry staples on hand, you've always got a last-minute dinner to feed your family on busy weeknights. Top this easy soup with shredded cheese, avocado, sour cream, jalapeño, and tortilla chips for the ultimate meal!
INSTRUCTIONS
7 Can Chicken Taco Soup
Drain everything except for the diced tomatoes, and then combine all of the ingredients into a large pot and bring to a boil over medium-high heat. Once boiling, reduce the heat to low and simmer for about 20 minutes, stirring occasionally.
Do a taste test, and stir in any additional seasoning you'd prefer such as black pepper, garlic powder, cumin, or chili powder.
Serve alone or with shredded cheese, sour cream, avocado, tortillas chips, or anything else you'd like!
4. Easy Chicken Noodle Casserole
This is one of the most popular recipes for canned tuna, but it's even better with canned chicken breast! I love the addition of the crunchy potato chip topping.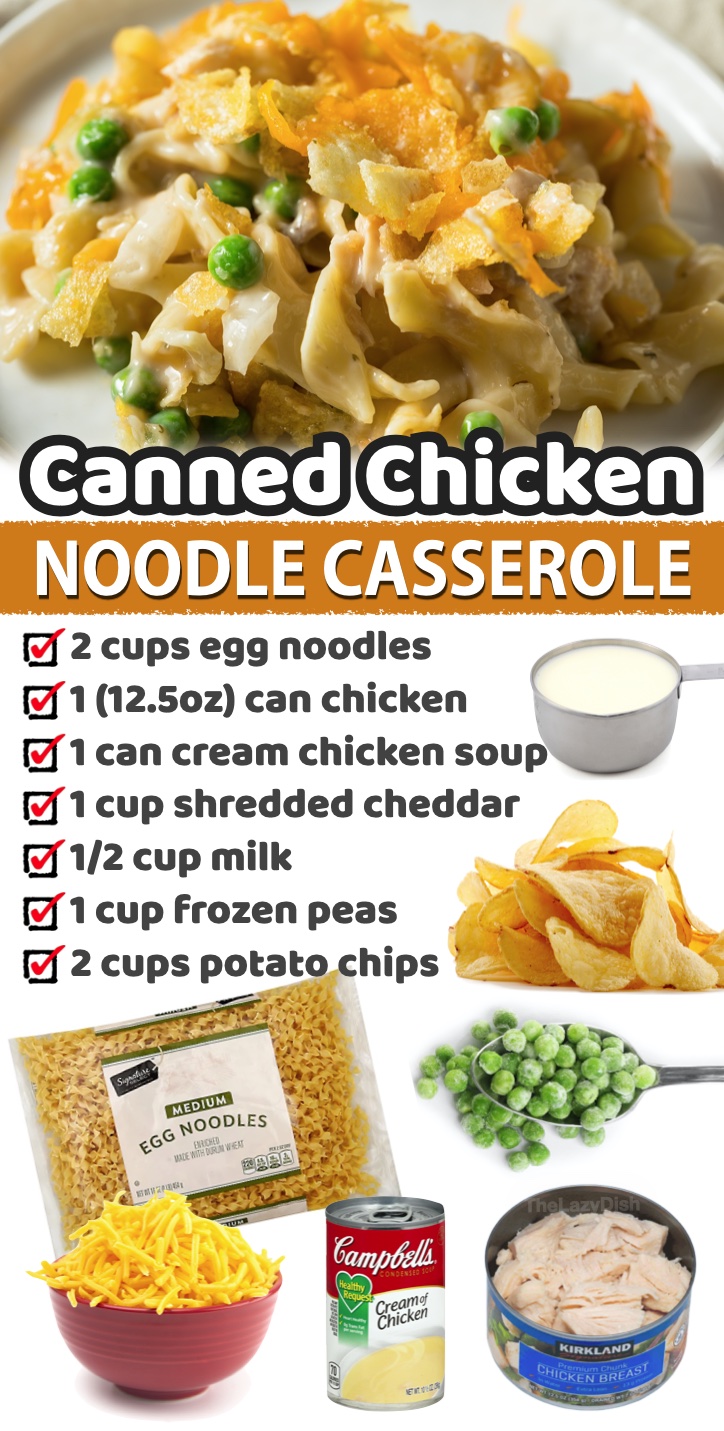 INSTRUCTIONS
Chicken Noodle Casserole
Cook and drain 2 cups of uncooked noodles according to the package directions.
While the noodles are cooking, preheat your oven to 400 degrees.
Stir together the DRAINED can of chicken, noodles, soup, milk, frozen peas, and cheese. Season with salt, pepper, or any other preferred seasoning.
Place the mixture into a greased 9×13 baking dish and evenly sprinkle crushed potato chips over top. You can also sprinkle on a little extra cheddar cheese if you'd like!
Bake for 25-30 minutes or until heated through.
5. Salsa Chicken Quesadillas
Quesadillas are a staple meal in my house on nights when we don't feel like cooking, and canned chicken makes it easy to add some protein without making a trip to the store.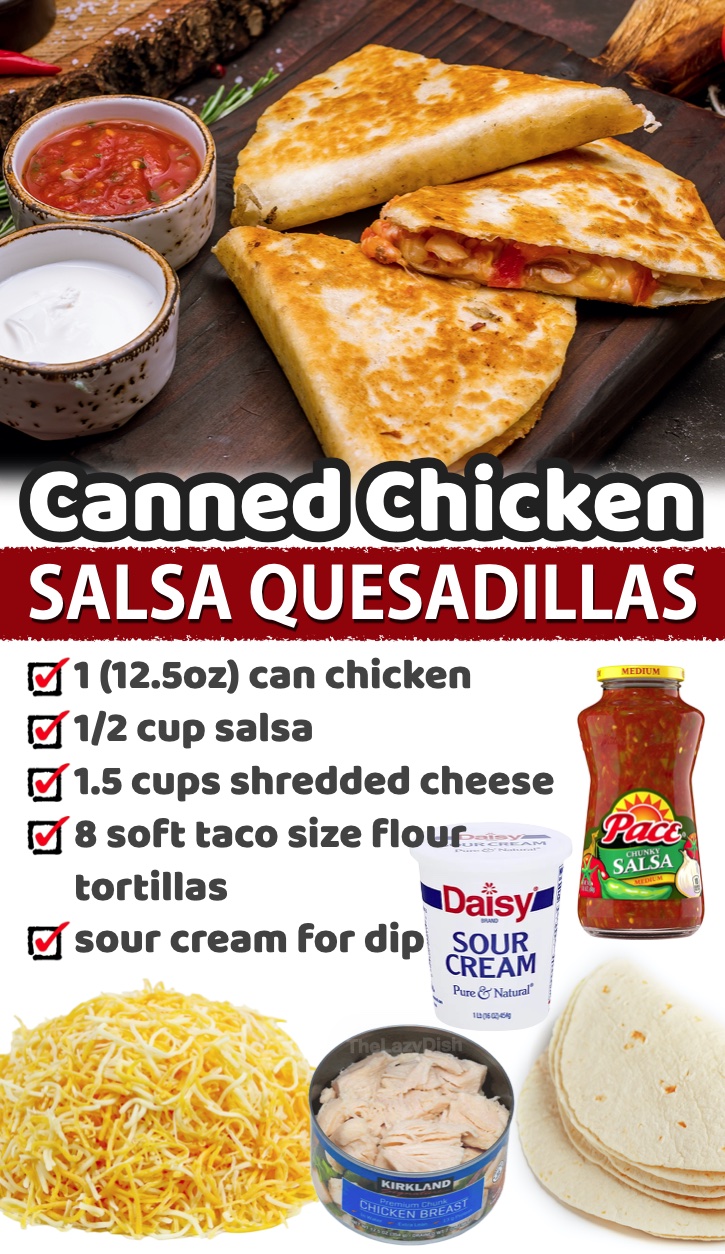 INSTRUCTIONS
Cheesy Chicken Quesadillas
Drain the chicken well and place it in a bowl. Flake the chicken with a fork to break it up into shreds, and then stir in the salsa and shredded cheese. You can additionally season with anything you'd like such as garlic powder, black pepper or chili powder.
Place half of the tortillas on a flat work surface and top each one with an even amount of the cheesy chicken mixture.
Heat a large skillet over medium heat with a small amount of butter, and add one chicken topped tortilla at a time and cook for a few minutes. Top with another tortilla, and then flip. Continue to cook until the cheese is melted and the tortillas are golden brown.
Enjoy with sour cream or guacamole!
6. Chicken Broccoli Rice Casserole
This easy casserole is great for a family with picky eaters, and can be customized to your liking with the seasoning and veggies of your choice. It's fabulous leftover for lunch the next day, too!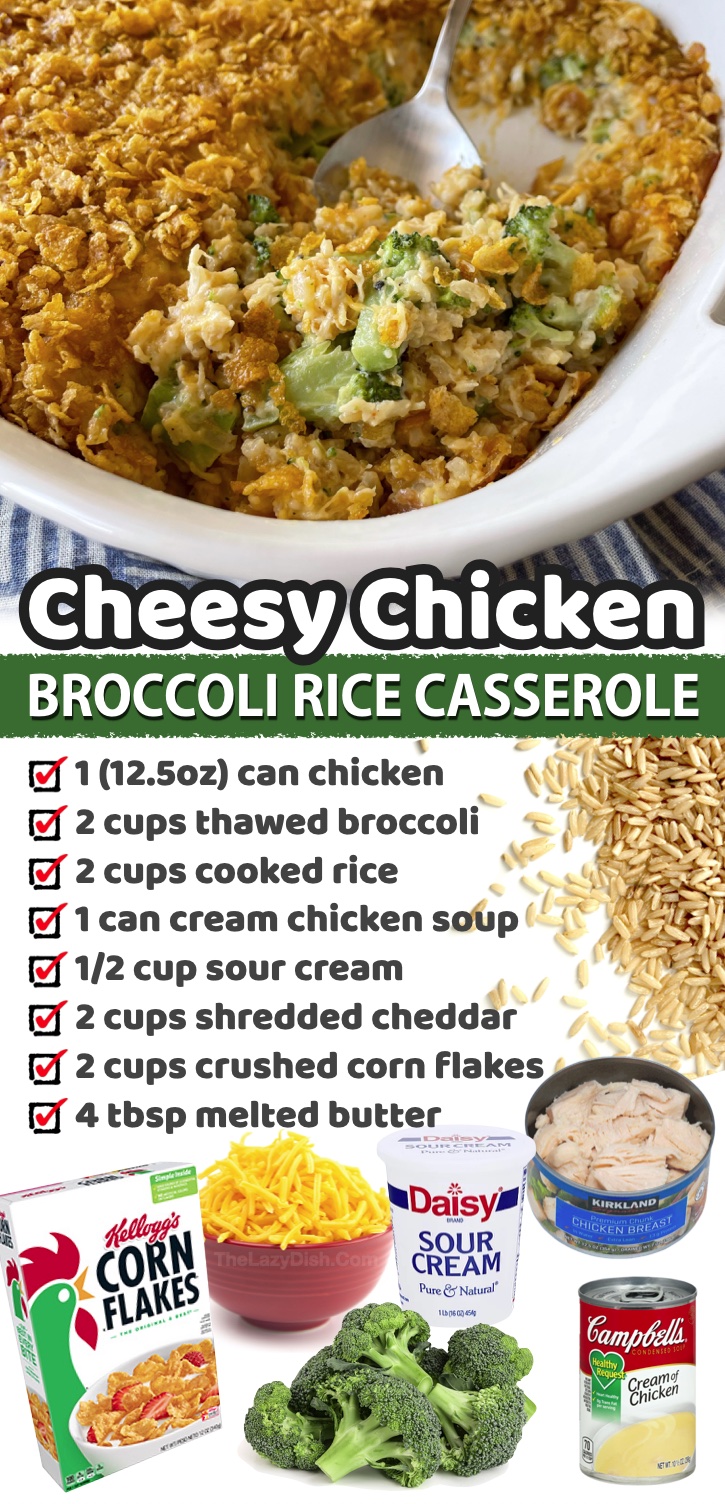 INSTRUCTIONS
Cheesy Chicken & Rice Casserole
Preheat oven to 350 degrees and grease a 9×13 baking dish.
Thoroughly drain the can of chicken.
In a large bowl combine all of the ingredients EXCEPT for the corn flakes and melted butter.
Press the mixture down into your greased baking dish, and then sprinkle the crushed corn flakes over top.
Evenly drizzle with melted butter.
Bake uncovered for 30-35 minutes or until it's heated through and the corn flake topping is golden brown.
7. Chicken Enchiladas
This easy dinner recipe takes all the hassle out thanks to canned chicken! Simply mix it with lots of cheese and a can of diced green chiles for the best enchilada stuffing. You can use green or red enchilada sauce to finish them off.
INSTRUCTIONS
Chicken Enchiladas
Preheat oven to 350 degrees.
Spread 1/2 cup of the enchiladas sauce onto the bottom of a greased 9×13 baking dish.
In a medium size bowl, combine the well DRAINED chicken, diced green chiles, 3/4 cup pepper jack, 3/4 cup cheddar, and 1/2 cup of the enchilada sauce.
Evenly fill the tortillas with the chicken mixture, and then roll and place them seam-side down in the baking dish.
Cover with remaining sauce and cheese.
Bake for 20 minutes or until the cheese is melted and bubbly.
8. Chicken Salad Sandwich
This is actually how I got hooked on canned chicken! Leave it to Costco to give me a sample, and next thing you know, I've got 18 cans of it in my cart. These sandwiches are great for family gatherings, a quick lunch, or even a simple dinner on nights when you don't want to turn the oven on.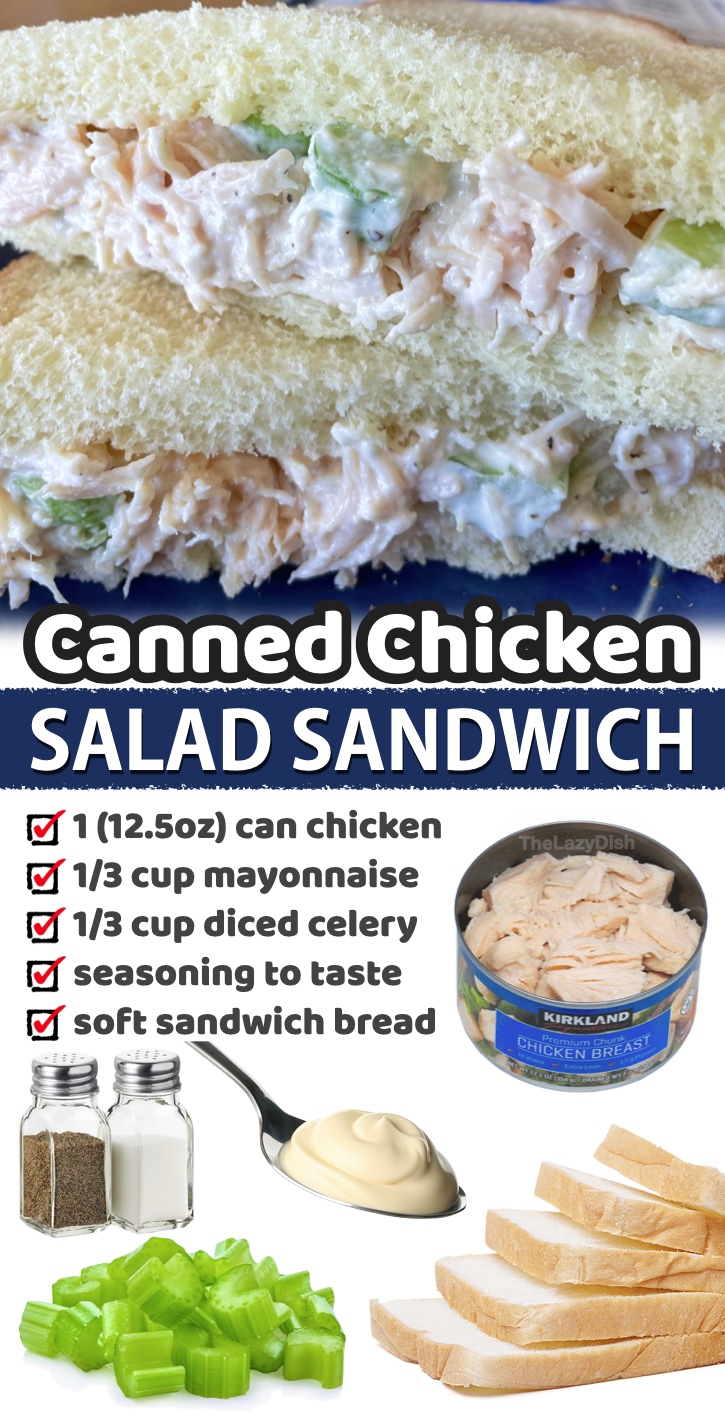 INSTRUCTIONS
Easy Chicken Salad Sandwich
Thoroughly drain the can of chicken and mix it with mayonnaise.
Add a little crunch and flavor with the addition of chopped celery or pickles. You can also season with a small amount of salt, black pepper, and anything else you'd like.
Serve cold in your favorite sandwich bread or on top of crackers.
9. Chicken & Zucchini Stuffing Casserole
This is one of my most popular and best reviewed recipes! I've made it even lazier with canned chicken, but you can also use pulled rotisserie or any cooked chicken.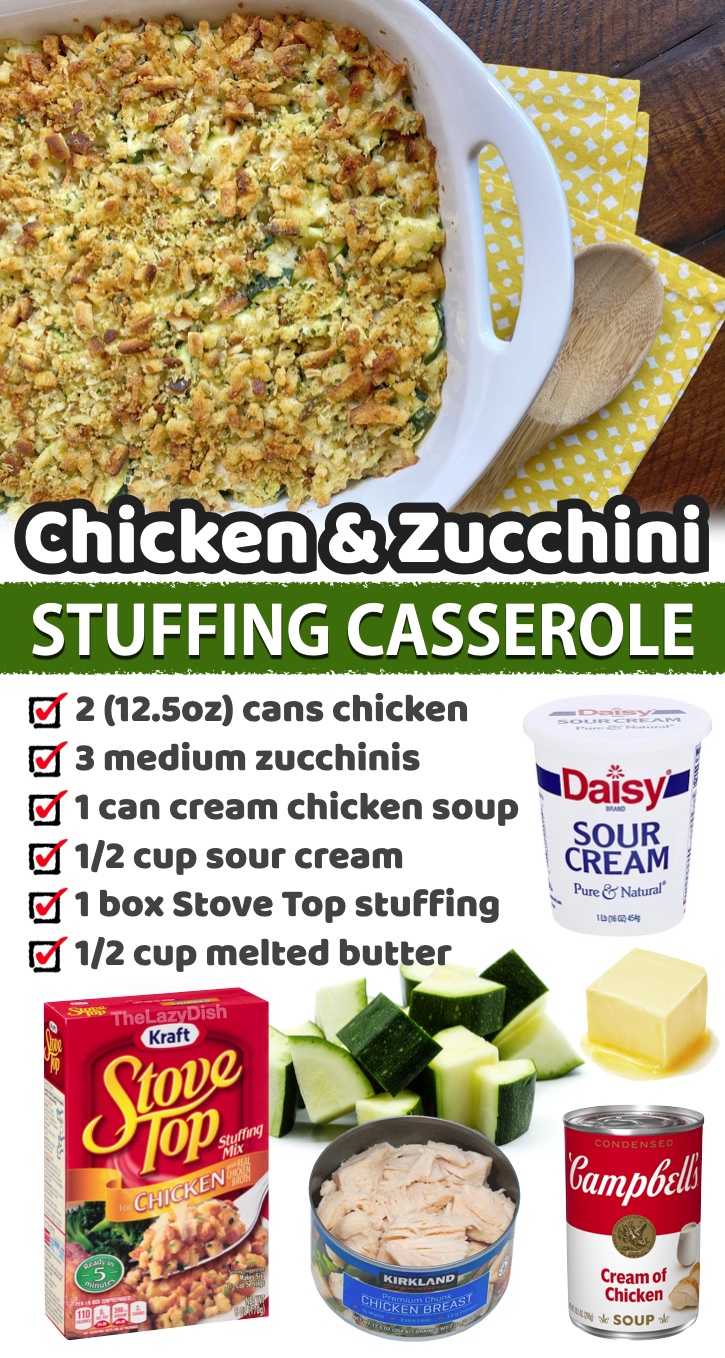 INSTRUCTIONS
Chicken & Zucchini Casserole
Preheat your oven to 350 degrees and grease a 9×13 baking dish.
In a large bowl, melt the butter and then mix with the box of dry stuffing mix; set aside HALF of the mixture for topping the casserole later.
Add the DRAINED canned chicken, diced zucchini, cream of chicken soup and sour cream to the stuffing and mix well.
Spread the mixture into your baking dish and then evenly sprinkle the top with your reserved stuffing mixture.
Bake, uncovered, in the middle rack for 35-45 minutes or until it's warmed through and the top is golden brown.
10. Easy Chicken Caesar Wraps
Wraps are a great replacement for sandwiches, and it really doesn't get any easier than using a can of chicken and a store-bought bag of salad to make a delicious lunch or dinner your entire family will enjoy. These are great for school lunch boxes, too!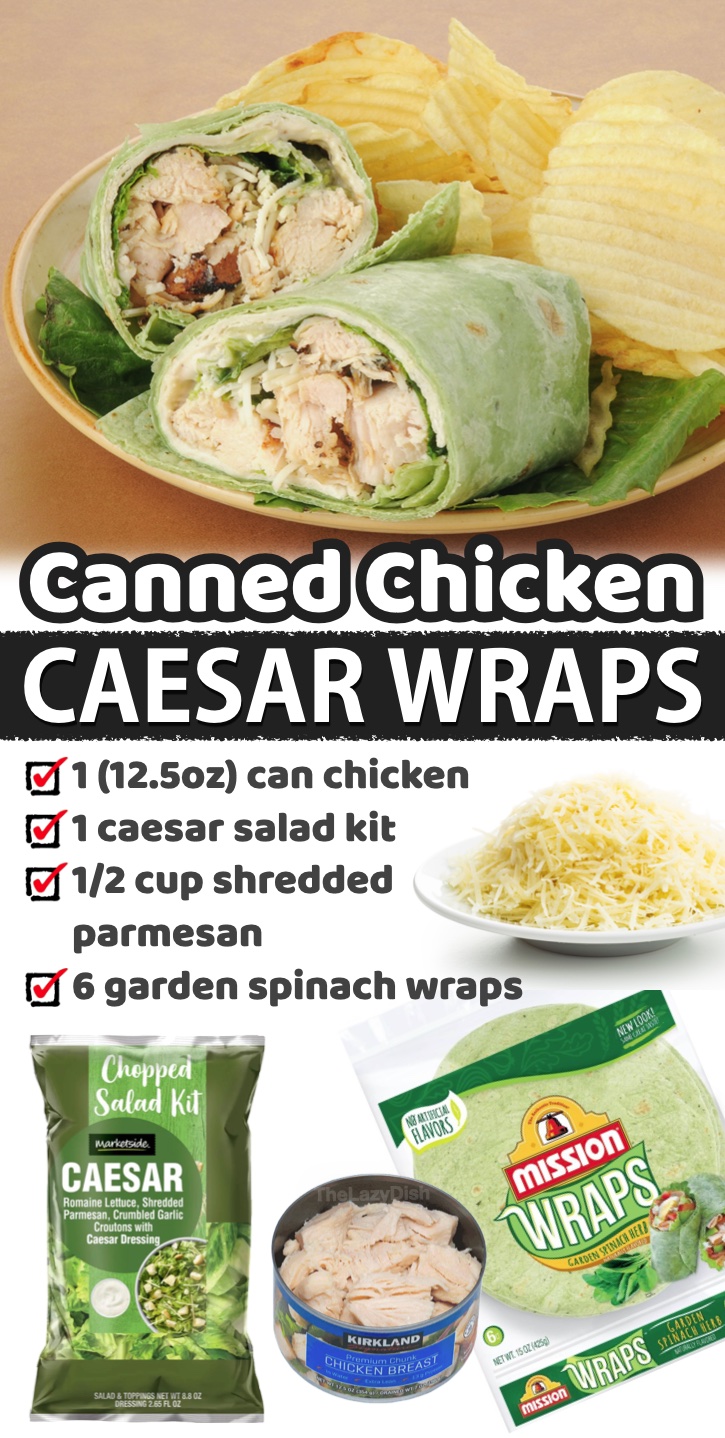 INSTRUCTIONS
Chicken Caesar Wraps
Thoroughly drain the chicken, and then toss it together with the Caesar salad kit along with an extra 1/2 cup or more of shredded parmesan cheese.
Place the mixture inside of your favorite tortilla wraps, roll tight, and enjoy! This should make enough for about 4 wraps.