An air fryer is basically a mini countertop oven that makes cooking quicker and easier while saving time and money. Here is a list of the best things to cook in this magical machine!
These Air Fryer Recipes Will Change The Way You Cook Forever
I have to admit, I'm a little late to the air fryer game. I've been missing out on this mini oven for years! I didn't realize how much it would simplify just about every meal. I've been experimenting with it for the past few months and have discovered the absolute best things to cook in an air fryer (I've also had a few fails which I'll list later).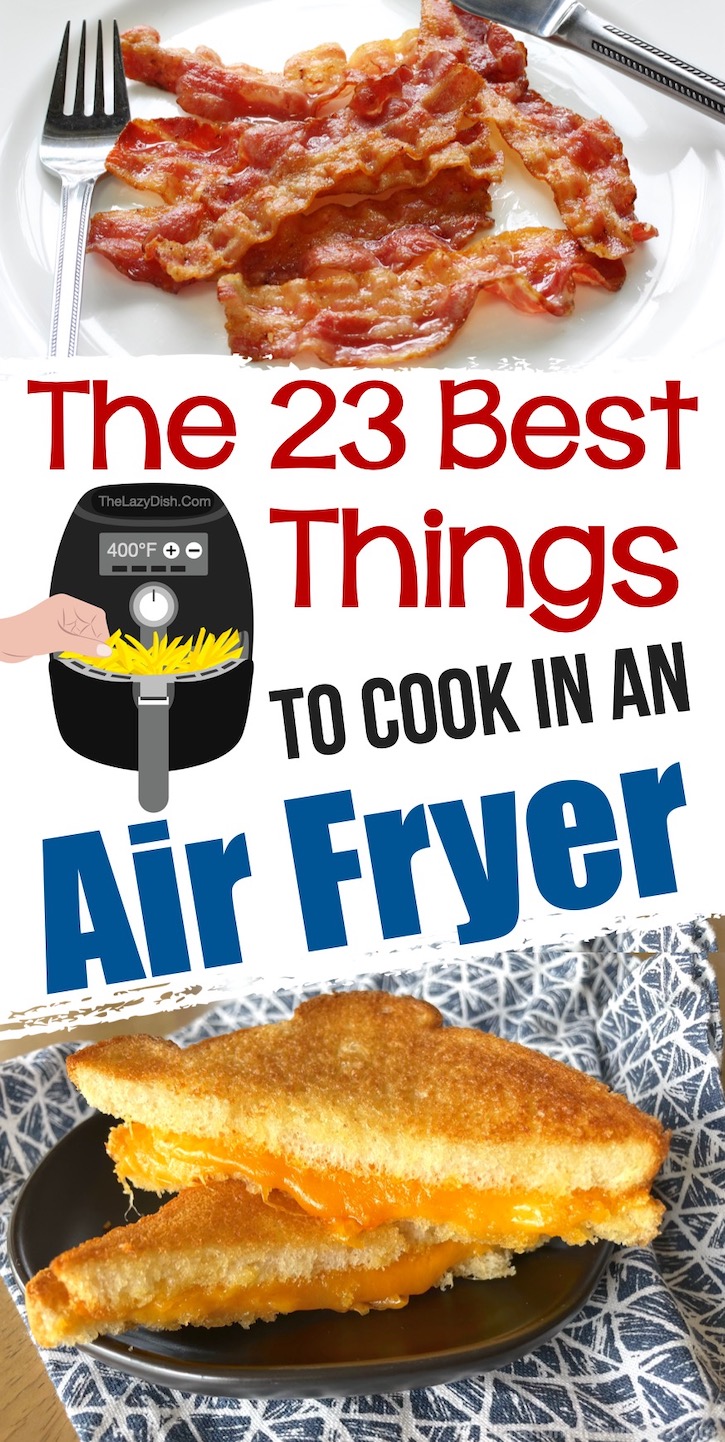 From crispy brussels sprouts to juicy chicken breasts, these easy air fryer recipes will revolutionize your cooking game. No more waiting for the oven to preheat!
1. Grilled Cheese Sandwich
All of the mouth-watering things about a grilled cheese are made better in an air fryer. The buttered bread gets super crispy and the cheese melts quickly making it ooey gooey and extra delicious.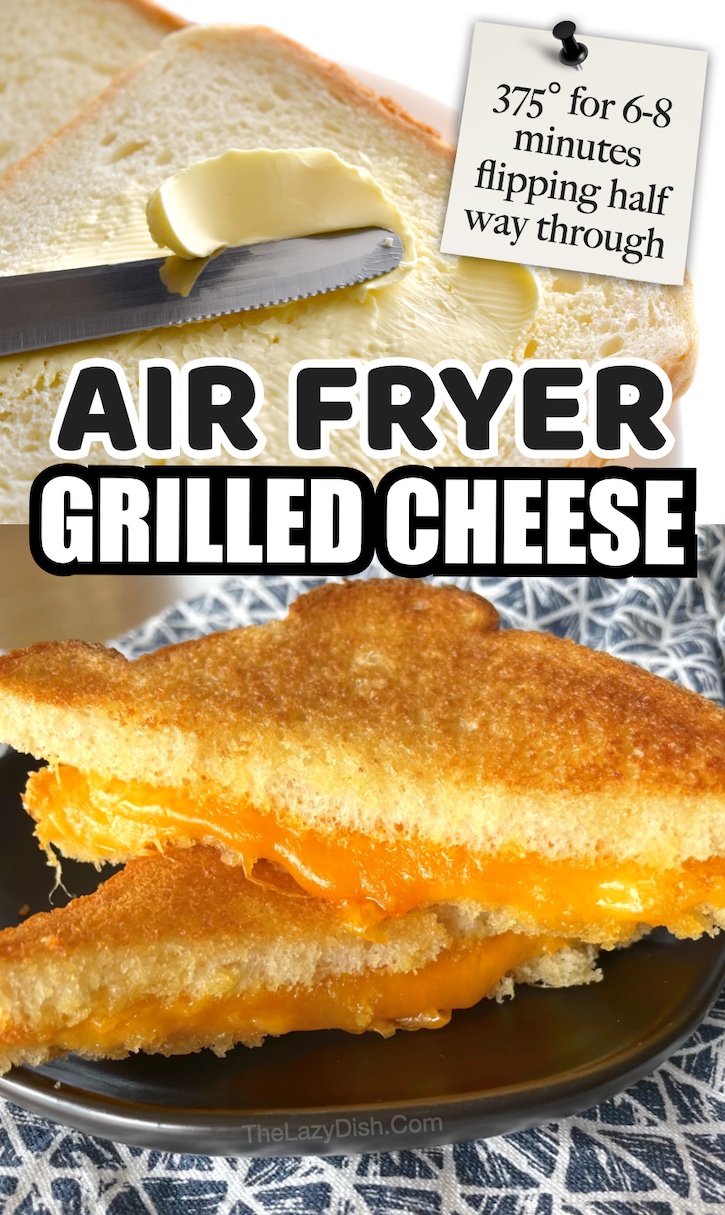 INSTRUCTIONS
Cook at 375° for 6-8 minutes, flipping the sandwich over half way through cooking.
I've found that the best air fried grilled cheese has a generous amount of butter on each side, as well as a little extra cheese. The bread gets extra toasty, so the gooey cheese and melted butter are the perfect companion.
I've had a few times where the top piece of bread went flying around. You can place a toothpick directly down the center of the sandwich to prevent this. I always check on it after a minute to make sure the sandwich is still intact.
You can also use mayonnaise in place of the butter, as well as sprinkle the outside with a little seasoning or grated parmesan cheese for extra flavor.
2. Juicy Chicken Breasts
I've never been a fan of chicken cooked in the oven, but this is where the air fryer somehow works its magic! The chicken stays juicy on the inside with a beautiful charred outer layer.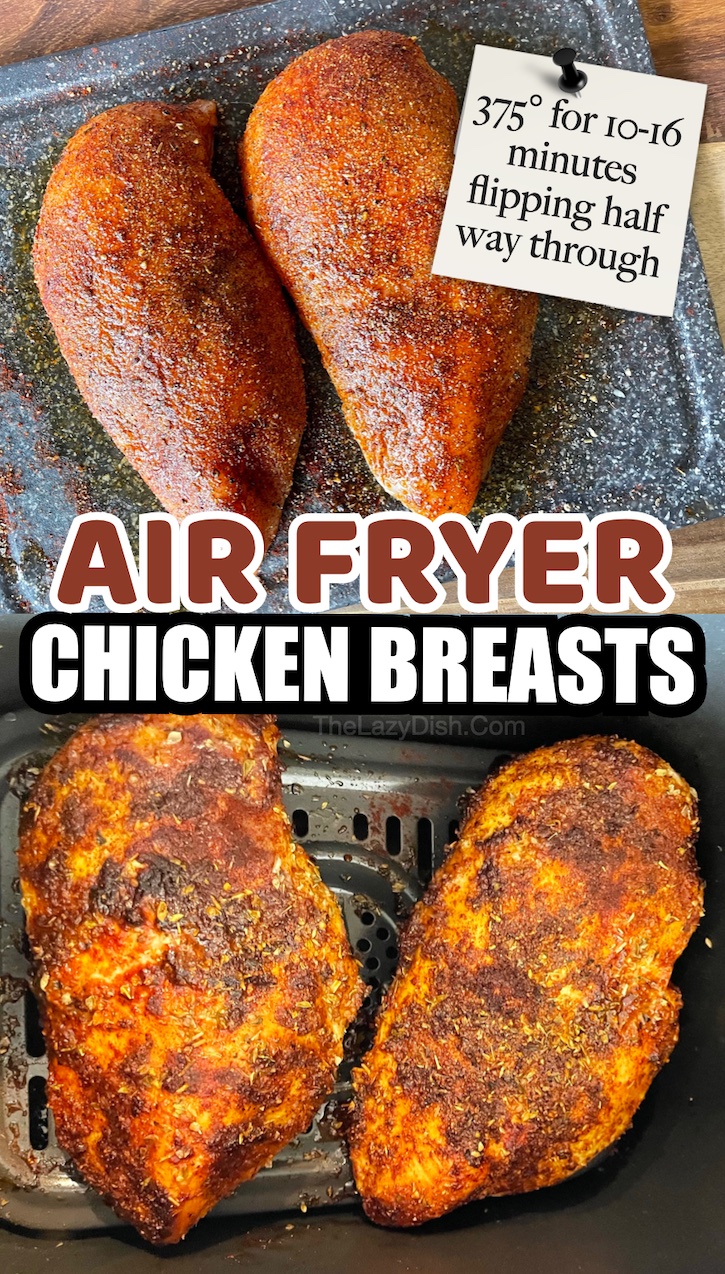 INSTRUCTIONS
For best results, I recommend pounding the chicken breasts into an even thickness.
Coat the chicken in olive oil, and then sprinkle on your favorite seasonings. I use salt, black pepper, smoked paprika, garlic powder, and onion powder.
Preheat air fryer to 375° for about 3 minutes and then place the chicken breasts inside. Cook for about 6 minutes and then use tongs to flip them over. Continue cooking for another 2-10 minutes or until the internal temperature reaches 165°. This will depend on the size of your chicken. Do not over cook them or they will be dry.
3. Perfect Onions
No matter how you like them– sautéed, caramelized, or crispy– you can achieve the onions of your dreams in your air fryer. The temp is the same, just adjust the time according to your personal preferences.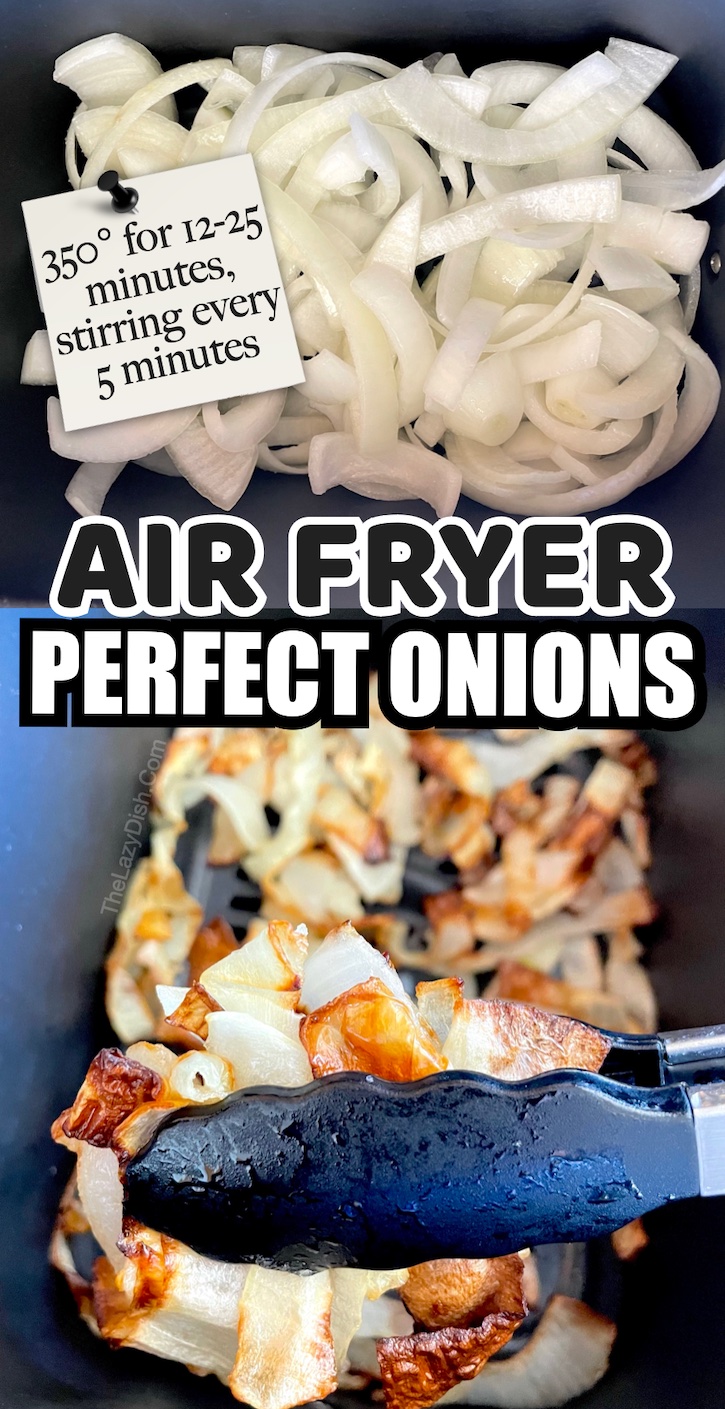 INSTRUCTIONS
Cut one or more onions into slices. I could probably fit 2-3 onions in my air fryer. They shrink a lot once cooked!
Toss the onions with olive oil and sprinkle with a bit of salt. Spread them out into an even layer onto the bottom of your air fryer.
Cook at 350° for 12-25 minutes, tossing every 5 minutes. If you like your onions lightly sautéed, you'll be closer to the 12 minute mark, if you like them golden brown and crispy, you'll be closer to the 25 minute mark. I like them somewhere in-between and have found that 18 minutes in my air fryer gives me the best texture and flavor (like shown in the picture above).
4. Crispy Bacon
when it comes to bacon, nobody has ever said "make mine soggy". This is the beauty of an air fryer! It makes everything crispier, including your favorite pork.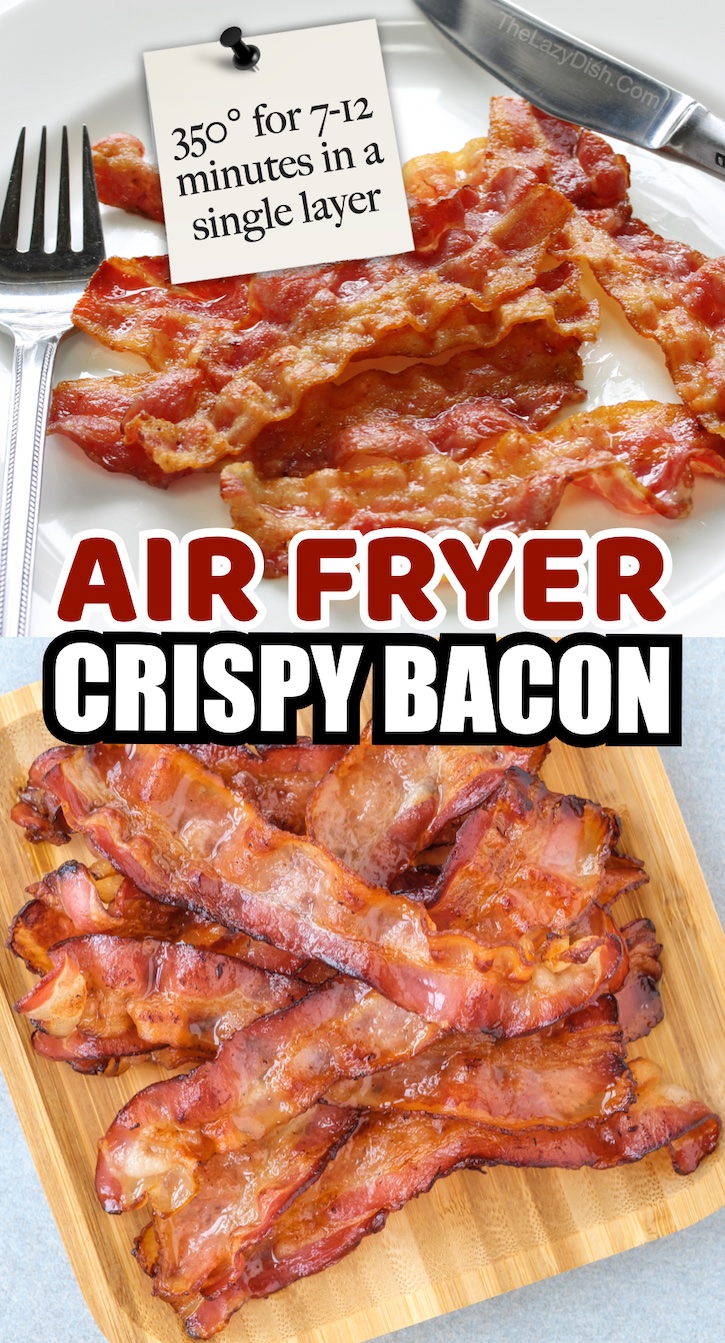 INSTRUCTIONS
Place the bacon strips in a single layer in your air fryer.
Air fry at 350° for 7-12 minutes depending on how thick your bacon is and how well done you like it.
Transfer the bacon to a paper towel lined plate to absorb any extra grease.
If you have a lot of bacon, you may need to make a couple of batches. You don't want the bacon stacked on top of each other.
5. Crispy Hash Browns
Crispy is my favorite word when it comes to hash browns, and the air fryer certainly doesn't disappoint. You can also make them on a sheet pan in the oven. Both techniques have proven amazing for me.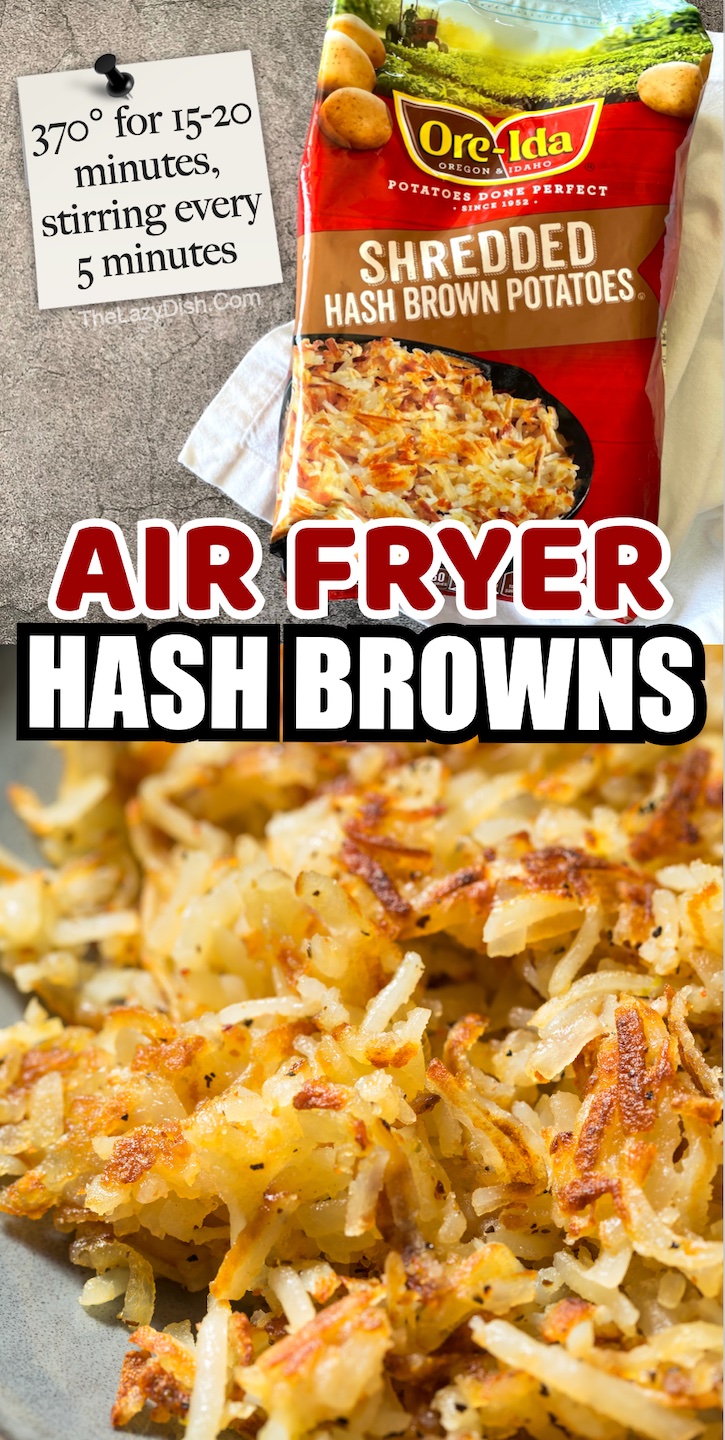 INSTRUCTIONS
Pour the frozen hash browns into your air fryer and brush or spray with olive oil.
Air fry at 370° for about 5 minutes, and then stir the hash browns and add more oil. You can also season at this point with salt and pepper.
Continue cooking for about 15 minutes, stirring every 5 minutes to ensure that they crisp up evenly.
6. Baked Potatoes
Crispy seasoned skin with tender insides! That's my idea of the perfect baked potato. If you feel the same, you really can't mess up a potato in your air fryer.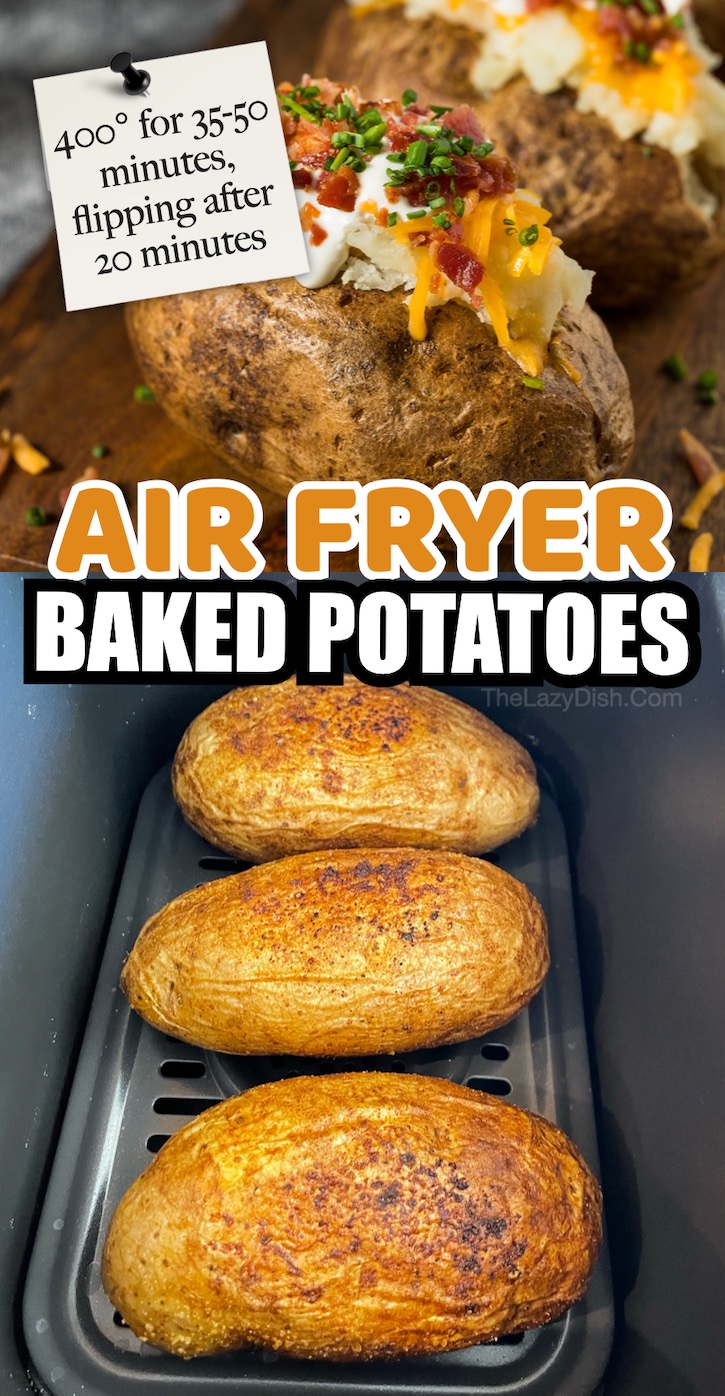 INSTRUCTIONS
Thoroughly wash your potatoes and poke them all over with a fork. Rub them with olive oil and sprinkle with salt.
Air fry the potatoes at 400° for 30 minutes. Flip the potatoes and continue cooking for 5-20 minutes, depending on the size. A fork should be able to slide through easily when done.
7. Homemade Potato Chips
While we are talking about spuds, I might as well mention that just about any potato cooks well in an air fryer, including chips! You'll never want to eat the store-bought stuff again. Sweet potato chips are my favorite!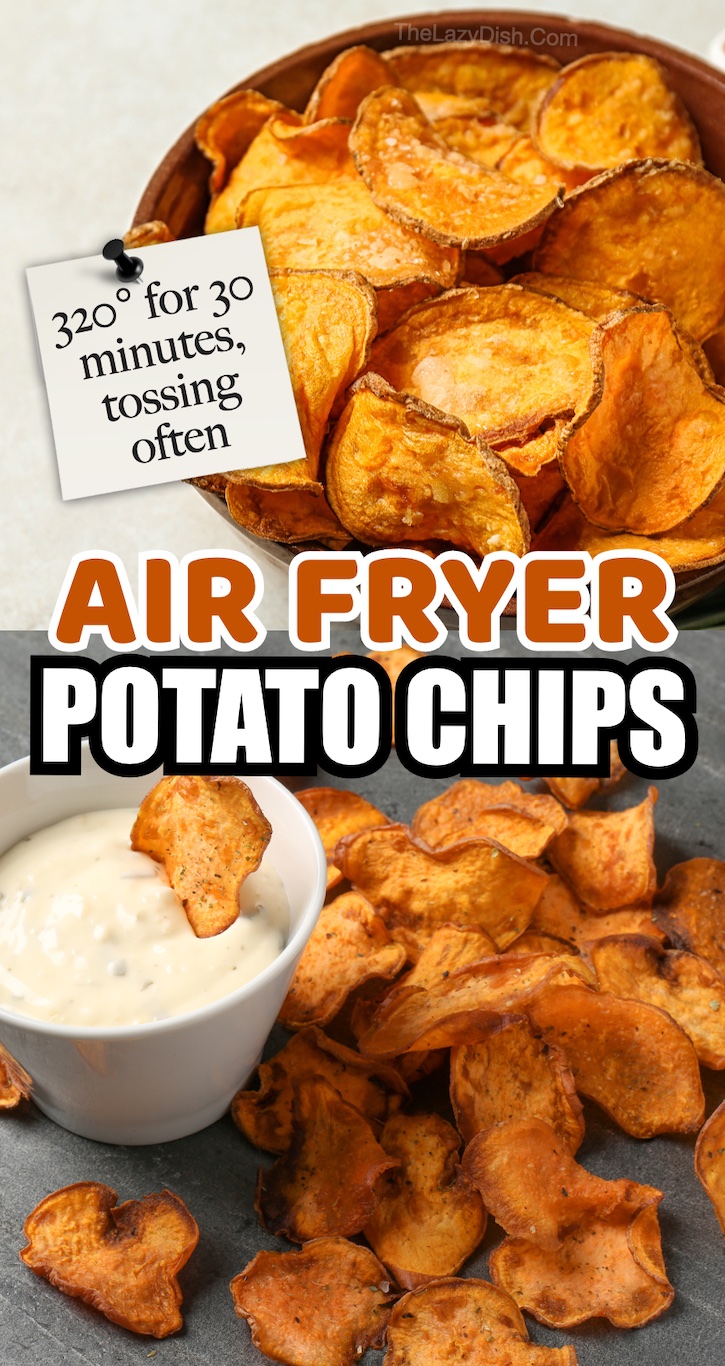 INSTRUCTIONS
Thinly slice your potatoes with a mandolin about 1/16 inch thick and place them into a medium size bowl.
Run them under cold water and soak for about 30 minutes to remove any extra starch. Dry well with a couple of paper towels when finished.
Toss the potatoes with oil and salt, as well as any other seasoning you'd like.
Preheat your air fryer to 320° and place the potatoes into the bottom of the basket (It's ok if there is more than one layer but don't overfill the basket).
Cook until golden brown and crisp, about 30 minutes total, tossing every 5 minutes or so.
8. Frozen Meatballs
We love the jumbo bag of frozen meatballs from Costco because you can make so many meals with them. The air fryer will give you even better results than the oven, and it's ideal if you just want to make a quick, small portion.
INSTRUCTIONS
Place the frozen meatball into a single layer onto the bottom of your air fryer basket.
Spray or brush with a bit of oil and cook at 375° for 8-12 minutes, depending on the size of the meatballs. Shake the basket about half way through to ensure even cooking.
9. Andouille Sausage
Any kind of refrigerated sausage or meat cooks perfectly in your air fryer, and we absolutely love andouille sausage! You can mix it with so many meals for added flavor including this Cajun Cauliflower Rice. Healthy but OMG DELISH!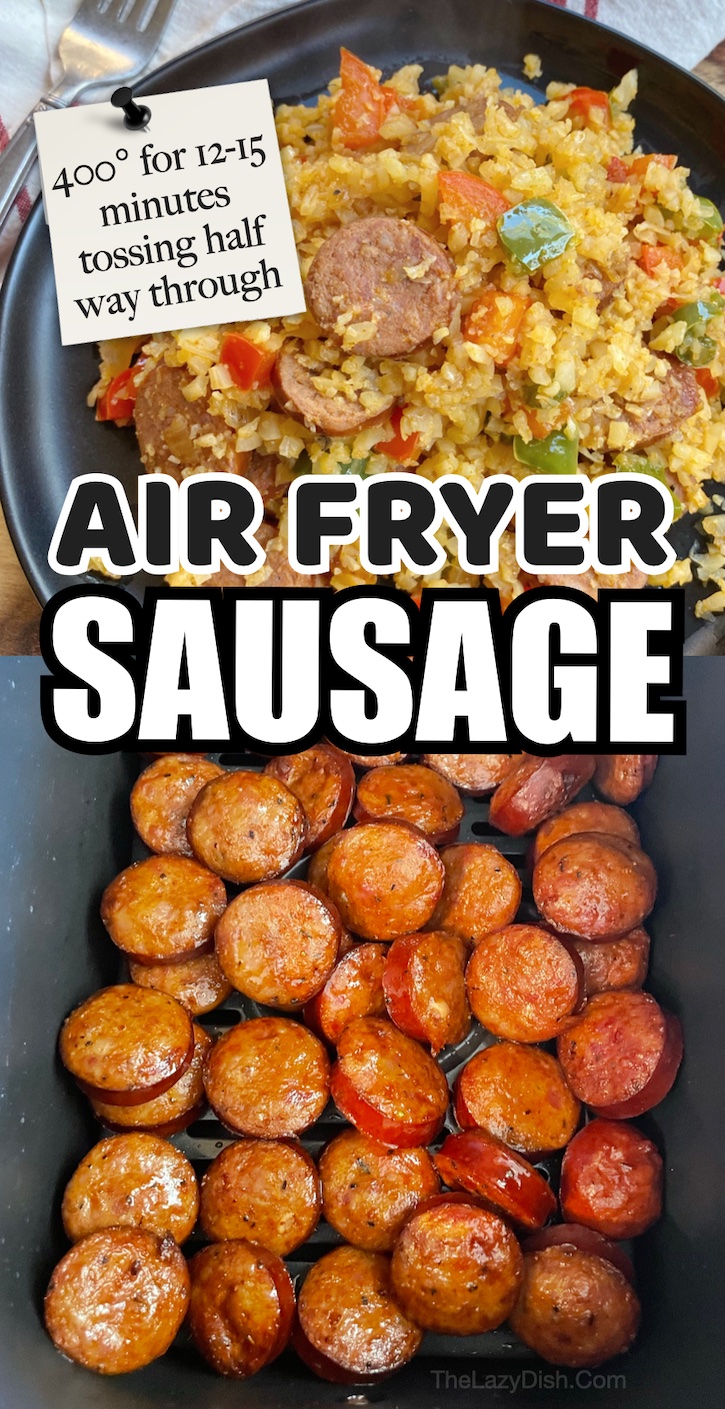 INSTRUCTIONS
For large sausage links or andouille sausage, cut it into 1/4 inch thick coins.
Preheat your air fryer to 400° and then add your sausage coins. Cook for 12-15 minutes, tossing half way through.
I've found them to be so delicious tossed with just about anything! Rice, pasta, cauliflower rice, potatoes, scrambled eggs, roasted veggies, or even just eaten alone.
10. Hard Boiled Eggs
Eggs are probably the perfect healthy food, and we enjoy them cooked in just about every way in our house. Hard boiled is the fastest way to get a quick fix of protein, and your air fryer will make the process painless.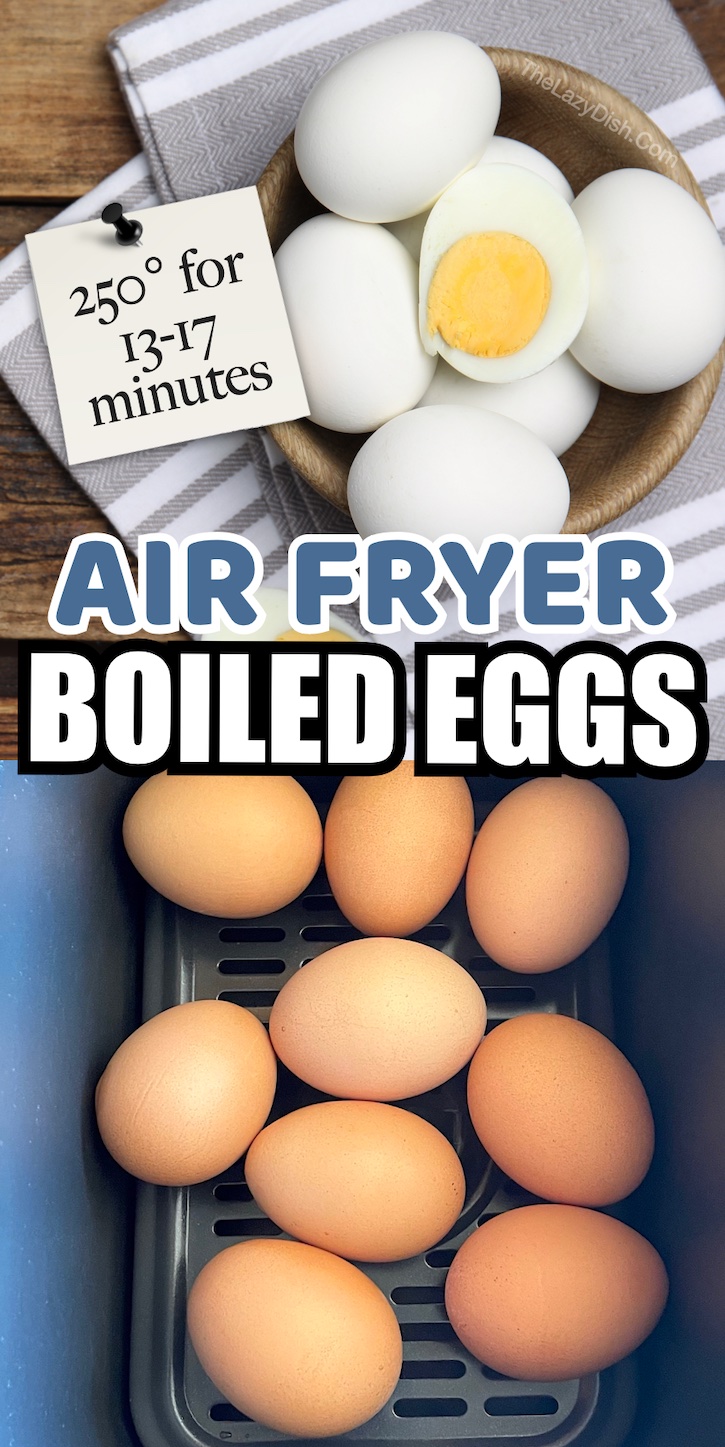 INSTRUCTIONS
Preheat your air fryer to 250°
Add the eggs to the basket and cook according to your preference, about 13 minutes for soft boiled eggs and 17 minutes for hard boiled eggs. Keep in mind, every air fryer varies so this may take some experimenting!
Immediately plunge the eggs into an ice bath once you remove them from the air fryer.
11. Frozen French Fries
Frozen fries cook up just right in this magical cooking machine! And, because they are almost always a side dish, it frees up your oven to cook other things. It's great for leftover fries, too.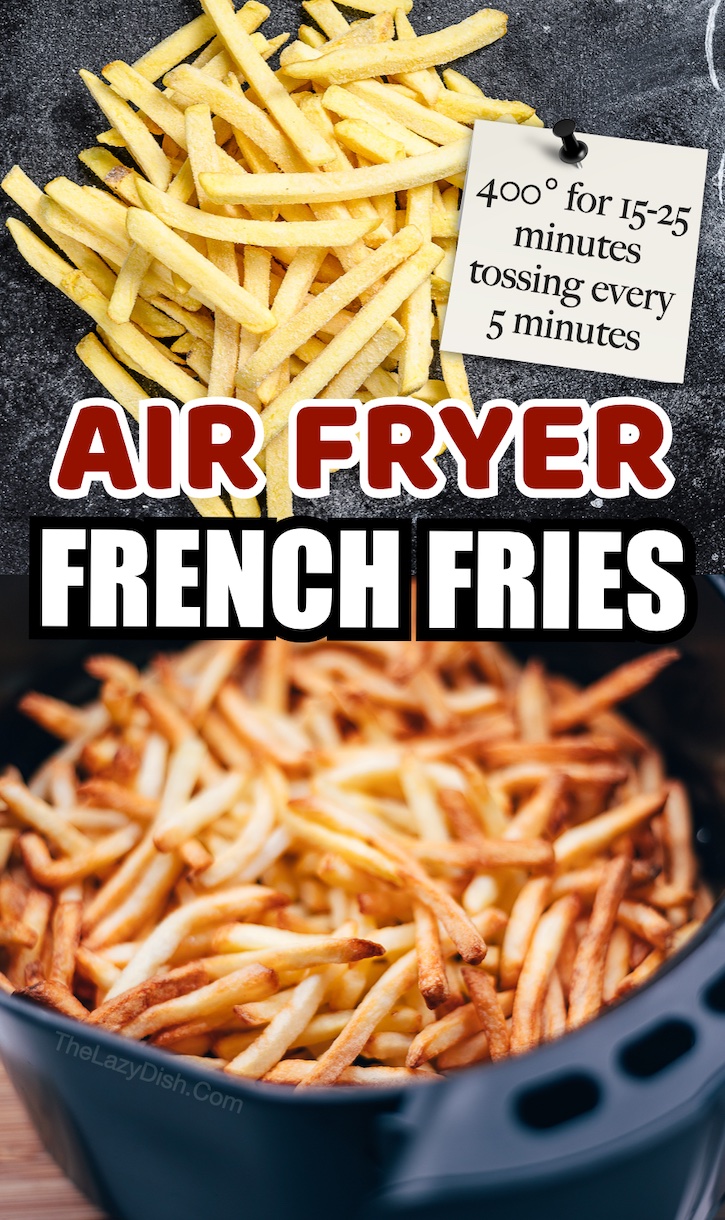 INSTRUCTIONS
Air fry frozen French fries at 400° for 15-25 minutes, tossing often. The time will greatly depend on how may fries you have in the basket.
This works great for leftover fries, too! I use the same temperature but prefer to preheat the air fryer for a few minutes before placing them in there. They should only take 2-3 minutes to heat and crisp up.
12. Frozen Jalapeno Poppers
To be honest, any frozen fried food is excellent in an air fryer. We always use it for jalapeño poppers, coconut shrimp, French fries, mozzarella sticks, corn dogs, fish sticks, tater tots, etc.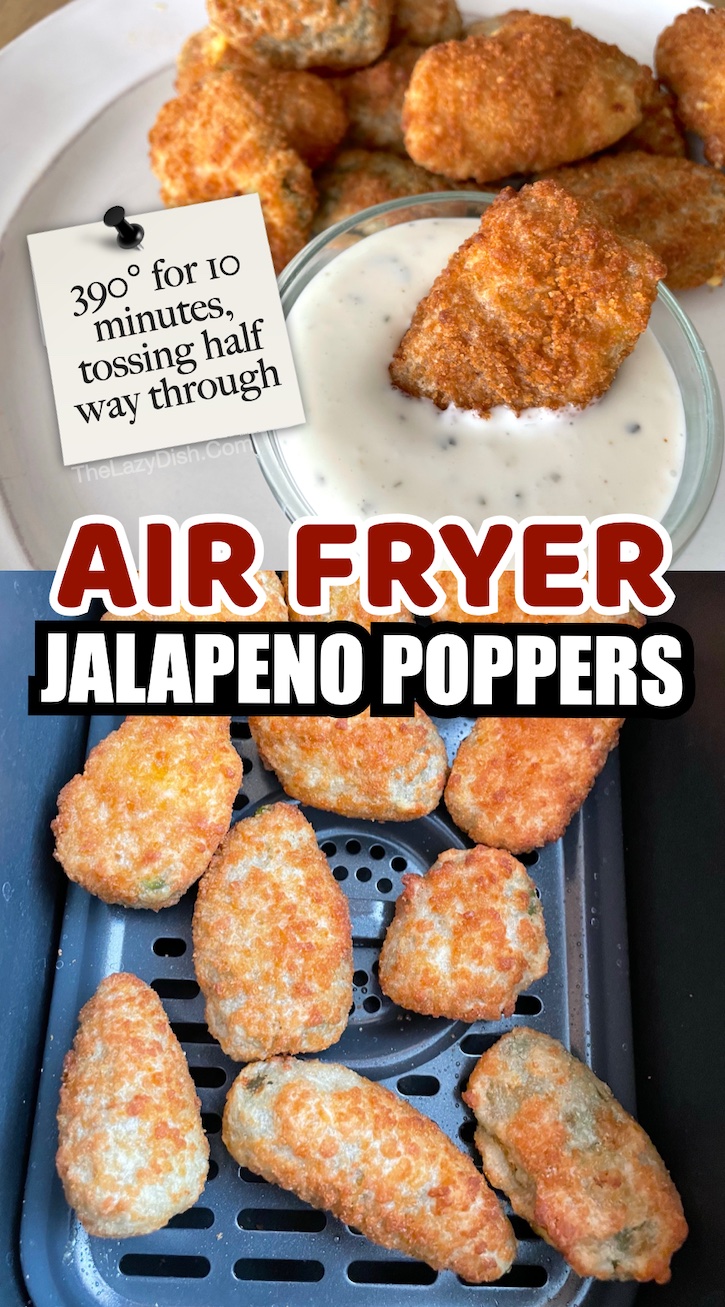 INSTRUCTIONS
Most frozen foods these days have air fryer instructions on their packaging, but if not, a good temperature is usually between 375° and 400°.
It's always best to shake the basket or toss halfway through. Smaller items like French fries may need regular tossing to ensure they cook evenly.
13. Frozen Chicken Nuggets & Fingers
I'm willing to bet we've had more chicken nuggets and chicken fingers in our air fryer than anything else. There's nothing like the extra crispy crust!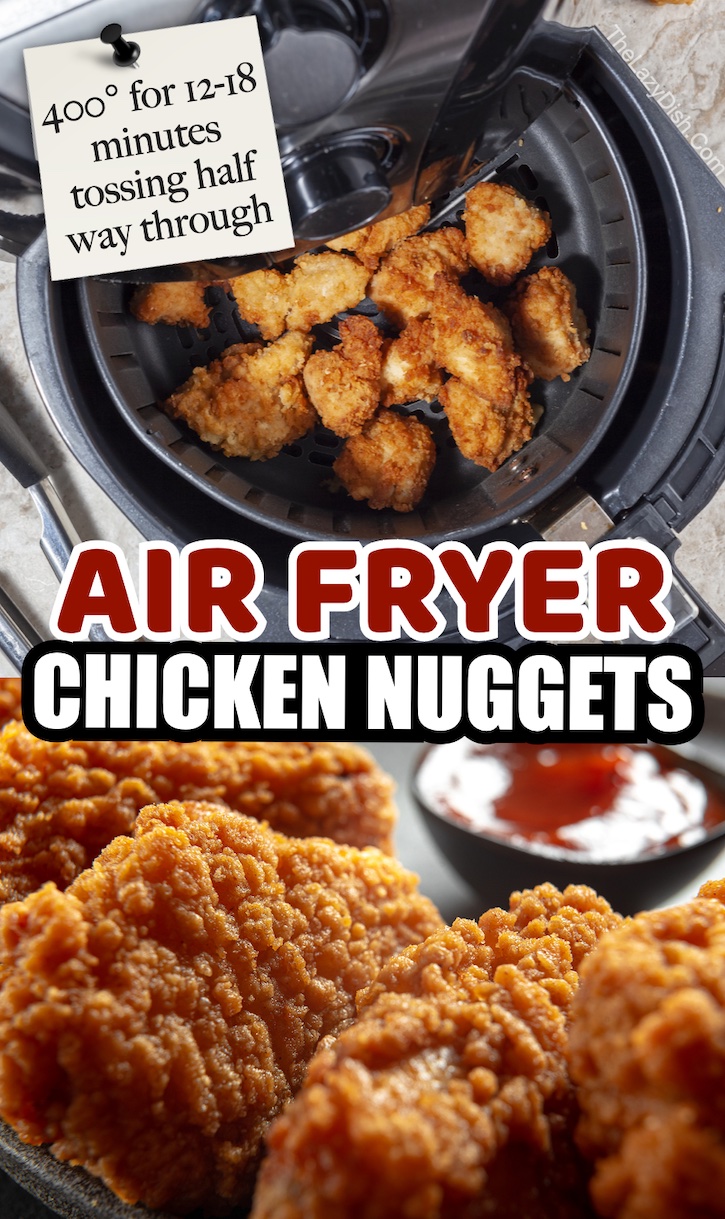 INSTRUCTIONS
Because chicken nuggets are one of the most common things cooked in an air fryer, the package it comes in usually has air fryer instructions. I've honestly stopped reading the instructions because I've found 400° to produce perfectly crispy chicken every time.
Larger fried chicken such as tenders or strips will take closer to 15 minutes, while popcorn chicken may take less than 10.
14. Crunchy Chickpeas
If you're looking for healthy air fryer recipes, you can't go wrong with a can of chickpeas! The air fryer completely changes them into the ultimate snack.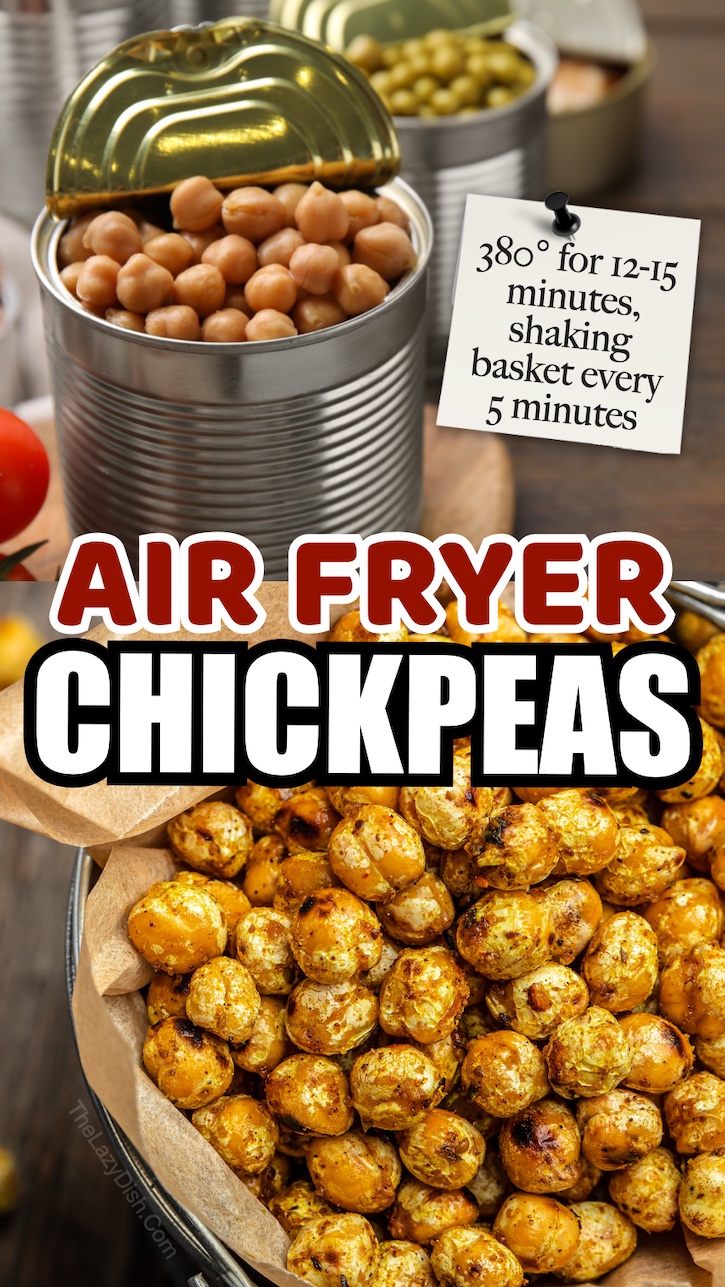 INSTRUCTIONS
Rinse and drain a 15oz can of chickpeas and transfer them to a paper towel lined plate, allowing them to dry completely.
Air fry at 380° for 12-15 minutes, shaking the basket every 5 minutes until golden brown and crunchy.
Transfer the chickpeas to a bowl and toss with about 1 tsp of olive oil (an olive oil spray works best to coat them evenly). Season to your liking with cajun spice, smoked paprika, garlic salt, black pepper, etc.
15. Brussels Sprouts
Just about any vegetable is way better an in air fryer. Brussels sprouts are a total game changer. Even if you're not a fan, the crispy leaves and perfectly cooked centers are delicious.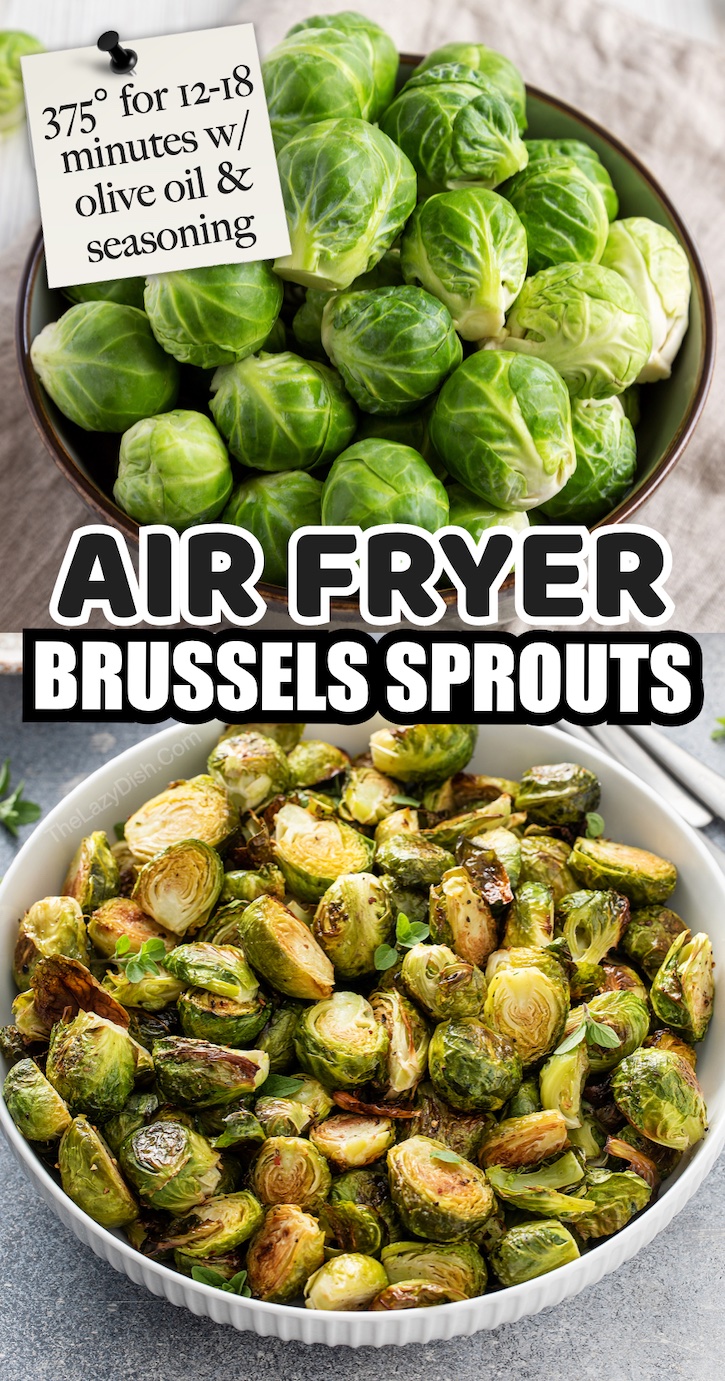 INSTRUCTIONS
Toss about 1 pound of clean, trimmed and halved brussels sprouts with 2 tsp of olive oil and seasoning to taste such as garlic salt and pepper.
Preheat your air fryer to 375° for 5 minutes and then cook the brussels sprouts for 12-18 minutes, shaking the basket every 5 minutes.
If you like softer brussels sprouts, you can also soak the sprouts in warm water for about 10 minutes, drain, and then thoroughly dry before tossing with oil.
16. Carrots
Carrots are one of our favorite colorful side dishes, and the air fryer will free up room in your oven! It's helpful to have during the holidays when you have several side dishes to make at once.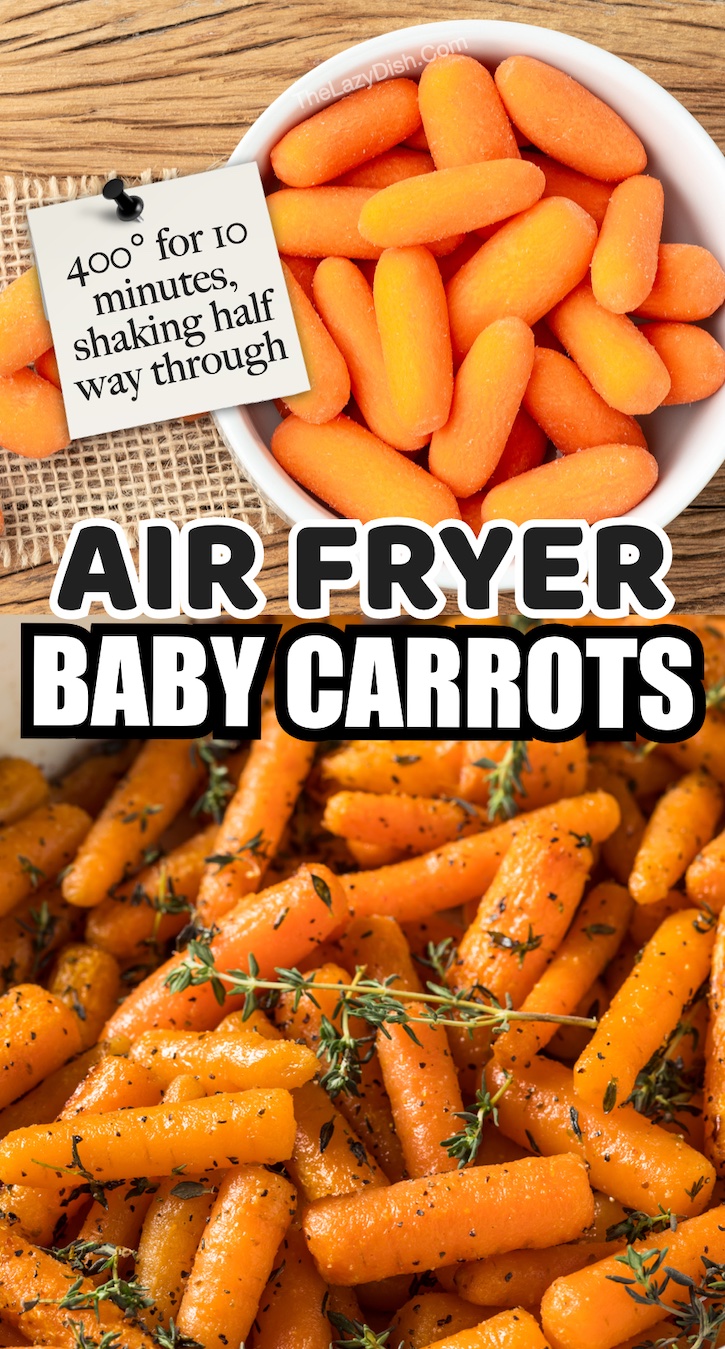 INSTRUCTIONS
Toss a small bag of baby carrots with 2 tbsp of olive oil and 2 tbsp melted butter. Season to your liking with salt and pepper. You can also add about 2 tbsp of brown sugar if you want them sweet! Feel free to use any other seasoning that you'd like such as rosemary or garlic powder.
Preheat your air fryer to 400° for 5 minutes and then cook the carrots for about 10 minutes, tossing them half way through.
17. Green Beans
My family buys a huge bag of organic frozen green beans from Costco because we've discovered green beans to be one of the only frozen veggies that doesn't turn out soggy. If you make them in the air fryer, they are almost like fries!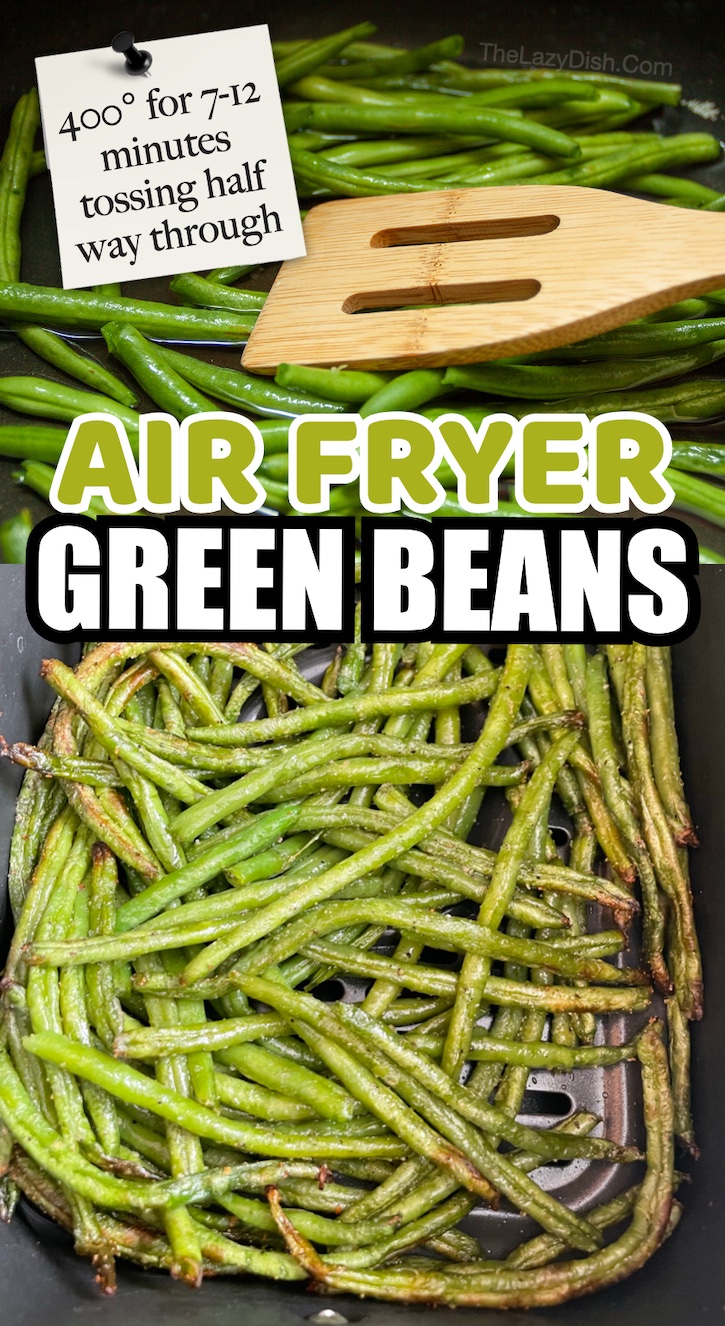 INSTRUCTIONS
Toss fresh green beans with olive oil and seasoning to taste. I use salt, pepper, and garlic powder.
Transfer the green beans to your air fryer and cook at 400° for 7-12 minutes, tossing them a few times in-between cooking.
You can also do this with frozen green beans! I steam them a bit first so that I can toss them with oil and seasoning, and then cook at the same temperature until done to my liking.
18. Bell Peppers
I like my bell peppers with a little bit of char, and the air fryer is the perfect appliance for cooking them just right. Now that we have this amazing countertop oven, we make them often to add to just about any meal, including our breakfast eggs.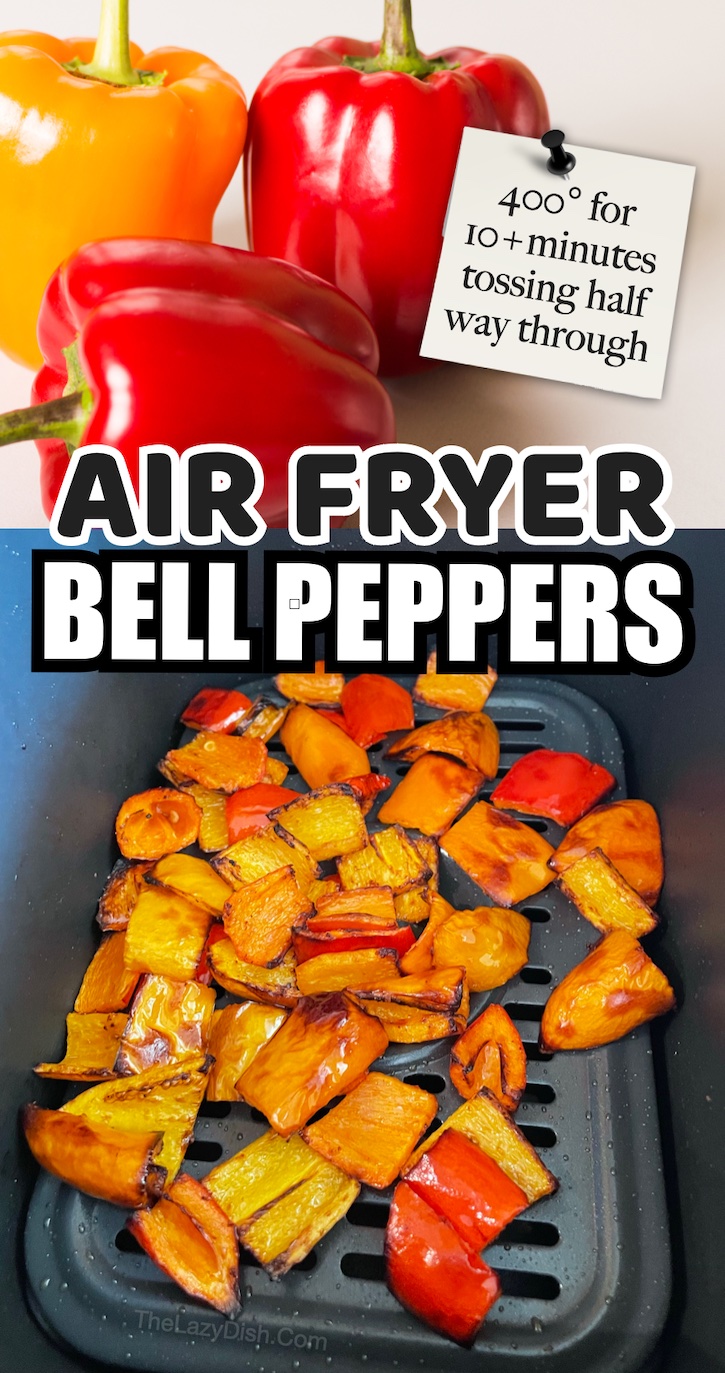 INSTRUCTIONS
Cut bell peppers to your desired size and toss them with a bit of olive oil and salt.
Cook at 400° for about 10 minutes, or until they are done to your liking. This also works well for other peppers such as jalapeños or poblanos.
19. Asparagus
Just about all veggies (other than leafy greens) are better cooked in an air fryer, but asparagus is my absolute favorite. They get this amazing texture while still being soft in the middle. I'll never roast them in the oven again!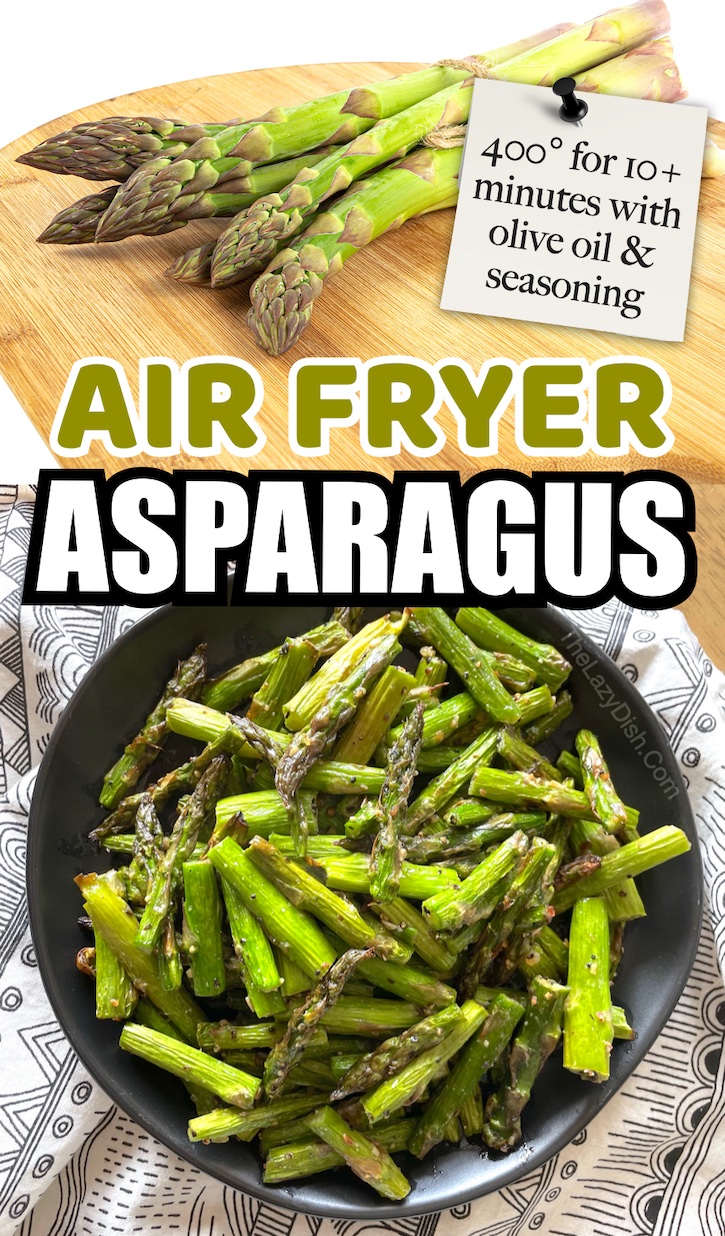 INSTRUCTIONS
Wash and break the tough ends of the asparagus off. I prefer to cut them into bite size pieces as well, but you can leave them long if you'd prefer.
Toss with olive oil and seasoning of choice such as salt, pepper, and garlic powder.
Air fry at 400° for about 10 minutes or until they are done to your liking.
20. Caramelized Bananas
You can make sweet things in your air fryer, too! Caramelized bananas are surprisingly delicious served with yogurt, ice cream, or peanut butter toast. Even your picky kids will enjoy this healthy treat!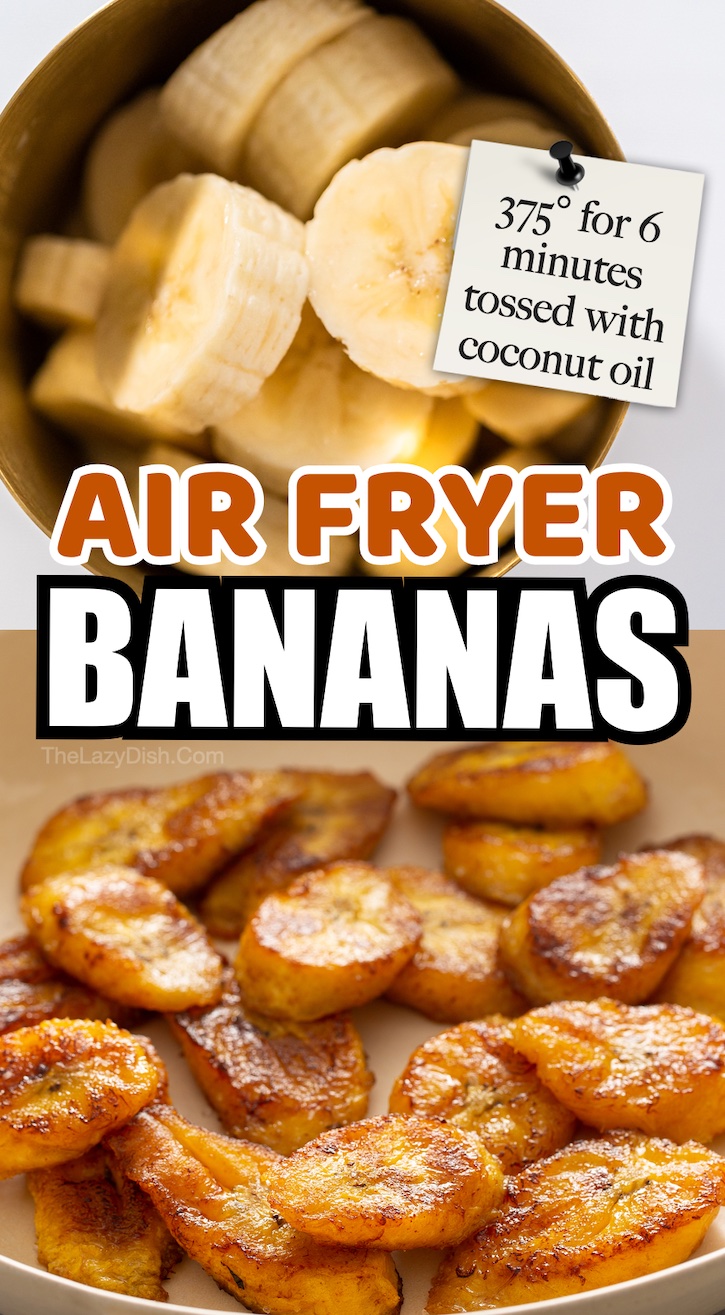 INSTRUCTIONS
Peel and cut bananas into 1/2 inch slices (avoid bananas that are too ripe).
Place them into the air fryer in a single layer.
Brush with coconut oil and sprinkle with cinnamon.
Air fry at 375° for about 6 minutes. Sprinkle lightly with salt if you'd like. Enjoy alone or with yogurt, ice cream, peanut butter toast, pancakes, etc.
21. French Toast
I'm not a fan of soggy French toast, so for obvious reasons, I now prefer it cooked in my air fryer. The edges crisp up just right!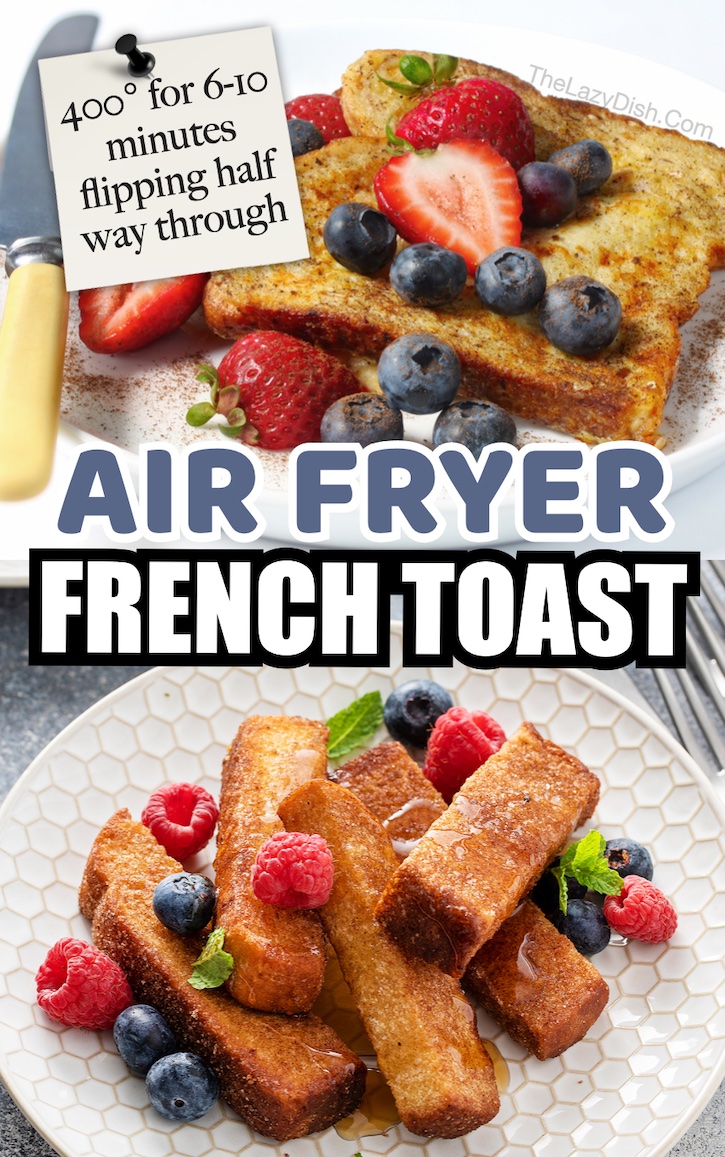 INSTRUCTIONS
In a shallow bowl, mix together 2 eggs with 1/3 cup milk, a dash of vanilla, and a sprinkle of cinnamon.
Dip about 4 pieces of bread (cut into strips or whole) into the mixture and shake off the excess. Place them into your air fryer in a single layer.
Air fry at 400° for 6+ minutes, flipping halfway through. I prefer my French toast crispy, but you can lower the temperature of your air fryer a bit if you like softer edges.
22. Store-Bought Cookie Dough
Cookies in the air fryer? Yes! This is excellent for when you just want to make a few, but don't want to turn the oven on for 2 cookies (not to mention the wait time for your oven to preheat when you're trying to quickly satisfy your sweet tooth).
INSTRUCTIONS
Place parchment paper onto the bottom of your air fryer.
Roll the cookie dough squares into balls and place them on the paper, leaving enough room for them to spread.
Air fry at 320° for 6-8 minutes or until they start to turn golden brown on top.
Remove the air fryer basket and allow the cookies to cool for about 5 minutes before removing.
23. Leftovers
Leftovers can be even BETTER the next day thanks to your air fryer! We've discovered this with pizza, French fries, veggies, chicken wings, biscuits, garlic bread, hamburger patties, hotdogs, and any fried food.
INSTRUCTIONS
No more soggy leftovers! You can reheat anything that's meant to be crispy in your air fryer. That includes anything fried, as well as some other foods including pizza, veggies, garlic bread, hot dogs, etc.
Air fry leftovers anywhere from 350° to 400° depending on how crispy you like things, keeping the size of the food in mind. Larger things like pizza could stand a lower temp to ensure it heats all the way through without getting too crisp on the edges.
My Personal Fails with My Air Fryer
Kale – It actually turned out delicious, but leafy greens tend to fly around in an air fryer so you have to constantly babysit them and mix every minute or so. I had a few pieces fly up into the heating element and start to smoke!
Potstickers – Most foods that are meant to be soft don't work well in the air fryer. I tried making some frozen pot stickers, and they turned out crunchy and weird.
Steak Bites – We eat a lot of steak, so I figured why not give the air fryer a try! Unfortunately, it's hard to get that delicious charred edge, and super easy to overcook them. A grill or cast iron skillet is so much better.
Burgers – We've discovered that burger patties lose a lot of their juices in the air fryer and overcook really quickly.
Broccoli – Don't get me wrong, broccoli is great in an air fryer, but I prefer it in the oven. All the little beads on the ends burn very easily (especially broccolini), so sometimes you have to pull it out before it's soft enough. If you do make it in the air fryer, I recommend placing a few tablespoons of water under the crisper plate.
Cabbage – We love roasting cabbage in the oven! It turns out yummy in the air fryer too, however, it's difficult to fit an entire head in there, and you have to toss every few minutes, so you can't just "set it and forget it" like in the oven. It's amazing for leftover cabbage, though!

What are your favorite things to make in the air fryer? I know I've missed some things!