A quick & easy dinner recipe your entire family will love!
Who isn't looking for simple meals made with just a handful of ingredients? I don't know about you, but I'm always on the hunt for easy and healthy dinner recipes that my picky eaters won't complain about.
This casserole dish recipe is incredibly easy to make with just six ingredients: rotisserie chicken, zucchini, StoveTop Stuffing, butter, sour cream and a can of cream of chicken soup.
Don't let the simplicity fool you, this casserole is absolutely delicious! Even though it's loaded with veggies, this main dish is quite hearty and comforting. It is one of the BEST kid friendly dinner ideas, and husband approved, too.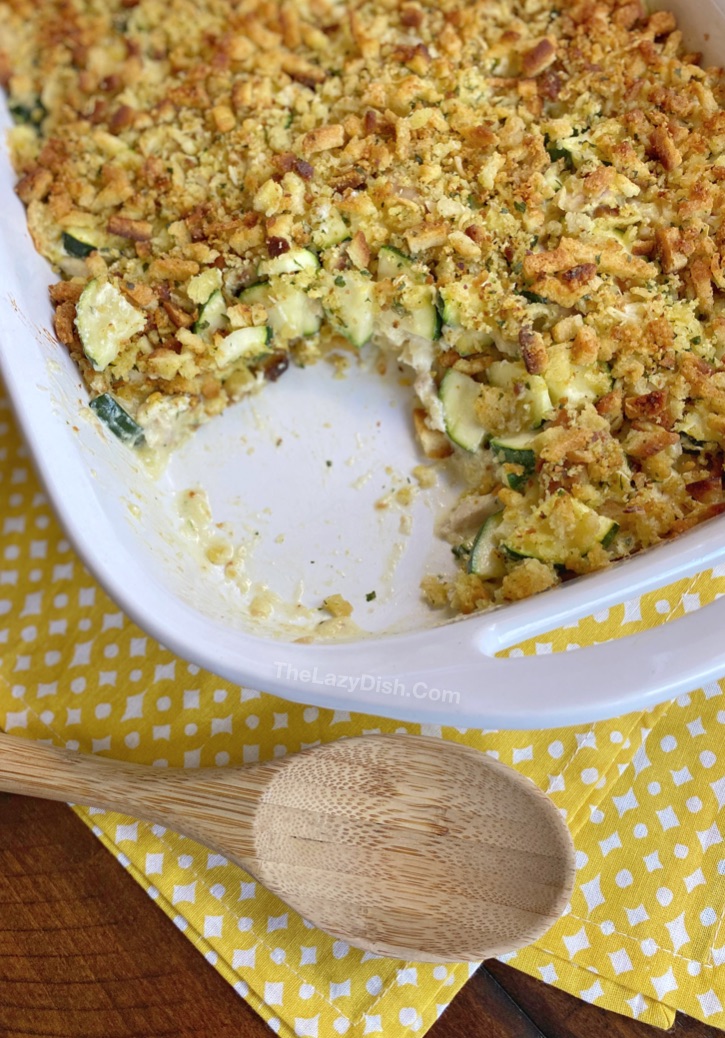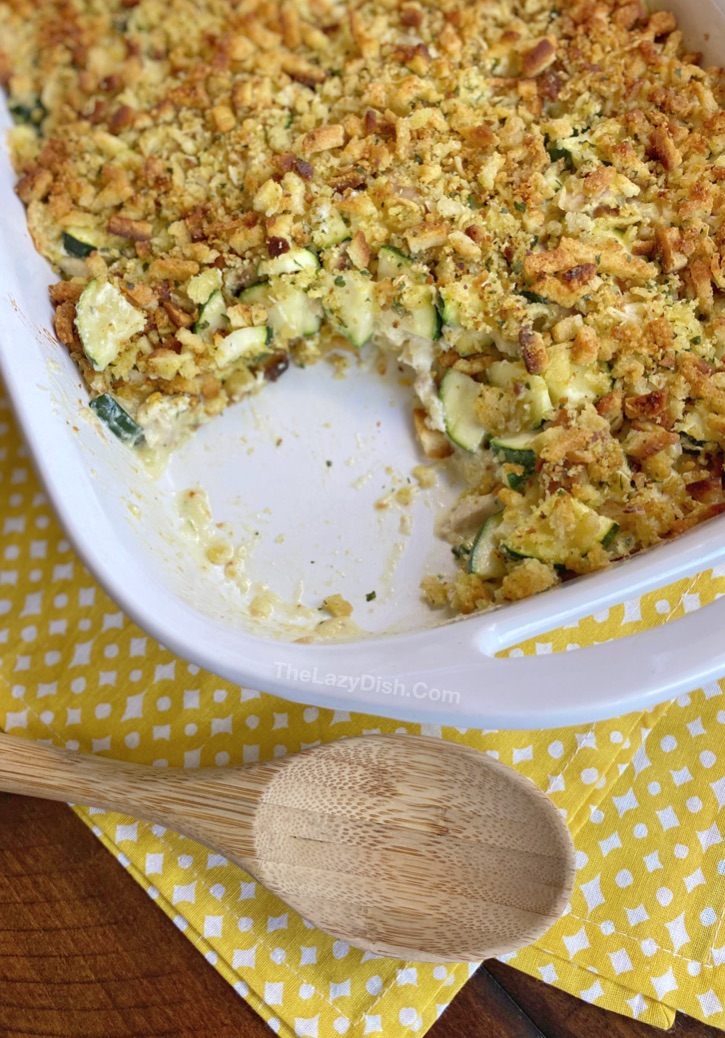 The only prep work required for this recipe is pulling the chicken, dicing the zucchini and melting the butter. That's it! It should take you less than 10 minutes. Once you have the ingredients prepped, you simply mix everything together and spread it into a large casserole dish and bake uncovered in the oven for about 35 minutes.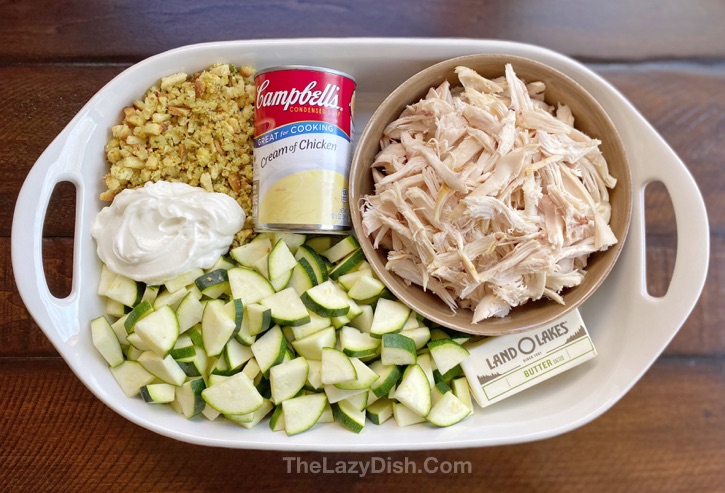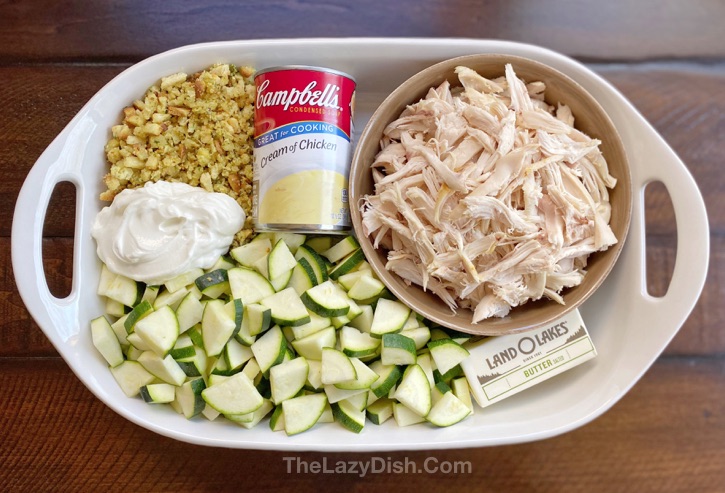 Dinner is served! The stuffing on top gets really crispy which pairs perfectly with the chicken and zucchini mixture. The stuffing also has a ton of flavor in it so there's no need for additional seasoning.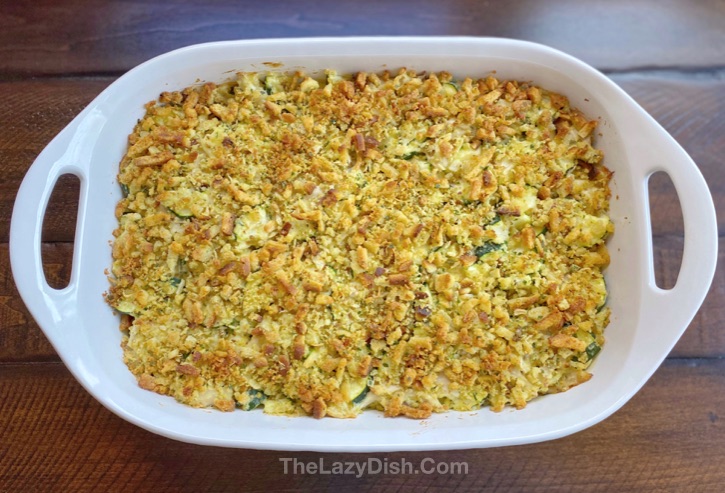 This quick and easy casserole recipe has just about every food group in it, so don't worry about any side dishes! It's incredibly filling and satisfying just on its own.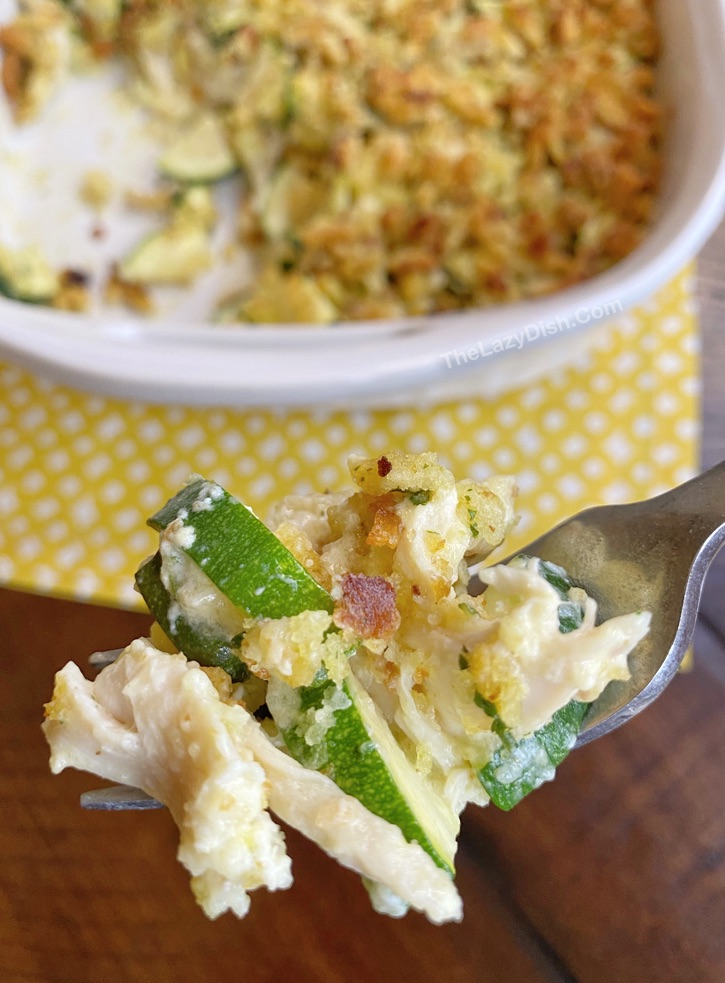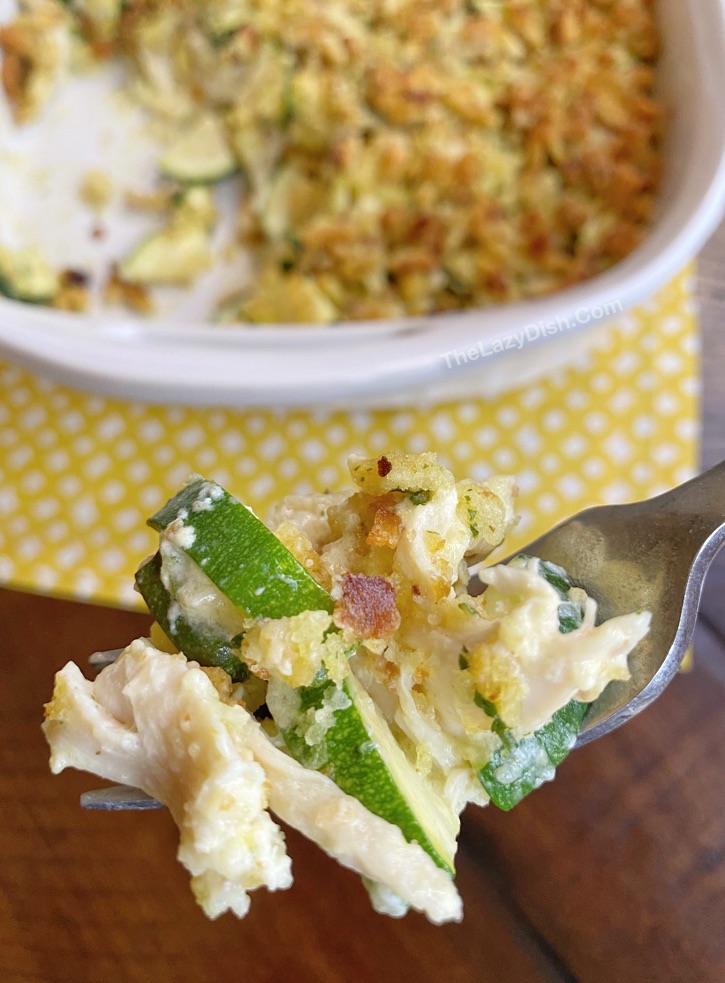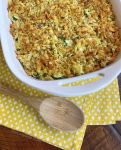 Rotisserie Chicken & Zucchini Casserole
Looking for quick, easy and healthy dinner recipes for the family? Even your picky eaters will love this simple casserole dish! It's made with just a handful of cheap ingredients that are a breeze to throw together on busy weeknights. This one dish meal will soon be a family favorite.
Keyword:
casserole, chicken, easy, family meal, healthy, picky eaters, quick, rotisserie, zucchini
Ingredients
1

small rotisserie chicken

(pulled & shredded)

3

medium sized zucchinis

(diced)

1

(6oz)

box Stove Top chicken stuffing mix

1/2

cup

butter

(melted)

1

(10oz)

can cream chicken soup

1/2

cup

sour cream
Instructions
Preheat your oven to 350 degrees and grease a 9x13 baking dish.

In a large bowl, melt the butter and then mix with the box of dry stuffing mix; set aside HALF of the mixture for topping the casserole later.

Add the pulled chicken, diced zucchini, cream of chicken soup and sour cream to the stuffing and mix well.

Spread the mixture into your baking dish and then evenly sprinkle the top with your reserved stuffing mixture.

Bake, uncovered, in the middle rack for 35-45 minutes or until it's warmed through and the top is golden brown.
Recipe Notes
You can also use about 3 cooked and cubed chicken breasts for this recipe in place of the rotisserie (although I would season it with a little salt, pepper and garlic powder). Canned chicken is also a great choice!
Feel free to add any other soft veggies to the mix that you'd like such as yellow squash, corn, or mushrooms.
I've had a few questions about the boxed stuffing. There's NO need to cook the stuffing or follow any instructions on the box. Just mix the DRY stuffing with the melted butter. Easy peasy!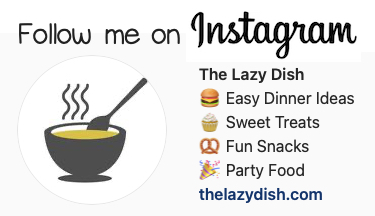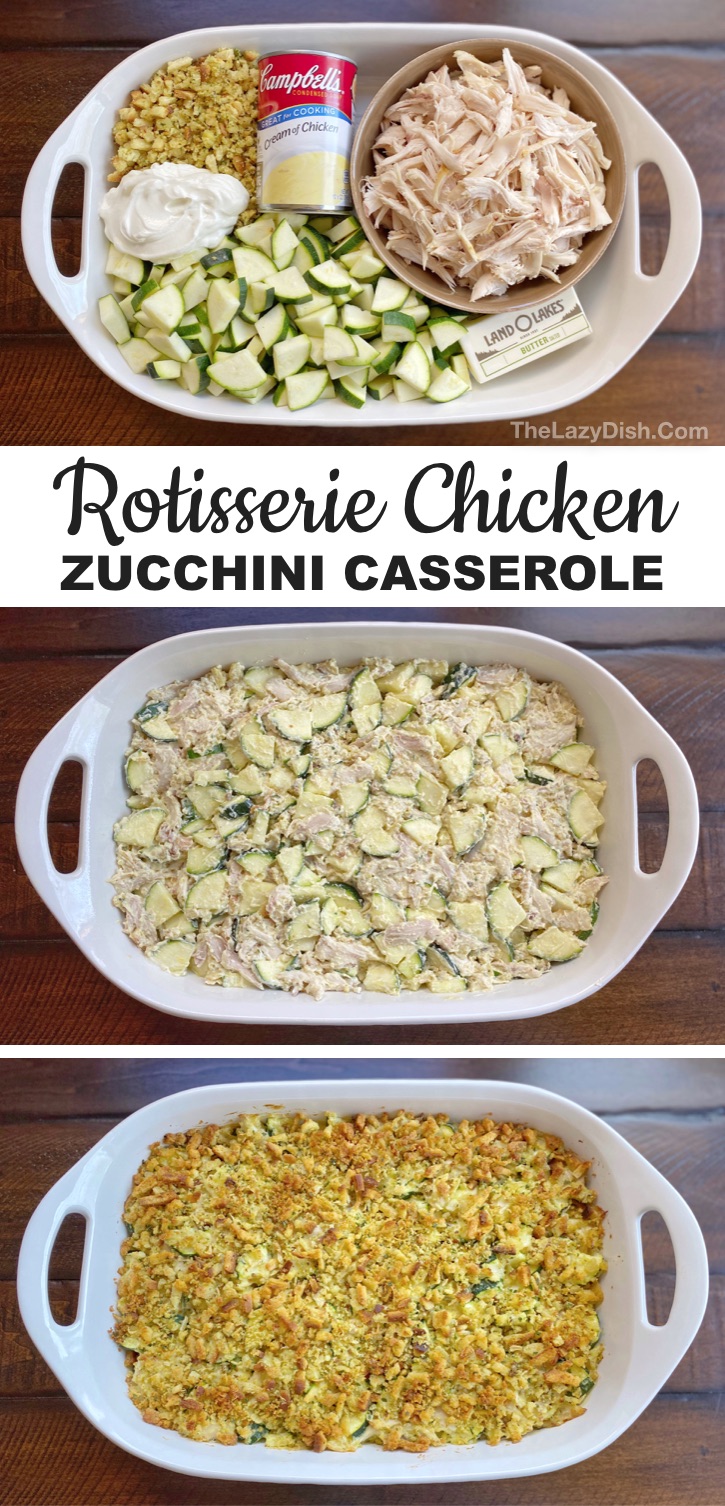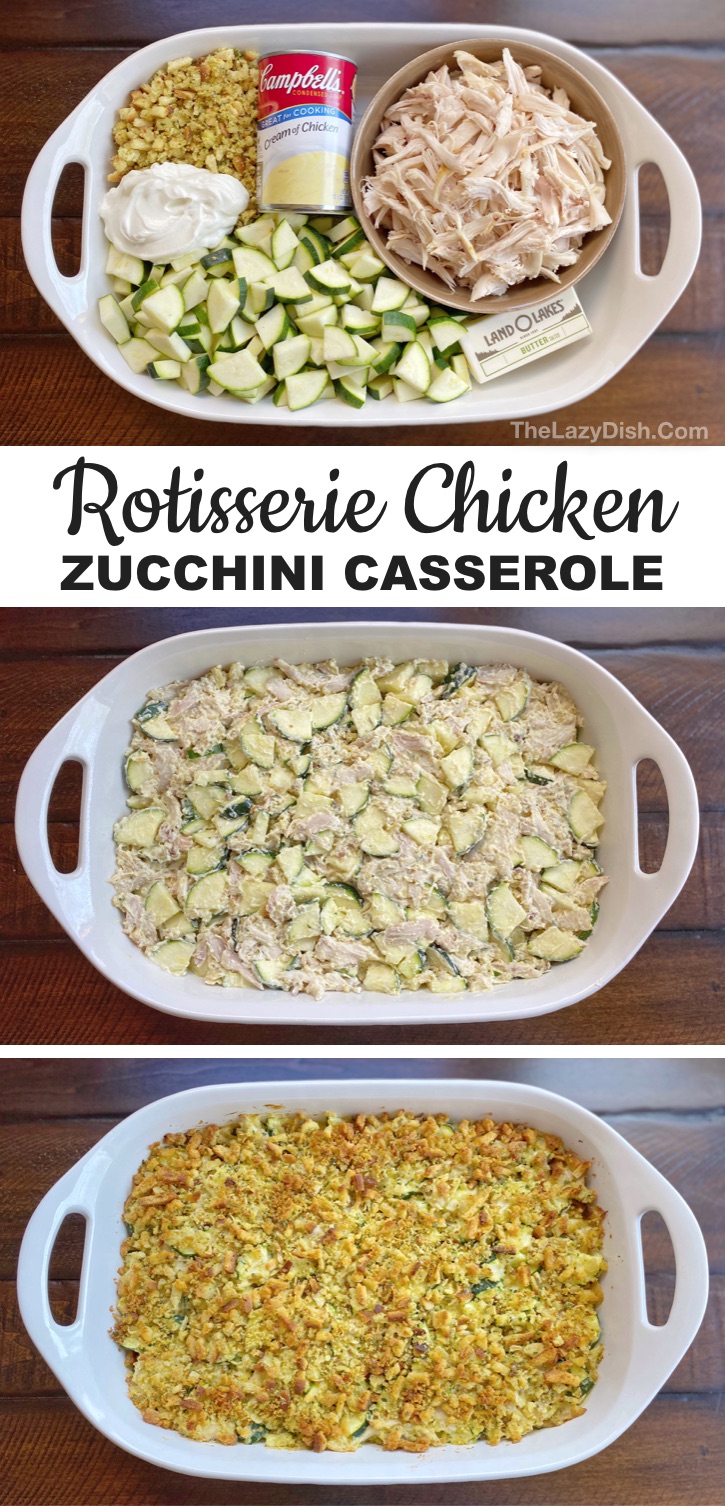 Casseroles
Casseroles can be a budget-friendly way to feed a family for dinner, as they often use ingredients that are inexpensive and readily available. Try mixing together ingredients you already have in your pantry!
The great thing about a good casserole is that everything is done cooking all at once, so it's easy to enjoy a warm meal without trying to coordinate your protein and side dishes all being done at once.
Casseroles are known for their versatility and can be made with a variety of ingredients, such as pasta, rice, potatoes, and meats like chicken, beef, and pork. Don't be afraid to substitute ingredients based on what you already have on hand.
They're great for serving a large group for family gatherings or potlucks. You can even prepare them ahead of time and store in the fridge until you're ready to pop it in the oven.