This super easy appetizer is my favorite recipe to throw together last minute!
Who doesn't love a cold make ahead party dip that is suitable for just about every occasion? It's super quick and easy to make! The only sort-of difficult part is chopping up the fresh veggies and herbs (5 minutes), but that can be done the day before if you're that short on time. Other than that, you're simply going to layer a little plain greek yogurt over store-bought hummus, and then top with crumbled feta and fresh chopped greek inspired veggies.
Not only is this greek hummus dip always a hit, it's actually pretty healthy. Delicious AND healthy don't always go together in the same sentence, but this simple party dip is the exception. It's vegetarian and made with a variety of fresh and flavorful ingredients. In fact, I like to make this at home just for snacking, and it stays fresh in the fridge for at least 5 days.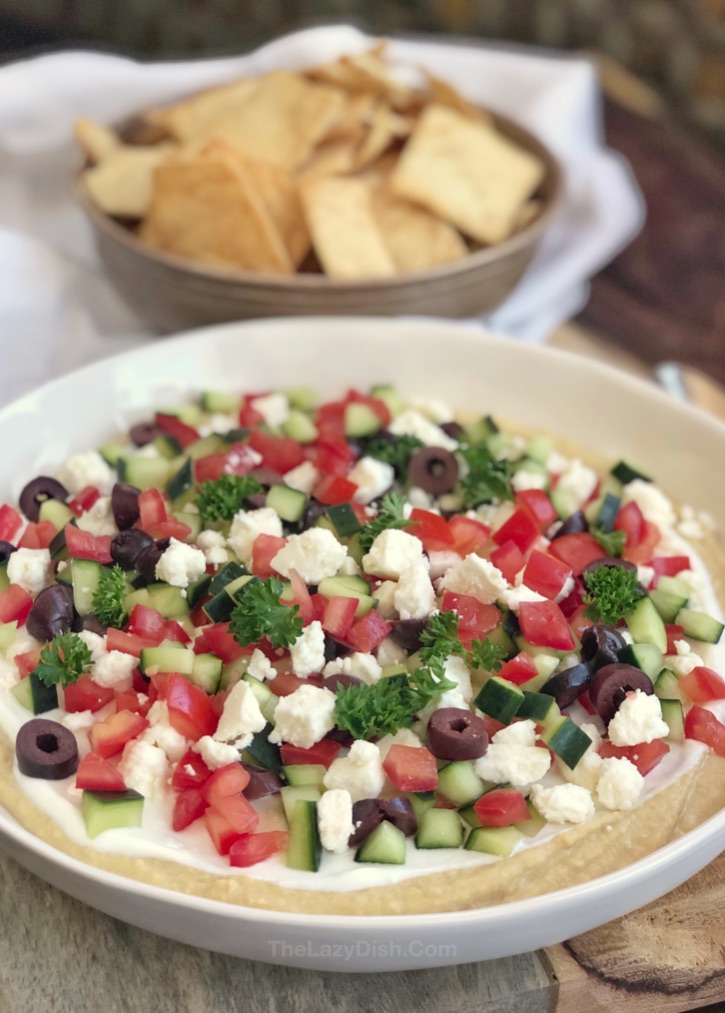 If you're making this for a party, I recommend the family size hummus… it goes fast! Top it with any of your favorite greek-inspired toppings: feta, tomatoes, cucumber, olives, pepperoncinis, bell pepper, onion, pine nuts, garlic, fresh dill, parsley, etc…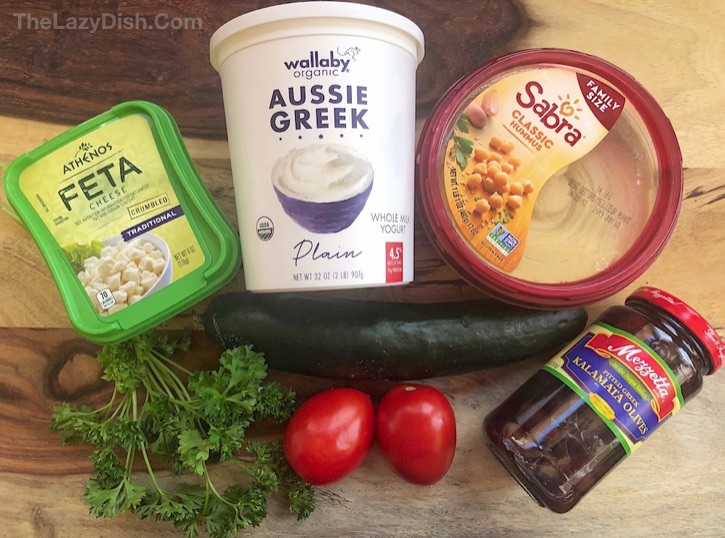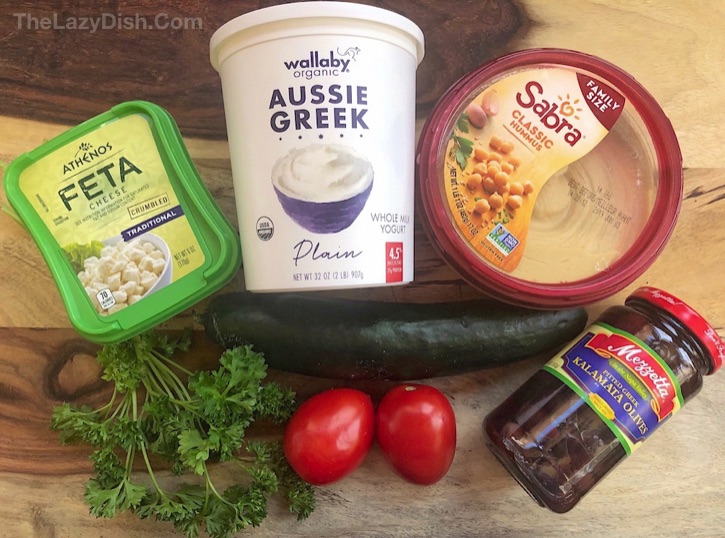 To me, the feta is a must. It makes it a little more salty and savory.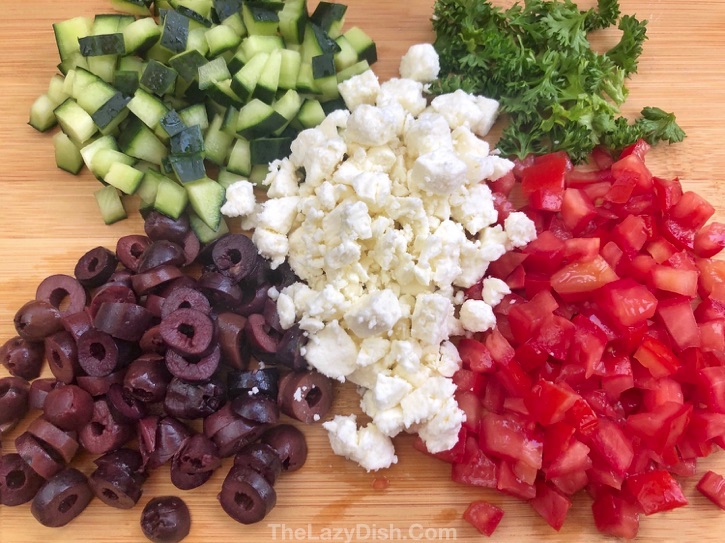 How To Make An Easy Layered Hummus Dip With Greek Yogurt (The BEST Make Ahead Party Appetizer)
That's all you have to do is spread a large tub of hummus onto the bottom of a shallow dish, layer on about 3/4 cup of plain greek yogurt, and then top it off with all of your goodies.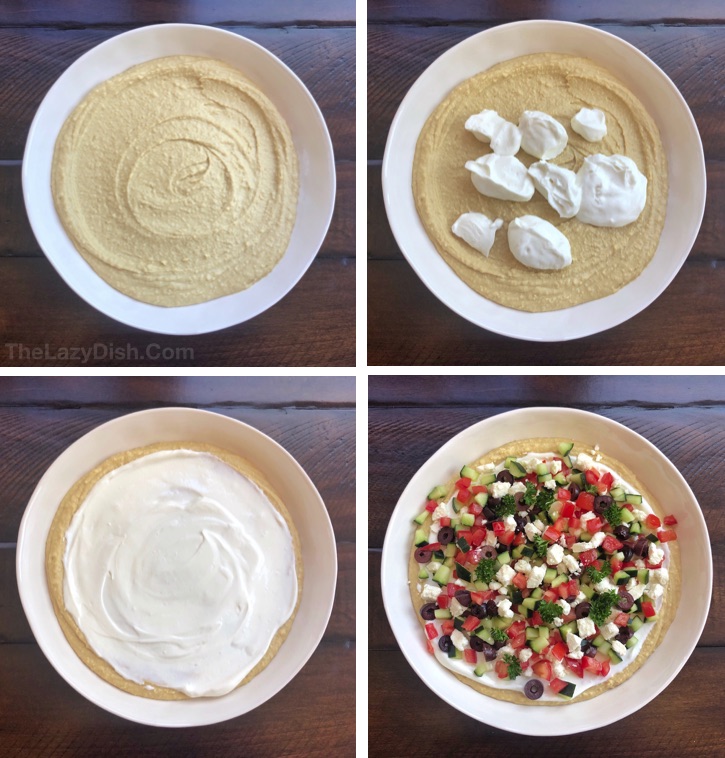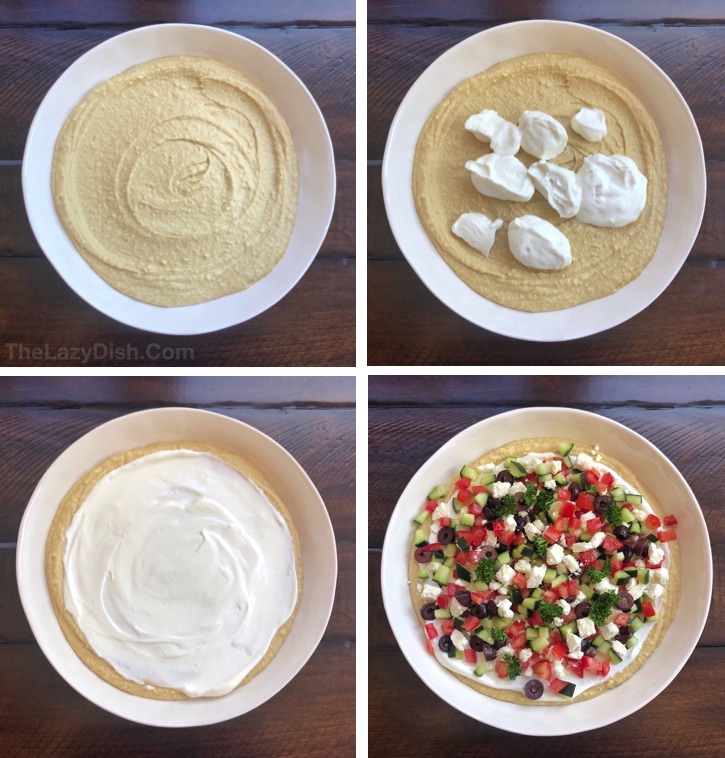 I know, the greek yogurt sounds weird and bland, but it's not! It adds the perfect touch of tartness.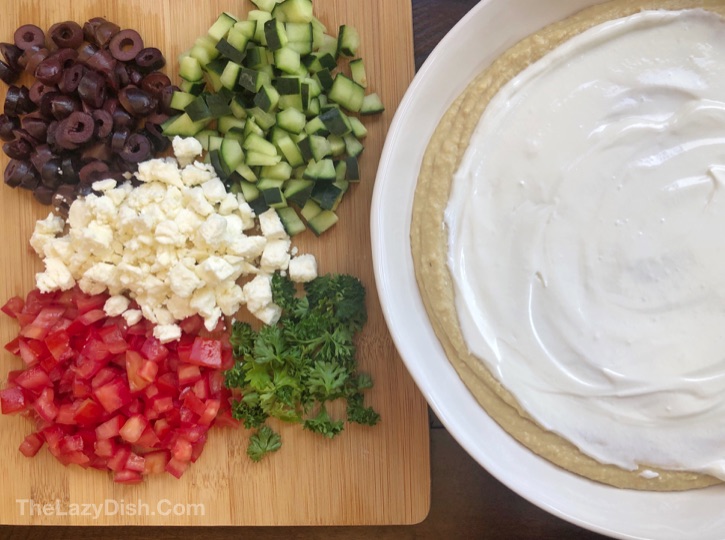 I like to serve this with Stacey's Simply Naked Pita Chips. Have you tried them? They are THE BEST. The Stonefire Naan Dippers are also one of my faves (found in the refrigerator section by the hummus), but just be aware that when the naan is warmed up, it's a little difficult to get a good dip with all of the toppings. Basically, it's not the best for parties, but great at home when you don't mind making a mess or double dipping.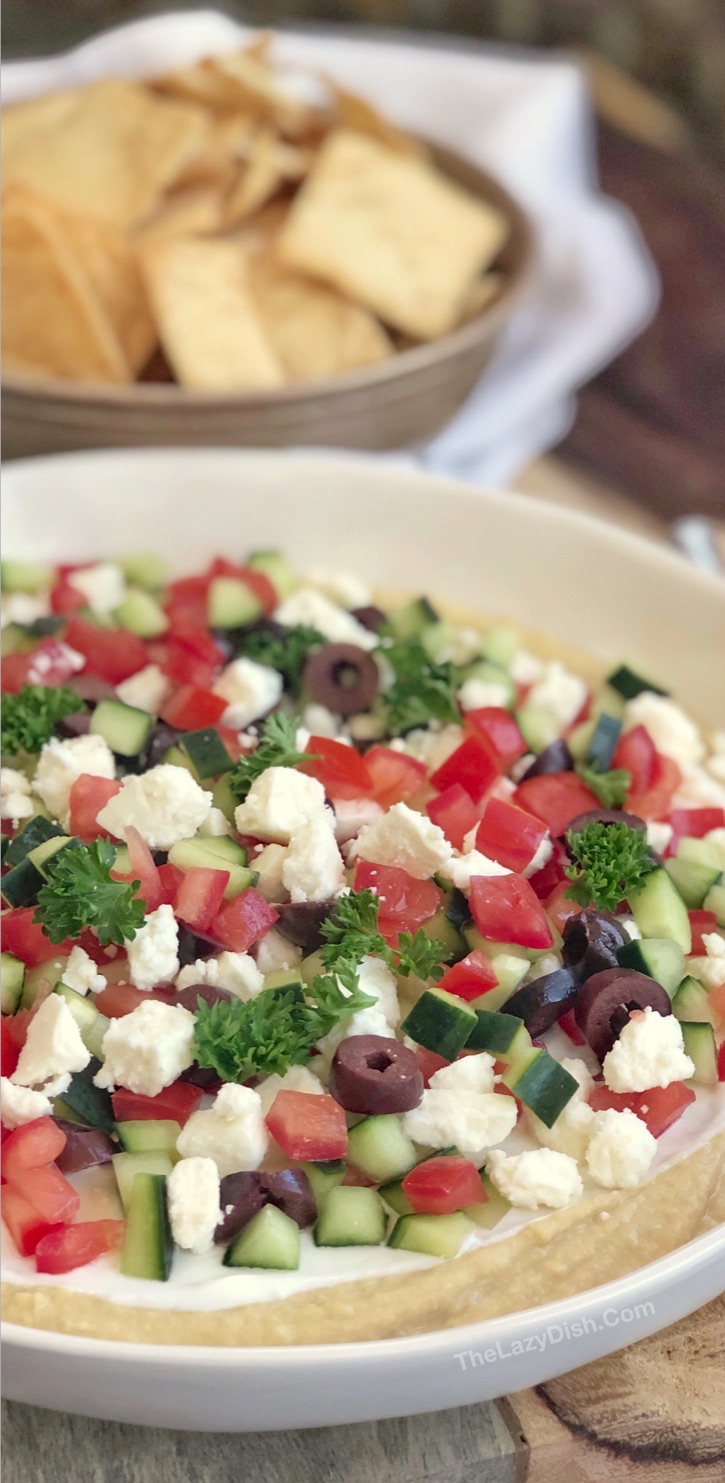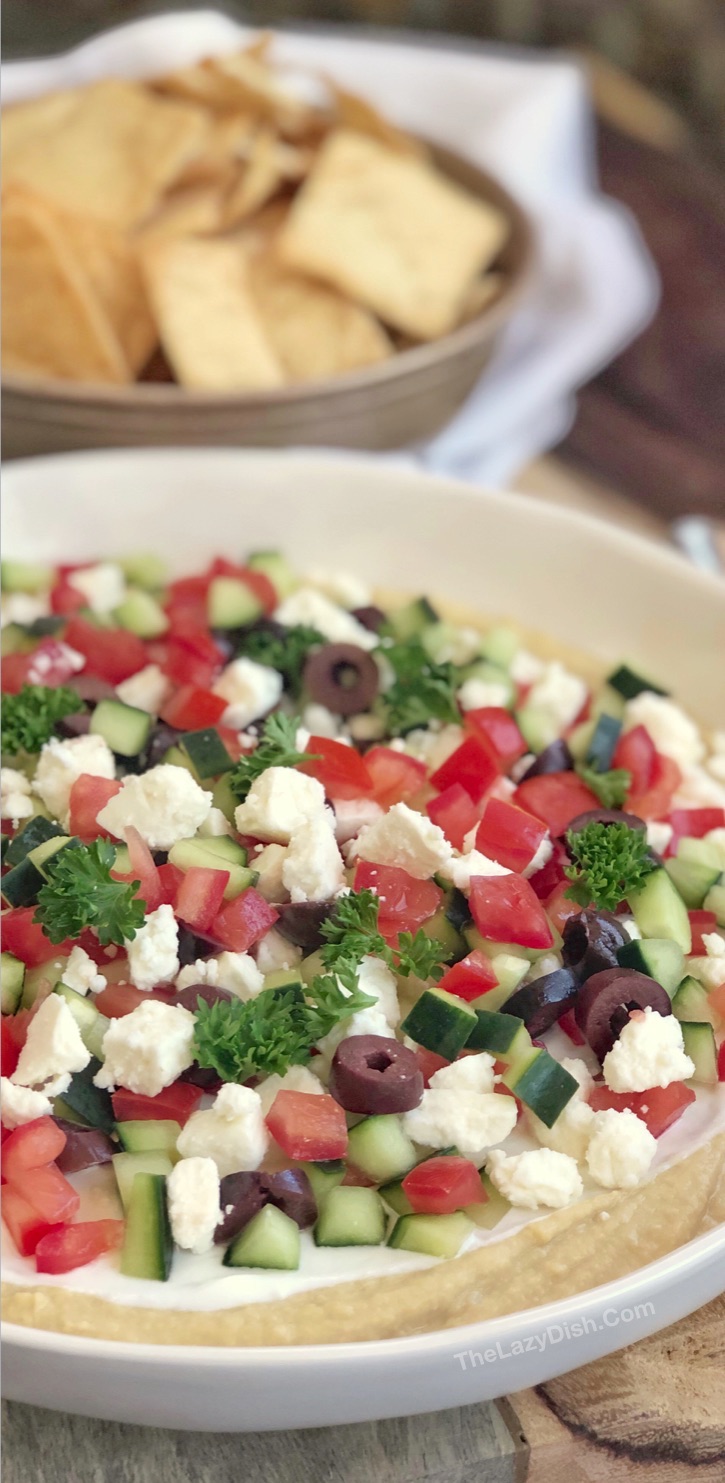 With the feta and olives, this dip needs absolutely NO seasoning. It tastes quite fresh and delightful on it's own. It has a nice variety of texture and flavor.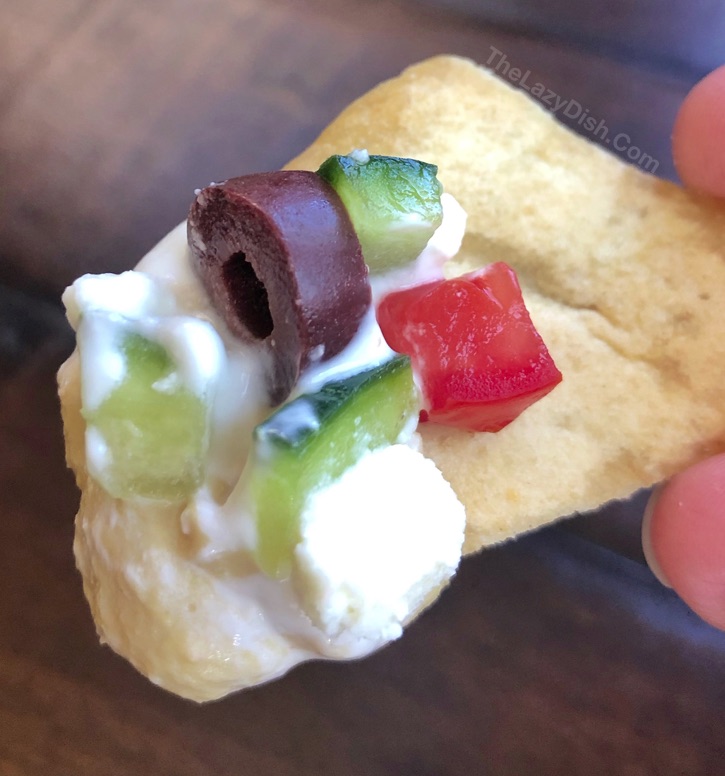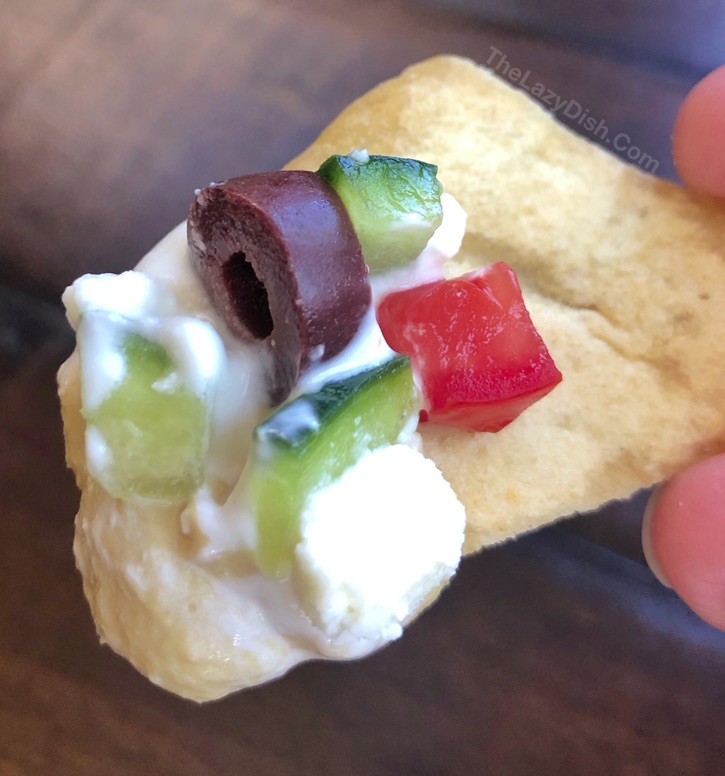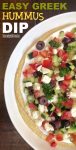 7 Layer Greek Hummus Dip (Quick & Easy Appetizer!)
This cold make-ahead party dip is a family favorite! It's the perfect recipe for just about every occasion. Not only is it a real crowd pleaser, it's also easy and healthy. It's made with simple ingredients that can be customized to your own taste: hummus, greek yogurt, feta and greek-inspired veggies.
Ingredients
1

(17oz)

container of hummus

(family size)

3/4

cup

plain greek yogurt

1/3

cup

crumbled feta

1

tomato

(diced)

1/2

cucumber

(diced)

1/3

cup

kalamata olives

(diced)

a few sprigs of parsley

(optional)

pita chips for serving

(I prfer Stacey's Simply Naked)
Instructions
Spread the entire container of hummus onto the bottom of a shallow serving bowl or dish.

Dollop the greek yogurt over the hummus, and spread it out into a thin layer.

Top with crumbled feta, diced tomato, cucumber, olives, parsley and any other greek-inspired toppings that you'd like.

Serve with pita chips. Enjoy!
Recipe Notes
Some other greek-inspired toppings you might like: diced onions, pepperoncinis, pine nuts, bell pepper, garlic, dill or green olives.  
Don't forget to pin and save this easy party dip for later! 🙂