Easy 3 Ingredient Crockpot Shredded Chicken Recipe
Who doesn't love nights where dinner is so easy and delicious the entire family scarfs it down and you still have energy and time left to play games on your phone while you watch Netflix and drink wine? I do.
I also love crockpot recipes where you just throw in a few ingredients, and bam! A tasty, warm meal is ready for you. I like to throw this one in my slow cooker around 3pm when I get back from picking my daughter up from school, and then it's ready just in time for dinner.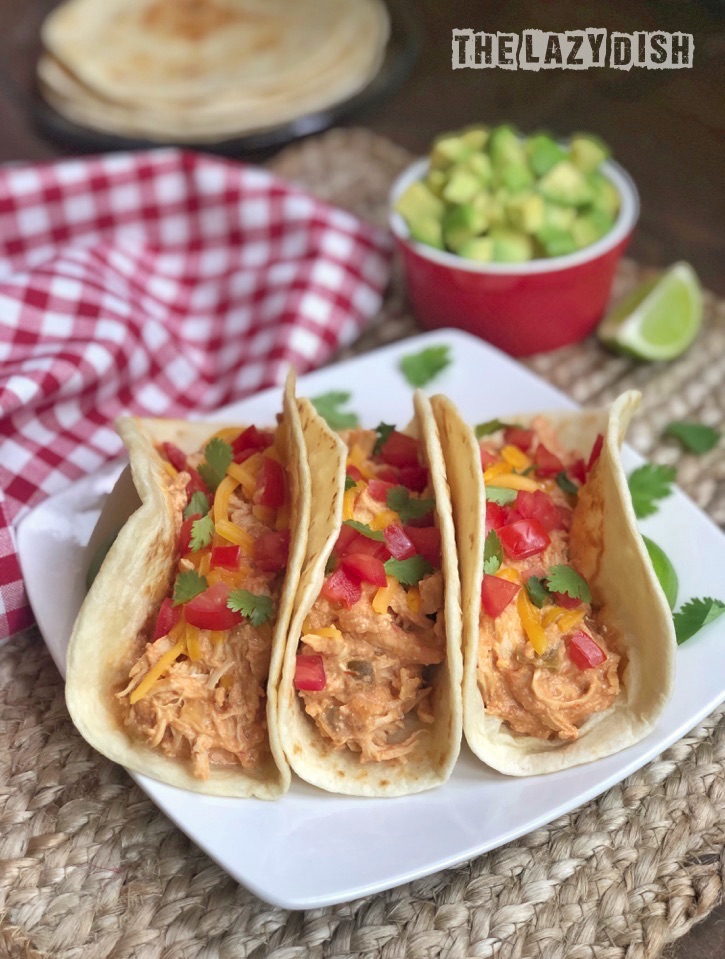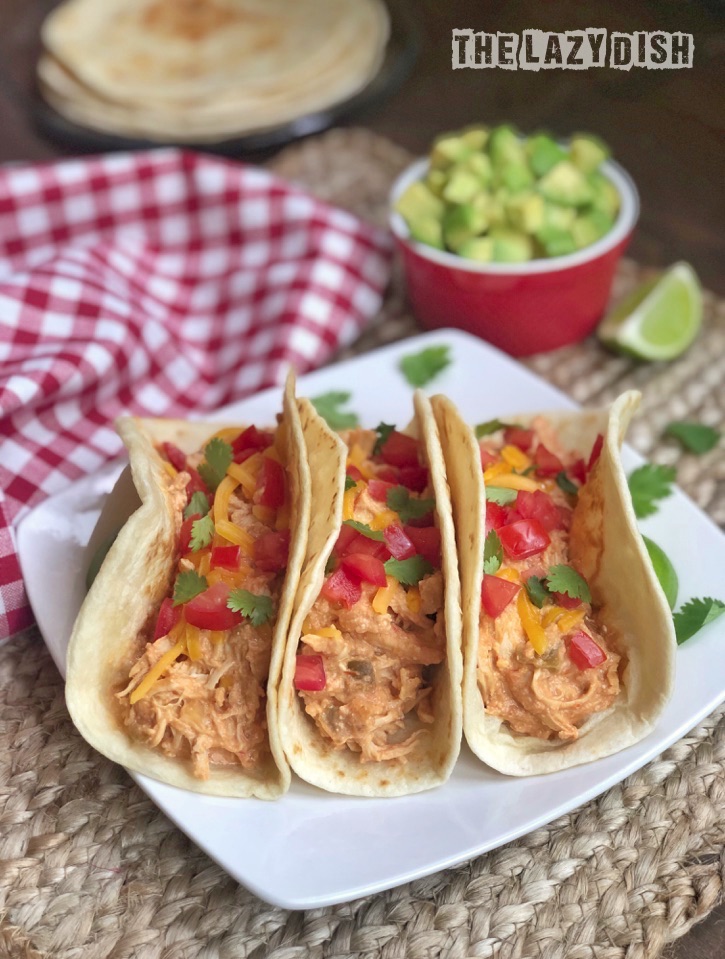 It may seem doubtful that these 3 simple ingredients can make for such delicious taco meat, but trust me, it's all you need! The salsa you use will obviously make a big difference in the flavor of the chicken, so choose one of your favorites– mild, spicy, chipotle, or even a can of diced tomatoes and chilis will do.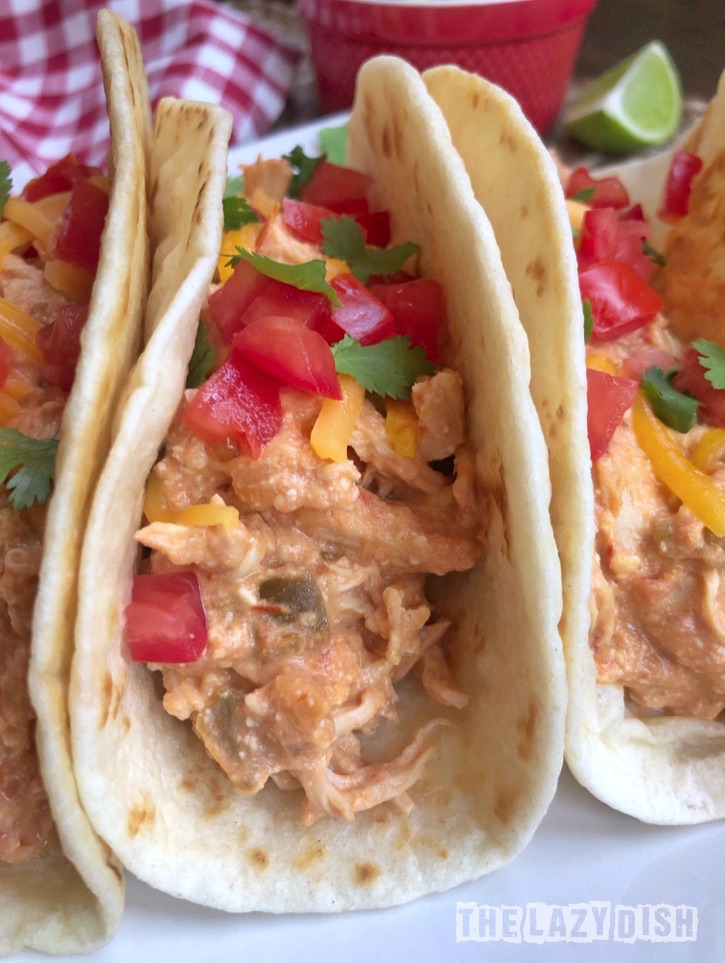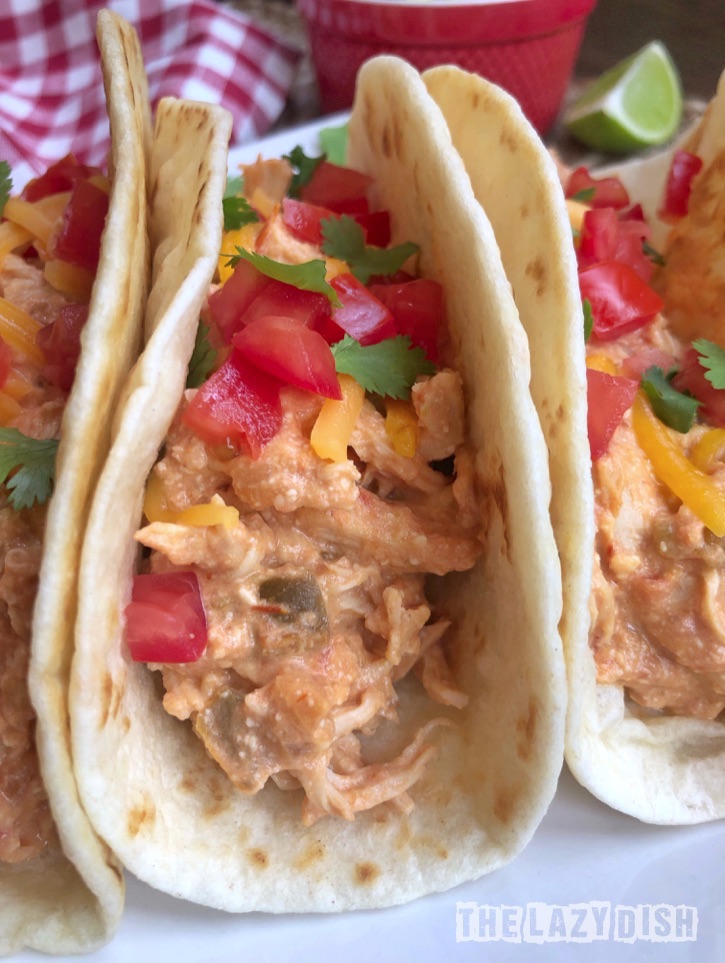 Simply place all of the ingredient into your slow cooker, and cook on HIGH for about 3 hours or LOW for 4-5 hours. BTW, It's best to cube the cream cheese. Mine was left whole for the dramatic effect in the photo. 🙂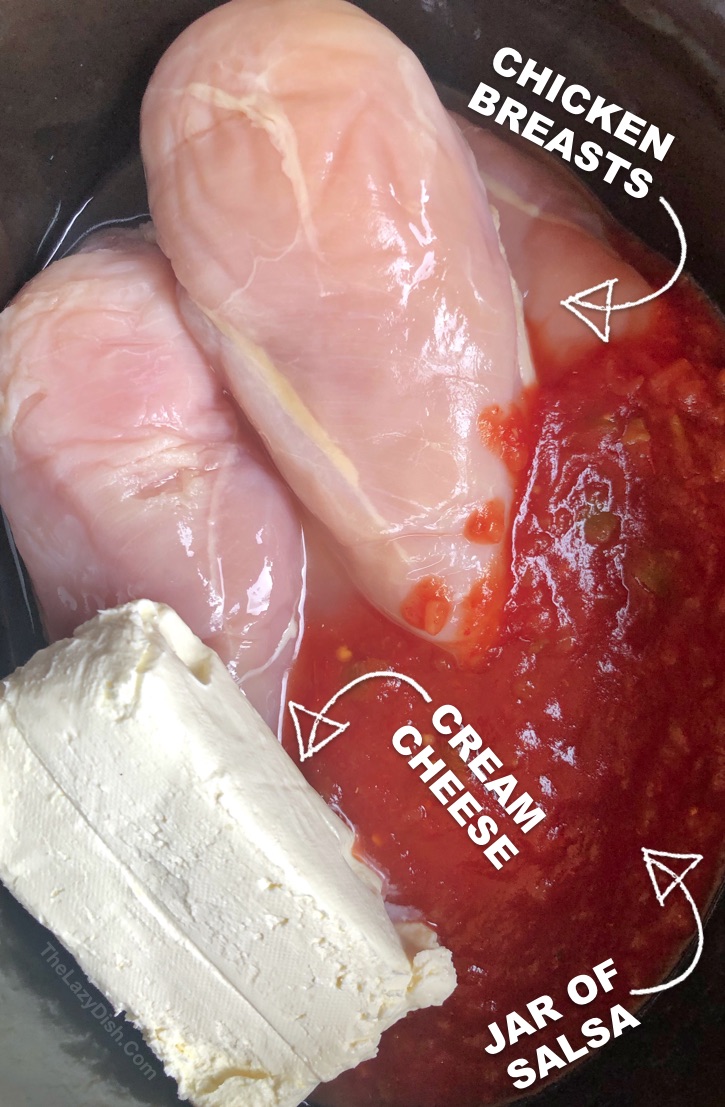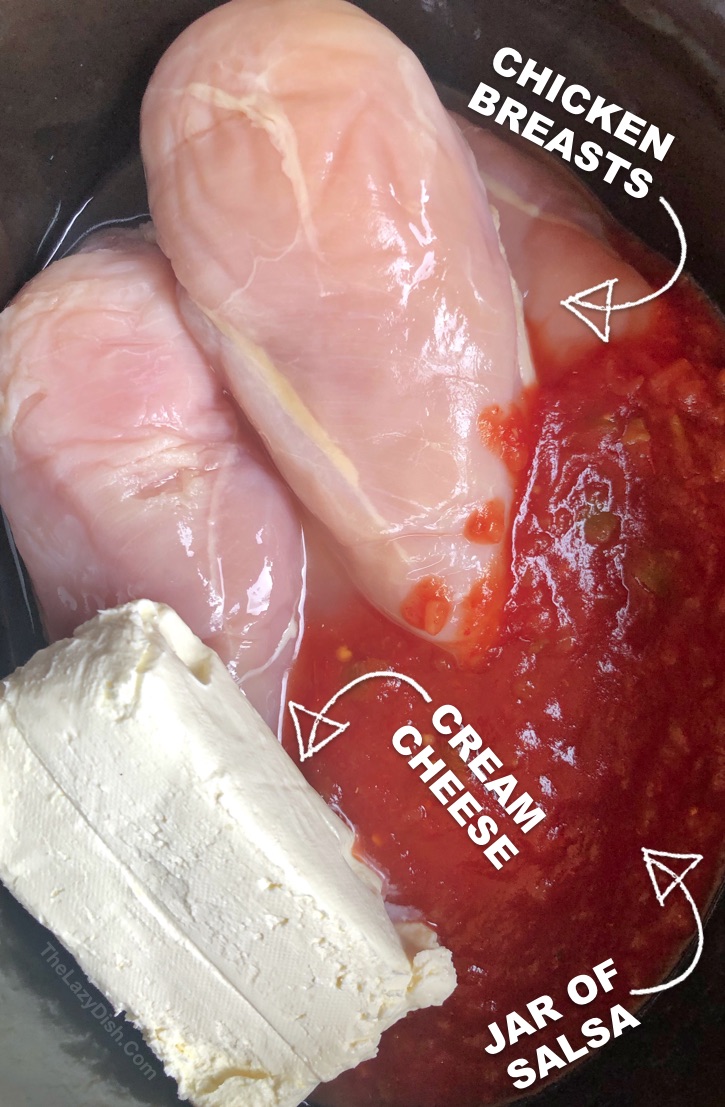 Once the chicken is done, it should shred very easily with a fork. Let the chicken simmer in the juices for another 15 minutes before serving.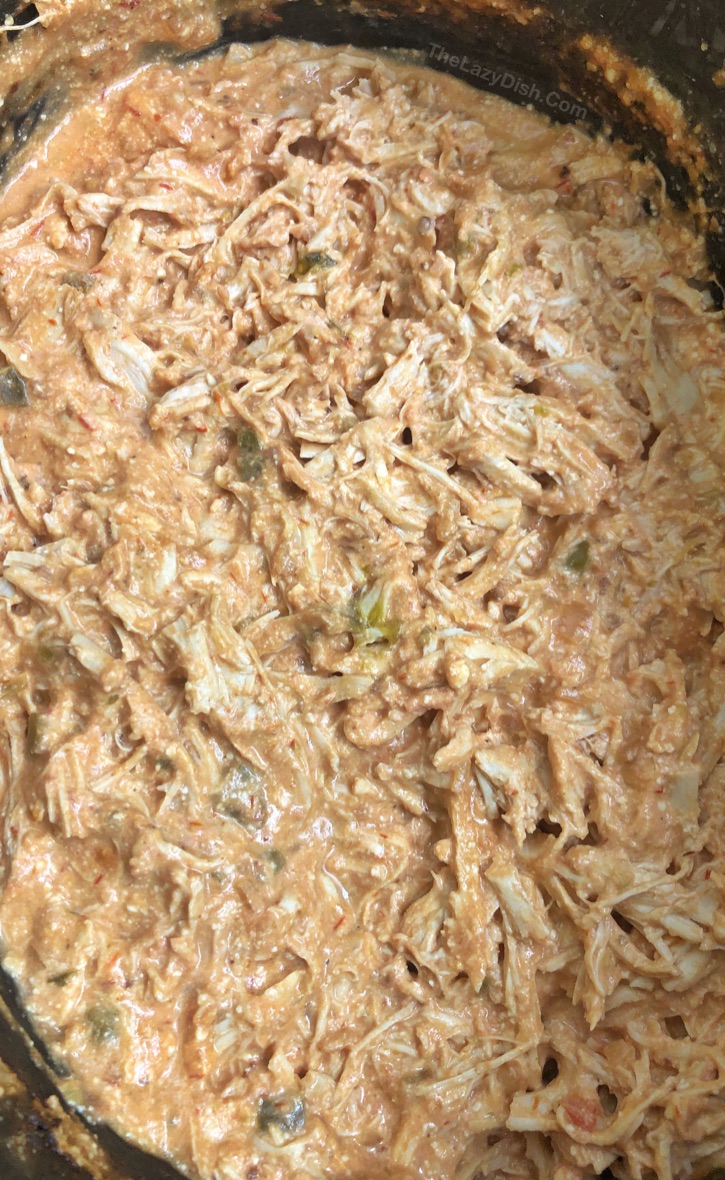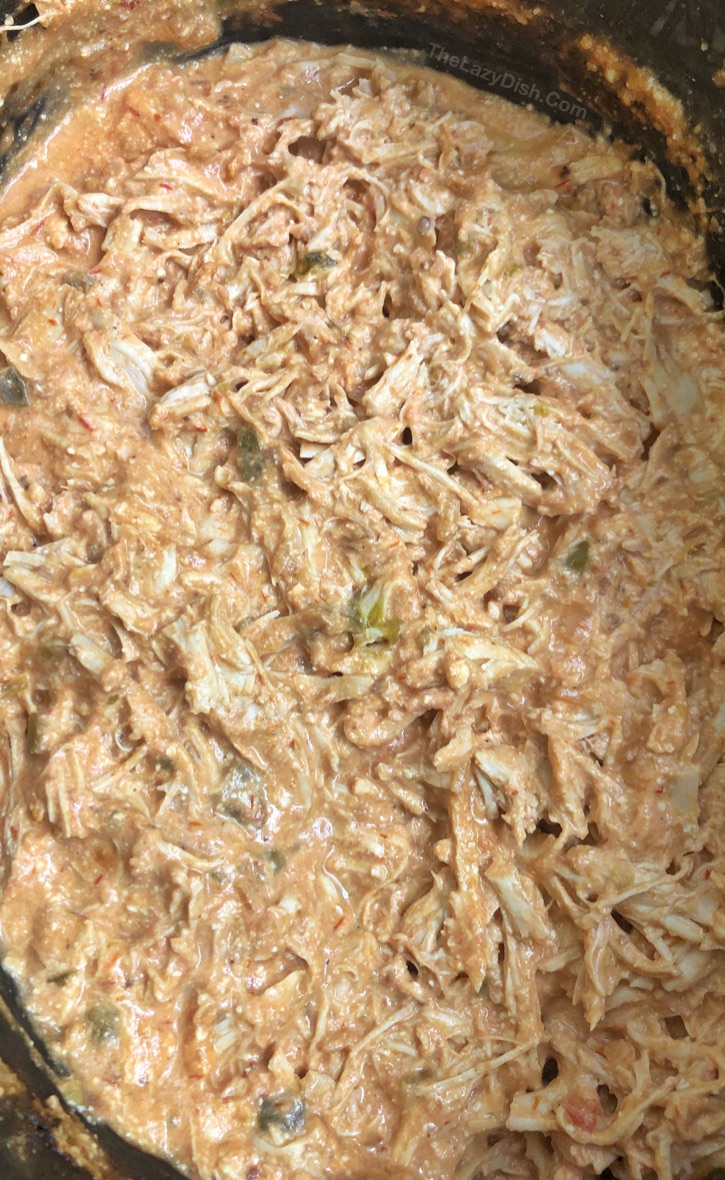 I prefer to serve this chicken in soft flour tortillas that I grill up with a little butter, and then top with shredded cheese and fresh tomatoes and avocado, but it's also really good on a salad!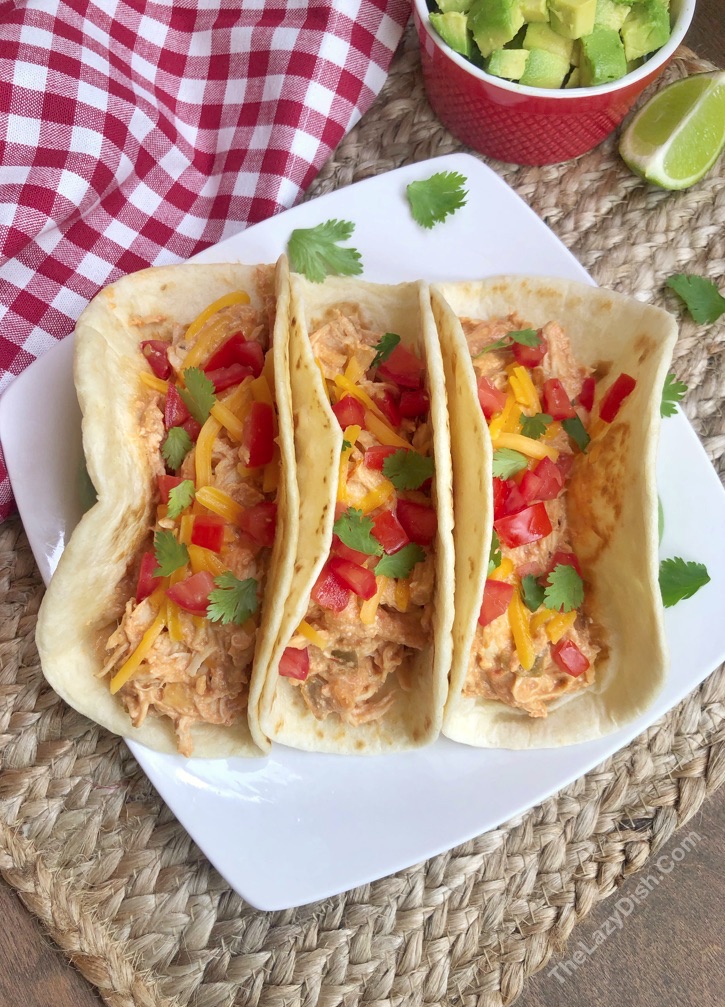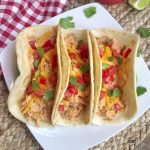 Creamy Crockpot Chicken Tacos (3 Ingredients!)
Looking for easy crockpot recipes for dinner? This creamy shredded chicken is made with just 3 simple ingredients: chicken, cream cheese and salsa! Dump all 3 in your slow cooker for the easiest, tastiest tacos, ever. Trying to stay low carb or keto? Put it on a salad instead!
Ingredients
3-4

chicken breasts

1

(16oz)

jar of salsa

(8oz)

cream cheese

(cubed)

tortillas for serving

(optional)
Instructions
Spray your slow cooker with non-stick cooking spray. Place the chicken, salsa and cream cheese in and cook on HIGH for 3 hours (or LOW for 4-5 hours), stirring the cream cheese once it melts.

Shred with a fork and let the chicken absorb the salsa mixture for at least 15 more minutes.

Serve in soft tortillas, taco shells or over a bed of lettuce. Top with shredded cheese, tomatoes, avocado or anything else you'd like!
Recipe Notes
If you plan on cooking this on low and won't be home to baby sit, it might be best to cook the chicken in just the salsa, and add the cream cheese during the end, giving it at least 30 minutes to melt.