This Quick & Easy Dessert Recipe Is Simply Irresistible
Hey there, chocolate lover! Come check out how easy it is to make this creamy, rich chocolate pie recipe. It only takes 3 simple ingredients to whip up a little heaven in your mouth.
I just love how Cool Whip makes it so easy to slap together delicious treats, and this one is no exception. Mix it with a little melted chocolate for the best creamy textured pie to ever to hit this planet.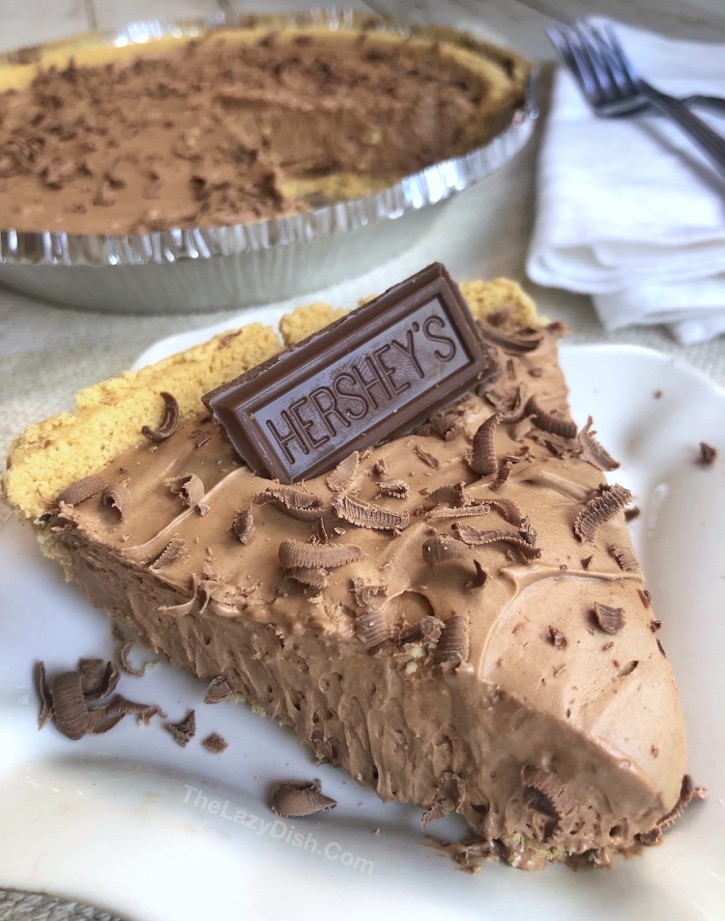 Hershey's Bars are usually sold in a six pack in the candy aisle— cheaper this way! You can also buy a couple of the large bars instead, just be sure to use around 9 ounces in the recipe. Also, don't forget to put the Cool Whip in the fridge so that it has some time to thaw.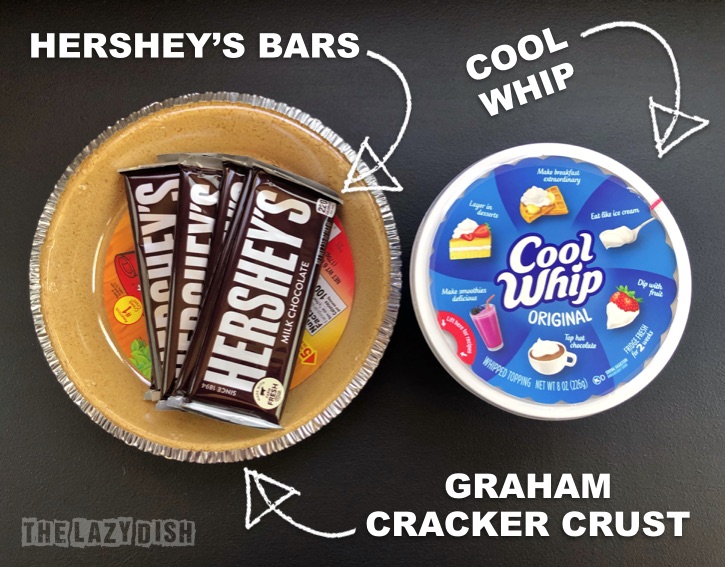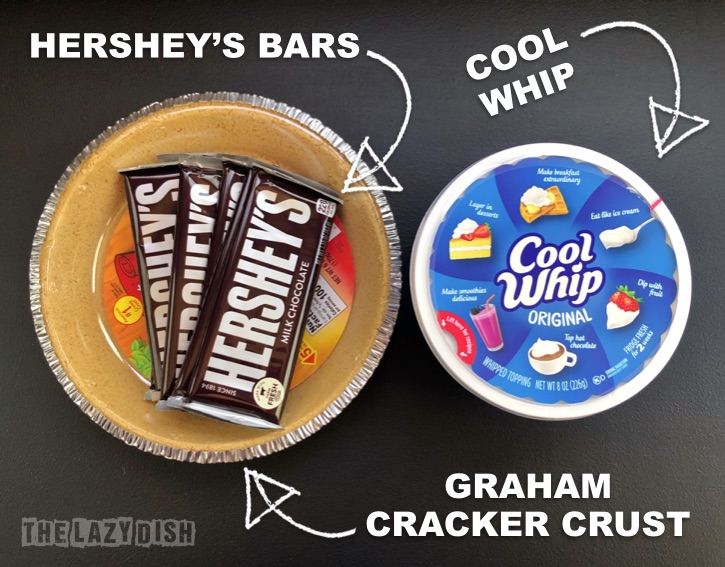 Start off by setting aside a few pieces of the chocolate for garnish later (you only need 2 of the rectangles to get a pretty good grated chocolate covering over the pie).
Microwave the rest until melted. Then mix in your cool whip with the melted chocolate until well combined. Spoon the mixture into your pie crust, and use a cheese grater to garnish with your extra chocolate pieces. Refrigerate for at least 3 hours or overnight. Enjoy!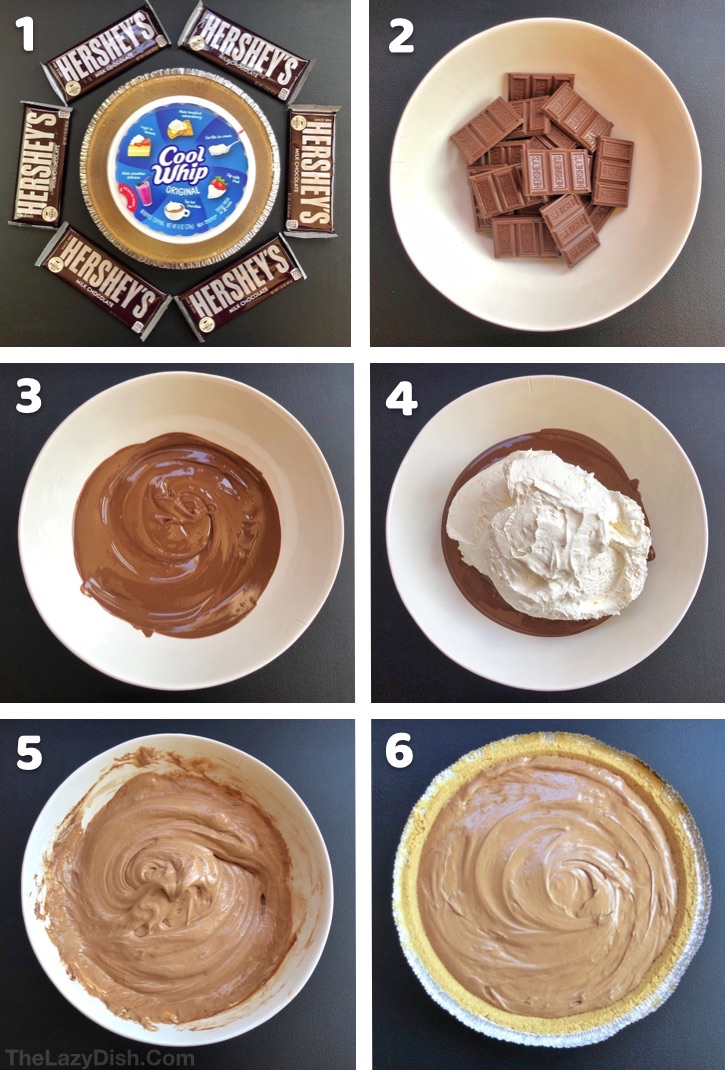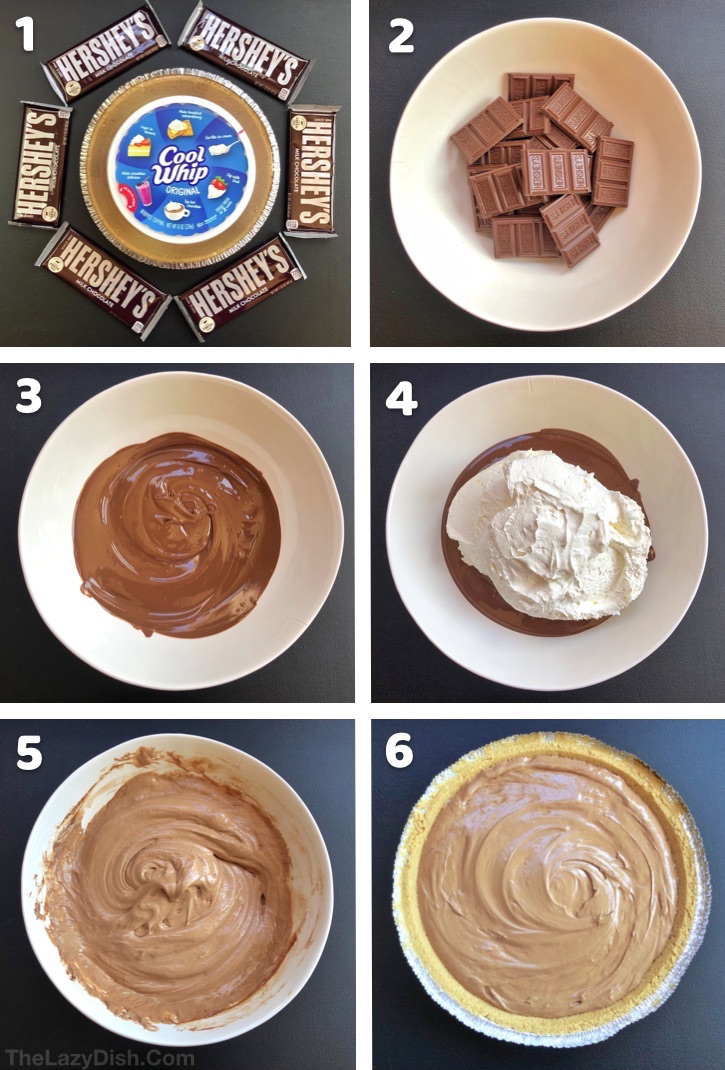 Life happens. Chocolate helps.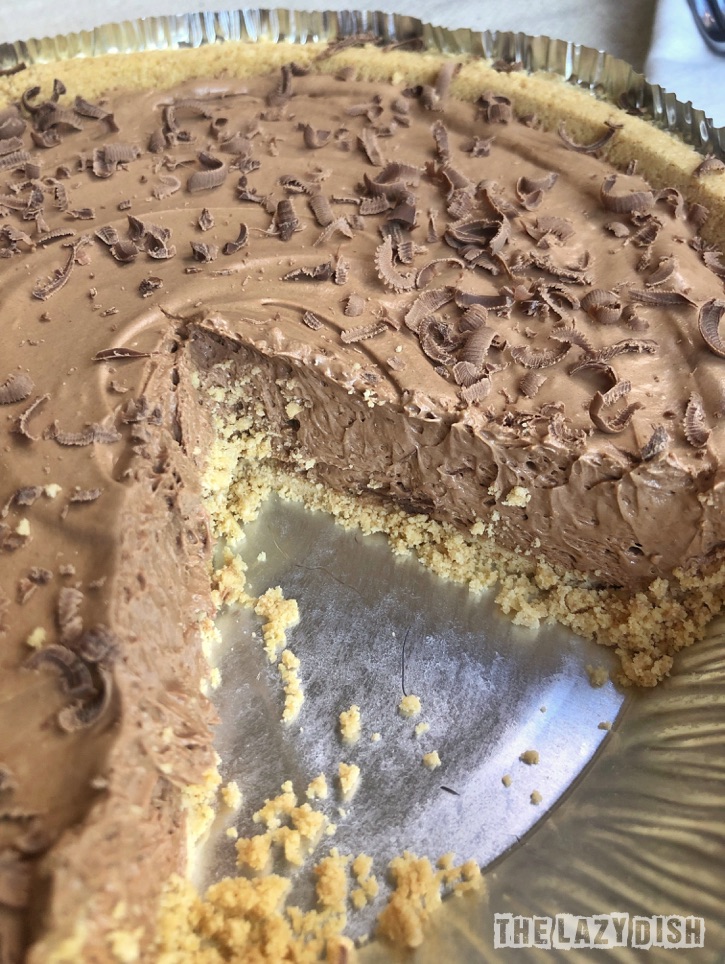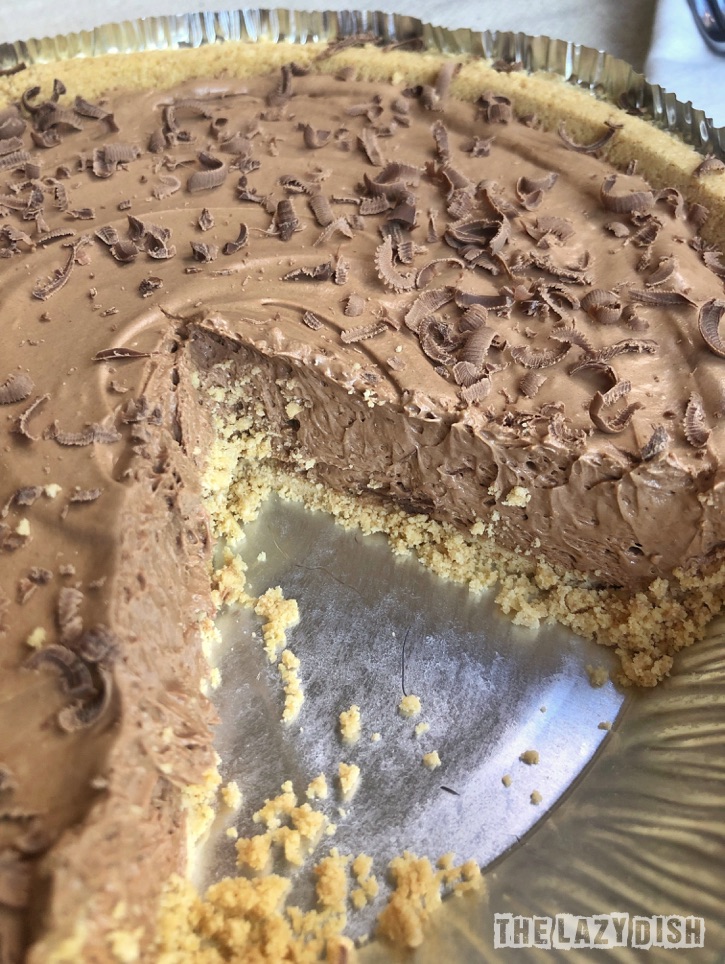 So grab a fork and dig in!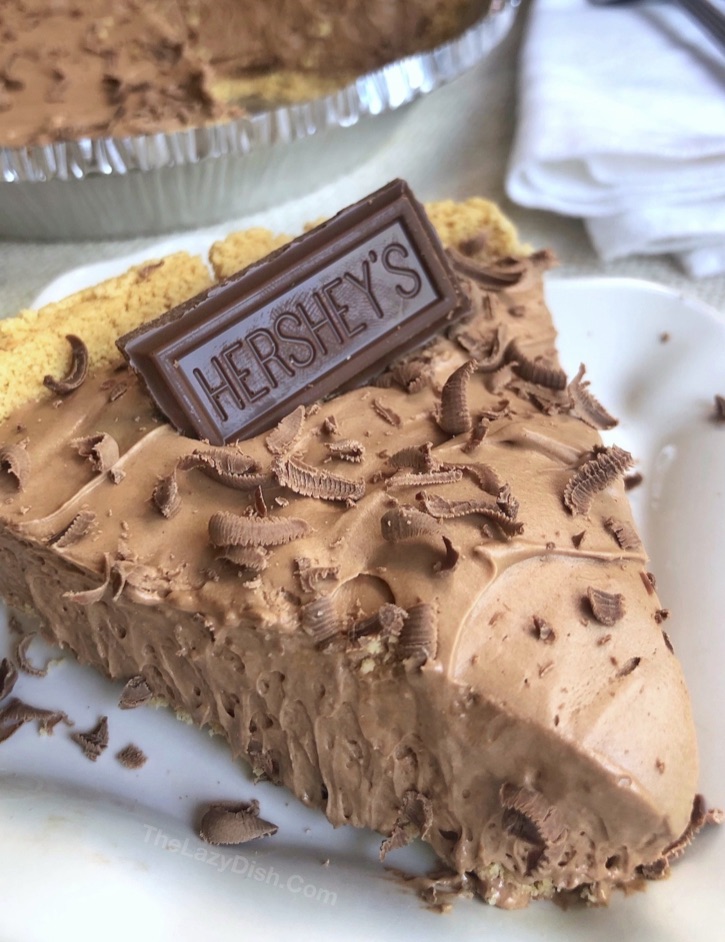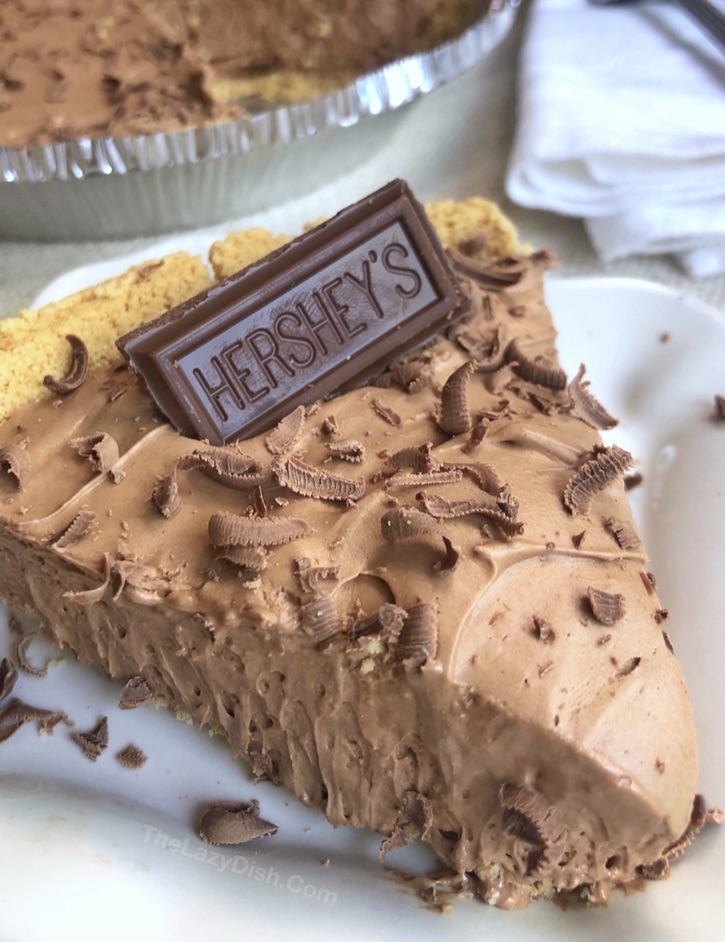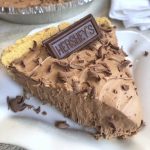 3 Ingredient No-Bake Hershey's Pie
Looking for quick and easy dessert recipes? This 3 ingredient chocolate pie is incredibly simple to make but totally irresistible!
Keyword:
3 ingredients, chocolate, cool whip, easy dessert
Ingredients
1

(6oz)

pre-made graham cracker crust

1

(8oz)

tub of Cool Whip

(thawed in fridge)

6

regular sized Hershey's Chocolate Bars

(about 9 ounces)
Instructions
Break apart your Hershey's Bars and reserve 2-4 pieces for garnishing the pie later. Place them in a microwave safe bowl and heat for 20-30 second increments until the chocolate is melted.

Add the thawed Cool Whip to the melted chocolate and mix until well combined. 

Spoon the mixture into your prepared pie crust, and then use a cheese grater to garnish the top with any chocolate you have set aside.

Refrigerate and chill for at least 3 hours or overnight before slicing.
Creamy, dreamy and SOOO easy to make!