Quick & Easy Homemade Crisp Berry Cobbler Recipe
Because this easy dessert recipe is made with frozen fruit (I use mixed berries), there's no need to have fresh ingredients on hand! It's basically a dump cake, where everything is thrown into one pan and then baked until hot and bubbly.
The simple topping crumble mixture (cake mix, oats, copped walnuts and butter) makes this berry cobbler recipe extra crispy and delicious served warm with vanilla ice cream. No, the ice cream is NOT optional. It's the perfect compliment to this crisp and delicious frozen fruit cobbler.
Don't let the simplicity of the recipe fool you. It is seriously, THE BEST dessert recipe paired with ice cream. This sweet treat is definitely a crowd pleaser for family get-togethers and small parties, and it's just as good left over the next day.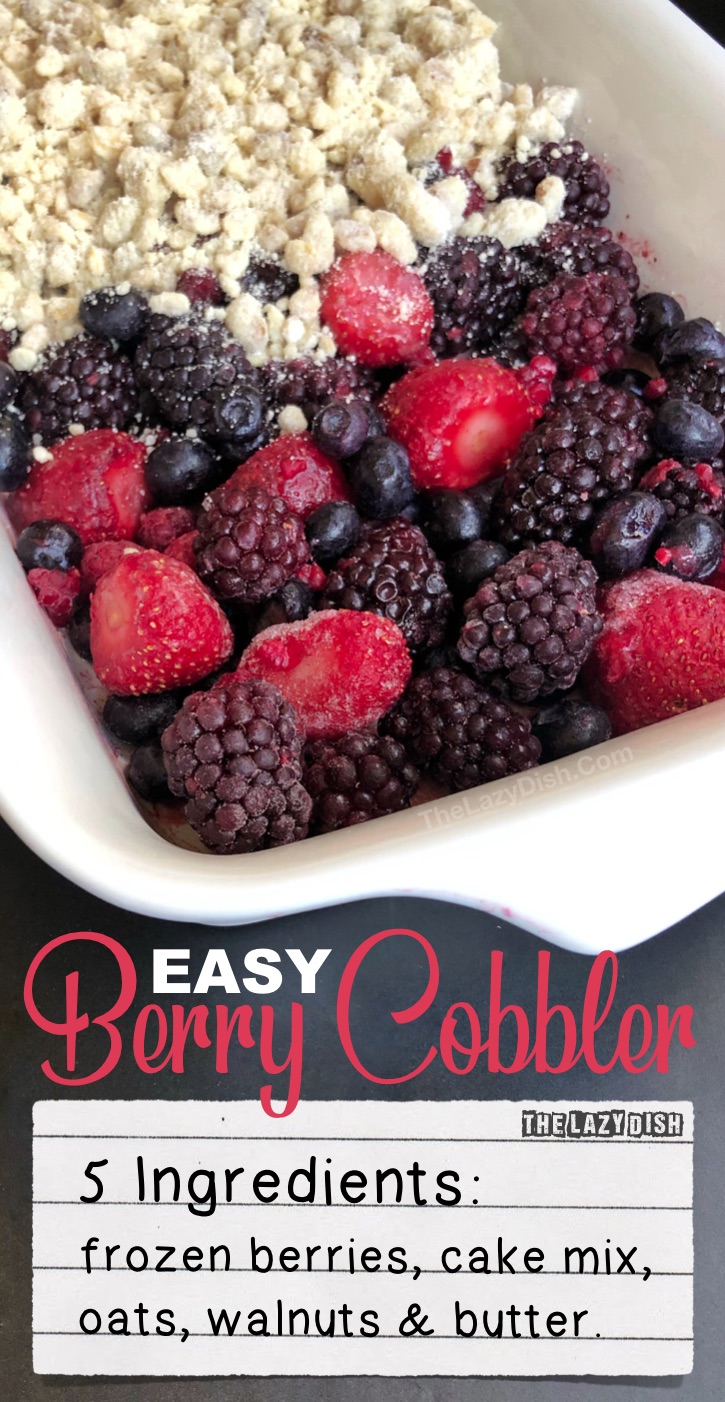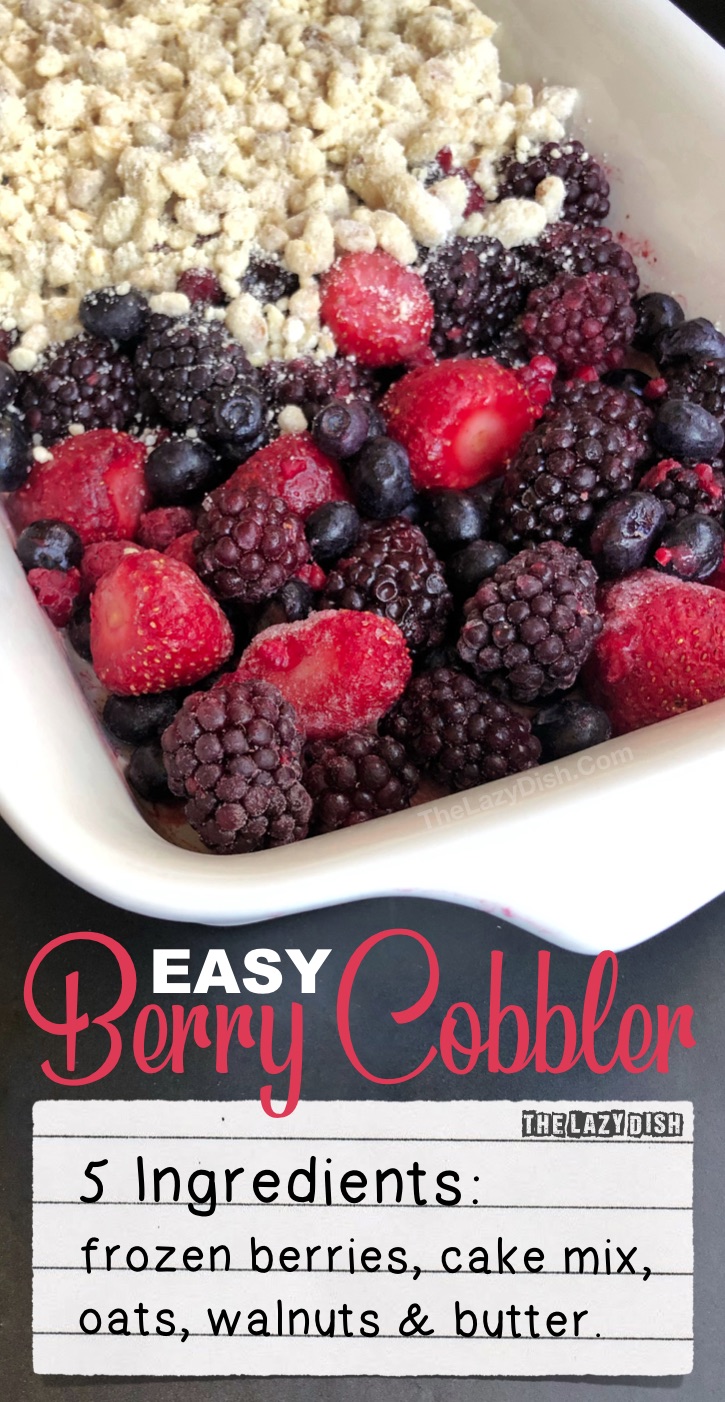 This easy berry cobbler is just as crisp and delicious left over! Simply warm it up in the microwave for 20 seconds.
As you can see, the topping is extremely easy to make. Once all of these ingredients are combined it creates a beautiful crumble. I like to just eat the leftovers for breakfast, and then dessert after lunch and dinner. I figure there's lots of vitamin C in those berries, so it's ok.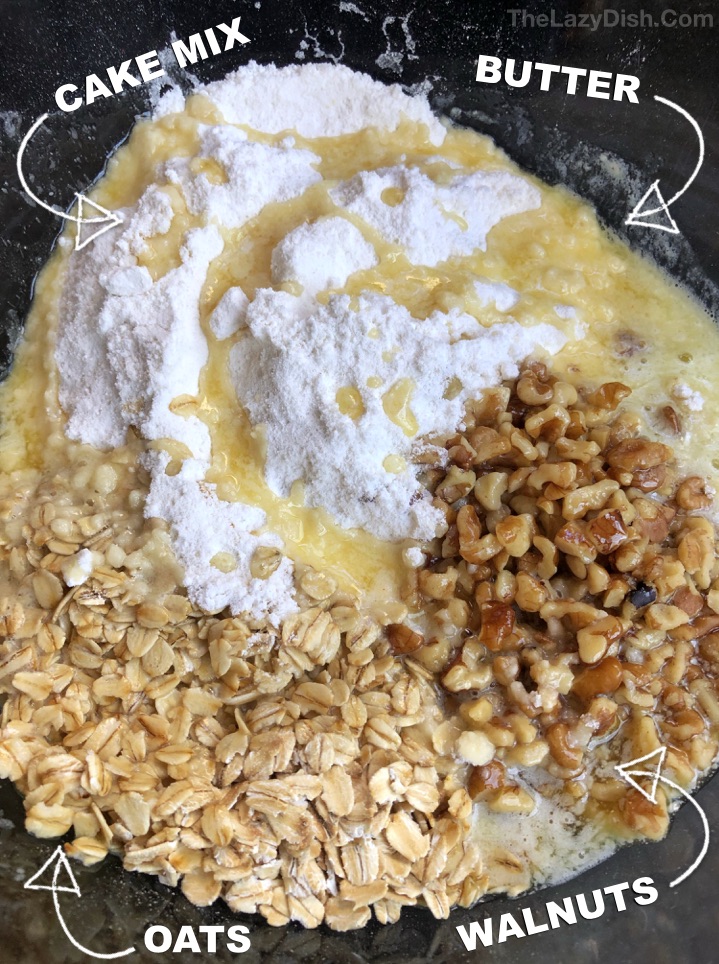 Simply pour the frozen berries into the bottom of a greased 9×13 baking dish, top with the crumble mixture, and bake for about 55 minutes or until hot and bubbly.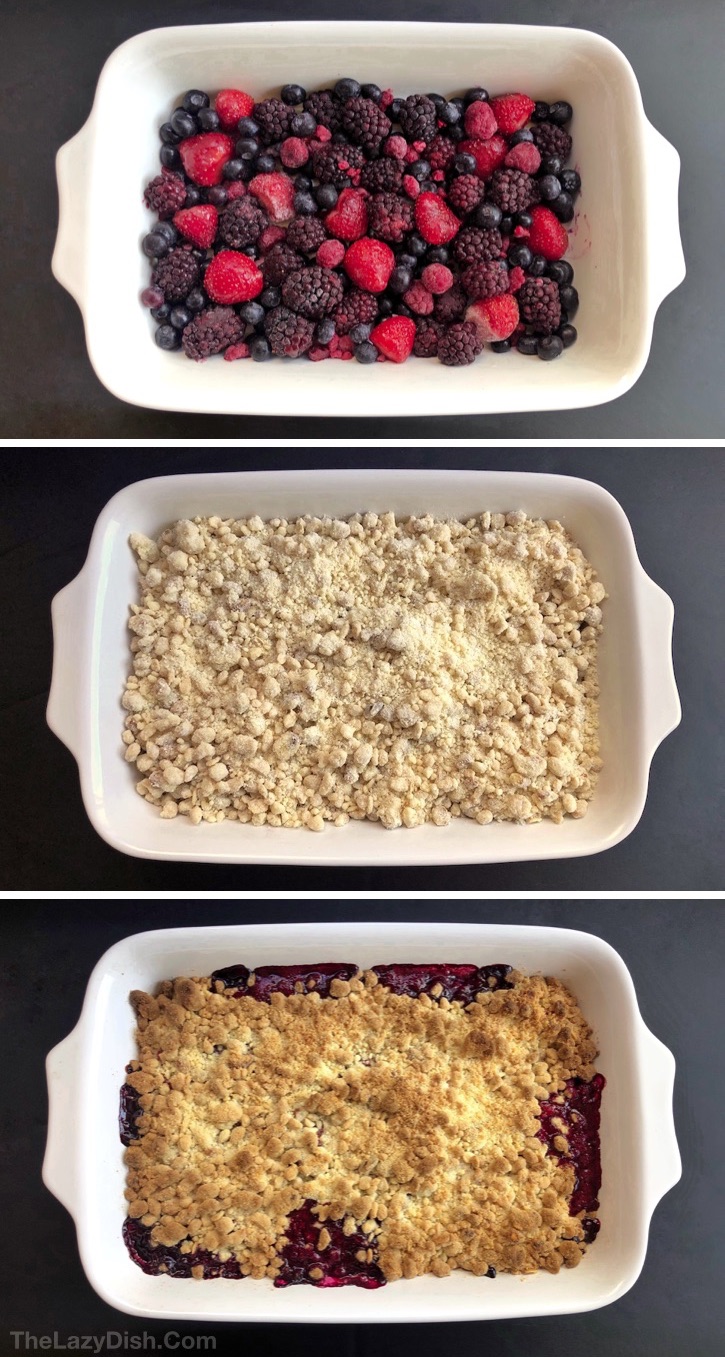 Now that's all you have to do is dig in! YES. Top that hot berry cobbler with vanilla ice cream and get ready for heaven in your mouth.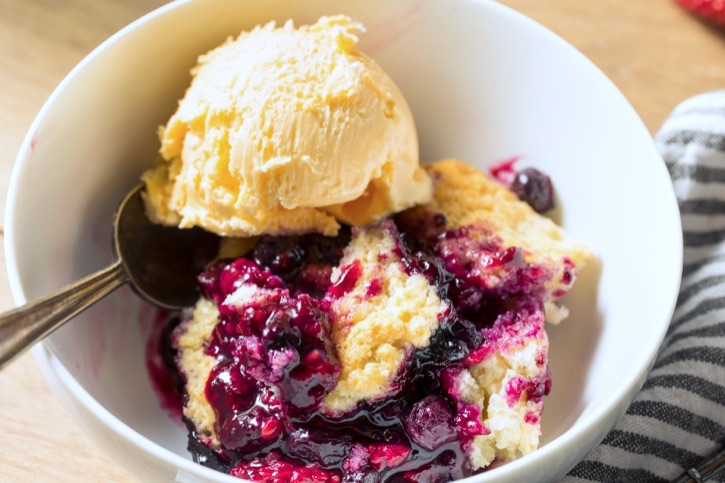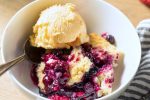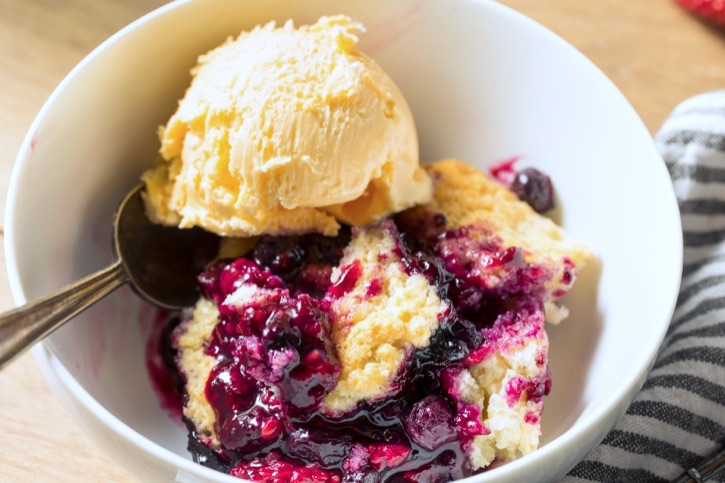 The BEST Crisp Frozen Berry Cobbler
Looking for quick and easy dessert recipes? This crisp homemade berry cobbler is made with 5 simple and cheap ingredients: frozen fruit, cake mix, oats, butter and walnuts. Simply dump everything into one pan and bake! Serve with vanilla ice cream. YUM.
Ingredients
2

(12oz)

bags of frozen mixed berries

1

box

yellow cake mix

1/2

cup

salted butter

(melted)

1/2

cup

oats

1/2

cup

chopped walnuts

vanilla ice cream

(optional but not really)
Instructions
Preheat your oven to 350 degrees and grease or spray a 9x13 baking dish.

Spread out both bags of frozen berries in the bottom of the dish.

In a large bowl, combine the unprepared cake mix, oats, walnuts and melted butter until crumbly. Sprinkle evenly over the frozen berries.

Bake for approximately 55 minutes, or until the topping turns a gold brown and the berries are bubbly and hot.

Serve warm with vanilla ice cream. Delish.
Recipe Notes
You can use any kind of frozen fruit you'd like for this recipe! I like a mix of berries, but just plain old strawberries or blueberries are fine, too.
Don't forget to pin this recipe for later! 🙂