How to perfectly roast brussels sprouts in the oven with just olive oil, garlic, salt and pepper.
Brussels sprouts seem like one of those vegetables that you either love or hate. Personally, they're probably my favorite veggie, but only when they're cooked right! I feel like brussels sprouts have gotten a bad reputation because of the old school basic recipes that called for boiling them– yuck! There's nothing worse than a soggy brussels sprout.
The key to baking them to perfection is just the right amount of olive oil in a high temperature oven so that they get a little crispy and brown on the outside. You want them to cook high and fast, not slow and low.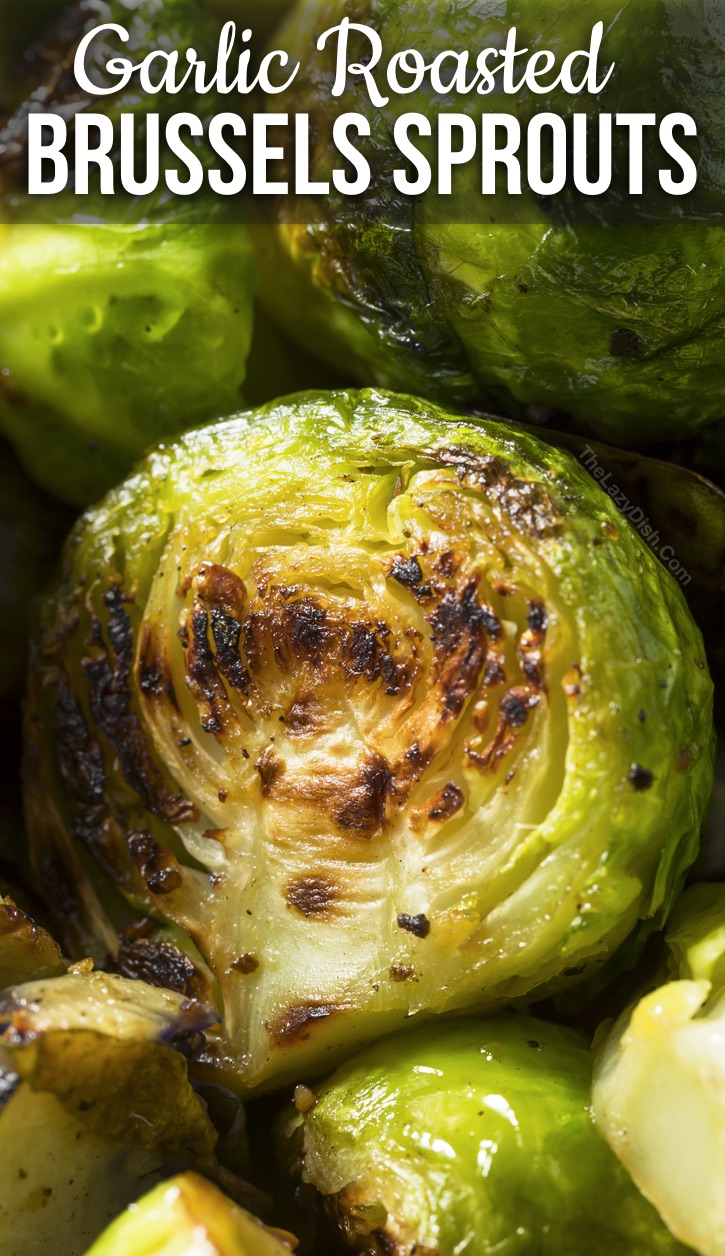 How To Roast Brussels Sprouts To Crispy Goodness In The Oven
After washing, pat them as dry as possible.
Cut the ends off, and then cut them in half or quarters lengthwise. The smaller you make them, the crispier they get.
In a large bowl, toss them with olive oil, garlic powder, salt and pepper.
Lay them out in a single layer on a parchment lined baking sheet, giving them plenty of room on the pan (friends not lovers).
Bake in a 400 degree oven for 20-30 minutes, or until they start to brown.
Turn the oven to broil and continue to cook for a few more minutes or until you get your desired crispiness.
If you want to make them cheesy, sprinkle grated parmesan cheese over top of the brussels sprouts 5-10 minutes before they are done cooking.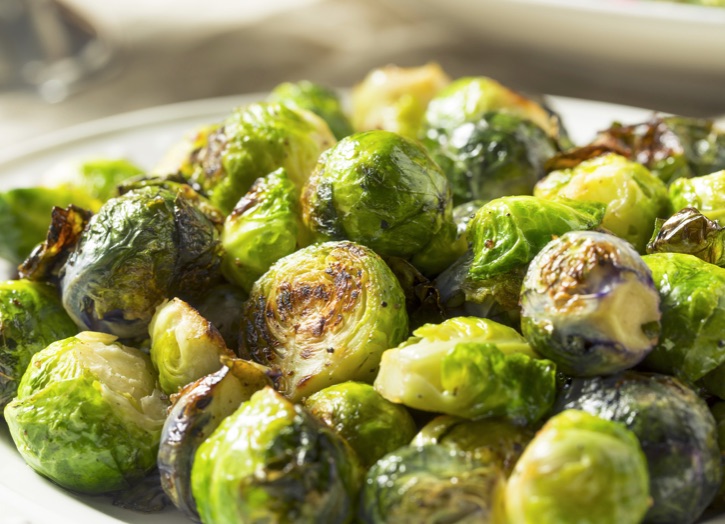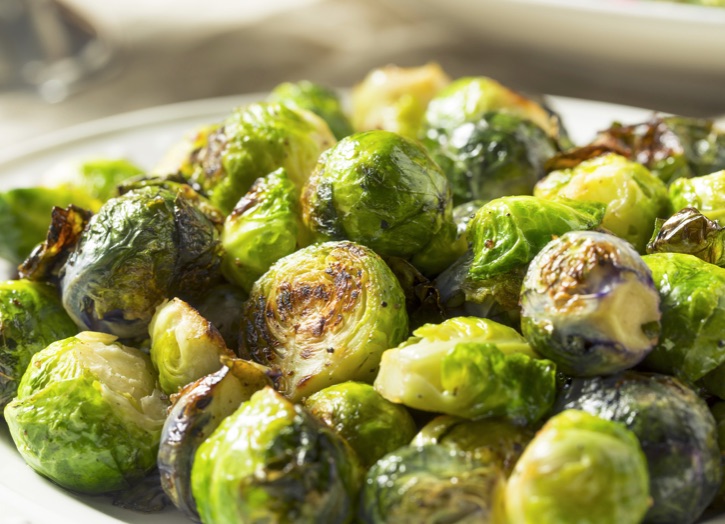 A Few Fun Facts About Brussels Sprouts
The best brussels sprouts have tightly packed leaves, a bright green color and are firm to the touch if you squeeze them.
Smaller brussels sprouts tend to be a little sweeter, and the larger ones have a more bitter flavor like cabbage.
Brussels sprouts are the tastiest during their peak season, September through February.
A single serving of brussels sprouts has 4 times more vitamin C than an orange.
They are named after the city of Brussels in Belgium. Who knew!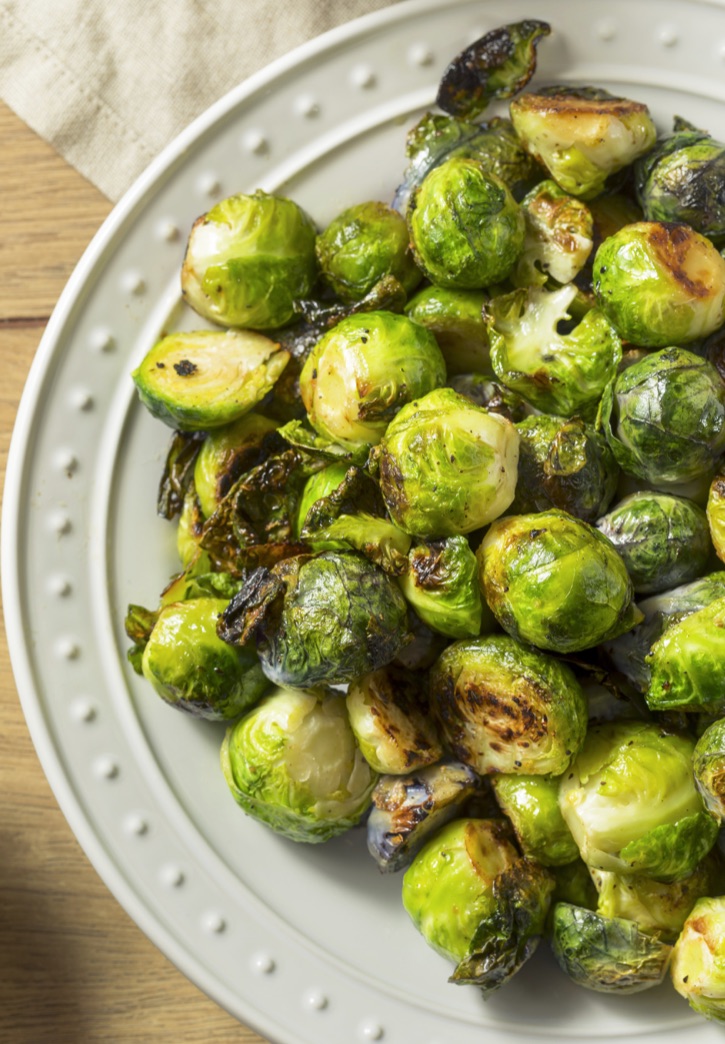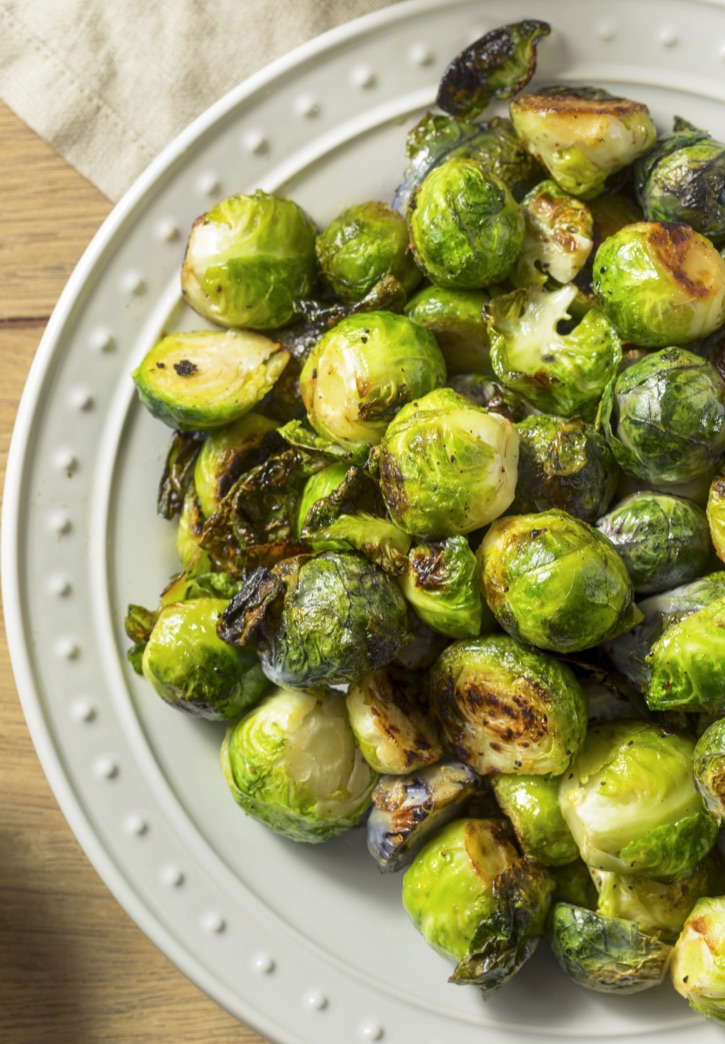 Crispy Garlic Roasted Brussels Sprouts
This healthy veggie side dish will soon be a family favorite! The key to perfectly roasted brussels sprouts is a high temperature oven and plenty of olive oil.
Keyword:
brussels sprouts, crispy, oven baked, roasted, side dish, vegetables, veggies
Ingredients
1

lb

brussels sprouts

(trimmed & halved)

3

tbsp

olive oil

1/2

tsp

garlic powder

1/2

tsp

salt

freshly cracked black pepper
Instructions
Preheat your oven to 400 degrees and line a baking sheet with parchment paper.

In a large bowl, toss the trimmed brussels sprouts with the olive oil, salt, garlic powder and black pepper.

Transfer the brussels sprouts to your baking sheet, keeping them in a single layer and as spread out as possible.

Roast for 20-30 minutes (or until the brussels sprouts start to brown), tossing half way through.

Turn the oven to broil and continue to bake for a few more minutes or until you acheive your desired crispiness.
Recipe Notes
Grated parmesan cheese is insanely good sprinkled on after baking! You can also evenly sprinkle the cheese over the brussels sprouts half way through cooking for extra crispiness.
Don't forget to pin and save these easy roasted brussels sprouts for later! 🙂