A Quick & Easy Cold Avocado Party Dip Recipe Made With Simple Ingredients
My mom had a friend that made this easy avocado party dip recipe years ago. I always thought it was a strange combination, but, BOY, was it good! It's also incredibly simple to make, so it's been in my arsenal ever since.There's no baking or a bunch of prep work needed. Just mix together the avocado, cottage cheese, salsa and garlic, and then watch it disappear! It's obviously very similar to guacamole, but with a fun little twist.
If you're looking for easy party food ideas for a crowd, you will not be disappointed with this easy, make ahead party dip served with tortilla chips. It's made with cheap, basic ingredients that everyone loves. How can you go wrong? It won't be the prettiest dip on the appetizer table, but it will be the first to disappear.
The great thing about avocado dips is that they are always savory and delicious, but yet super healthy! All of the ingredients in this dip are vegetarian and relatively good for you, and the cottage cheese is loaded with protein.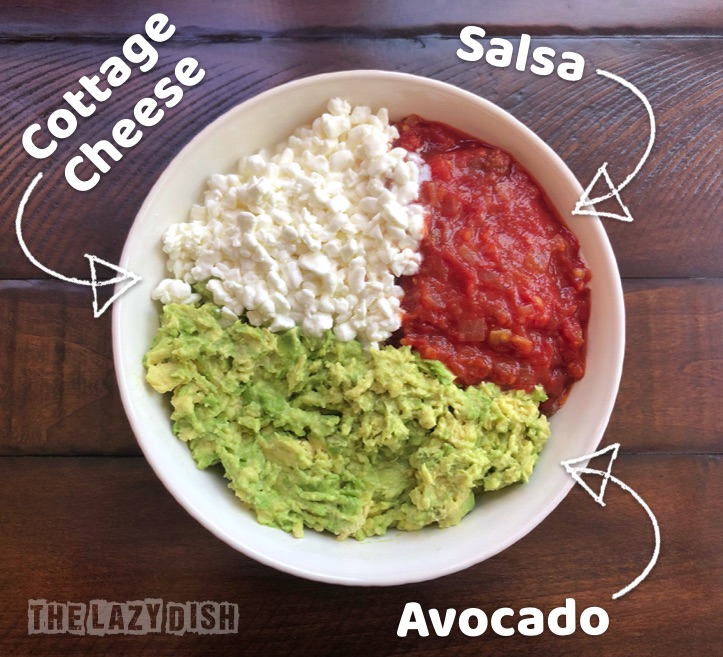 The BEST Avocado Dip With Salsa & Cottage Cheese
A healthy, vegetarian party dip appetizer that everyone will love! This avocado dip is so easy to make with just a few ingredients.
4-5 large ripe avocados
1 (16 ounce) jar of salsa
1 (16 ounce) container of cottage cheese
1 tbsp fresh minced garlic (or 1 tsp garlic powder)
salt & pepper to taste
You're just going to mix together smashed avocado, your favorite salsa, cottage cheese and a little fresh or powdered garlic, and then season with salt and pepper if needed. I always just do a few taste tests after everything is mixed together. The amount of salt needed will depend on the brand of salsa you choose.
Serve with tortilla chips as a party appetizer, or even just a Sunday at-home snack with the family. This recipe makes quite a bit, so cut it in half if you're not serving a crowd.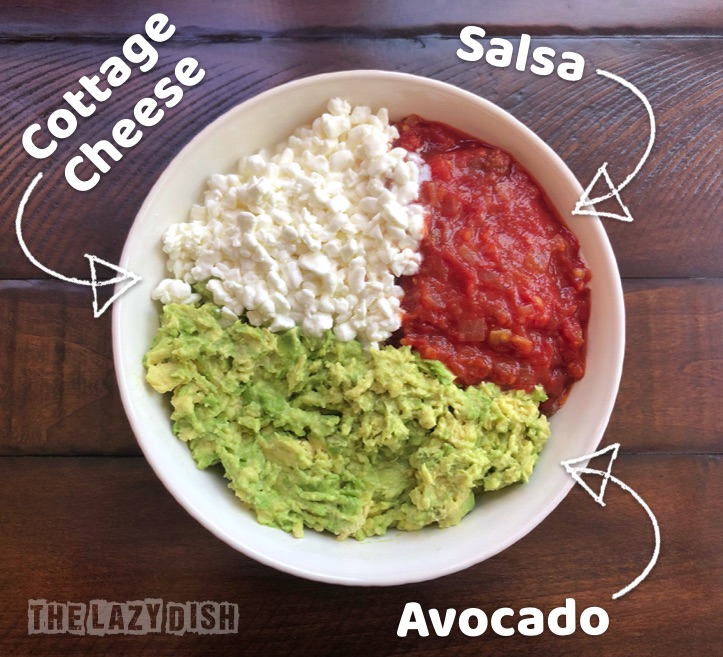 Easy Avocado Dip With Cottage Cheese
Looking for quick and easy cold party appetizers? This 3 ingredient cold avocado based party dip is not only addicting, it's actually pretty healthy! It's also super quick and easy to make with no baking required (perfect for a last minute party or get-together). Simply mix these cheap and basic ingredients together and serve with tortilla chips. 
Keyword:
appetizers, avocado, cold dip, cottage cheese, easy, guacamole, party dip, quick, salsa, simple
Ingredients
4-5

large avocados

1

(16oz)

jar salsa

1

(16oz)

carton cottage cheese

1

tbsp

fresh minced garlic

(or 1 tsp garlic powder)

salt & pepper to taste

tortilla chips for serving
Instructions
In a medium to large bowl, use a fork to smash up your avocados.

Add the salsa, cottage cheese and garlic; mix well. Do a taste test to see if you'd like any salt or pepper which will greatly depend on the brand of salsa that you use.

Serve with tortilla chips.
Recipe Notes
This makes a large serving for a crowd! My family will often make this at home just as a snack and cut the recipe in half or even less. 
Don't forget to pin this easy party dip for later! 🙂