Easy Cake Mix Muffins Made With Just 3 Ingredients (Plus the Mix-ins of Your Choice)
I don't know if you've discovered all of the creative treats you can make with a box of Betty Crocker Cake Mix, but these 3 ingredient muffins are incredibly moist and delicious! These lazy muffins are made with just a few ripe bananas, eggs, cake mix and anything else you want to throw in there like chocolate chips or walnuts.
You can essentially use any flavor of cake mix that you'd like for a variety of easy muffin recipes, but yellow and chocolate cake mix are a favorite in my house. These two classic boxed cake mixes make it easy to flavor them however you'd like with nuts, chocolate, cinnamon or even little bit of peanut butter.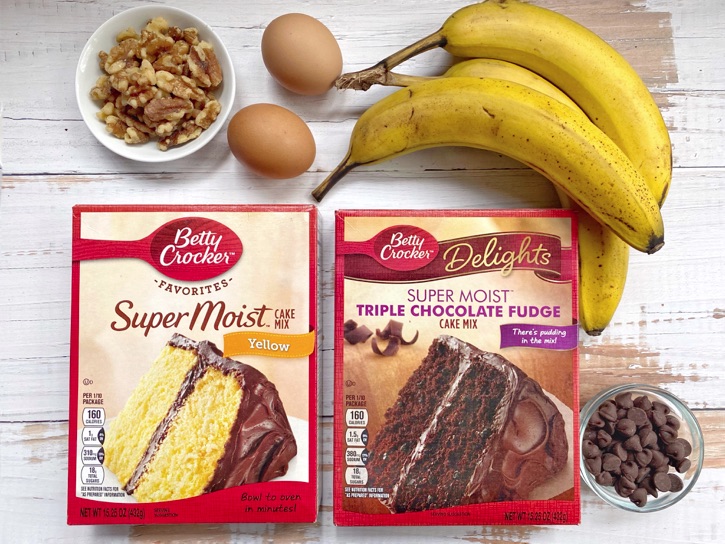 1. Cake Mix Banana Nut Muffins
1 box yellow cake mix
3 large very ripe bananas
2 eggs
1/2 cup chopped walnuts
This simple muffin recipe is always a hit! Plus you feel a little bit better about it when it's loaded with fruit and nuts. Simply mix everything together, pour the batter into a lined muffin pan, and bake in a 350 degree oven for 15-20 minutes.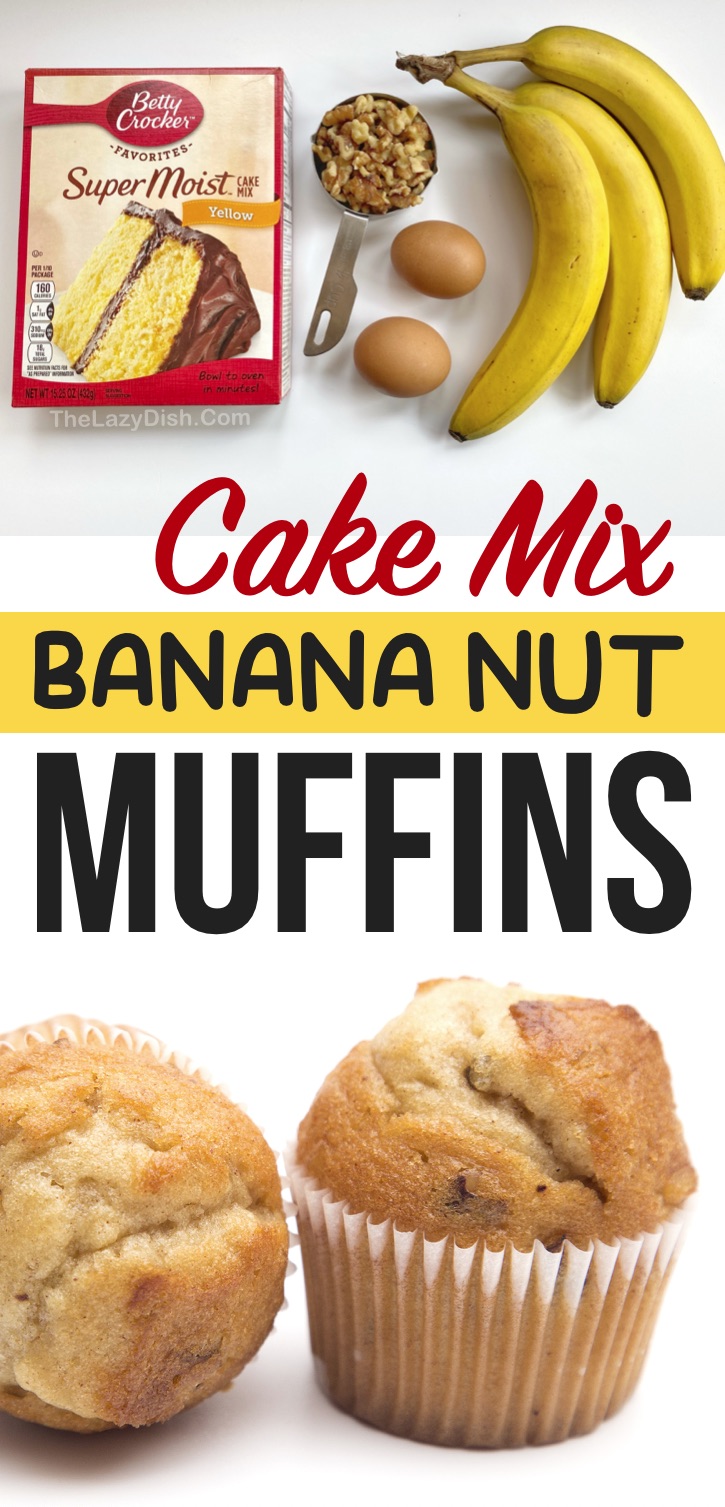 2. Cake Mix Chocolate Banana Muffins
1 box chocolate cake mix
3 large very ripe bananas
2 eggs
Everyone loves chocolate! And it's a supreme combination when mixed with sweet and ripe bananas. Simply mix everything together (and then fold in any optional mix-ins like chocolate chips or nuts), pour the batter into a lined muffin pan and bake at 350 degrees for 15-20 minutes.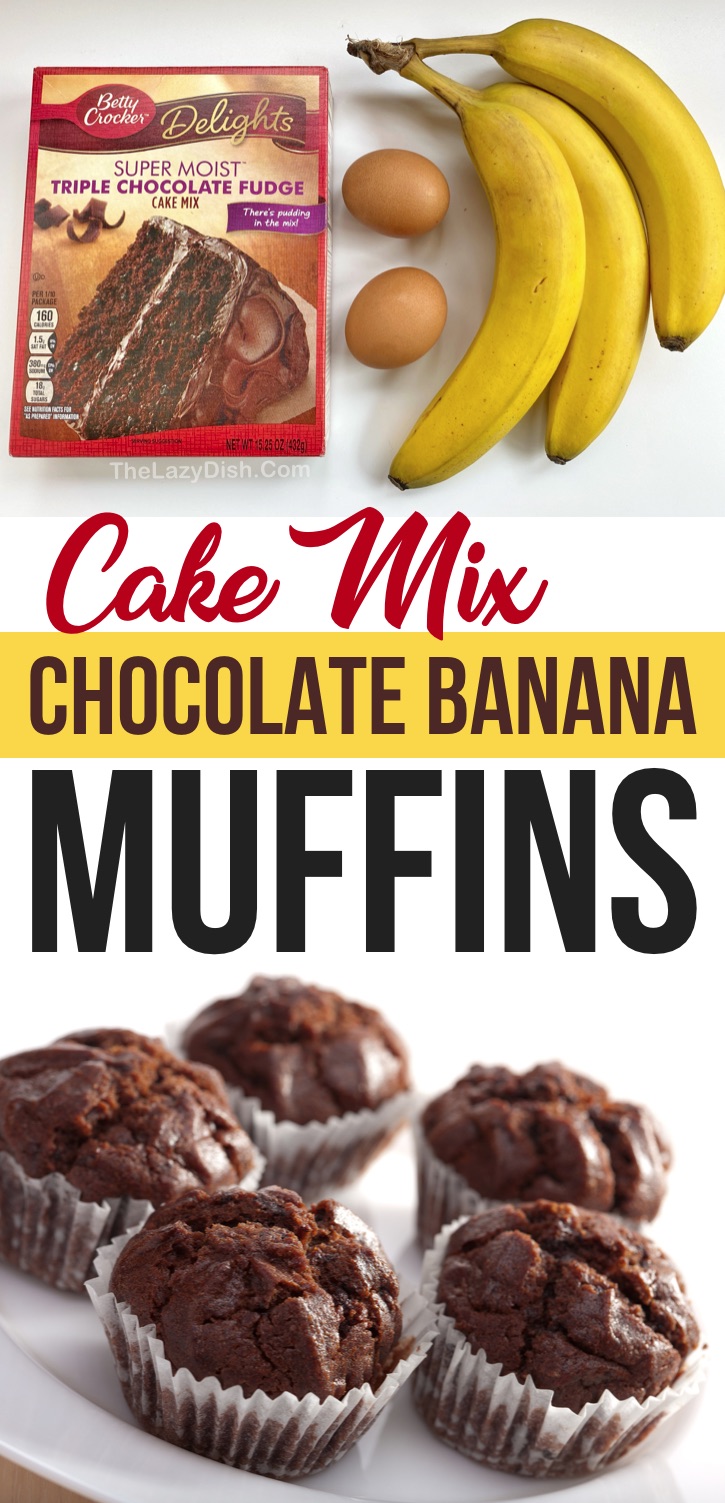 Because these muffins are so easy and hassle free, even your kids will enjoy throwing them together as a quick snack or breakfast for busy mornings. And, they are just as good leftover! They're perfect for on-the-go when you're running late for soccer practice, or as a special treat at home on lazy Sundays.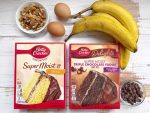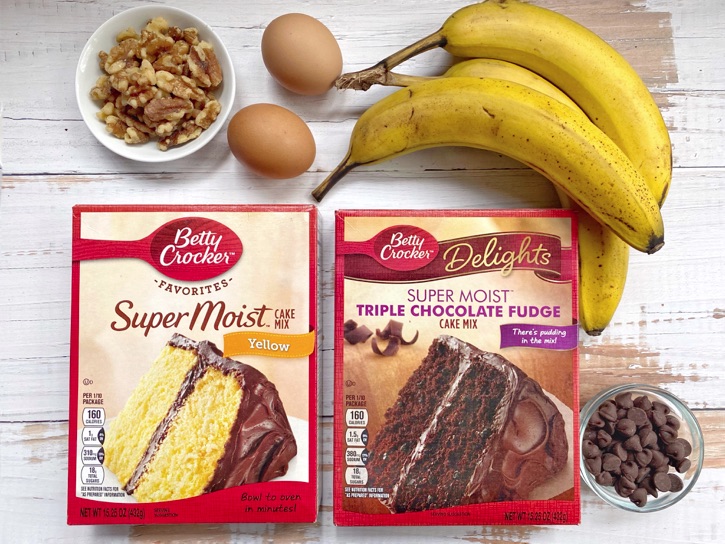 3 Ingredient Cake Mix Banana Muffins (2 Ways!)
Don't let the simple ingredients fool you. These quick and easy 3 ingredients muffins are super moist and delicious! That's all you will need to make these yummy little treats are a box of yellow or chocolate cake mix, ripe bananas and eggs. You can then add the mix-ins of your choice for added flavor and crunch.
Keyword:
3 ingredients, banana, cake mix, easy, moist, muffins
Ingredients
1

(15.25oz)

box of cake mix

(yellow or chocolate)

3

large very ripe bananas

2

eggs

1/2

cup

mix-ins of your choice

(nuts, chocolate chips, etc.)
Instructions
Preheat your oven to 350 degrees and grease or line a muffin pan.

In a medium size bowl, mash the bananas until smooth; combine with the cake mix and eggs.

Fold in about half a cup of chocolate chips and/or nuts (optional).

Evenly fill your muffin cups and bake in the center rack for 15-20 minutes or until no longer doughy in the middle.
Recipe Notes
You'll just be using the DRY cake mix for these muffins. No need for the ingredients on the box.
The BEST Quick & Easy 3 Ingredient Muffins