Quick & Easy Moist Blueberry Muffins Made With Cake Mix
If you haven't discovered all of the wonderful things you can make with boxed cake mix (besides cake), you're in for a real treat! These yummy blueberry muffins are so simple to make with just a few ingredients. They are wonderful little mid-day snacks or on-the-go breakfast treats. Even your picky kids will love this fun and easy blueberry muffin recipe.
I'm always on the hunt for quick and easy snack recipes, especially for the kids or when family comes to visit. I can't think of anything easier than muffins! It's so nice to wake up on a busy morning and have muffins on the counter waiting to be eaten. They are also nice to have as after school snacks, on the go for sports practice or even to add to your lunchbox.
Essentially, you could use the base of this yellow cake mix muffin recipe and then replace the blueberries with any kind of fruit or mix-ins that you'd like such as diced strawberries, banana, chocolate chips, cinnamon, raisins, nuts, etc.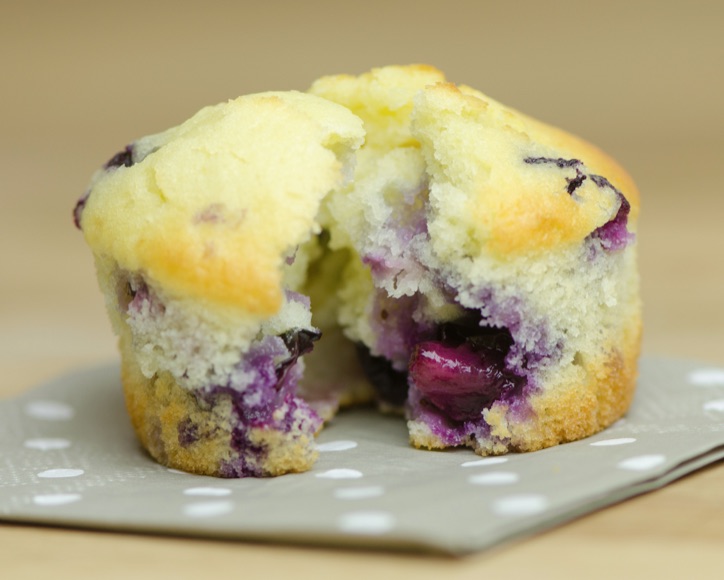 Easy Blueberry Muffins Recipe With Cake Mix
1 box yellow cake mix
2 tbsp flour
1 tsp baking powder
3 eggs
2/3 cup milk
1/3 cup vegetable oil
2 cups fresh or frozen blueberries (keep in mind, frozen blueberries tend to turn your batter purple)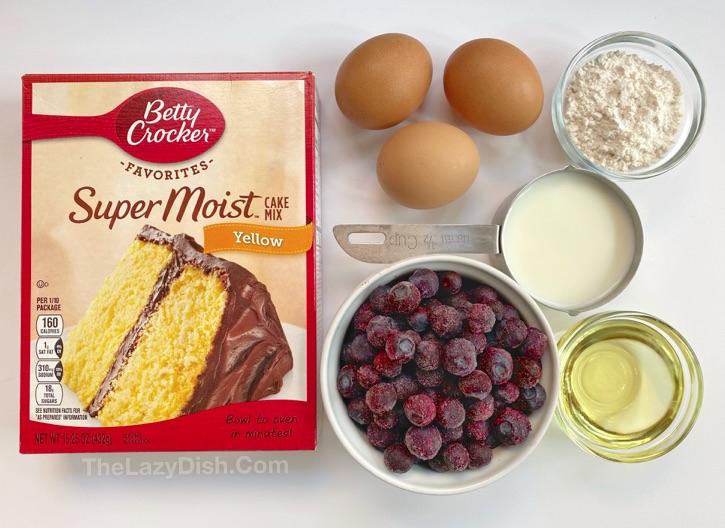 Simply mix everything together except for the blueberries until well combined, and then gently fold the blueberries into the batter (I also like to set some of the blueberries aside to place on top). Bake in a 375 degree oven for 15-20 minutes or until a toothpick comes out clean.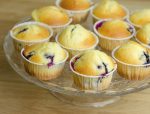 Quick & Easy Moist Blueberry Muffins (Made With Cake Mix)
Looking for simple snack or breakfast ideas? These cake mix blueberry muffins are so quick and easy to make with just a few ingredients including boxed yellow cake mix. They turn out so soft and moist! Even your picky eaters will make them disappear.
Keyword:
blueberry, breakfast, cake mix, muffins, snacks
Ingredients
1

box yellow or white cake mix

2

tbsp

flour

1

tsp

baking powder

3

eggs

2/3

cup

milk

1/3

cup

vegetable oil

2

cups

fresh or frozen blueberries

*read notes below
Instructions
Preheat your oven to 375 degrees and line a muffin pan with baking cups (or generously grease).

In a large bowl, mix together the dry cake mix, flour, baking powder, eggs, milk and oil until well combined.

Gently fold in your blueberries, setting some aside to sprinkle on top.

Spoon the batter into your prepared muffin pan, filling the cups up close to the top.

Bake for 15-20 minutes or until a toothpick comes out clean.
Recipe Notes
I generally prefer using fresh blueberries for muffins because the frozen blueberries tend to turn the batter purple and are more likely to sink to the bottom, but frozen berries work too if that's what you have on hand.
One tip that I've read for keeping your fresh blueberries from sinking is to toss and coat them with a tablespoon of the recipes dry ingredients before adding them to the batter. I usually just set aside quite a bit of blueberries to place on top of the muffins right before baking. 
Don't forget to pin and save these quick and easy blueberry muffins for later! 🙂