The Best Quick & Easy Chicken Dinner Ideas
I'm always looking for simple meals to make my family on busy weeknights, and chicken is one of the easiest meats to cook. I mean, it's pretty hard to screw up especially if it's cooked in your crockpot or mixed into a casserole.
Fortunately for you, I've rounded up a list of my best reviewed chicken recipes! Everything from oven baked chicken breasts to rotisserie casseroles. Chicken seems to be a favorite among kids, especially if you have picky eaters to feed, so I think you'll find something here to make just about everyone happy.
1. Crockpot Creamy Shredded Chicken Tacos
Just 3 ingredient needed to make this amazing chicken dinner! This mixture is one of my favorite last minute meals when I don't feel like planning dinner or spending all night in the kitchen, plus you can't beat a meal that only requires a few basic ingredients.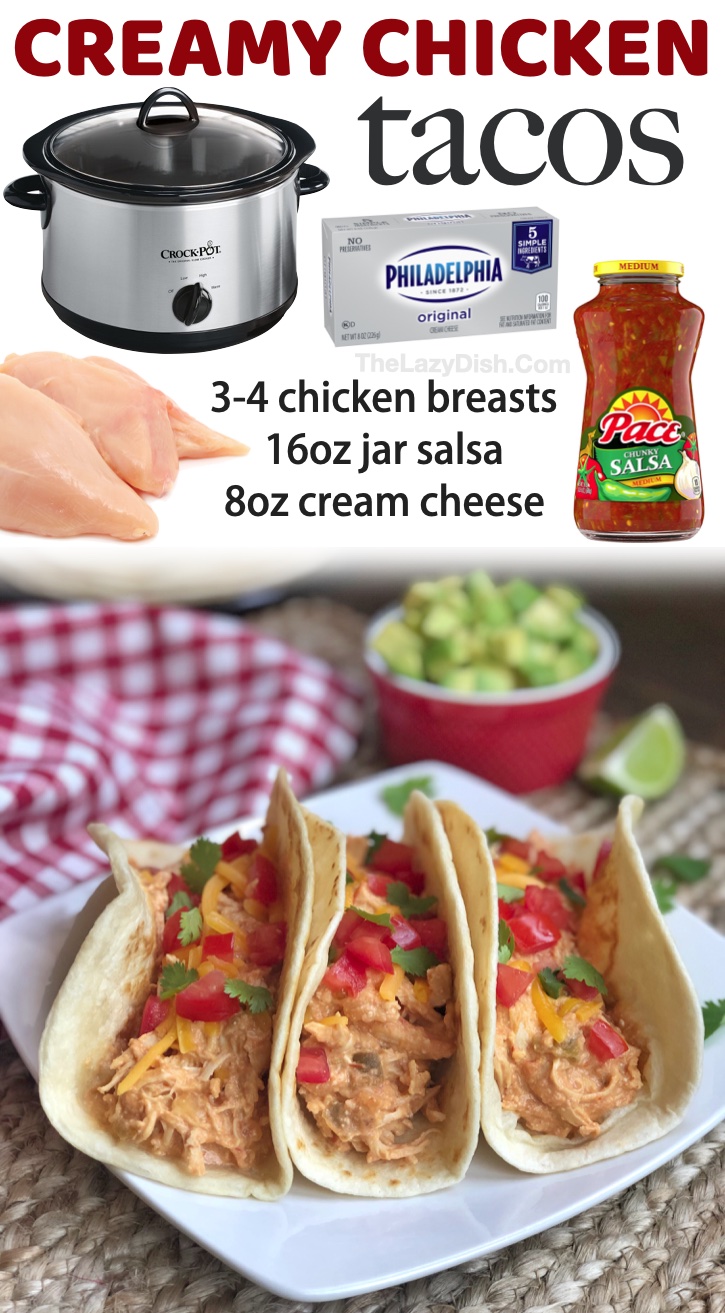 2. Chicken & Zucchini Casserole With Stuffing
Don't you just love a good juicy rotisserie chicken? It's so tender and full of flavor; my absolute favorite chicken for adding to casseroles! This simple dish includes just about everything you'd ever want in a meal and has a ton of different textures and flavors in every bite. My picky kids love it!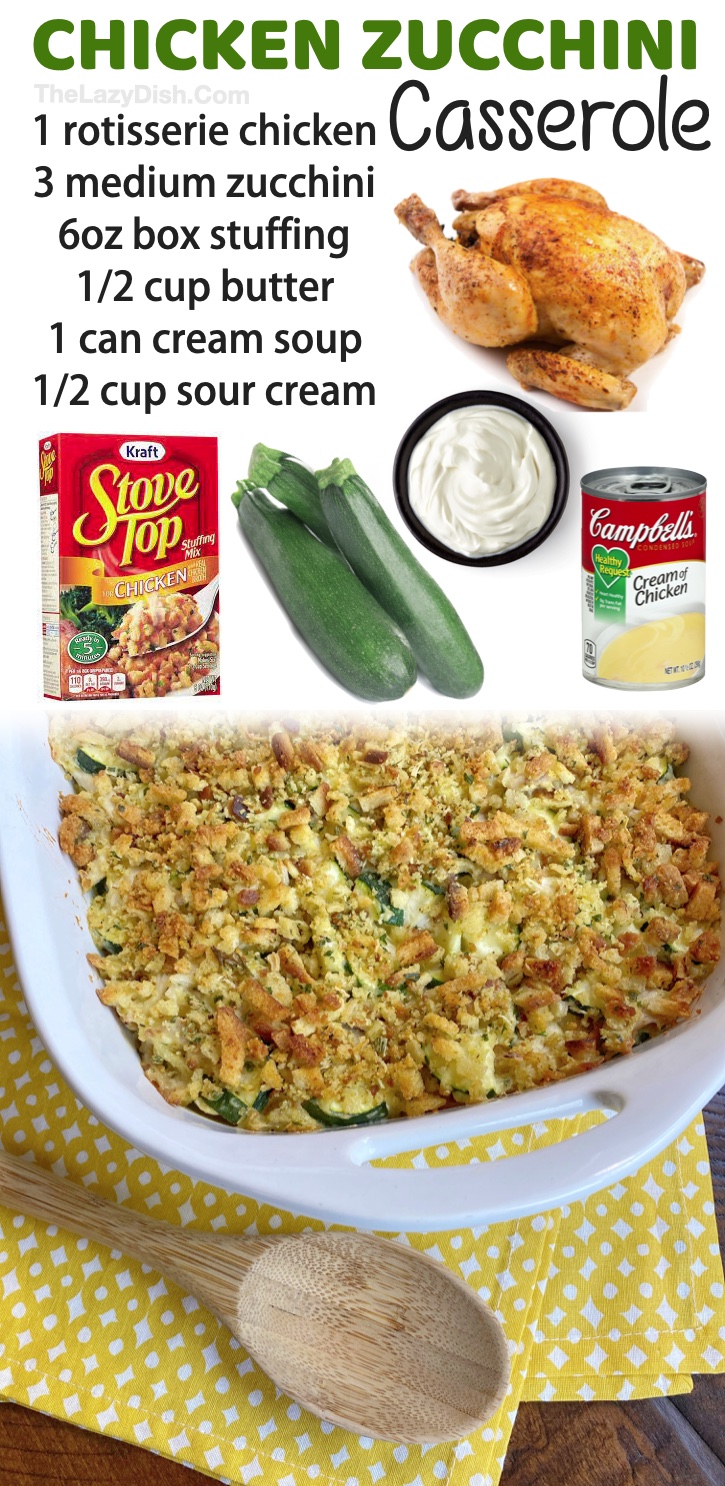 3. Cheesy Pesto Baked Chicken
Healthy, low carb, and delicious! This cream cheese baked chicken is versatile in that you can serve it alone or with rice, pasta, salad, or anything else you'd like. It's all whipped up in just a single pan so there's very little prep or clean up involved.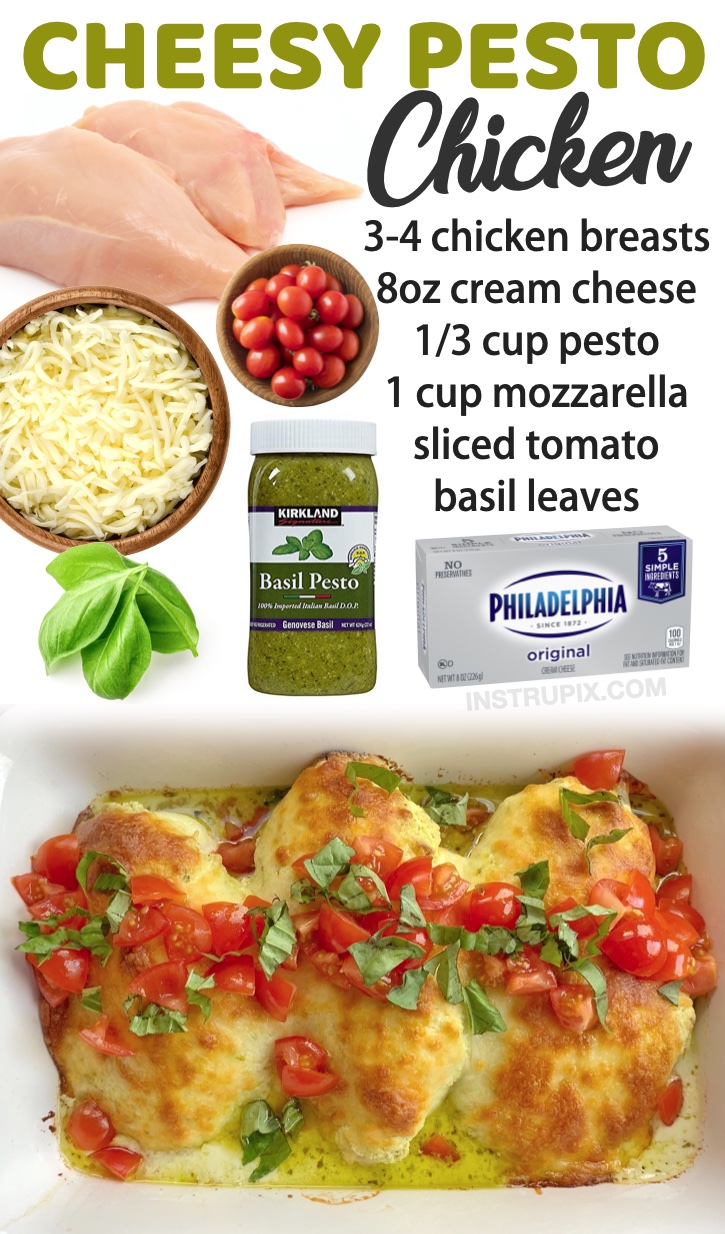 4. Creamy White Chicken Enchiladas
Even your picky eaters are going to love this savory enchilada recipe! Any kind of shredded or diced chicken can be used including rotisserie or even leftovers from the night before. The sauce is so rich and heavenly, my kids lick their plates clean.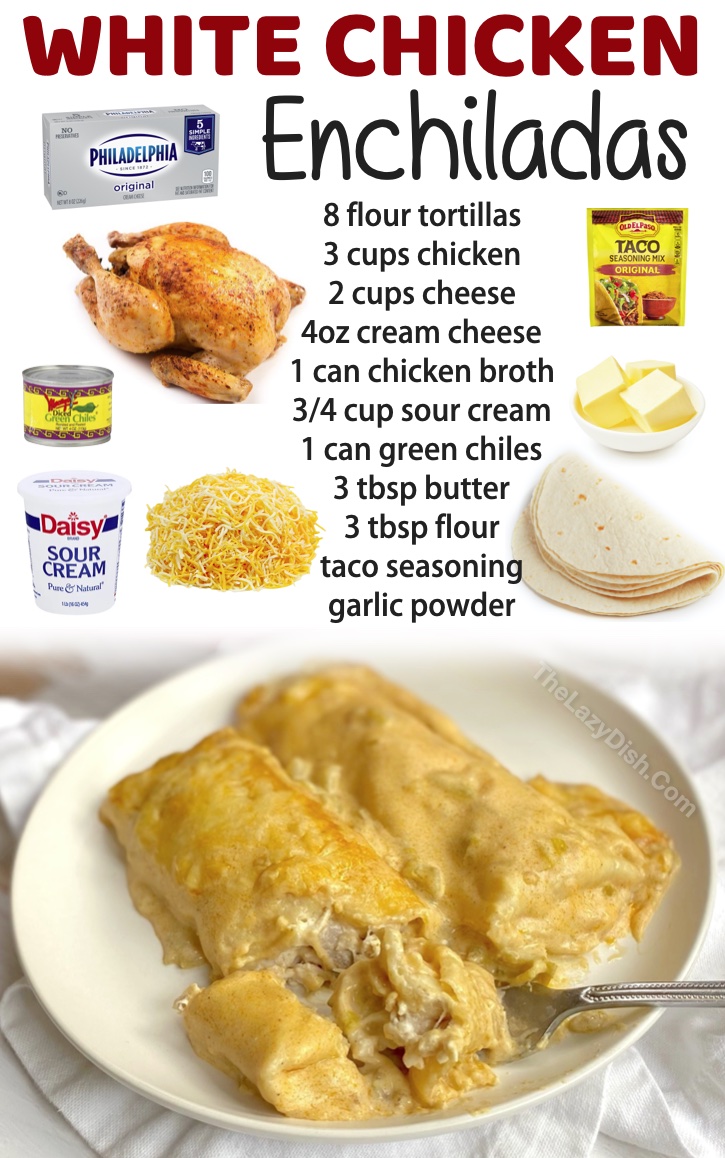 5. Oven Baked Chicken Fajitas
No grill needed here! Yes, you can make incredibly flavorful and tender chicken in your oven on a single sheet pan. The peppers and onions cook to perfection at about the same rate as it takes for the chicken to fully cook.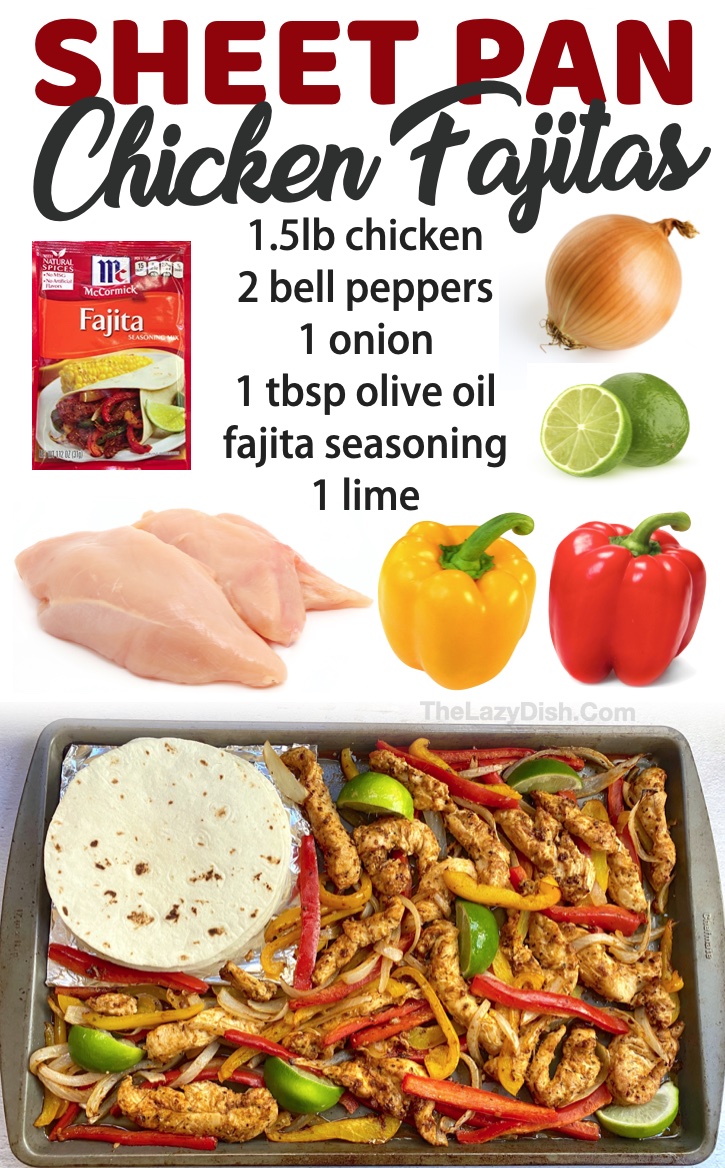 6. Baked Chicken Teriyaki
My kids love a good sweet sauce on their chicken, and homemade teriyaki sauce is so much better than the store bought stuff. Serve this yummy chicken with instant rice and a side of veggies for one of the easiest meals you'll ever make.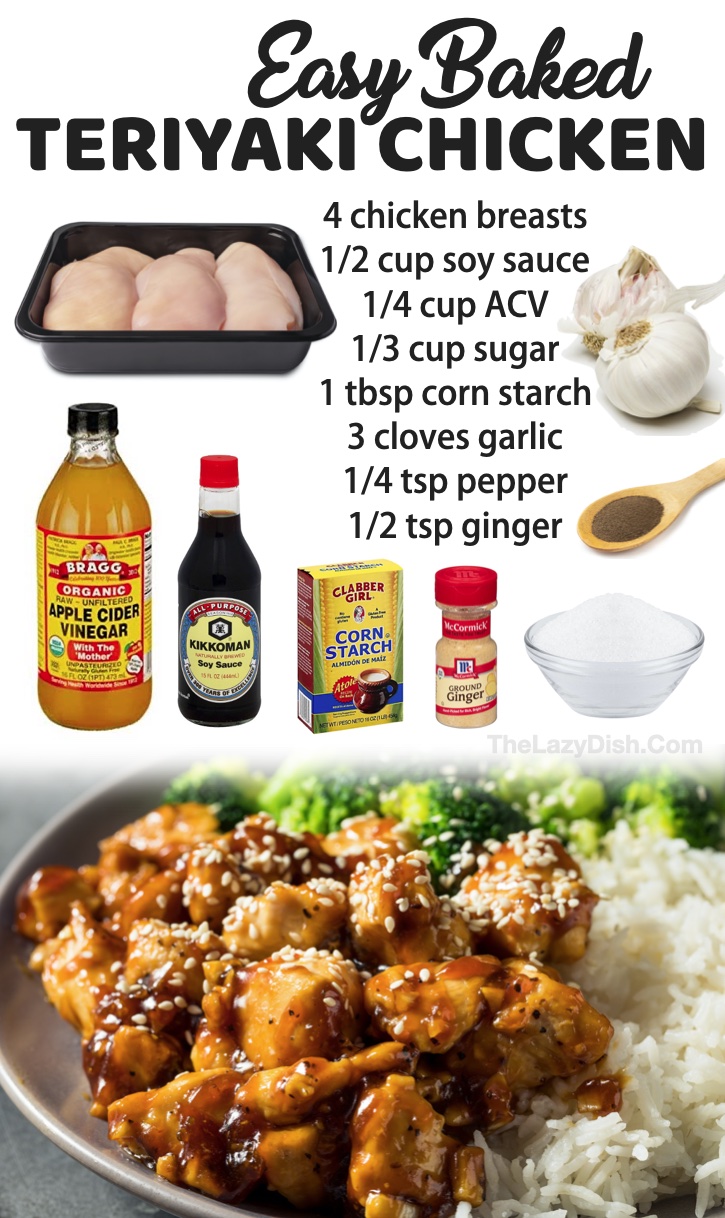 7. Chicken Parmesan Zucchini Boats
Ground chicken makes this recipe incredibly quick and easy to make with very little prep. It's also healthy and low carb, yet so tasty! If you're not following a low carb diet, you can easily add a side of pasta or garlic bread for your hungry family.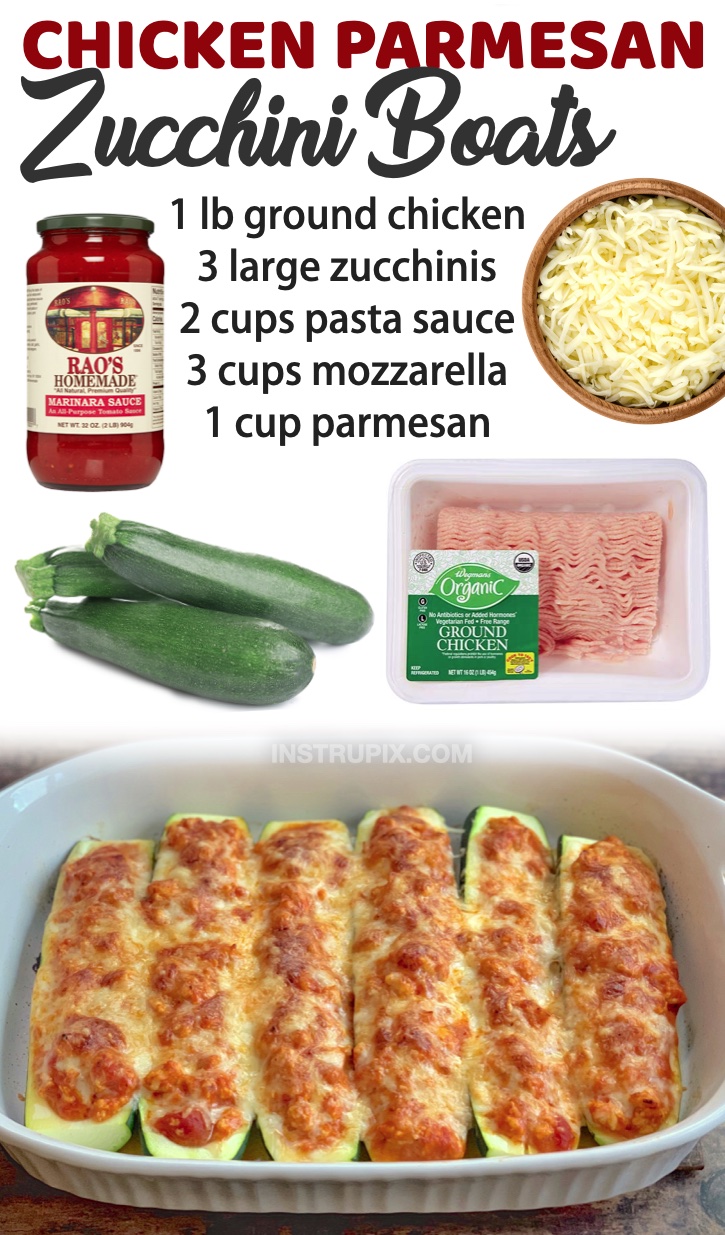 8. Slow Cooker Chicken & Gravy
This shredded crockpot chicken definitely reminds me of thanksgiving especially if you serve it over mashed potatoes, but you can also serve it over rice or pasta if you'd like. Either way, it's absolutely heavenly for a dump meal that only requires a few ingredients.
9. Crockpot BBQ Chicken Sandwiches
Zesty and delicious! I absolutely love this shredded chicken especially with a heaping pile of coleslaw on a toasted bun. This chicken is wonderful for busy weeknight meals or even large family gatherings and parties. Thanks to your handy, dandy slow cooker it's super easy for everyone to serve themselves when they are ready to eat.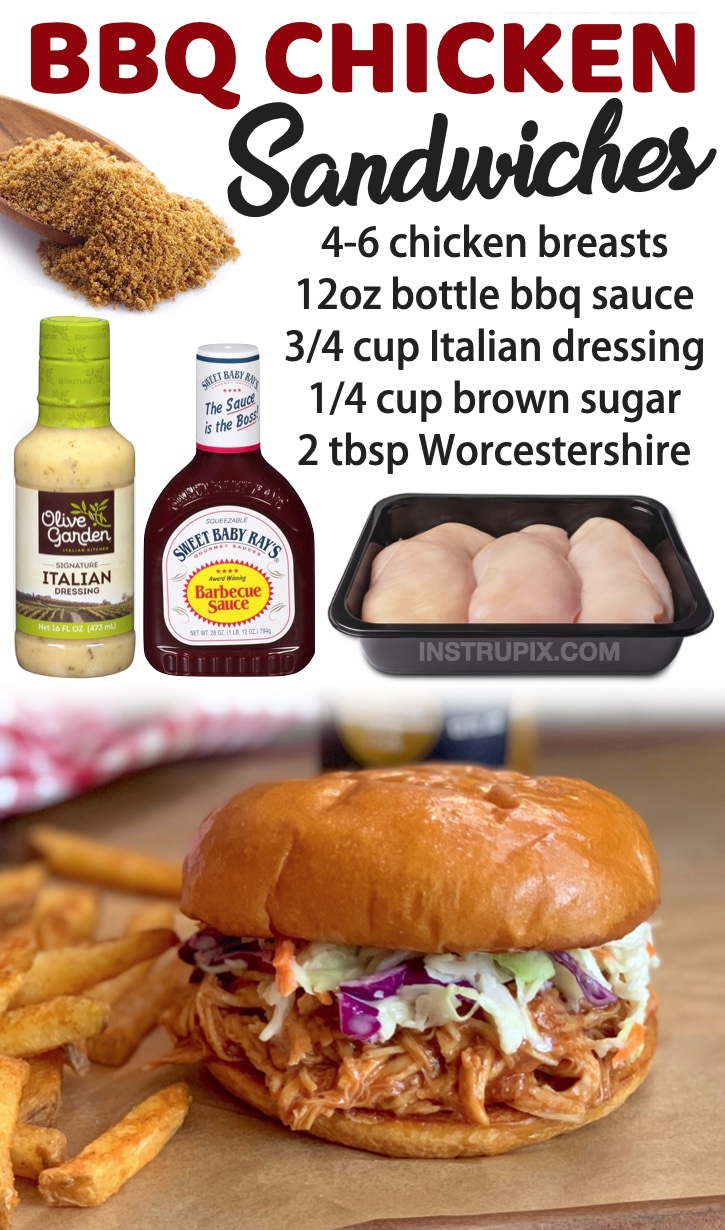 10. Cheesy Fajita Baked Chicken
I love baking chicken with cream cheese because it's the easiest way to make oven baked chicken taste rich and amazing. Simply mix the cream cheese with salsa and fajita seasoning and slather it all over your chicken. Top with bell peppers and shredded cheese, and bake! It's naturally low carb but can also be served over rice with a side of refried beans.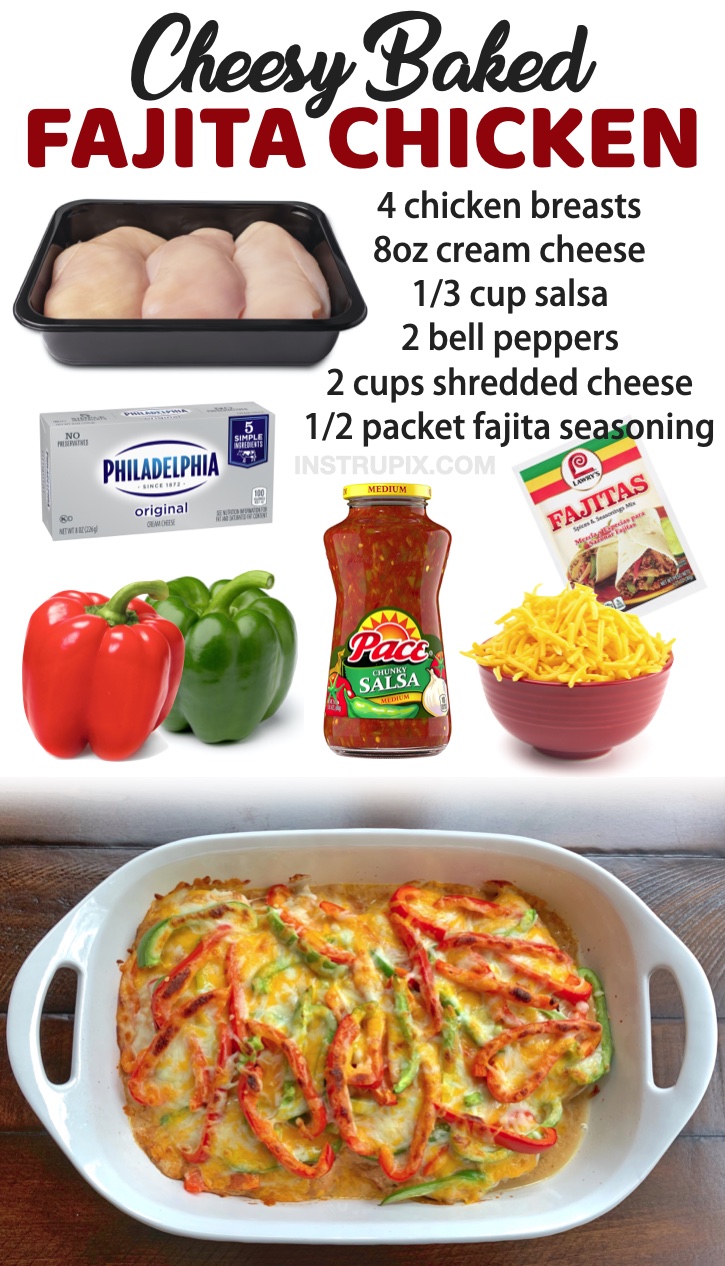 11. Cheesy Shredded Chicken Sandwiches
Another awesome crockpot meal. Once cooked, this cheesy chicken just fall apart! It's heavenly served in toasted hoagie rolls with crispy bacon and lettuce. This simple meal is also great for family gatherings and brunch on the weekends.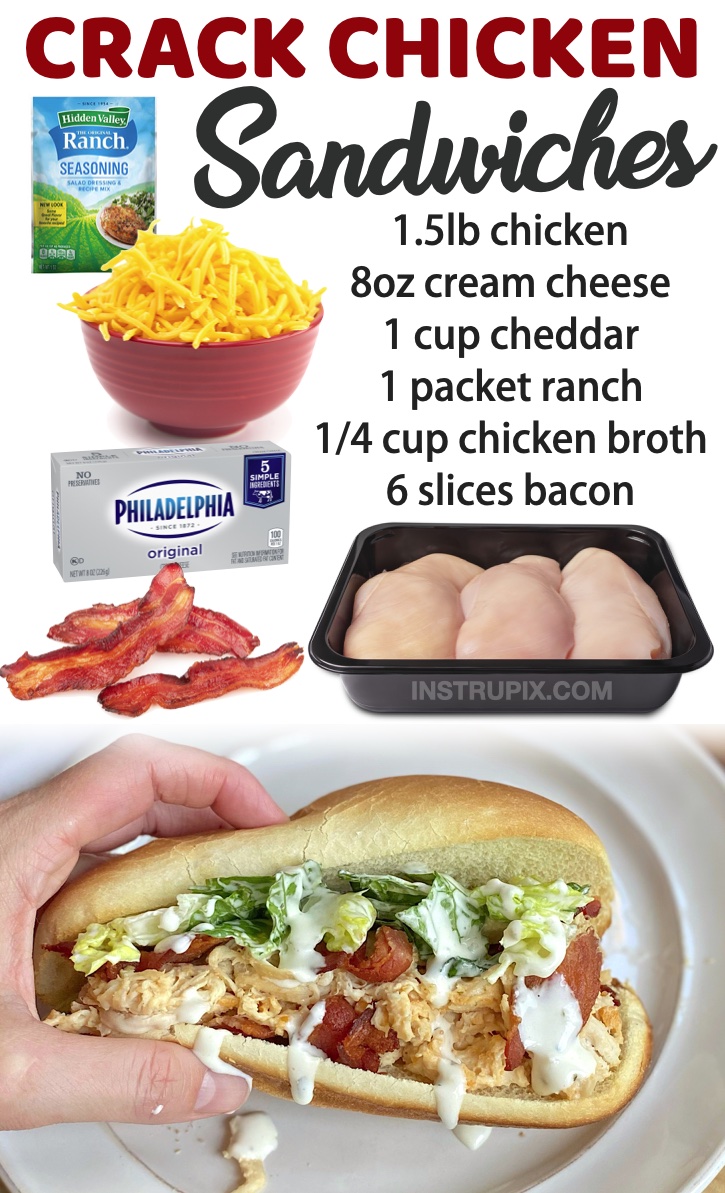 12. Creamy Crockpot Chicken Chili
If you like chili, but you're tired of serving ground beef at every meal, you've got to try making this classic recipe with chicken and cream cheese! It's so yummy especially served with shredded cheese, avocado, and tortilla chips for crunch.
13. Chicken Parmesan & Pasta Casserole
If you have picky kids at home, you can't go wrong with a pasta casserole! It's loaded with red sauce and cheese with a crispy garlic bread crumb topping. The leftovers are just as good so you can make two meals out of it.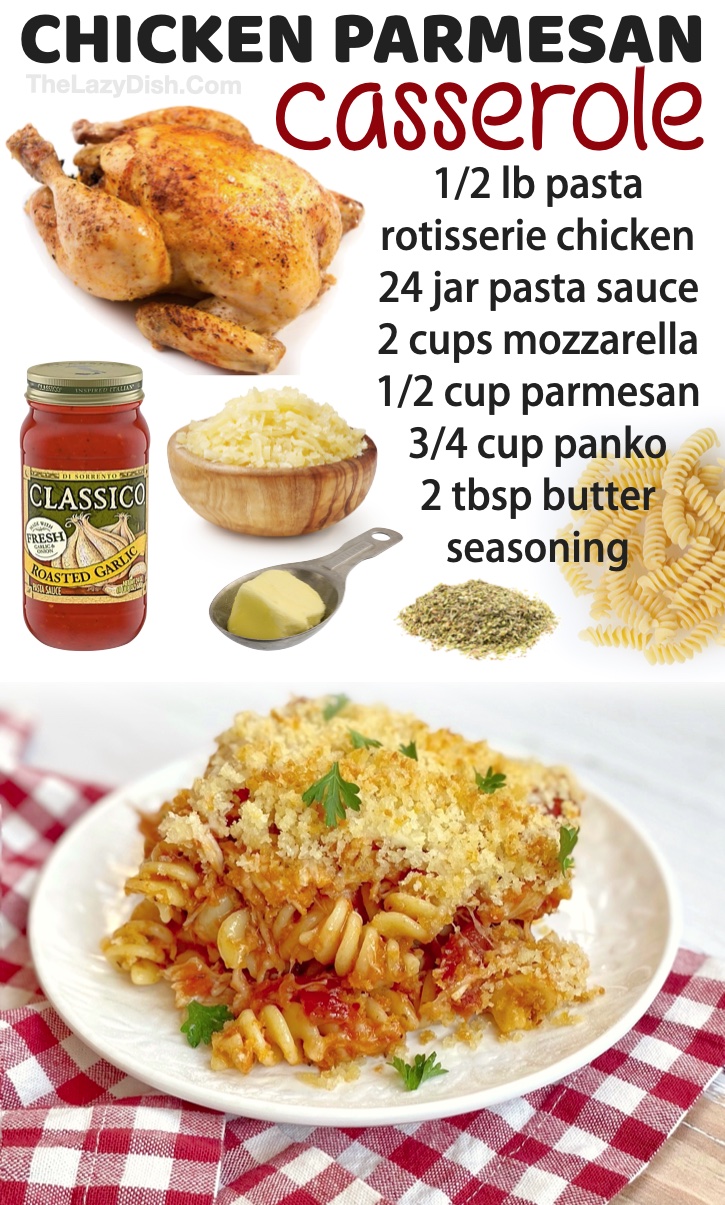 14. Chicken Parmesan Mini Sandwiches
This is a great recipe for when your kids have friends over for sleepovers. It's makes for the perfect finger food that even the pickiest of eaters will devour! It's effortless to make thanks to frozen chicken nuggets, a jar of pasta sauce, and Hawaiian rolls.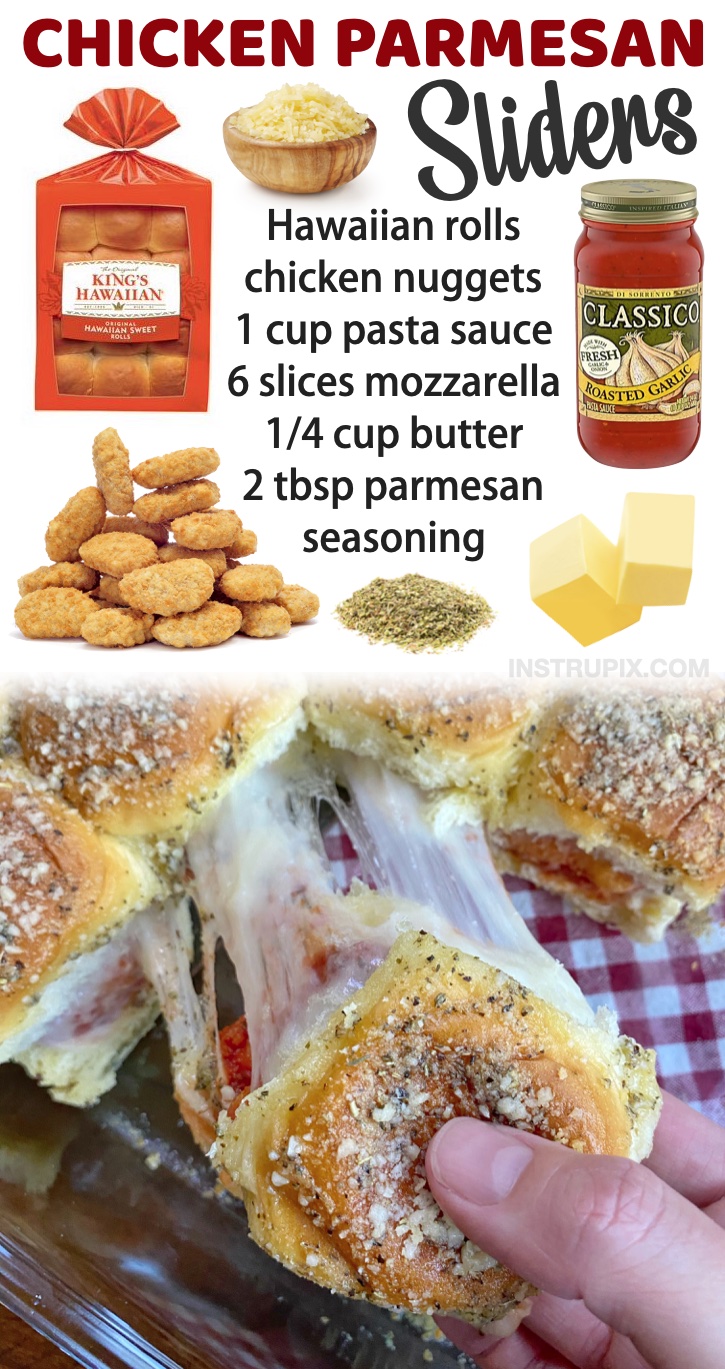 15. Crockpot Buffalo Chicken Sandwiches
I sure hope you own a slow cooker because shedded chicken is one of the easiest meals you can make. If you're a buffalo chicken fan, simply cook a few breasts in there with buffalo sauce and ranch seasoning for the best sandwiches, salads or even loaded baked potatoes.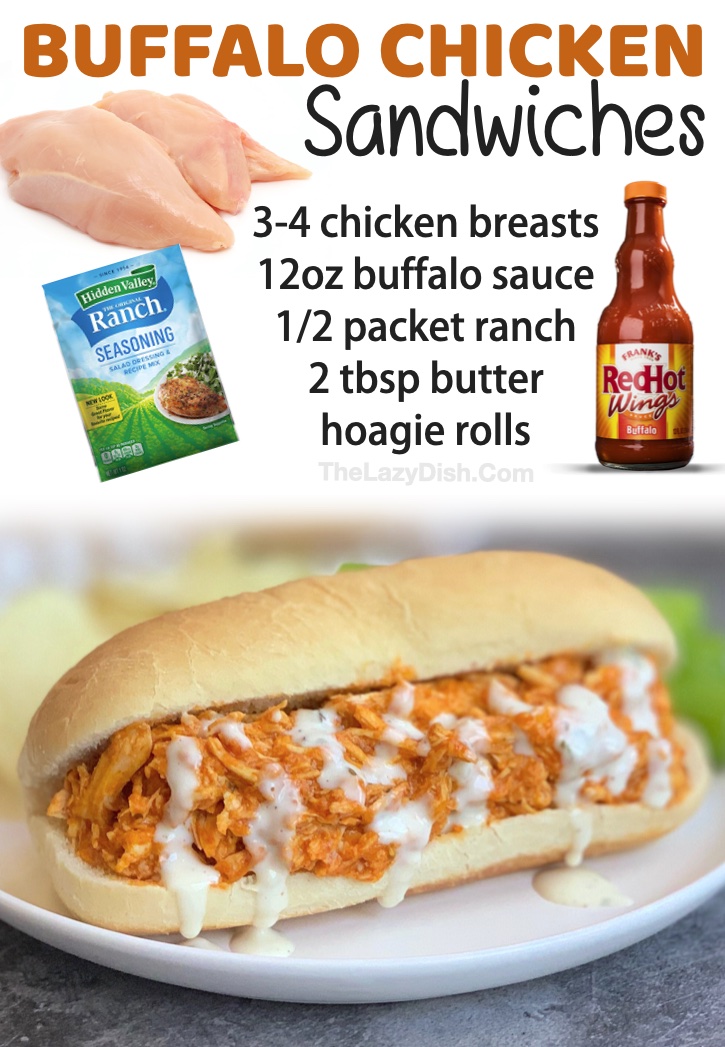 16. Buffalo Chicken Zucchini Boats
Another great buffalo chicken recipe recipe for you spicy fans! Only this recipe is actually healthy and low carb thanks to zucchini. The ground chicken also makes this recipe incredibly simple to throw together last minute.