An Easy Baked Chicken Recipe The Entire Family Will Love
These little baked chicken bites are out-of-this-world DELISH! They're crispy on the outside and delightfully tender in the middle. The butter gives them an amazing rich and savory flavor.
That's all you will need to make this simple recipe are about 4 chicken breasts cut into large bite size pieces, 2 eggs, half a stick of butter, about 2 cups of crushed Ritz crackers and seasoning to taste.
The Ritz crackers themselves have plenty of salt, but I like to toss in a little garlic powder and Italian seasoning to the crumbled crackers before dipping the chicken in. You can customize the flavor however you'd like with the seasoning of your choice.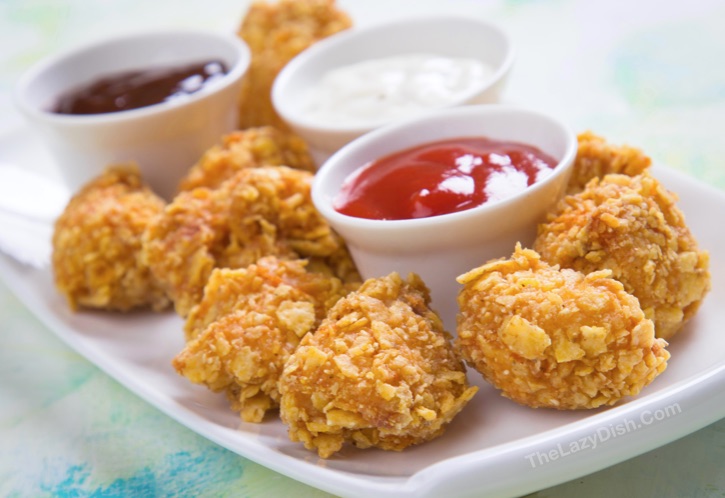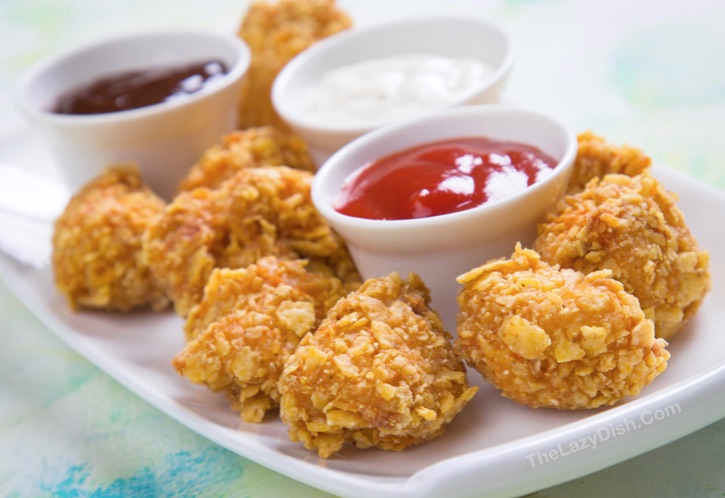 This buttery, crispy chicken can be served as a snack with a little dipping sauce or even for dinner with a salad or side of veggies. Kids and adults go crazy for them!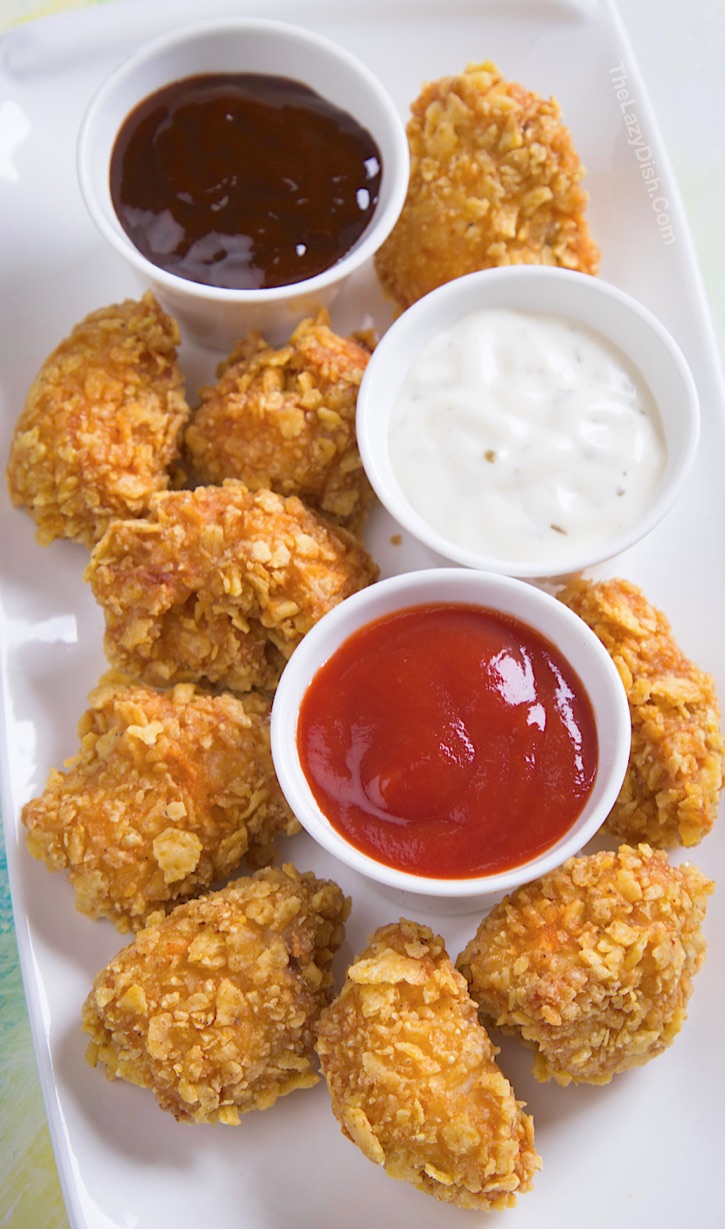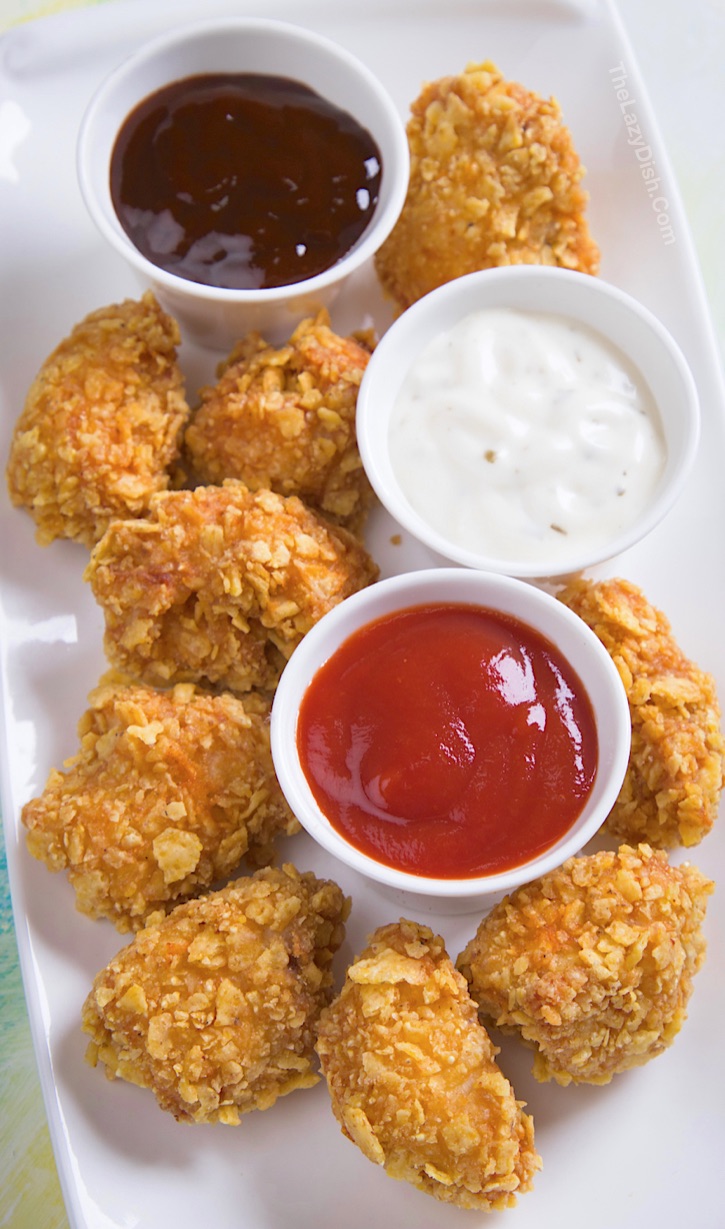 Famous Butter Ritz Chicken Recipe (Nugget Style)
This baked chicken recipe is super quick and easy to make with just 5 simple ingredients. The entire family will enjoy them for dinner or even as an after-school snack.
Ingredients
3-4

boneless chicken breasts

(cut into bite-size pieces)

2

eggs

(beaten)

2

cups

crushed Ritz Crackers

1/2

stick

butter

(cut into pieces)

seasoning to taste
Instructions
Preheat your oven to 375 degrees and grease or line a 9x13 baking dish. (Read the Recipe Notes below beore getting started)

Place the beaten eggs and cracker crumbs into 2 separate bowls. Season the cracker crumbs to your liking with garlic powder, black pepper, and/or Italian seasoniong.

Dip the chicken in the eggs, and then coat them with the crumb mixture.

Arrange the crumb coated chicken in your dish, and then place the butter pieces evenly all over the chicken.

Bake in the middle rack of the oven for about 20 minutes or until the chicken is no longer pink.
Recipe Notes
To easily crush your crackers, place them in a large ziplock bag and then use a rolling pin to crush them. (BTW, you will need about 2 sleeves of crackers to make 2 cups of crumbs)
It's best NOT to place the chicken directly into the crumb mixture bowl as the crumbs will eventually get soggy, making them difficult to stick to the chicken. Use your dry fingers to sort of pour the crumbs over each piece of chicken for best results.
You can also make this recipe keeping the chicken breasts whole (that is the original way of making them), you will just need to bake them for longer. I prefer them nugget style because you get more of the buttery crumb mixture in each bite, however it does take a little extra prep.
Don't forget to pin and save these yummy homemade chicken nuggets for later! 🙂