Calling all busy moms and dads! Making dinner for your picky family every night can be a real struggle, which is why I've rounded up this list of easy meal ideas you can throw together on busy weeknights.
Quick & Easy Last Minute Meals in less than 15 minutes!
If you have a family with picky eaters to feed, but you're tired of cooking dinner every night, check out this list of fast dinner recipes you can simply pick up at the grocery store on your way home from work.
These simple and cheap dinners are perfect for your picky kids and hangry husbands. They are so effortless, there's no actual recipes here! Just a list of fun and yummy store-bought ideas you can prepare when you're tired and don't have dinner plans.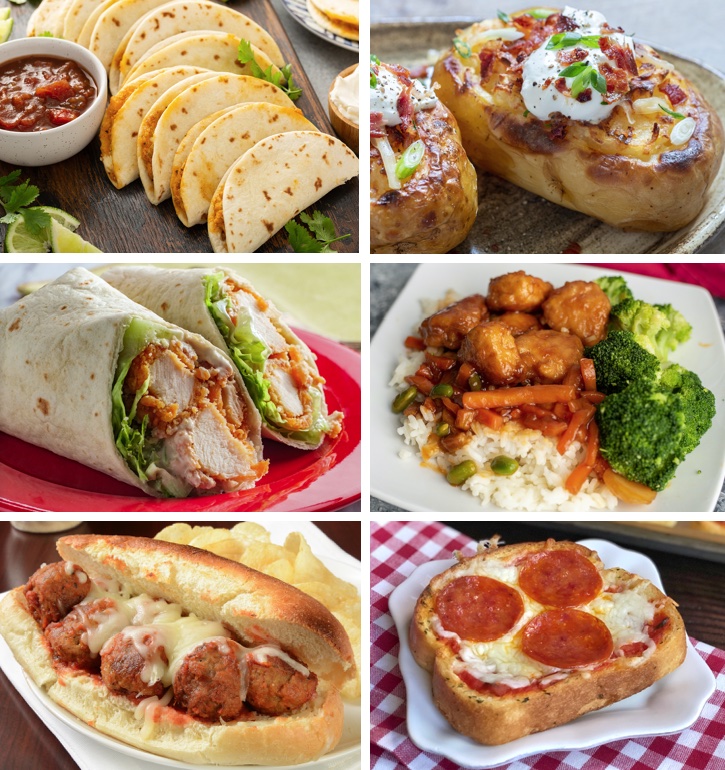 1. Cheesy Salsa Chicken Tacos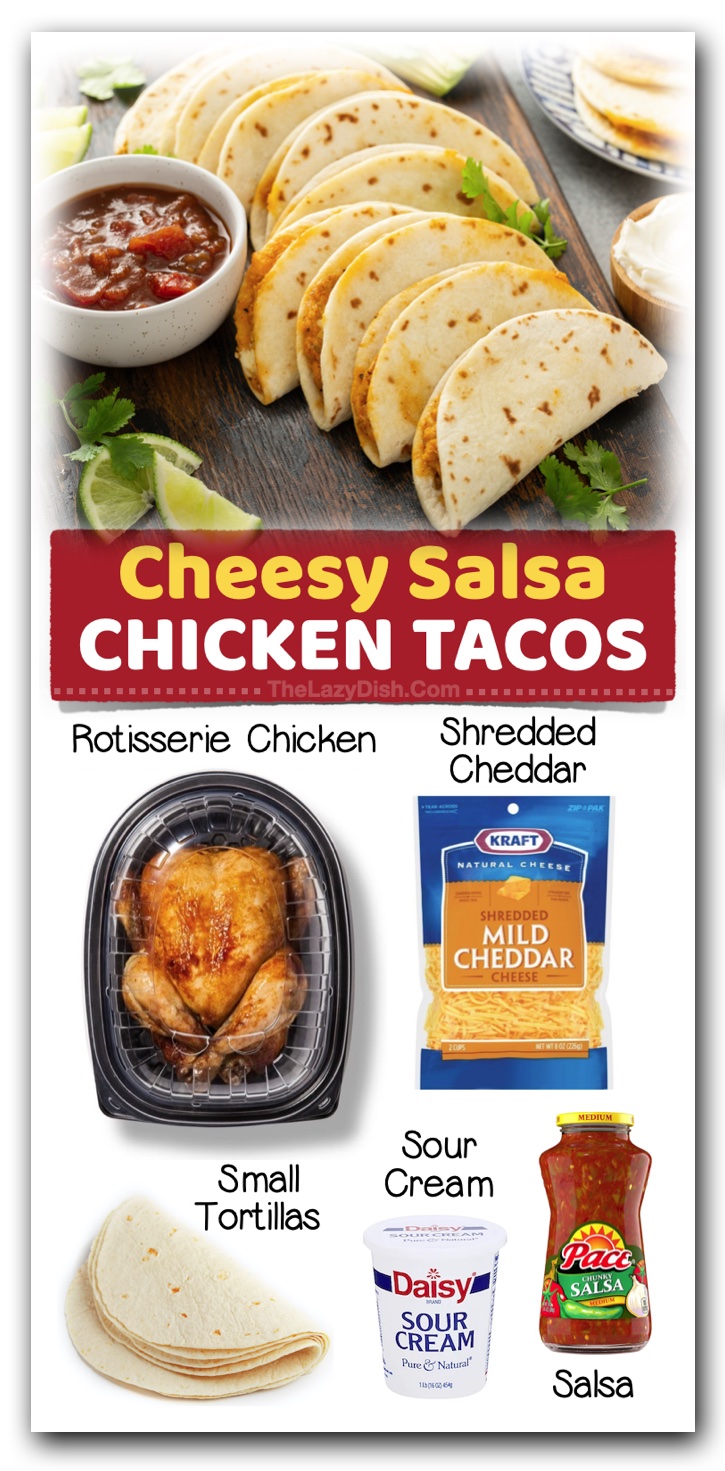 Rotisserie chicken is a life saver! For these easy soft tacos, simply pull the chicken and mix it with salsa and sour cream, stuff it into small flour tortillas with shredded cheddar, and bake until the cheese is melted and the tortillas turn golden brown. Serve with guacamole and pico de gallo? Yaaassss.
2. Crispy Chicken Ranch Wraps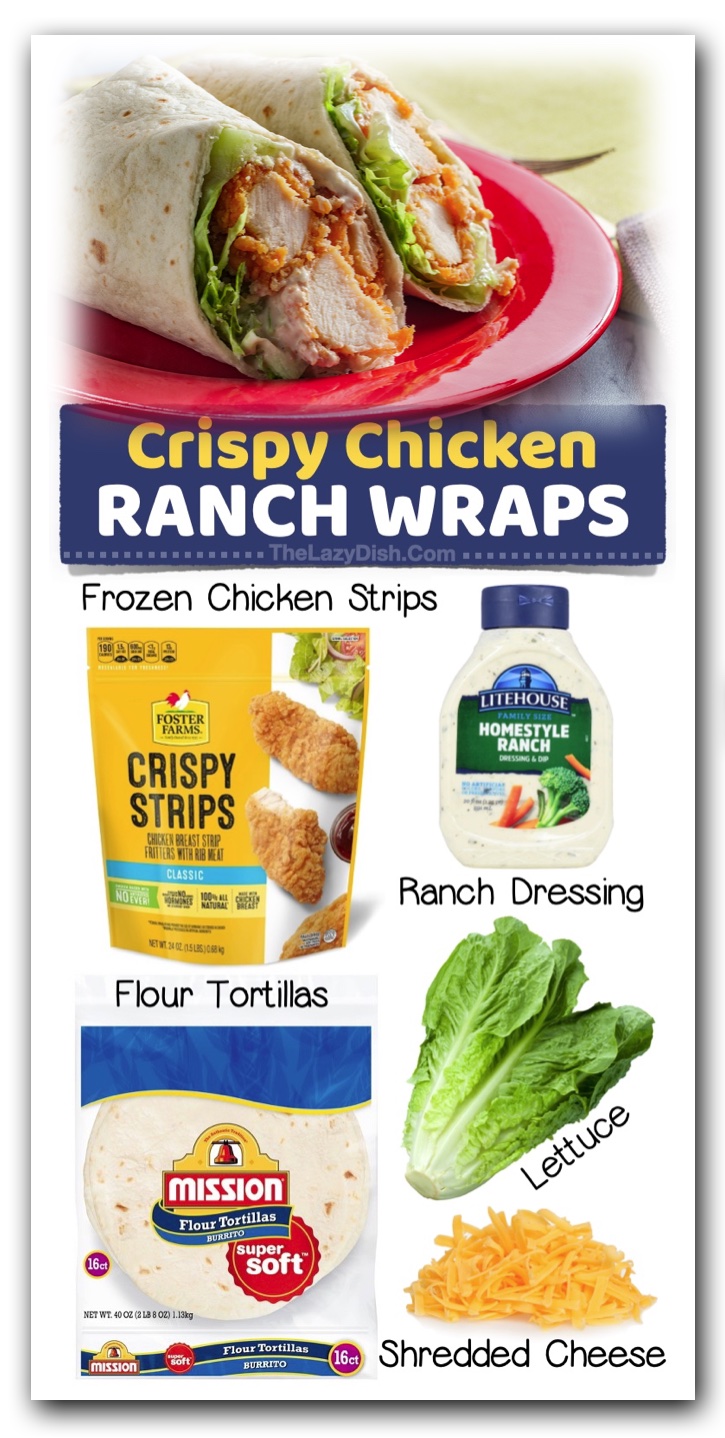 Bake your favorite brand of frozen chicken strips according to the package instructions, and then stuff them into large flour tortillas with shredded cheese, lettuce, ranch, and anything else you'd like such as tomatoes, jalapeños, or bbq sauce. These are delicious and easy to make on busy school nights!
3. Orange Chicken & Rice Dinner

Orange chicken is a favorite amongst kids, which is why I always have it stocked in my freezer. It's so easy to just toss together with instant rice and some frozen veggies for a complete meal. Some grocery stores even have frozen veggie fried rice. Could this possibly get any easier?
4. Pepperoni Pizza Quesadillas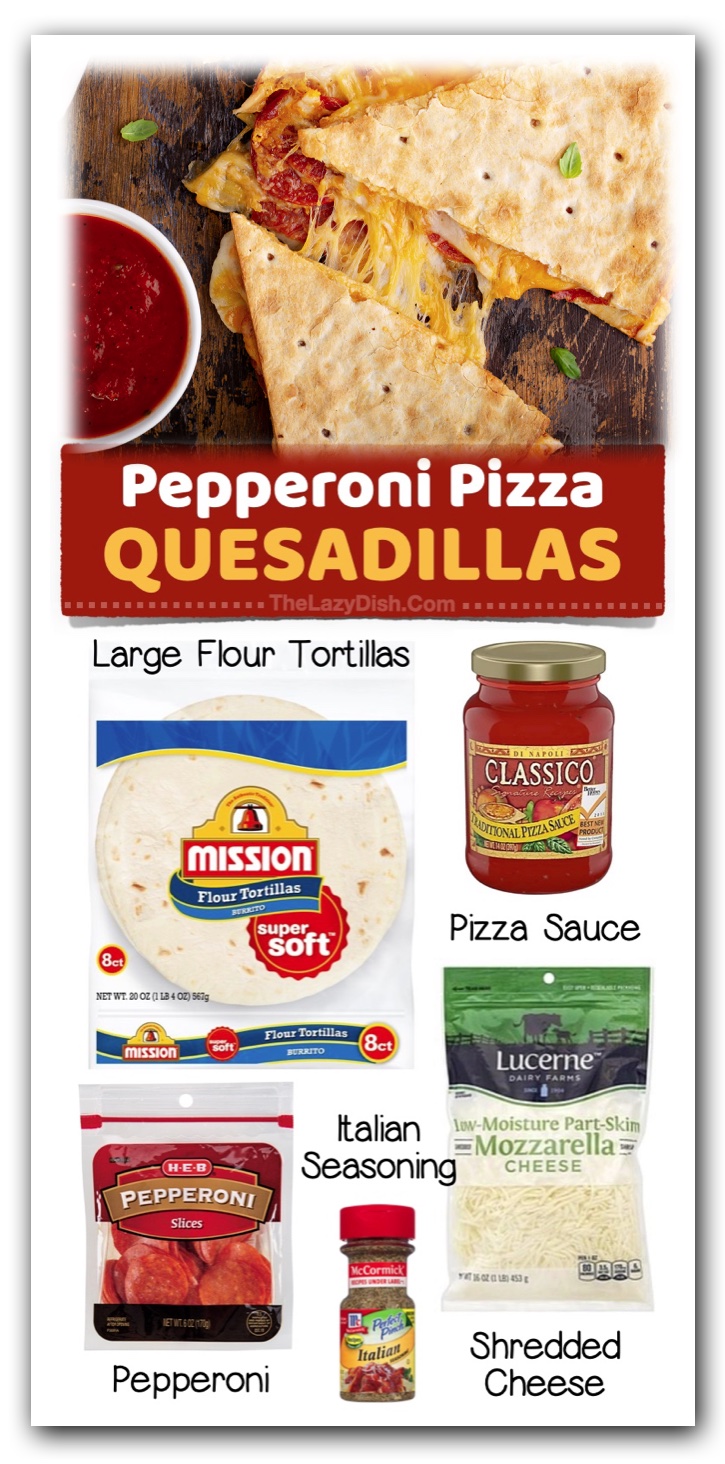 A fun twist on quesadillas! Simply stuff a quesadilla with pepperoni and any other traditional pizza toppings that you'd like such as olives, peppers, or mushrooms; sprinkle with Italian seasoning, and then cook in a pan with a little butter over medium heat. Serve with pizza sauce for dipping! Tip: I recommend microwaving or pan frying the pepperoni first and then blotting out the excess grease. Detailed instructions here.
5. Chicken Alfredo with Veggies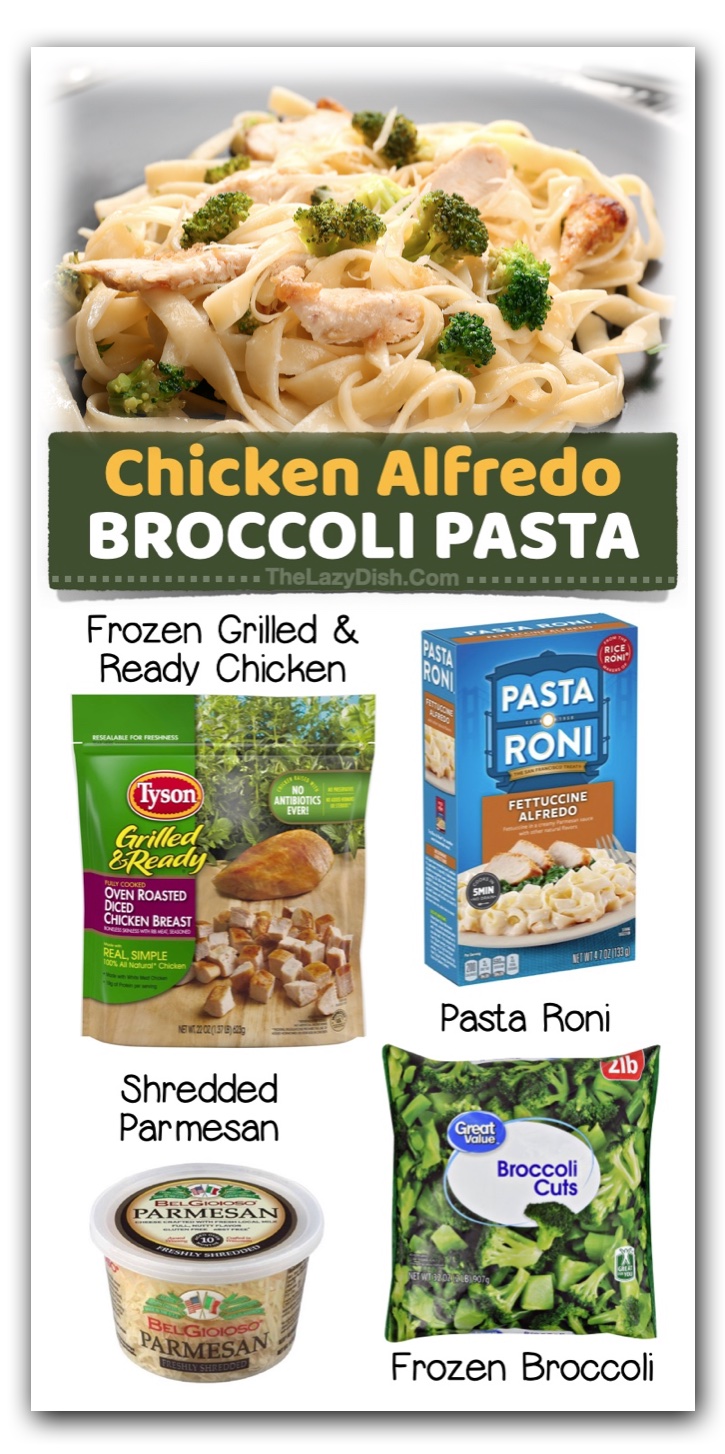 A classic pasta dinner every kid loves…. made easy! Pick up a bag of frozen grilled and ready diced chicken (or a rotisserie chicken), and toss it with a box of Pasta-Roni fettuccini alfredo or any of their other flavors. Some green veggies thrown in is never a bad idea, either.
6. Crispy Chicken Sandwiches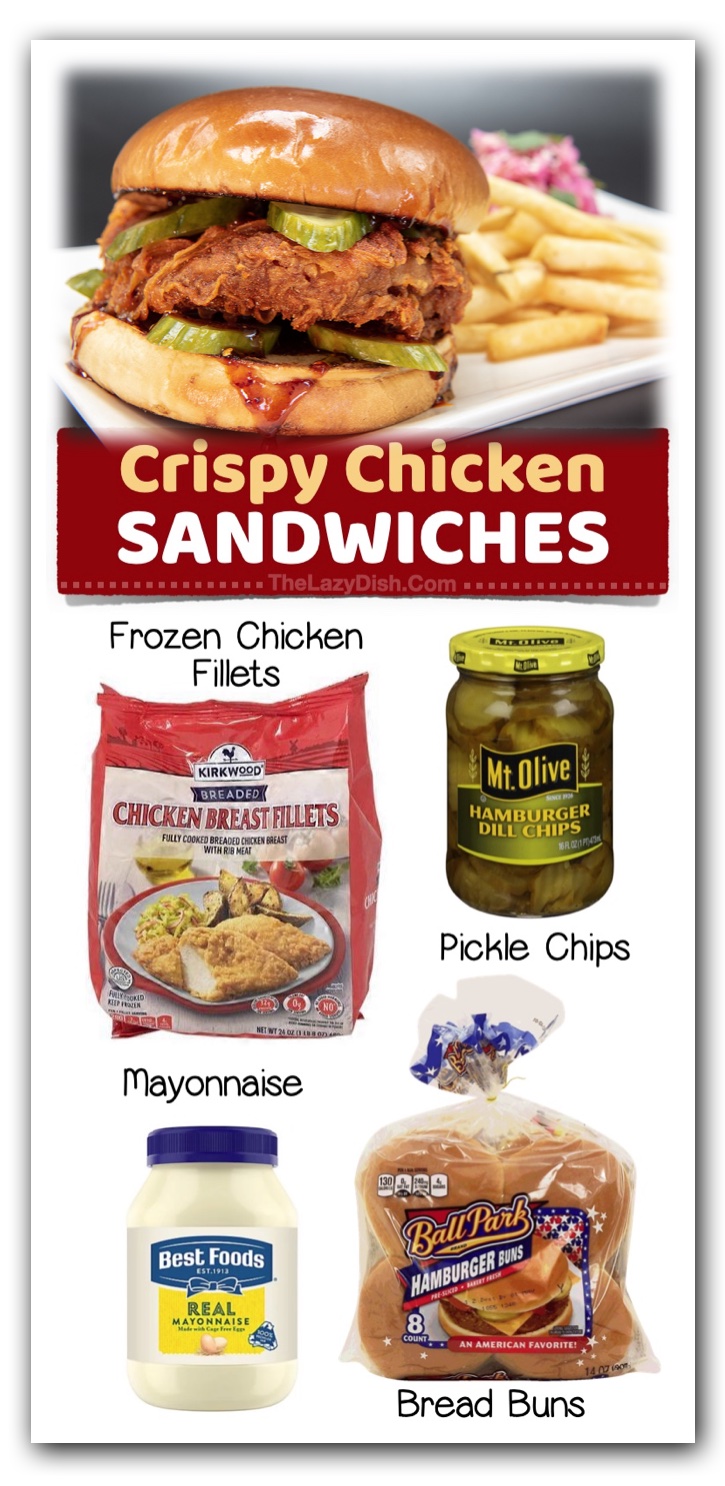 Tired, hungry, and not in the mood to make dinner? Although Chick-fil-A is fast and delicious, it's also expensive. Instead, pick up a bag of breaded chicken fillets and make your own sandwiches. Serve in burger buns with mayo, pickles, and any other sauce you'd like. Throw in some tomatoes and lettuce to make it a wee bit healthier.
7. Garlic Toast Pizzas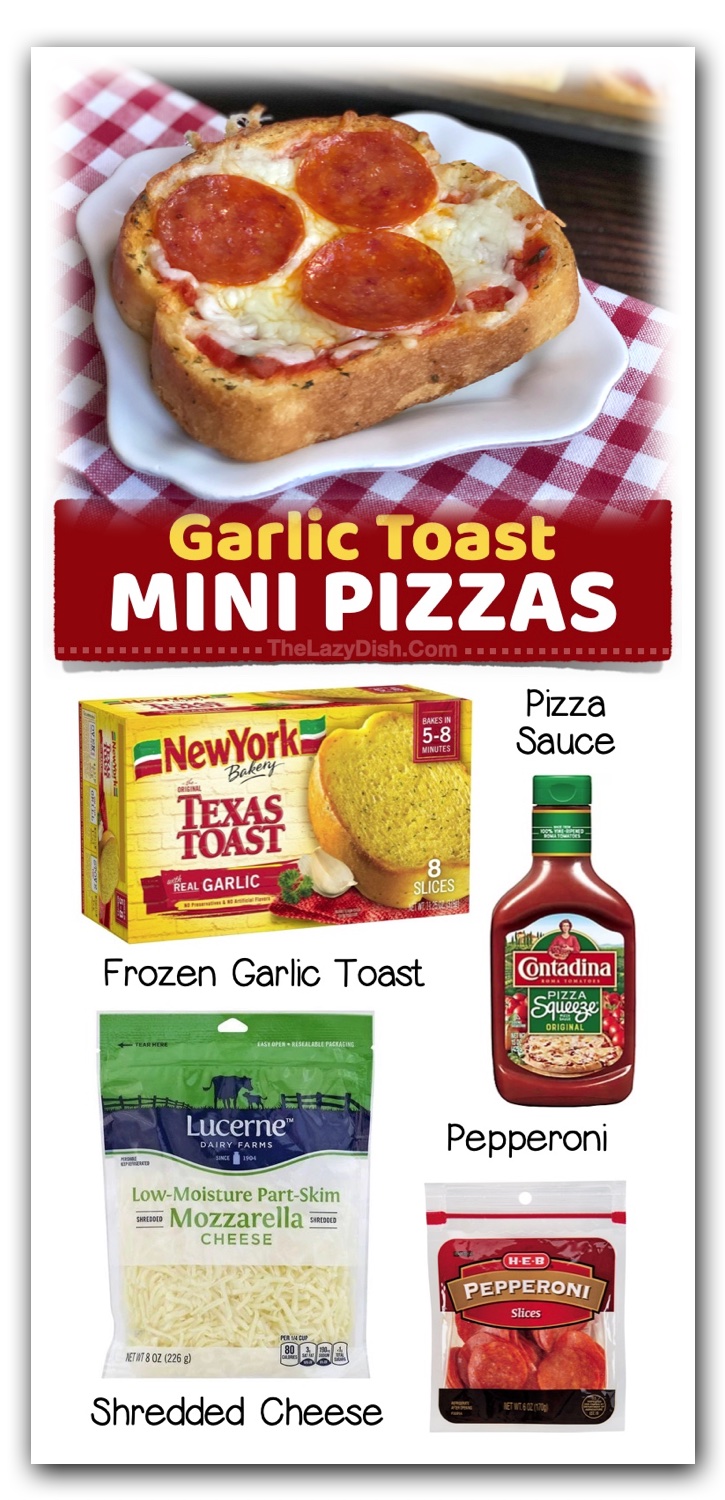 This is my most popular and best reviewed recipe on Pinterest! I suppose everyone loves a good, lazy family dinner. Simply bake the garlic toast according the package instructions, and then top with pizza sauce, shredded cheese, and pepperoni. Place them back in the oven for a few minutes or until the cheese melts. Get the full instructions here.
8. Cheesy Meatball Sandwiches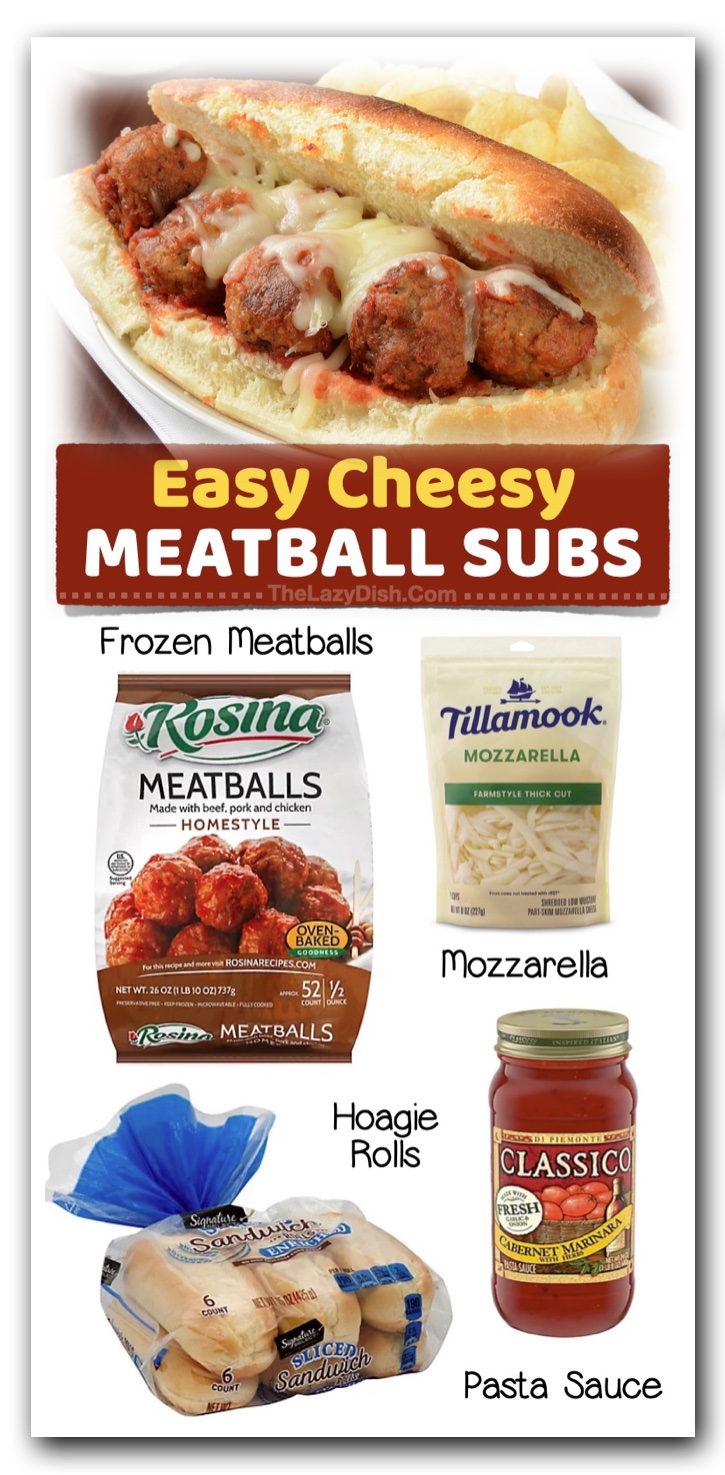 Frozen meatballs are fantastic when baked and tossed with warm marinara and dumped onto hoagie rolls with shredded cheese. Once you've got everything loaded up onto your sandwich bread, place them in 400 degree oven for a few minutes until the cheese melts.
9. Loaded Chicken Baked Potatoes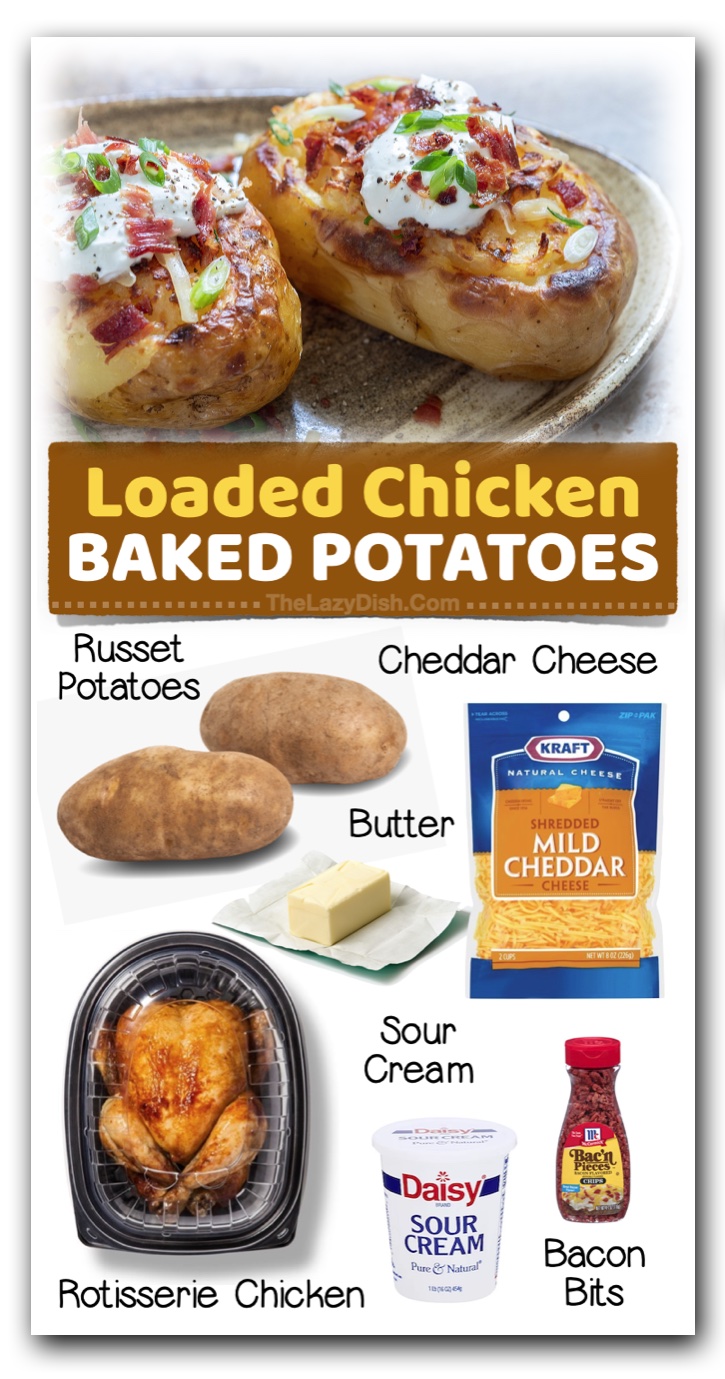 Potatoes are not only cheap, they are super versatile with so many ways to prepare them. On busy school nights, we like to top them with rotisserie chicken, butter, garlic salt, shredded cheese, bacon bits, and sour cream. Easy and delicious comfort food that kids love!
10. Chili Cheese Hot Dogs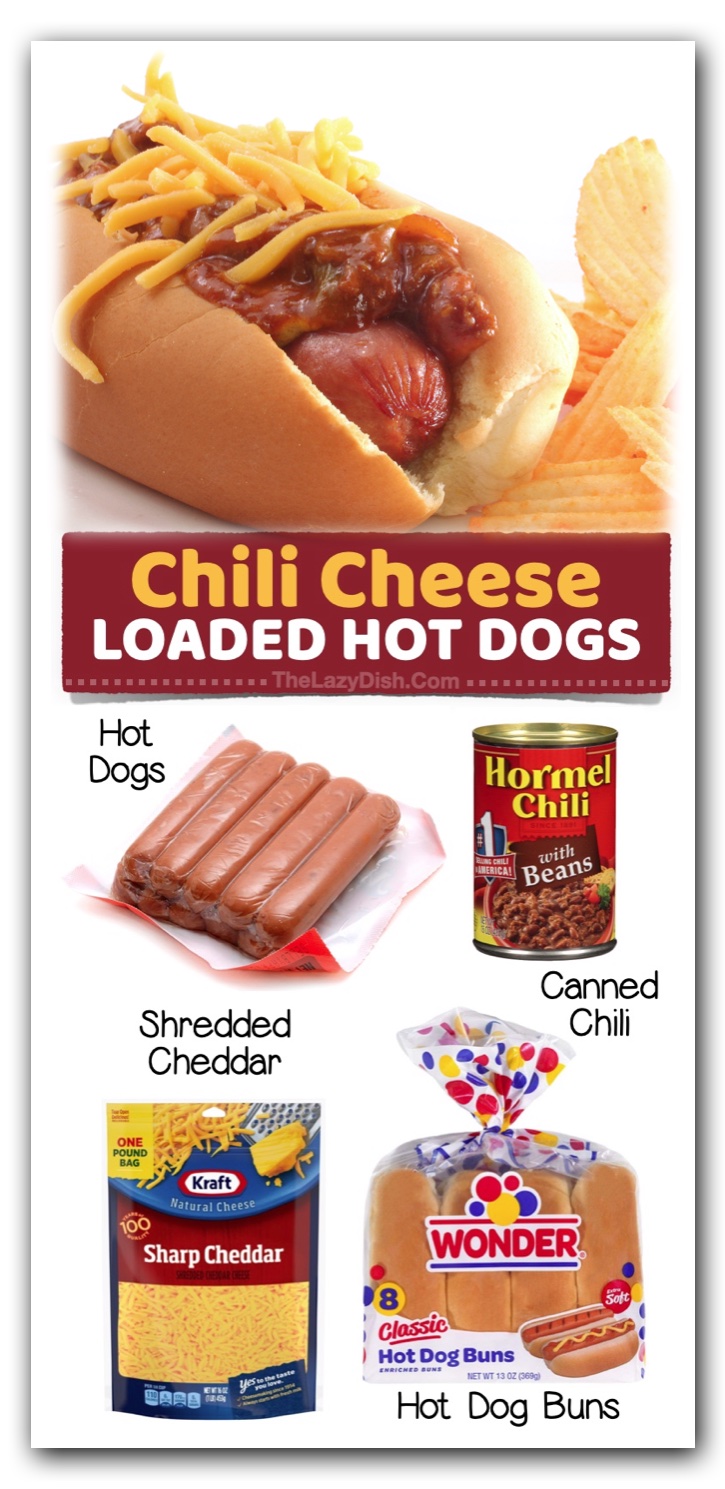 Hot dogs are an American classic food that make me think of summer, barbecues, family gatherings, and pool parties, but they can be enjoyed any time of the year. Top them with hot chili and shredded cheese to make them even more exciting.
11. Cheesy Ranch Cobb Salad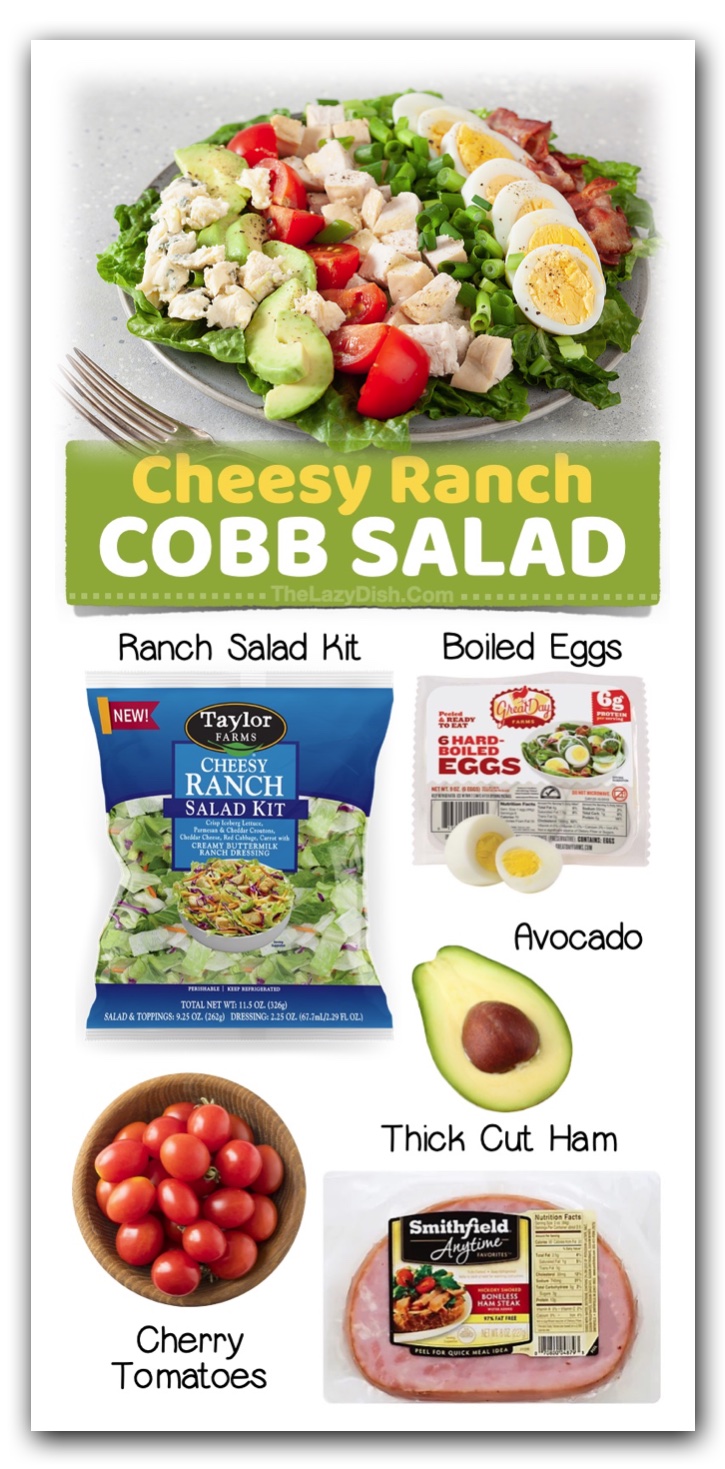 Salad kits are a dream come true! Add some protein, a little cheese, some avocado, dice ham, crumbled bacon, sunflower seeds, rotisserie chicken, and anything else you'd like for a filling and healthy, last minute dinner.
12. Ham & Cheese Sliders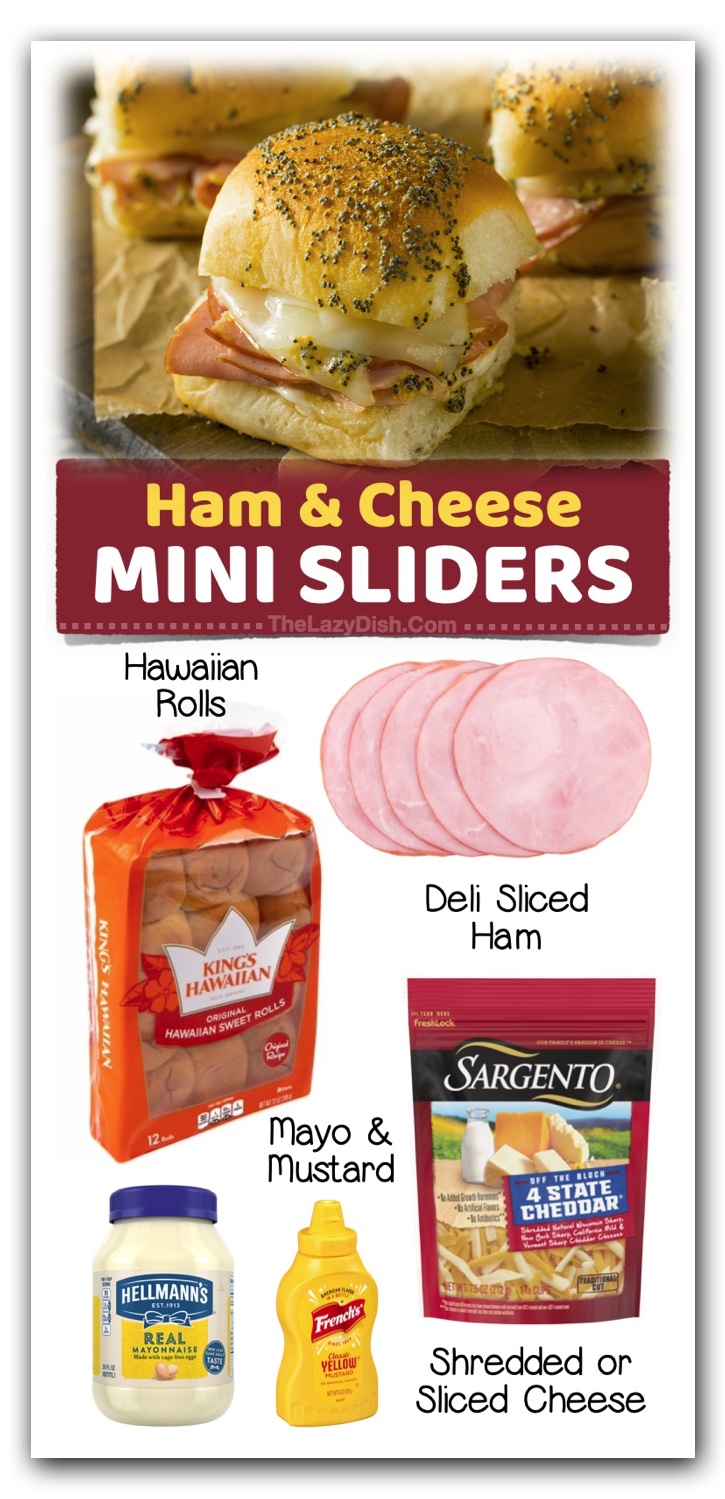 Kids love anything in tiny form, and sliders are always a hit! Fill Hawaiian rolls with the deli meat and cheese of your choice and then place them in a large greased baking dish. Brush them with melted butter, cover with foil, and bake in a 350 degree oven for 15 minutes. Uncover and bake for another 2-3 minutes. Tip: You can also season the butter with garlic salt, Italian seasoning, poppy seeds, or any seasoning you'd like.
13. Lazy Lasagna
Frozen ravioli layered in a greased 9×13 baking dish with pasta sauce and cheese! The easiest and most satisfying Italian inspired meal. This casserole takes less than 5 minutes to prepare, then you just cover it and bake in a 350 degree oven for about 30 minutes. Uncover, and continue baking for 10-15 minutes. Add some ground beef if you'd like! Get the full instructions here.
14. Rotisserie Chicken Caesar Salad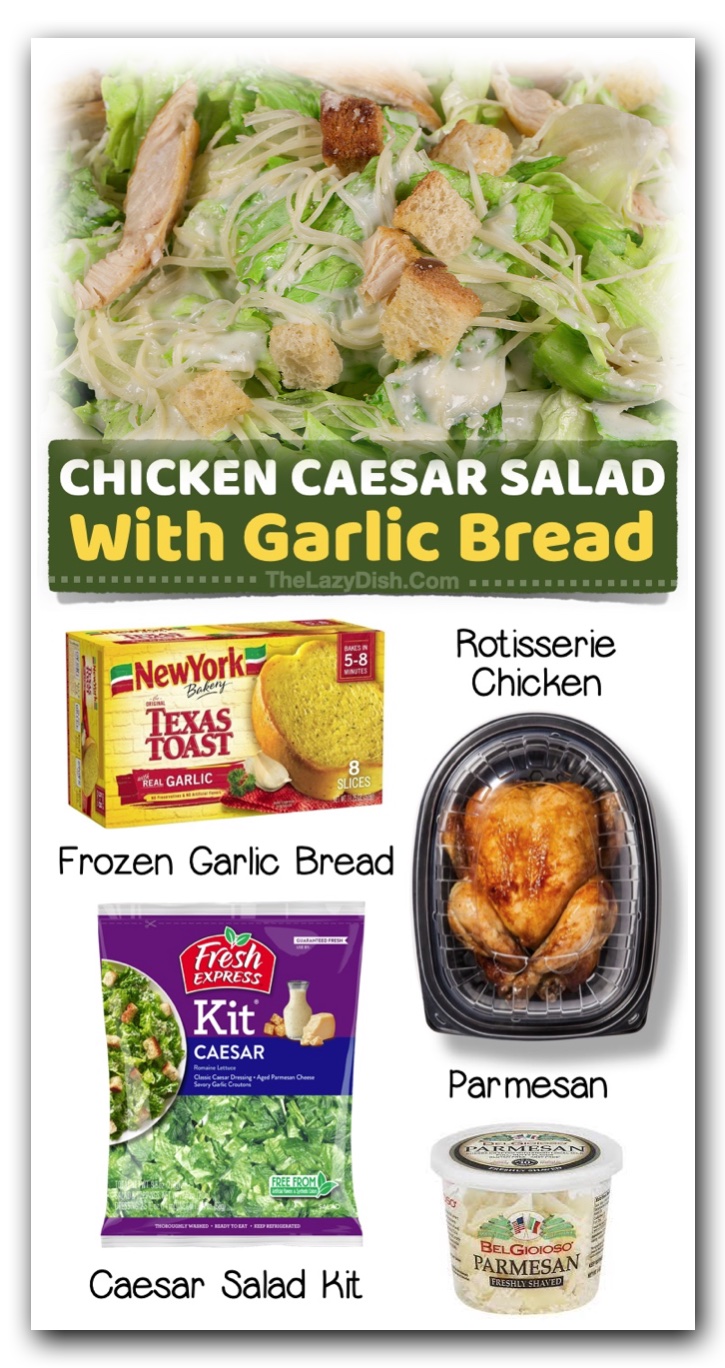 We make this at least a few times a month because it's so easy and yummy! Simply pull the chicken and toss it with your favorite Caesar salad kit. You can also top it with extra parmesan and croutons, because why not? A little garlic toast served on the side? Yes, please.
15. Hatch Chili Roast with Feta Salad

The vacuum sealed tri-tip steaks at Safeway and Tom Thumb are insanely good! Because of the way they are packaged they last for weeks in the fridge. The Southwest Hatch Chile is our favorite, but they are all very tasty. Simply sear it in a cast iron skillet over high heat for about 2 minutes on each side, and then place it in a 400 degree oven for about 30-50 minutes (depending on the size). We use a meat thermometer to ensure the perfect doneness.
16. BBQ Chicken Sandwiches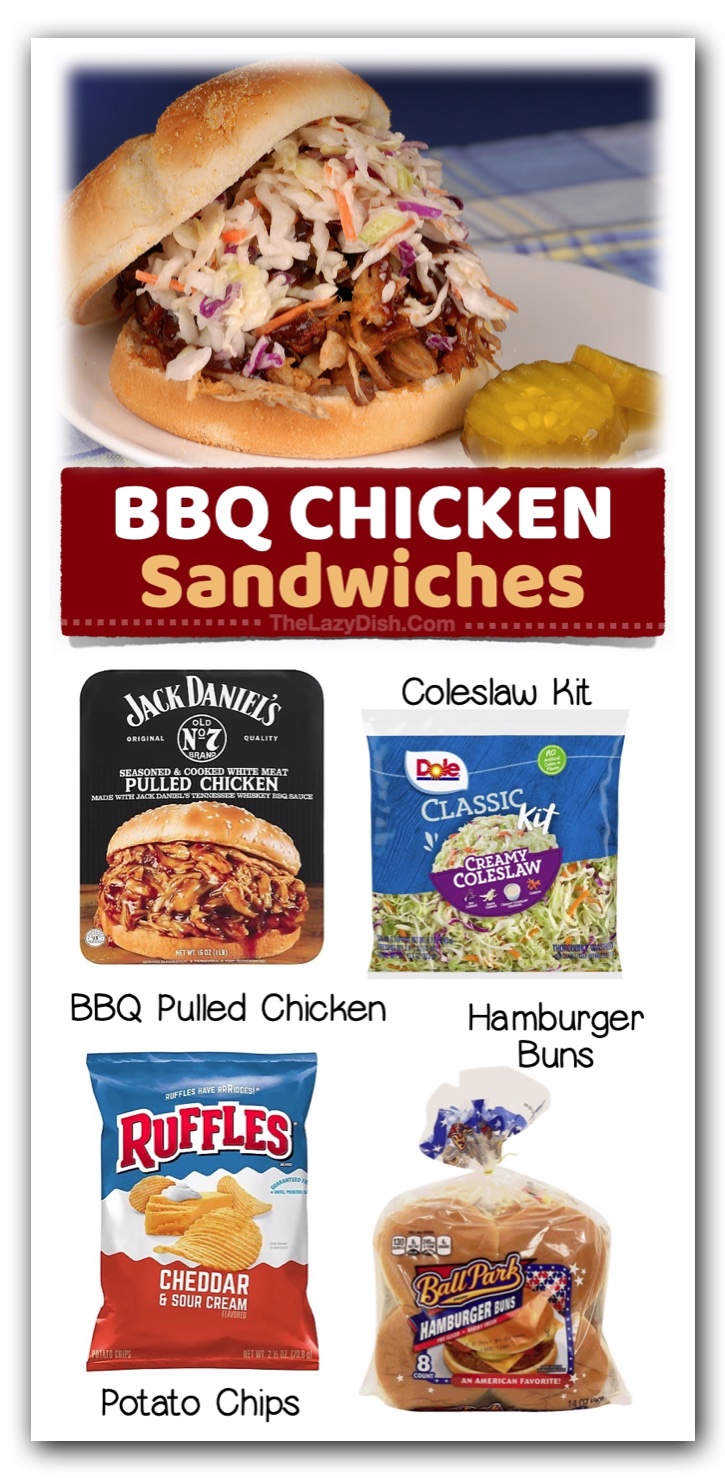 Although you can make shredded bbq chicken in your slow cooker very easily, the packaged stuff they have near the deli section in most grocery stores in pretty darn good for a fast meal! For those nights when you didn't plan ahead, just heat up the chicken according to the package instructions and then serve on buttered and toasted buns with a coleslaw salad kit. Crunchy potato chips are a nice addition, too.
17. Grilled Cheese with Tomato Soup

This classic dinner idea never goes out of style! Kids love grilled cheese sandwiches especially when served with a sweet bowl of tomato bisque soup. Add some Goldfish crackers or croutons for added crunch.
18. Sausage Jambalaya with Cornbread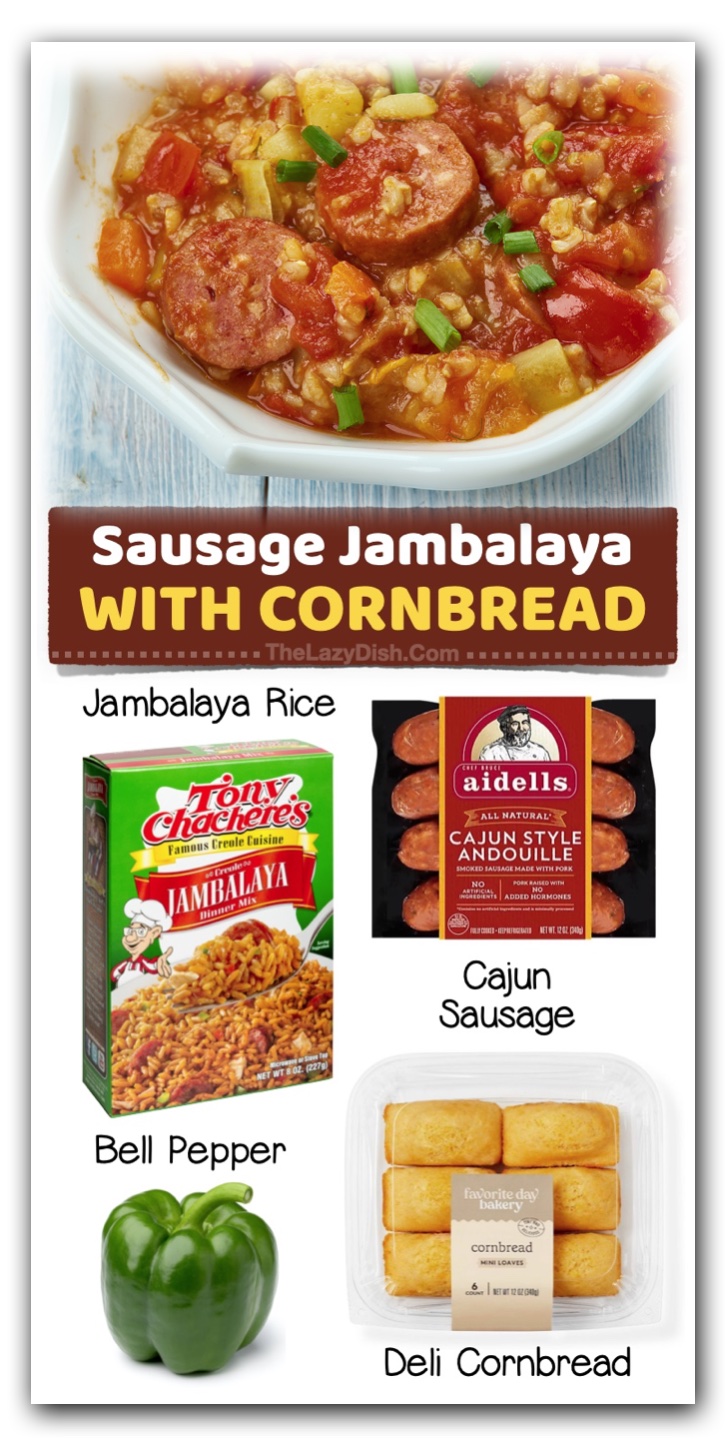 If you like things spicy, I can't think of anything better than cajun andouille sausage! That stuff is packed full of flavor. Simply cut it up into coins and sauté it with diced bell pepper for 5-10 minutes, and then toss with a prepared box of Jambalaya dinner mix. This meal pairs really well with cornbread which you should be able to find in the bakery section in most grocery stores.